Boyish Charm
9 Free Back to School Signs
By
| Last Updated:
Have you been thinking you'll take a picture of your child on the first day back to school? Here's a collection of FREE, printable signs and a few DIY ideas for the young scholars to hold while they smile for posterity.
---
See Also
---
Has school already started—and you forgot the picture? Aww, it's not too late. Take one anyway!
1. How Does She? :: They have every grade covered with stripes and polka dots for Pre-K through 12th grade. Also notice the lunch box notes that are available.


2. Nest of Posies :: Whether you need a printable for P-K through 12, Kellie has it covered with a variety of colors and a collection of patterns, including chevron, checks and dots.

3. The Suburban Mom :: Pre-K through 12, school house writing grid paper serves as the official backdrop for these signs.
4. I Should Be Mopping the Floor :: Primary colored borders outline each Pre-K through 12 sign.


5. That's What She Said :: From Preschool through 12th, these chalkboard style signs might be more of what you're looking for.


6. L. Olson Designs :: A bright red apple on a subtle black with grey chevron makes a great back-to-school sign for Preschool through 12. There are also cards to use for thanking teacher any time of year.


7. The Shady Lane :: More printable chalkboard style signs—love the colorful flags.


8. Fiskars :: There are five inspiring ideas to make here: a newsprint banner, oversized pencil, Styrofoam frame, apple-on-a stick, or conversation bubble.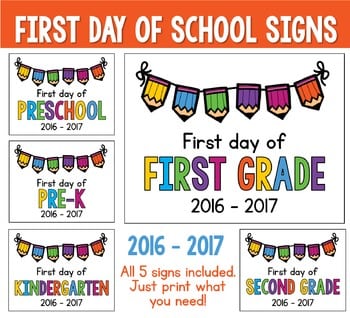 9. Teachers Pay Teachers :: Colorful pencils embellish these freebie signs for Pre-schoolers through 2nd graders.
Planning a back to school celebration with these great ideas put together by the Spaceships and Laser Beams crew:
(Amazon Affiliate Links)
Be sure to check out more back to school ideas here: