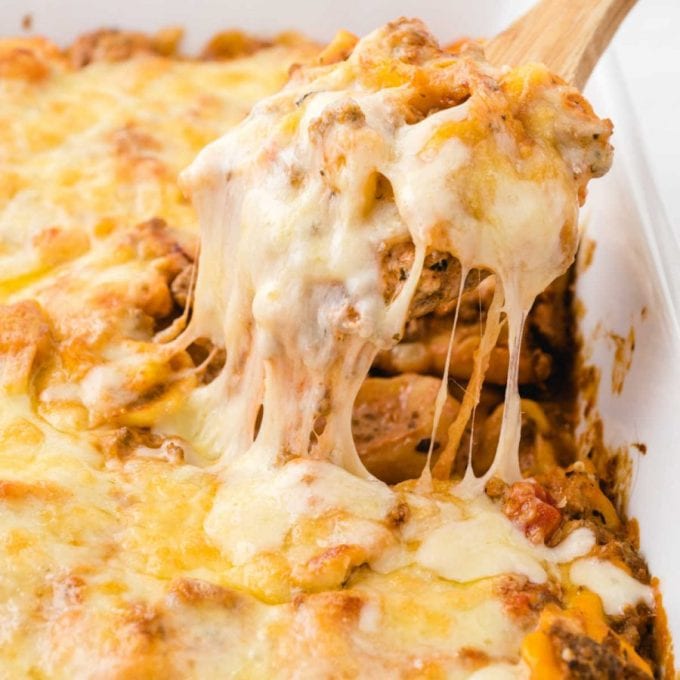 Baked tortellini is a mouthwatering, oven-baked casserole meal full of cheesy goodness and little pasta pockets bursting with flavor.
Jump to Recipe
This creamy, baked tortellini casserole is loaded with cheese and will come out of your oven bubbling. A layer of gooey cheese on top of tender pasta in a meaty sauce will warm you up on even the coldest of days. Prepare ahead of time and pop in the oven for 20 minutes for a hearty and tasty addition to your weeknight dinner options.
For other baked pasta dishes, try our Baked Ziti with Chicken or Ravioli Lasagna.
---
MORE CASSEROLE RECIPES:
Tuna Casserole | Tatertot Casserole

---
BAKED TORTELLINI INGREDIENTS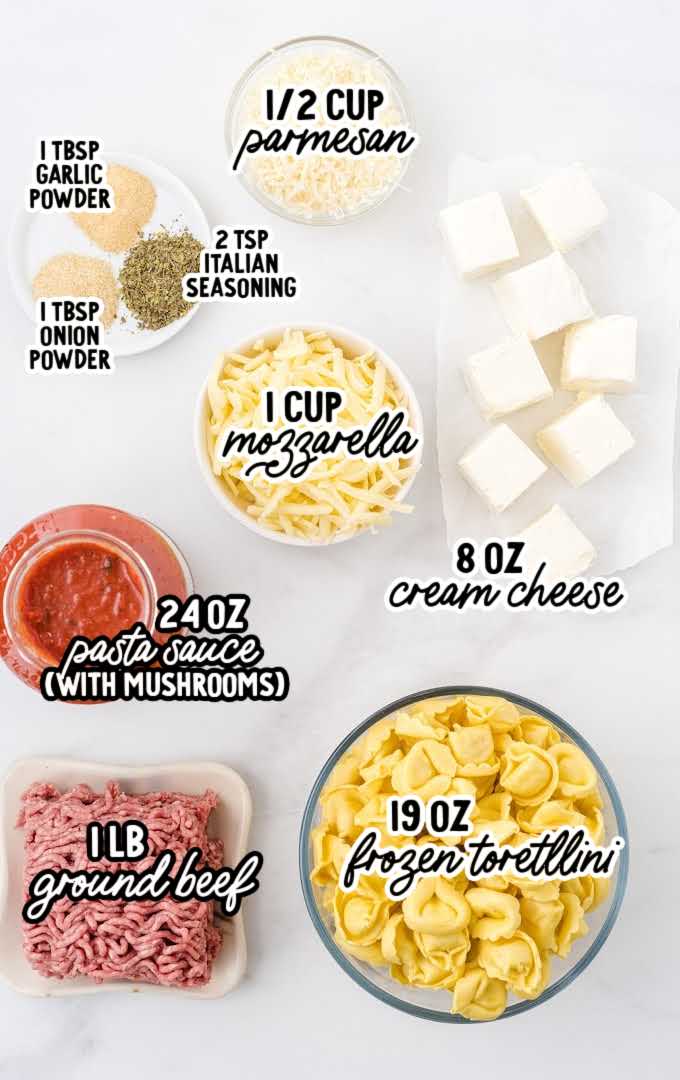 You will need:
19-ounce bag of frozen cheese tortellini
1 pound ground beef
1 tablespoon garlic powder
1 tablespoon onion powder
2 teaspoon Italian seasoning
8 ounces cream cheese
24-ounce jar of pasta sauce with mushrooms
1 cup mozzarella cheese
½ cup parmesan cheese
SUBSTITUTIONS AND ADDITIONS
Pasta: You can use any type of stuffed pasta for this recipe such as ravioli, agnolotti, or cappelletti. To sneak in some extra veggies, choose a stuffed pasta with spinach or other veggies inside.
Meat: Any kind of ground meat works well. Chicken, pork, turkey, or venison could be used in place of the ground beef. You could even break up some sausage for even more flavor.
Sauce: This recipe uses mushroom sauce, but if mushrooms aren't your thing, any sauce will work. Roasted garlic would be a tasty choice.
Fresh vs Frozen: Substitute the frozen stuffed pasta with fresh pasta and cook for one minute less than the frozen pasta.
HOW TO MAKE THIS BAKED TORTELLINI RECIPE
STEP ONE: Bring a pot of salted water to a boil and cook the frozen pasta for 3 minutes. Drain well.
PRO TIP: Don't forget to add salt to the water. It adds flavor to the pasta while cooking.
STEP TWO: Brown the ground beef in a skillet along with the seasonings until no longer pink. Drain the grease from the pan.
PRO TIP: Make sure to add a little bit of olive oil to the pan first so that the meat and seasonings don't stick to the bottom.
STEP THREE: Cut the cream cheese into smaller chunks and add to the seasoned meat, stirring until melted.
STEP FOUR: Combine the tortellini with the pasta sauce and then add the meat mixture.
PRO TIP: When combining the ingredients with the tortellini, make sure to stir carefully to ensure the pasta pockets don't get broken.
STEP FIVE: Add the pasta and meat mixture to a greased 9×13 dish, top with the mozzarella and parmesan cheeses.
STEP SIX: Bake uncovered in a 350°F oven for 20 minutes. You should see the sides starting to bubble.
PRO TIP: You can assemble this dish ahead of time and leave in the fridge until you are ready to bake or freeze unbaked and bake when you are ready to serve
STEP SEVEN: Once the pasta is baked, turn on the broiler for a couple of minutes for a golden brown top.
HOW TO SERVE
Serve hot out of the oven with our Pull-Apart Garlic Bread and a Simple Homemade Caesar Salad on the side. Sprinkle some extra parmesan or Reggiano cheese on top for an even more cheesy flavor.
STORAGE
IN THE FRIDGE: Once cooled, store the tortellini covered in the refrigerator for up to 5 days. Leftovers can easily be reheated the next day in the microwave for a quick lunch or warmed in the oven for 10 to 15 minutes at 350°F. To ensure the pasta doesn't dry out in the microwave, add a few drops of water or milk over it and cover with microwave-safe plastic wrap before heating.
IN THE FREEZER: The unbaked dish can be frozen until you are ready to bake. It will keep in the freezer for up to 3 months.
TO REHEAT: If the pasta has been in the freezer, make sure to thaw fully in the fridge for 24 hours first. Cover with foil and bake at 350°F for 20 minutes or until bubbly.
Cheesy baked tortellini with cream cheese and meat sauce is a delicious way to serve stuffed pasta. Its creamy and cheesy texture will make it a favorite comfort food that everyone will gobble up. Just like Nonna used to make!
MORE RECIPES YOU'LL LOVE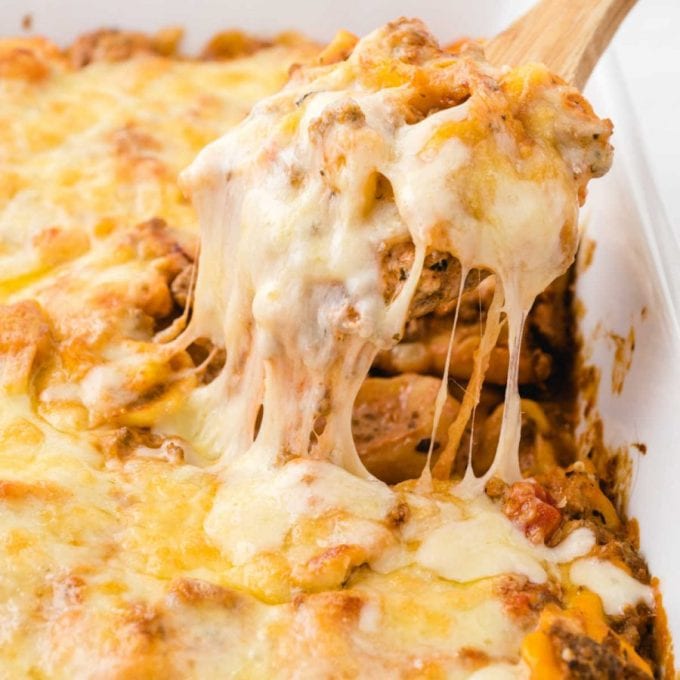 Baked Tortellini
Baked tortellini is a mouthwatering, oven-baked casserole meal full of cheesy goodness and little pasta pockets bursting with flavor.
Cook Time
1
hour
30
minutes
Ingredients
1

pound

beef

ground

1

tablespoon

garlic powder

1

tablespoon

onion powder

2

teaspoon

Italian seasoning

19

ounce

frozen cheese tortellini

8

ounces

cream cheese

24

ounce

pasta sauce with mushrooms

1

cup

mozzarella cheese

1/2

cup

parmesan cheese
Instructions
Preheat oven to 350°F.

Bring a pot of water to boil and add tortellini. Cook for 3 minutes, then drain water.

Add the ground beef and seasoning to a skillet, cook until no pink remains. Drain the fluid.

Cut up the cream cheese into chunks and add to the ground meat.

Mix the pasta sauce with the tortellini, carefully don't overmix or break up the pasta.

Add the meat mixture to the pasta and carefully stir until mixed well.

Add to a 9×13 dish and Top the meat mixture with the Mozzarella and Parmesan cheeses.

Bake uncovered for 20 minutes. It should have started to bubble on the sides now.

For a better appearance, broil the top of the cheese for a couple of minutes until the desired color is reached, about 2 minutes.

Serve hot with garlic bread and a side salad.
Nutrition
Calories:
545
kcal
|
Carbohydrates:
37
g
|
Protein:
28
g
|
Fat:
32
g
|
Saturated Fat:
15
g
|
Trans Fat:
1
g
|
Cholesterol:
112
mg
|
Sodium:
1056
mg
|
Potassium:
517
mg
|
Fiber:
4
g
|
Sugar:
7
g
|
Vitamin A:
901
IU
|
Vitamin C:
6
mg
|
Calcium:
301
mg
|
Iron:
4
mg