23 Awesome Camping Party Ideas
Table of Contents
A camping themed birthday party lends itself to so many fun outdoor-inspired designs, so we've rounded up 23 awesome camping party ideas for you to check out.
There are a ton of clever camping ideas! We especially love the creative Coleman lantern cake, build-your-own trail mix bar and yummy s'more party favors.
But, there are so many other creative ideas to incorporate in your own camping party too! Which are your favorites? (Plus, get ideas for campfire meals.)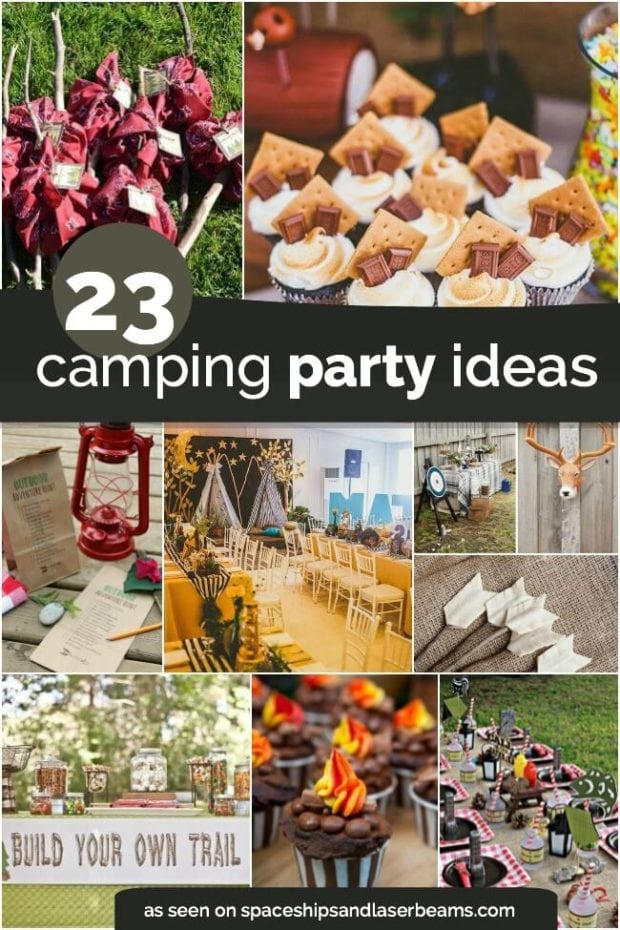 ---
See Also
---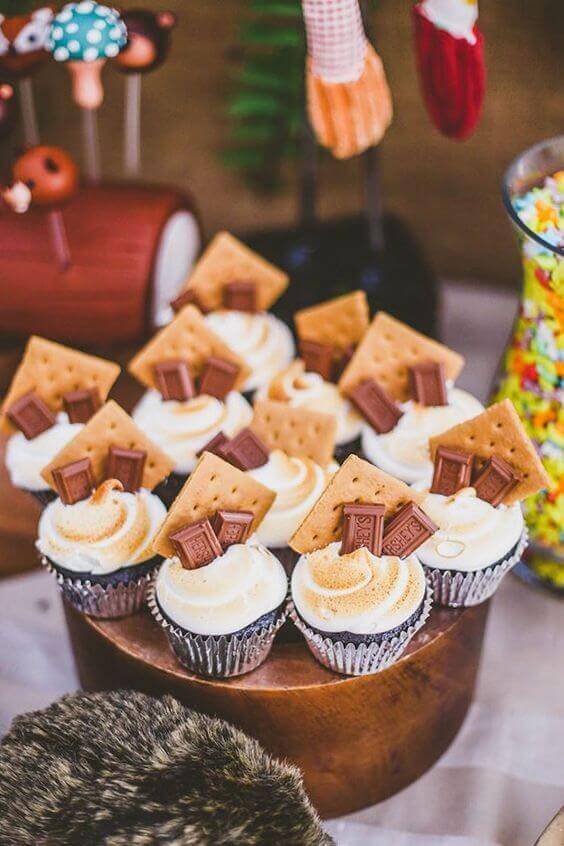 1. S'mores Cupcakes
From La Belle Fete Weddings and Events via Kara's Party Ideas
When s'mores and cupcakes collide, you better be ready to run for the dessert table! S'mores are a quintessential part of camping, much like cupcakes and cake are the norm at a birthday party. Serving up s'mores cupcakes at a camping party is a genius idea! These chocolate cupcakes with a toasted marshmallow frosting are topped off with a graham cracker square and chocolate bar! No roasting sticks needed!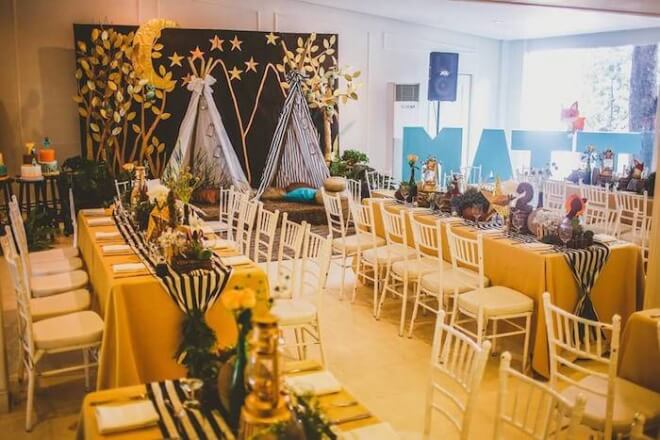 2. Woodland Campfire Birthday Party
From La Belle Fete Weddings and Events via Kara's Party Ideas
Kids will especially love the darling animals incorporated into this woodland campfire birthday party. From adorable woodland themed cakes to cute woodland animal party hats, cupcakes, and plush toys, the details in this campfire birthday are breathtaking! Party guests could camp under the starry night in animal hide blankets and charming teepees.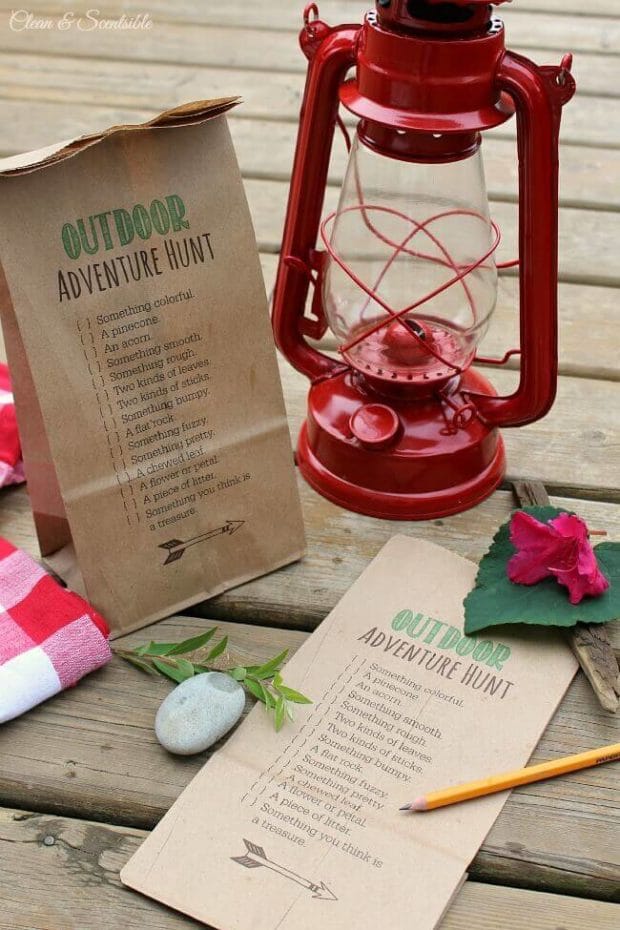 3. Outdoor Adventure Hunt Camping Party Activity
From Clean and Scentsible
A camping party lends itself to some extra cool party activities. Camping party guests will love this outdoor adventure hunt idea, and you'll love how easy it is to execute with a printable scavenger hunt list you can print directly on a brown paper sack that in which they can also store all of their hunt items. Examples of items guests must find include: a pinecone, an acorn, a flat rock, a piece of litter and so on.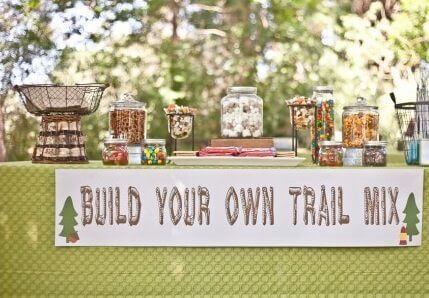 4. Camping Party Build-Your-Own Trail Mix Bar
From A Little Savvy Event
Trail mix, camping and hiking all go hand-in-hand, which makes organizing a build-your-own trail mix bar at a camping party completely genius! Little campers will love creating their own trail mix concoctions. You'll love how easy it is to put together.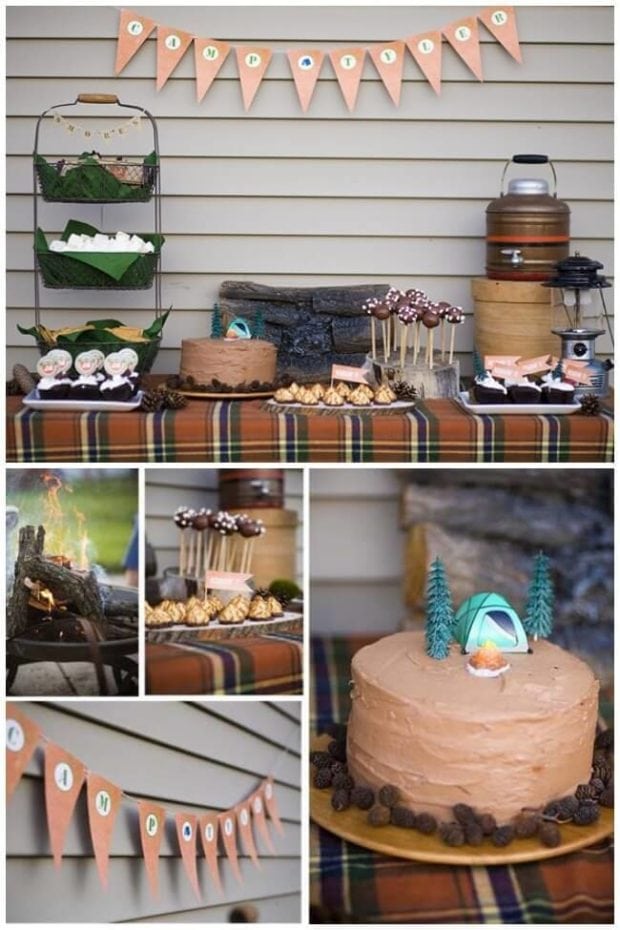 5. Camping Themed Boys Birthday Party
From Homespun Hostess via Spaceships and Laser Beams
If you're planning a camping themed boy's birthday party, check out the rustic, outdoorsy details of this party! From a retro camping park admittance ticket style invitation to creative camping inspired treats and decorations, everyone will want to come hang out at your camping party!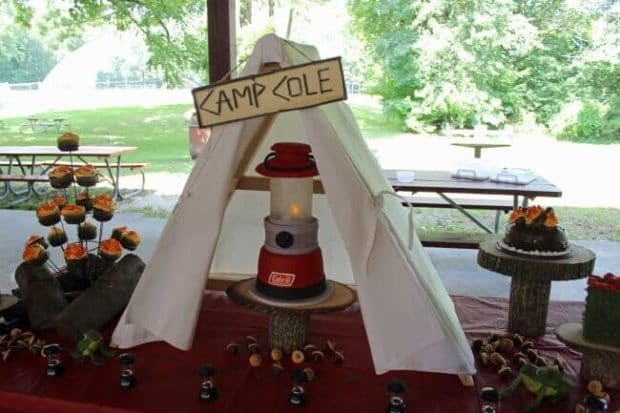 6. Coleman Lantern Cake
From Table Top Treats via Spaceships and Laser Beams
The Coleman brand has long been a part of camping trips, but now it is playing a starring role in camping parties too! This Coleman lantern cake is so realistic with amazing fondant detailing.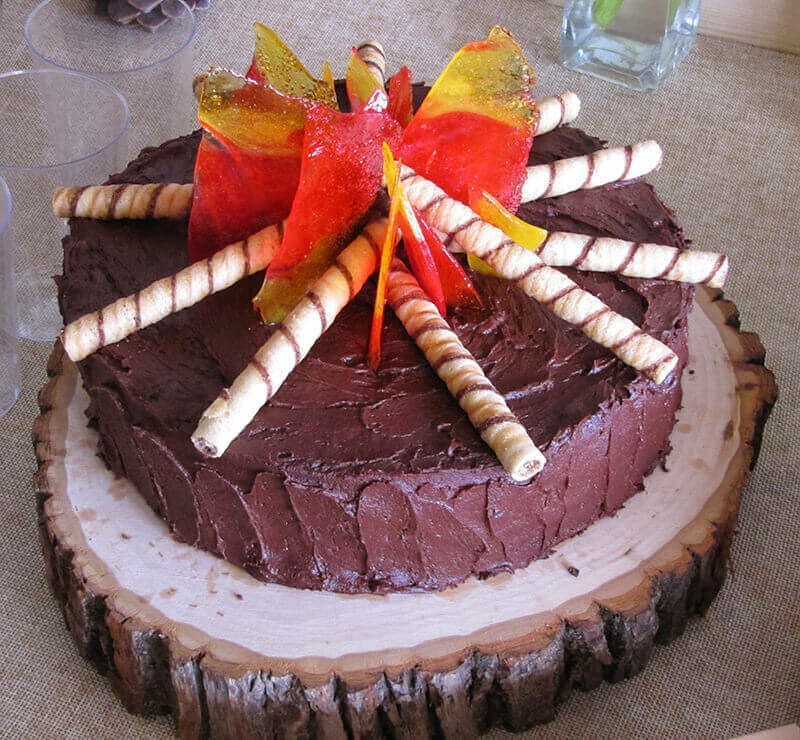 7. Camping Birthday Party Cake
From SimoneMadeIt
No need to go to great expense for your camping birthday party cake this year. You can DIY your own for a fraction of the cost. Decorate your camp fire cake using chocolate icing. Add rolled chocolate wafer sticks to serve as logs. Top off with shards of red and yellow sugar glass to represent the flames. Serve up this beauty on a rustic round wooden block.
8. Camping Themed Birthday Party
From Style My Party via Kara's Party Ideas
Nothing makes a camping themed birthday party more fun than making your own s'mores or filling up your own bag of trail mix. Everything from the printable decorations to the gingham and black place settings will make you want to head to the great outdoors!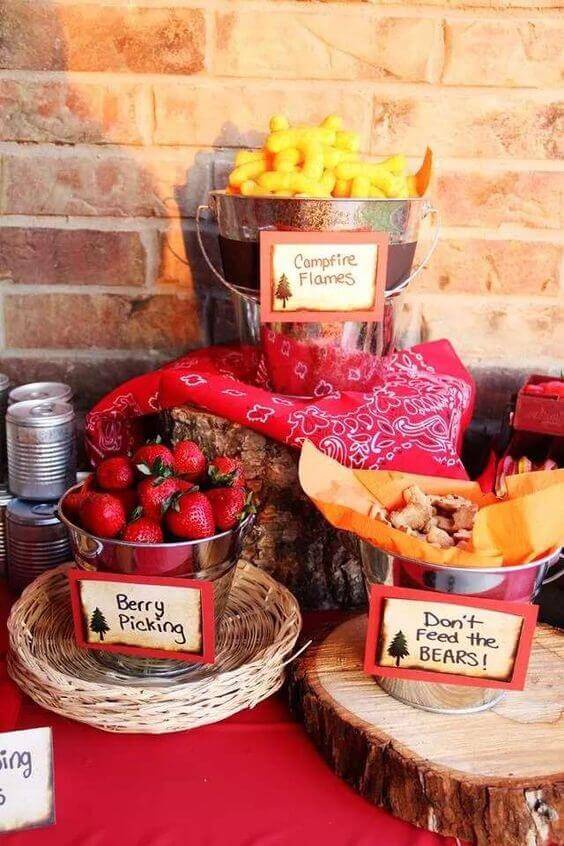 9. Camping Birthday Party Food
From Ashley N via Catch My Party
Trying to come up with inspiration for camping birthday party food? You've come to the right place! Stretch your imagination and a little creativity and food labels transform a tin bucket of cheese puffs into "campfire flames" and lemonade into "bug juice". You'll find creative uses for berries, and more!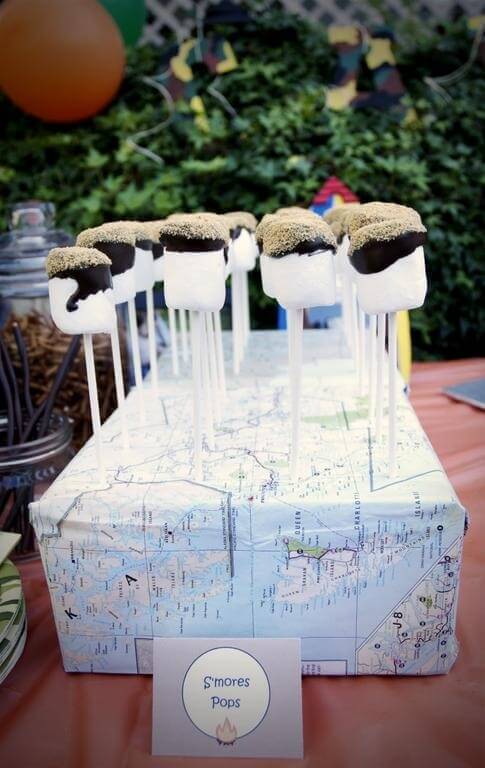 10. S'mores Pops
From Jennifer Stafford Events via Spaceships and Laser Beams
You can skip the hassle of a fire altogether by making these s'mores pops ahead of time for a camping themed birthday. Simply dip a marshmallow in melted chocolate before topping with crushed graham crackers. Serve on a sucker stick.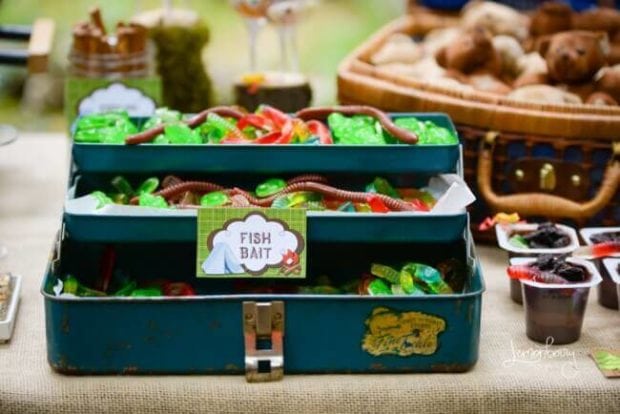 11. Gummy Worm Fish Bait
From Lemonberry Moon via Spaceships and Laser Beams
You can recreate the look of this awesome camping party treat idea by sourcing an old fishing tackle box and loading it up with all sorts of gummy worm bait! Party guests will be hooked for sure!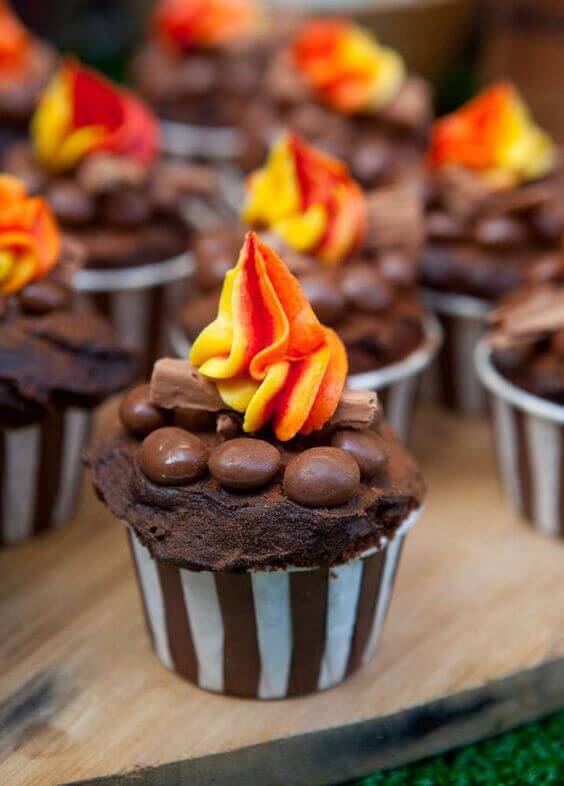 12. Campfire Cupcakes
From Louise S, as seen on Catch My Party
Now you can enjoy the beauty of a campfire with no chance of getting burned. Perfect for a camping party, these campfire cupcakes are topped with candy logs and fire ring with orange and red frosting flames!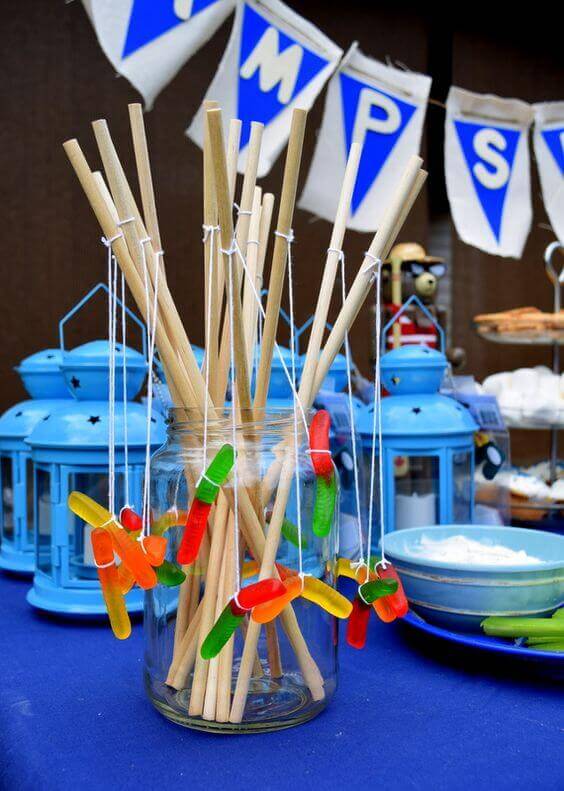 13. Fishing Rod Gummy Worms
From NorthStory
What do you get when you combine thin wooden dowels, string and gummy worms? You get some awesome camping party treats, that's what! These fishing rod gummy worms will be a hit!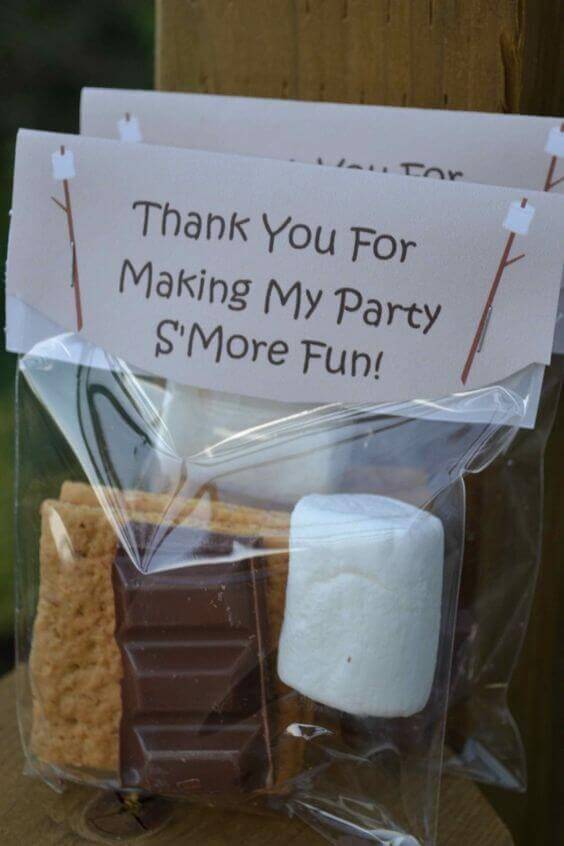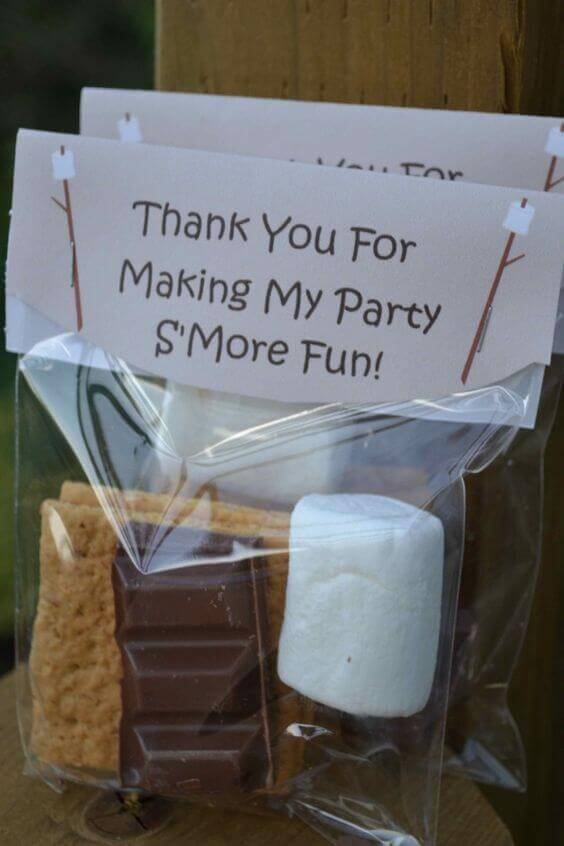 14. S'more Party Favors
From Jennifer Stafford Events via Spaceships and Laser Beams
Thank guests for making your party s'more fun! Use cellophane bags and a printable bag topper to put together easy-to-assemble s'more party favors. Include a few graham crackers, a marshmallow or two and some chocolate squares.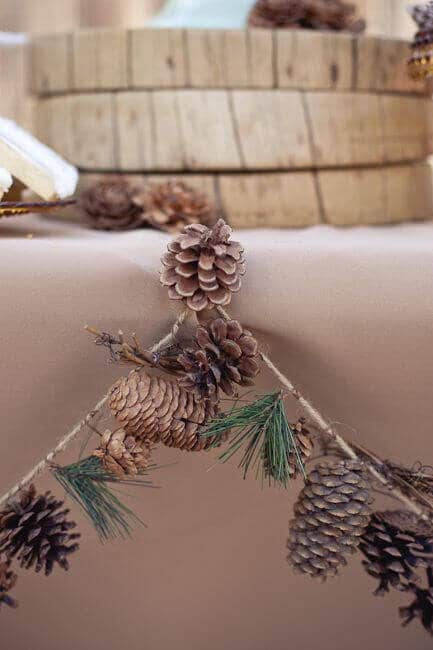 15. Pinecone Garland Decoration
From Brit + Co
Nature is your best friend when it comes time to plan decorations for your camping party! Round up a bunch of pinecones and sprigs of greenery and tie them to twine or jute to create a pinecone garland decoration.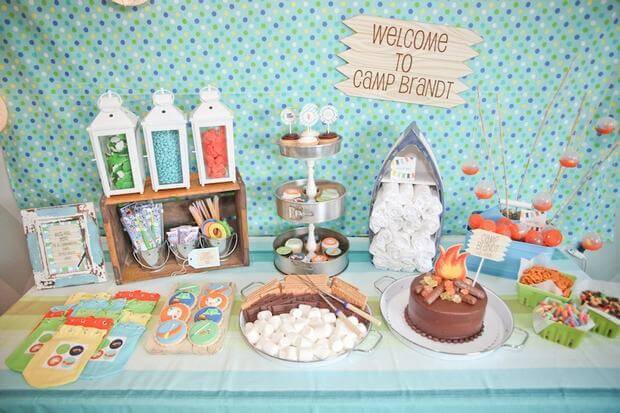 16. Camping Birthday Party Dessert Table
From Petite Party Studio
Lanterns filled with candy. Mini fishing poles using bamboo poles, vending capsules and edible bait and tackle. A campfire cake made from chocolate candy logs, rock candy embers and a sugar cookie flame. What do all of these have in common? They make for one awesome camping birthday party dessert table!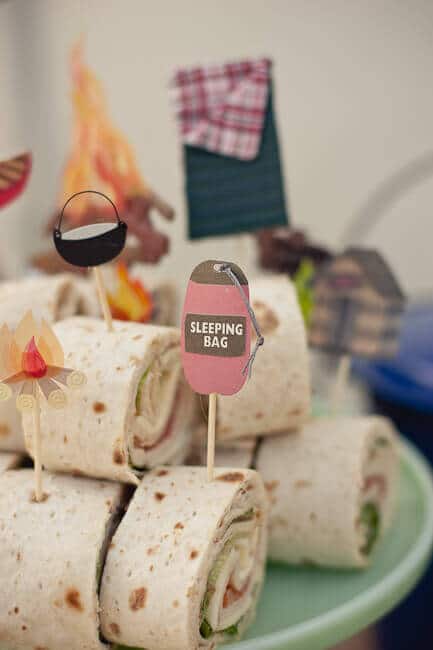 17. Sandwich Roll Sleeping Bags
From Jesi Haack Design via Babble
Get creative with your camping party food labels! A sleeping bag is a much cooler name for a sandwich roll served at a camping birthday party, and no extra work is required except a printable food label.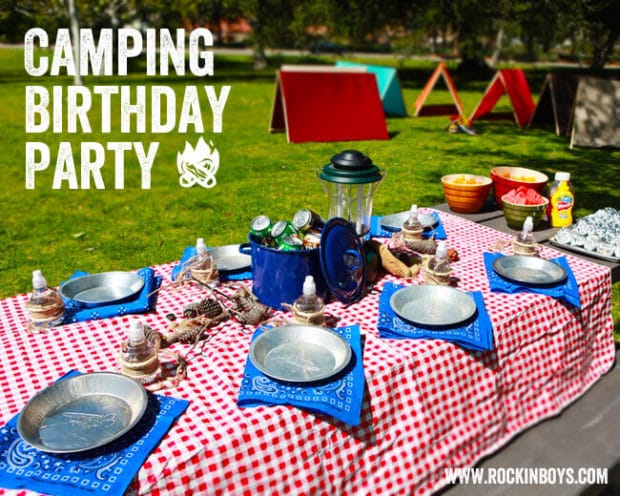 18. Camping Birthday Party Decorations
Don't spend a small fortune on camping birthday party decorations. Start by raiding your own camping supplies. This camping party is decked out in items like a checkered tablecloth, pie tins, bandanas and a lantern that were already owned.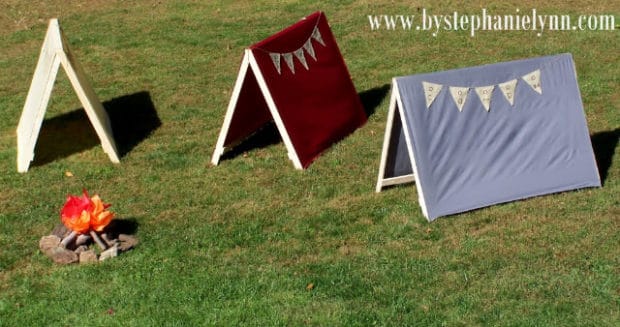 19. Kid-Size Play Pup Tent
From By Stephanie Lynn
Set the stage for an amazing camping party by DIYing these kid-size play pup tents! Would you believe they are less than $9 to make? That's inexpensive enough to create several tents for a whole campsite!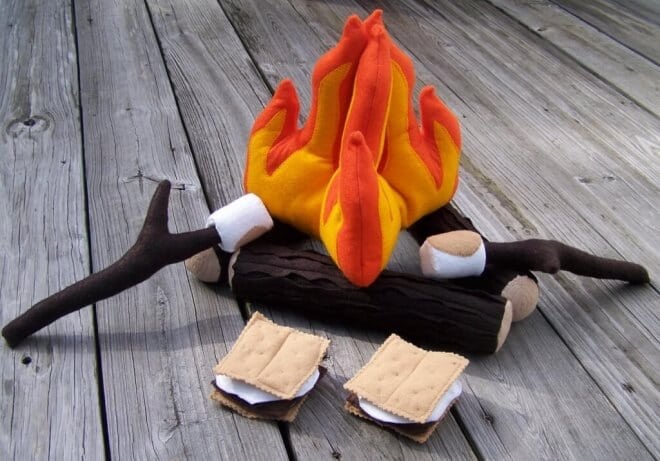 20. Felt Campfire
From A Heart for Crafts
A camping party without a campfire? That would be tragic! Create a cozy campfire from felt and enjoy a campfire anytime, rain or shine! Felt and polyester fiberfill are the main materials used to create this felt campfire set. Hand and machine stitching are needed to complete the project.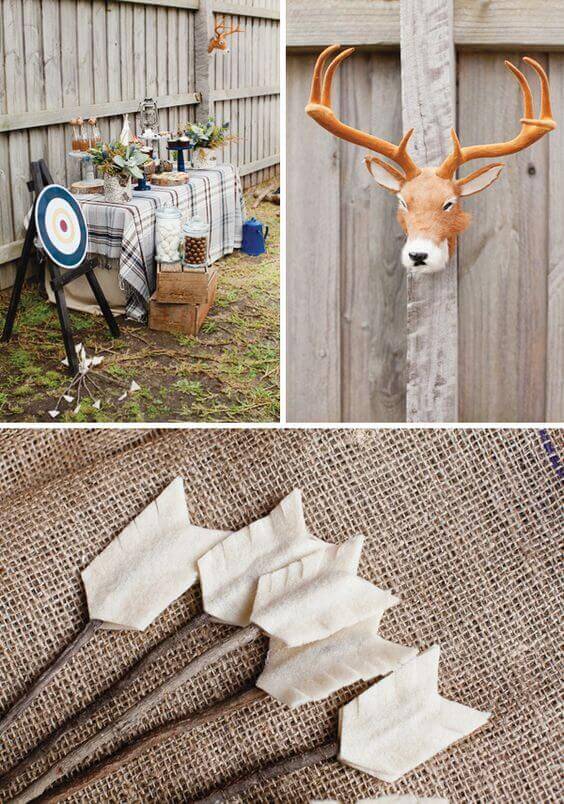 21. Backyard Winter Camping Party
From Leo & Bella via Hostess with the Mostess
If you're planning a backyard winter camping party, you won't want to miss seeing how flannel, pinecones and wood textures are used in this party to create a wintry look! Plus, check out the adorable bear cake pops, fondant tent topped cake and amazing sugar cookies!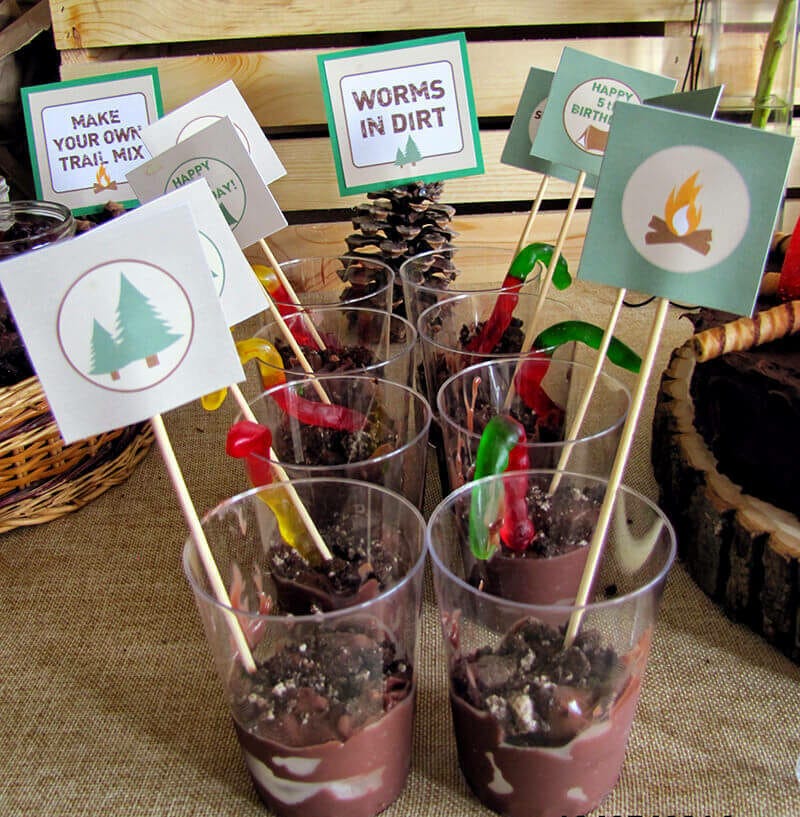 22. Worms in Dirt
From SimoneMadeIt
Kids might turn their noses up at an invitation to taste test worms in dirt. Once they know it's really swirled chocolate and vanilla pudding layered in plastic cups topped with chocolate cookie crumb dirt and gummy worms, we're pretty sure they'll change their minds. Isn't this perfect for a camping party?
23. Camping Party Favors
From Tidbits & Twine via Catch My Party
These hobo sacks (bindles) are such a creative camping party favor idea! Just tie a bandana on a tree branch/stick and fill with treats like s'mores kits or trail mix. Attach a printable tag with each guest's name for easy identification of each person's sack.
Planning a camping birthday party? Check out these great party source ideas gathered by the Spaceships and Laser Beams crew.
(Amazon Affiliate Links)
Campfire Centerpiece
Camping Empty Favor Boxes
Camp Adventure Cupcake Holder
Canteens
Camp Journal Foam Craft Kit
Let's Go Camping Sticker Sheets
Let's Go Camping Value Party Pack
Let's Go Camping Giant Wall Decals
World Map Gift Wrapping
Fairy Tree Stump Display Planter
Magnetic Fishing Playset
Coleman Sundome 2-Person Tent
Hershey's S'mores Kit
Dean Jacob's S'mores Puff Pop Kit
Wooden Marshmallow Sticks
Lantern
Camping Cake Kit With Light Up Tent
Be sure to check out more camping party ideas.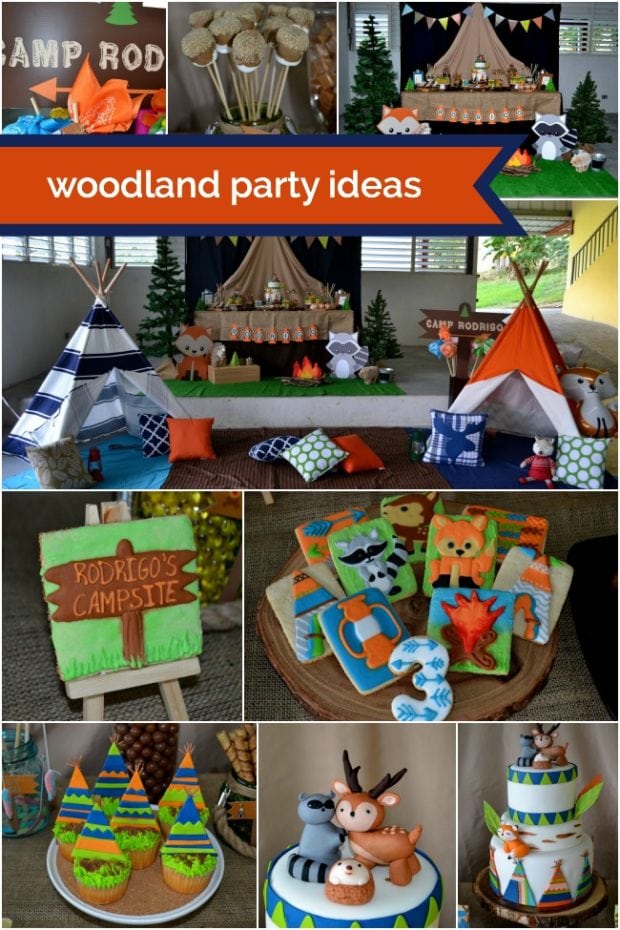 Plan a party just like a pro. Sign up for our newsletter and get our FREE PARTY PLANNING CHECKLIST as well as tips from a professional children's party planner — and even recipes and craft ideas!