Woodland-Themed Camping Birthday Party
Table of Contents
What do you do when you have an outdoor birthday party planned and the weather turns traitor on you? You take the celebration under cover—just like Carol Colon of Partylicious did for this darling woodland-themed camping party. The little three-year-old birthday boy couldn't be disappointed with tee-pee tent decorations and a dessert table full of birthday cake, cupcakes, and all manner of treats!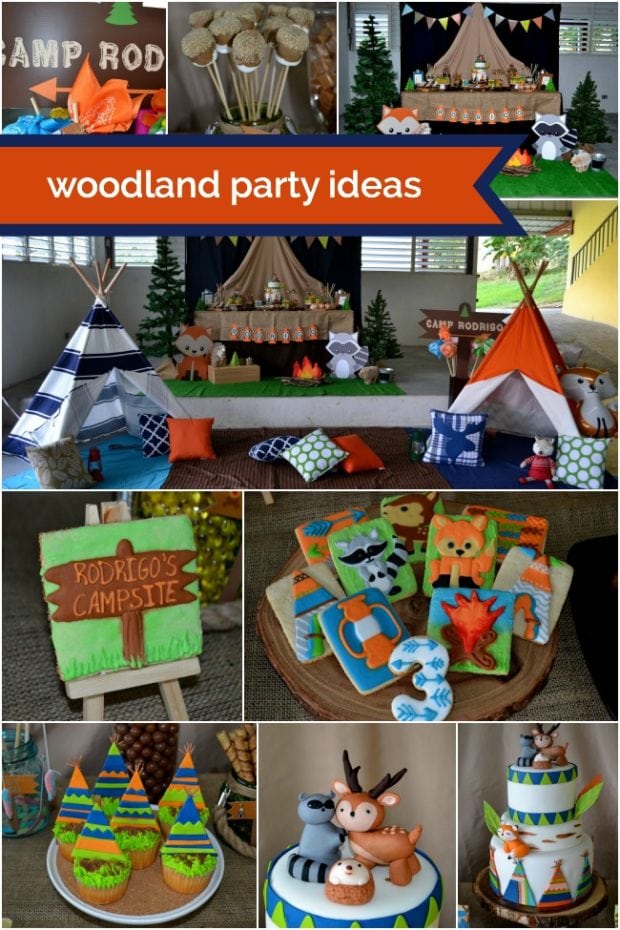 ---
See Also:
---
A cheerful garland in theme colors established this as the place to be. With faux grass and trees called into service, little guests could enjoy a safe "campfire" and the "great outdoors" while staying dry. And although they don't truly light the way, the paper lantern banner on the table front sure is cute.
Aren't the animal cut-outs winsome? A wood box topped with themed objects and flickering LED lights is the way to go at a woodland party.
The burlap-covered table was host to a bountiful arrangement of choice treats, but that adorable birthday cake from The Cake Factory deserves the first mention. Sweet woodland animals, colorful feathers, and tee-pees make this one to remember.
These themed cookies are like edible snapshots of the party—impressive!
Treats like the sweet tee-pee-topped cupcakes, Nutella cheesecake, s'mores on a stick, and brownie bites.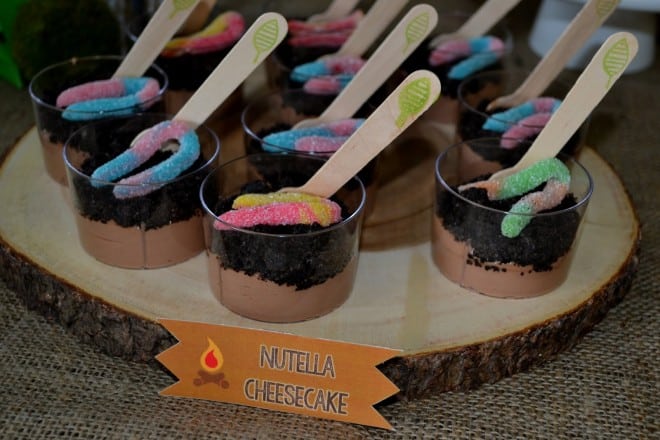 Dimensional trees, cookies on small display easels, and wood slab servers add to the arrangement. Love those mini fishing poles with candy worms.
Since late-night movie viewing was on the agenda, Carol created some cozy viewing spots with pint-sized tee-pees, pillows, and blankets. Handsome shades of orange, lime, navy, turquoise, and brown look woodsy and very boy-friendly. Woodland creatures joined the romp as stuffed toys, pillows, and inflatables and I'm sure playing with the lanterns provided fun for little guys.
For take-home favors, colorful bandanas on sticks were filled with treasures young campers would find fascinating: a magnifying glass, binoculars, and a flashlight.
Those of you who are in the snow-covered territory or rainy season right now might want to take some cues from this birthday party. Indoors or out, this woodland-themed camping party is a great idea for little guys!
Be sure to check out more party ideas here: