21 Fabulous Peppa Pig Party Ideas
Table of Contents
Party like Peppa Pig with these 21 fabulous Peppa Pig birthday party ideas. You can create a festive atmosphere with great decoration ideas, including free Peppa Pig party printables, an Peppa Pig photo booth backdrop, muddy puddle rain boot centerpieces, and a backdrop made entirely out of balloons. Because every party should have desserts, there are ideas for a Peppa Pig M&M cake and cupcakes—easy enough for you to make at home, and even a tutorial for Peppa Pig Rice Krispies Treats or Peppa Pig sugar cookies. Need a Peppa Pig party game or activity? We've found some fun ideas for a DIY "Feed Peppa" party game, and even a "Pin the Tail on Peppa" spin-off of Pin the Tail on the Donkey.
---
See Also:
---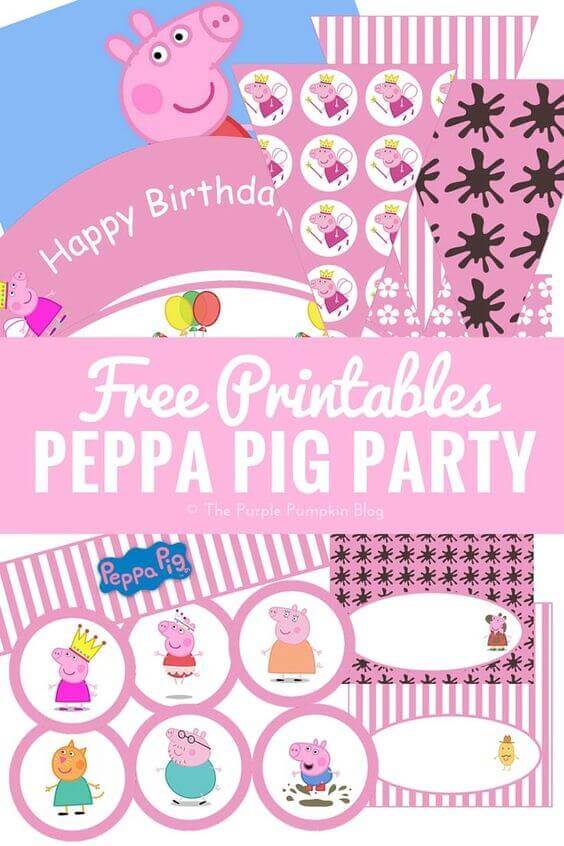 Cute Peppa Pig party decorations are a click of your mouse and download away. These free Peppa Pig party printables include muddy puddles, alphabet and number party flags, pennant flags, food labels, cupcake wrappers, cupcake toppers, coloring pages, paper chains, and even a darling "Pin the Tail on Peppa Game". You can print these from home, or take them to your favorite print shop. Print, cut, assemble, and party!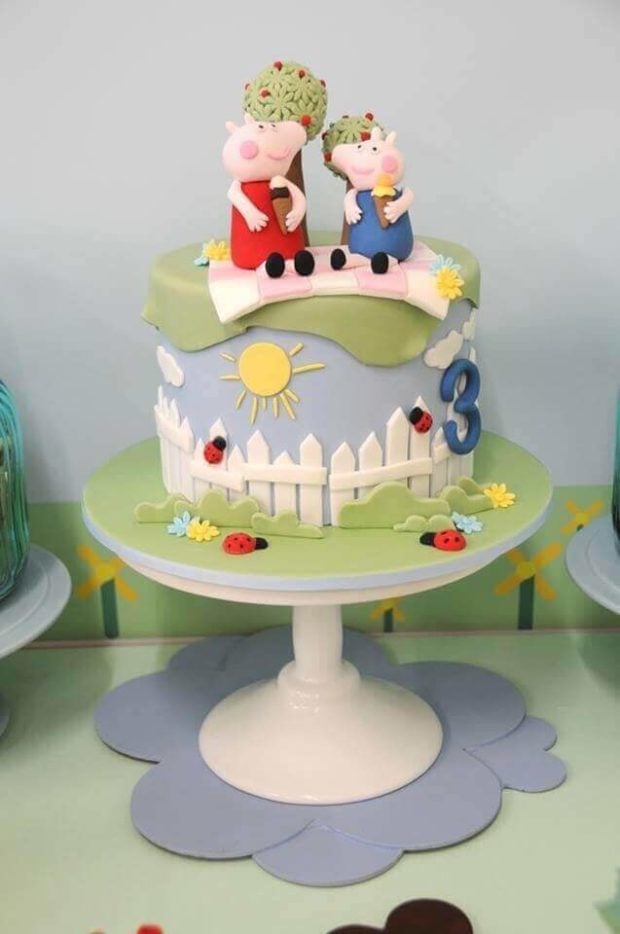 There are adorable birthday cakes, and then there is this Peppa Pig birthday cake. It is amazing. Doesn't it look like Peppa and George Pig stepped right out of everyone's favorite cartoon to have a picnic right on top of this cake? Peppa is taking a break from puddle jumping to enjoy an ice cream cone with her little brother. The fondant detailing is impeccable.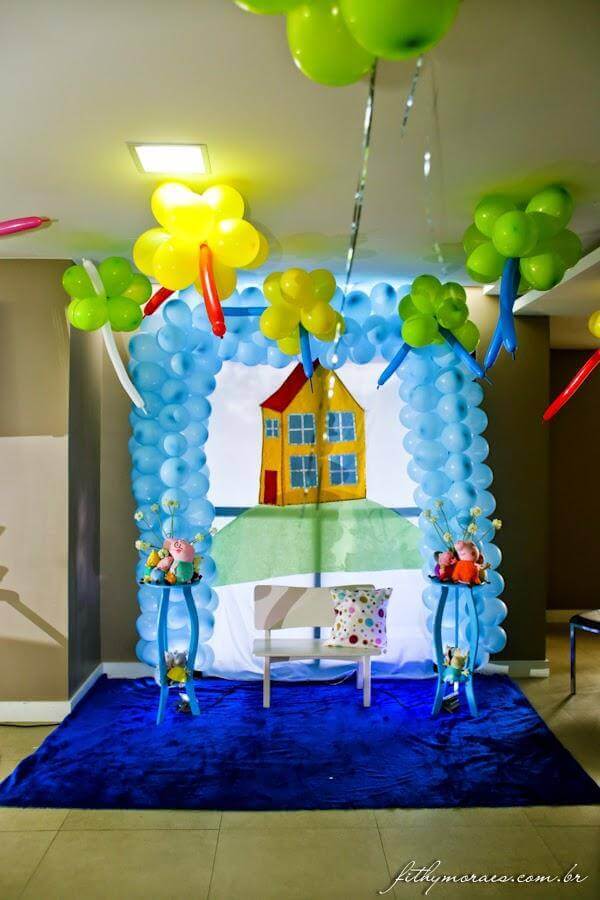 3. Peppa Pig Photo Booth Backdrop
Party guests will love posing for pictures in front of this Peppa Pig-inspired photo booth backdrop, along with their favorite plush Peppa Pig characters. You can recreate the look with a blue balloon arch "sky", a hand-painted house mural, and a nice "park" bench. Guests can grab Peppa Pig and friends to hold and cuddle while their photo is snapped.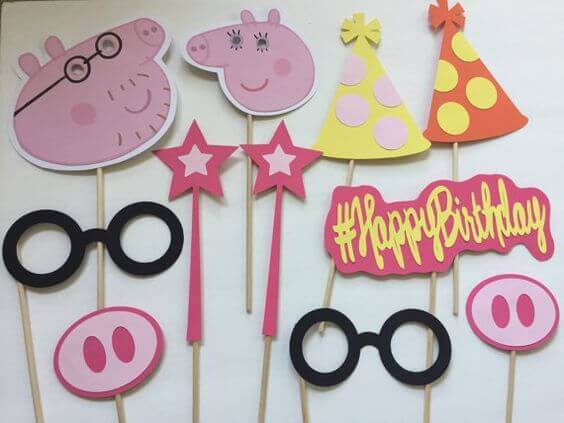 Make your child's Peppa Pig-themed birthday party extra special. These handmade Peppa Pig photo booth props come ready to use and help party guests get into character. The package includes 11 different props secured with a wooden dowel for holding. Add a photo booth backdrop and guests will have fun making silly faces and poses to create fun memories.
5. Pin The Tail On Peppa Party Game
Party guests will get a kick out of pinning the tail on Peppa. Create your own Pin the Tail on Peppa party game, like this one inspired by the classic "Pin the Tail on the Donkey" game. You can imitate the look of this example by using basic craft tools and cardstock. Don't the little curly tails just make you smile?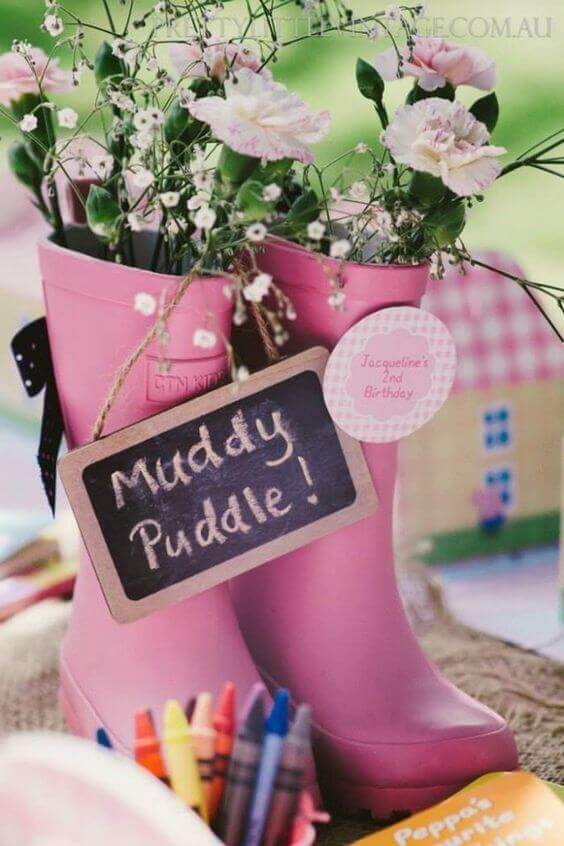 Everyone knows about Peppa's love for puddle jumping. Create darling centerpieces inspired by Peppa's boots by filling cute rain boots with flowers. Use them on an activity table, or to decorate dining tables. You can even spruce op a dessert table with a cute pair of muddy puddle-jumping boots.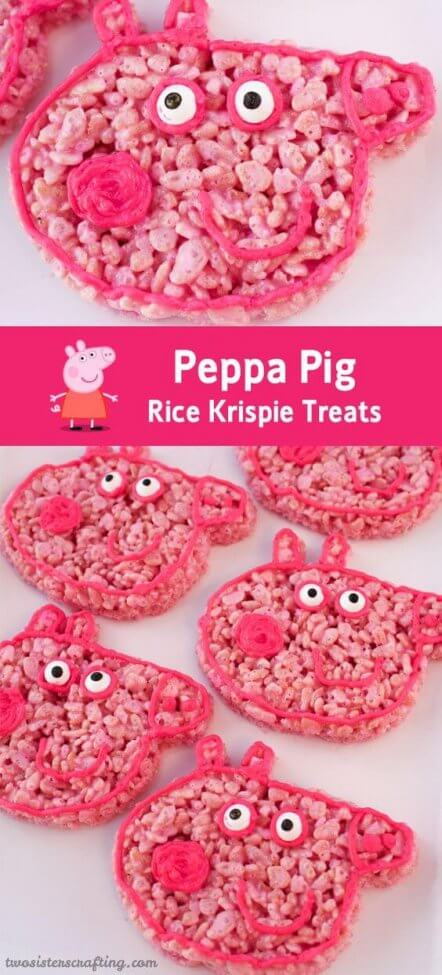 Do you love Rice Krispy Treats and like including them on your dessert table? These Peppa Pig Rice Krispy Treats are as adorable as they are delicious. A little bit of food coloring and some imagination can turn ordinary Rice Krispy Treats into some party-perfect Peppa Pig desserts. You can follow this recipe, or use your own favorite Rice Krispy Treats recipe (standard Rice Krispie Cereal, marshmallows, and butter). You'll need pink food coloring, candy eyes, royal icing, and a Peppa Big cookie cutter to achieve this look.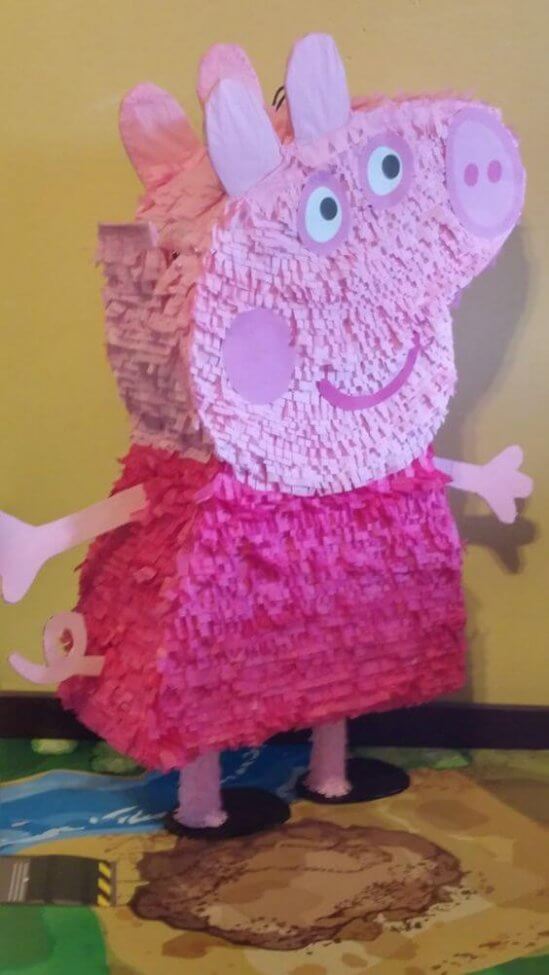 8. Peppa Pig Piñata
When piñatas are as adorable as this Peppa Pit piñata, they serve two functions. First, the piñata functions as a super cute party decoration. Second, it functions as an exciting party activity. If a Peppa Pig piñata isn't in your party budget, you could consider making one using cardboard and tissue paper! Fill the piñata with candy, Peppa Pig toys, or trinkets and stickers.
Cupcakes are such an easy way to serve up a cake at a birthday party, especially a children's birthday party. These Peppa Pig cupcakes are some of the cutest we've seen!
There is nothing like seeing your favorite party character in cookie form! Guests will love seeing these Peppa Pig cookies on the dessert table. You'll love how easy to follow this tutorial is for making them.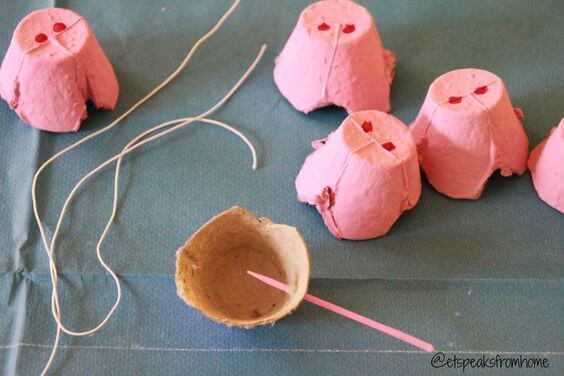 We love budget-friendly crafts that utilize recycled materials and are simple enough that kids can do them with little-to-no help. This egg carton Peppa Pig nose craft fits all those criteria and is a must-have at your Peppa Pig party. You'll need to gather an egg carton (or more, depending on the size of your guest list), scissors, light and dark pink paint, paintbrushes, elastic string, and a safety pin. A few simple steps later, and you'll be seeing plenty of pig snouts on party-ready faces!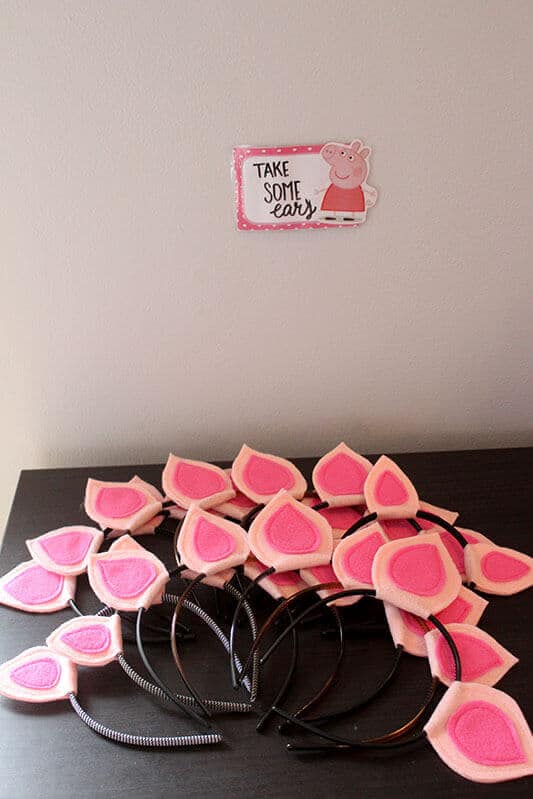 Let party guests dress up as their favorite pig! Make up a set of these Peppa pig ears using inexpensive headbands and two shades of pink felt. While the example shows a super quick stitched version, hot glue would work too. Send home the pig ears as a perfect Peppa Pig party favor when the party is over.

A perfect Peppa Pig party activity includes coloring pages that detail the everyday activity of everyone's favorite pig. Print out these 15 free Peppa Pig coloring pages, and include them on an activity table complete with crayons. Party guests can color during their free time at the party.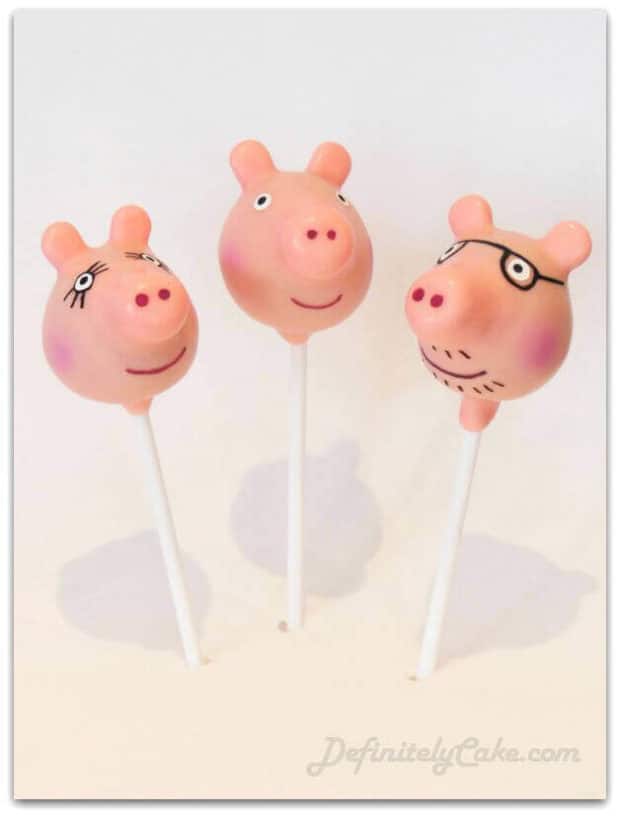 "Here a pig…there a pig…Everywhere a pig, pig…" Can't you just imagine how fun your Peppa Pig party will be with these Peppa Pig cake pops featured as one of the desserts? Pair them with a Peppa cake, and cookies, for the best dessert table around!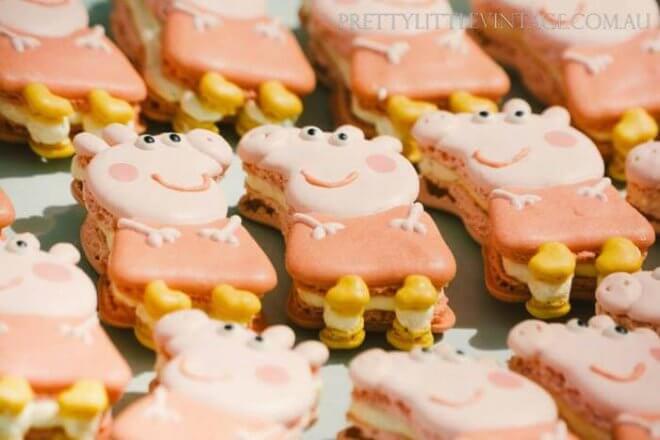 Add Peppa Pig herself to your dessert table in macaron form. Macarons are a little tricky to make in standard form, so a Peppa-shaped macaron will require some serious skill. Can't you just imagine the squeals of delight from partygoers and Peppa Pig lovers upon seeing these delightful cookies?
Muddy puddles are Peppa's favorite. Serve up an edible version at your Peppa Pig party. You can mimic these chocolate muddy puddles by adding melted chocolate or chocolate mousse or pudding to a small jam jar. Add some cute ribbons and child-sized spoons, and you've got one delightful dessert on your hands.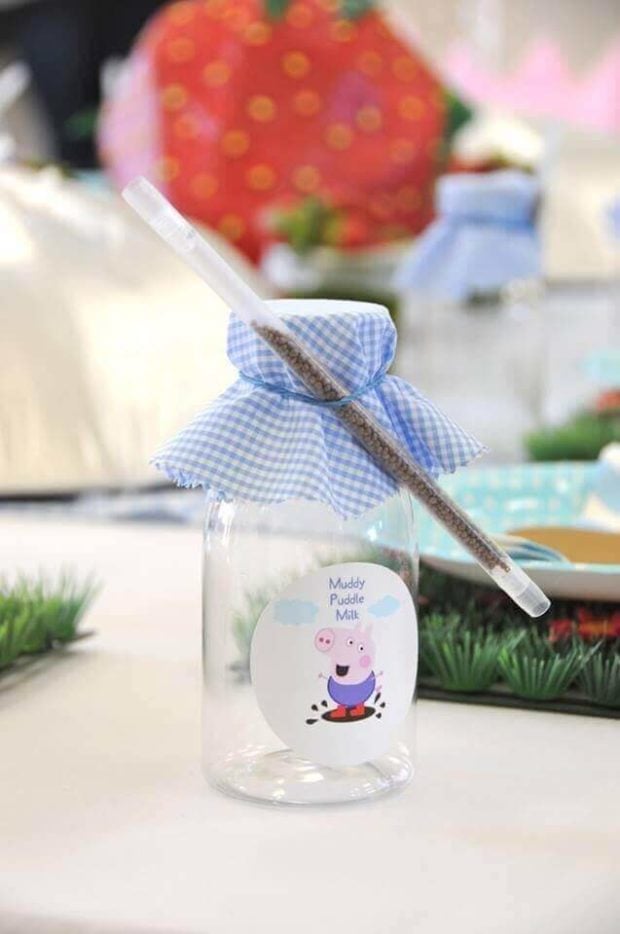 17. Muddy Puddle Milk
Let your guests create their own muddy puddle milk by putting together these cute individual milk bottles with a chocolate-filled straw. The darling handmade label is a cute touch that assists in instant theme recognition.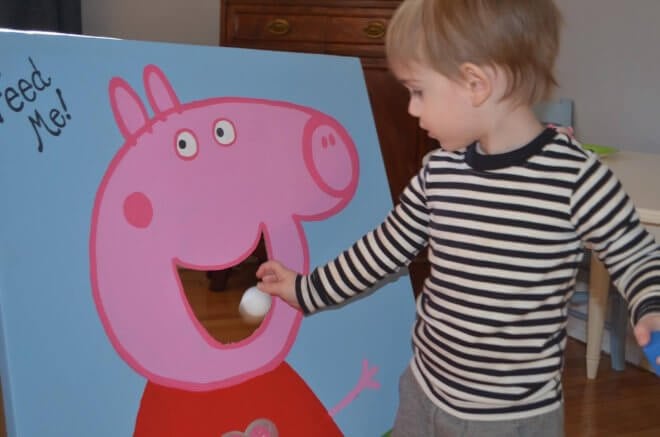 Little Peppa Pig party guests will love getting in on some pig-feeding action while playing this feed Peppa party game. You can create your own game using recycled cardboard and paint. Once finished and dry, use an Exact-O knife to cut a hole in her mouth. Use bean bags or ping pong balls as Peppa's food. Party guests will enjoy trying to toss the food into Peppa's mouth.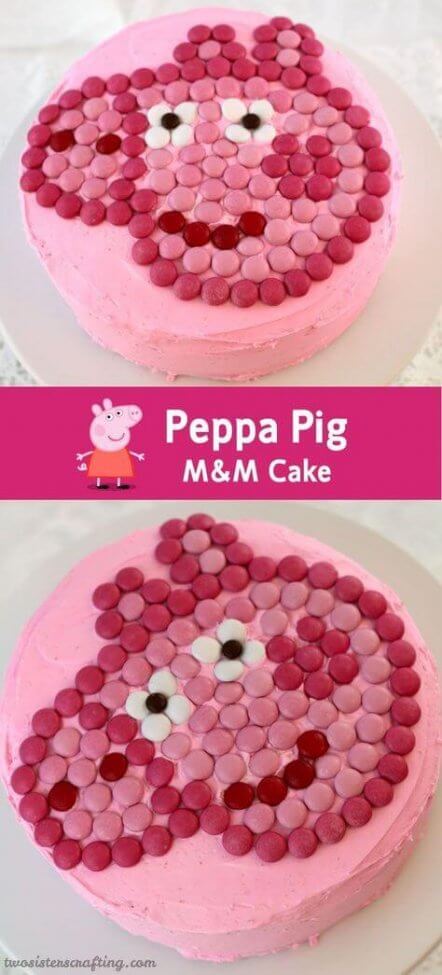 In a time crunch and need a budget-friendly, quick, and simple birthday cake for a Peppa Pig party? Here you go! This Peppa Pig M&M cake is a last-minute idea that is too cute. You can recreate the look with any shaped cake, some delicious pink-tinted buttercream frosting, and M&Ms in the following shades—dark pink, light pink, red, white, and black. Find an image of Peppa Pig's head online, and print it out to use as a template in creating it on the cake using M&Ms.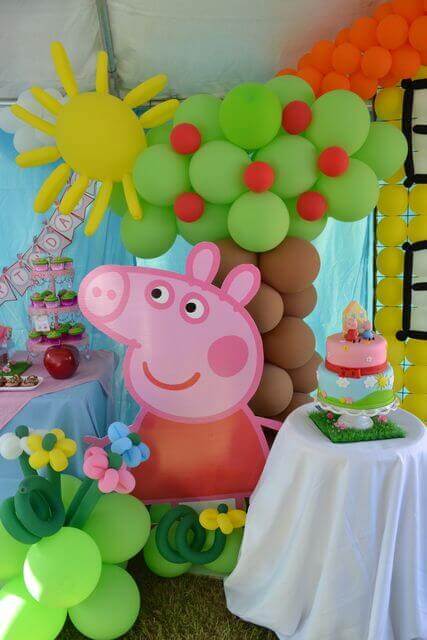 20. Peppa Pig Party Decoration Ideas
There is Peppa Pig party decoration inspiration galore in this creative and whimsical Peppa Pig birthday party. From oversized cardboard characters to an absolutely phenomenal house and yard constructed out of balloons to a dessert table filled with delicious treats, there is so much to love. Peppa Pig decorations are plentiful!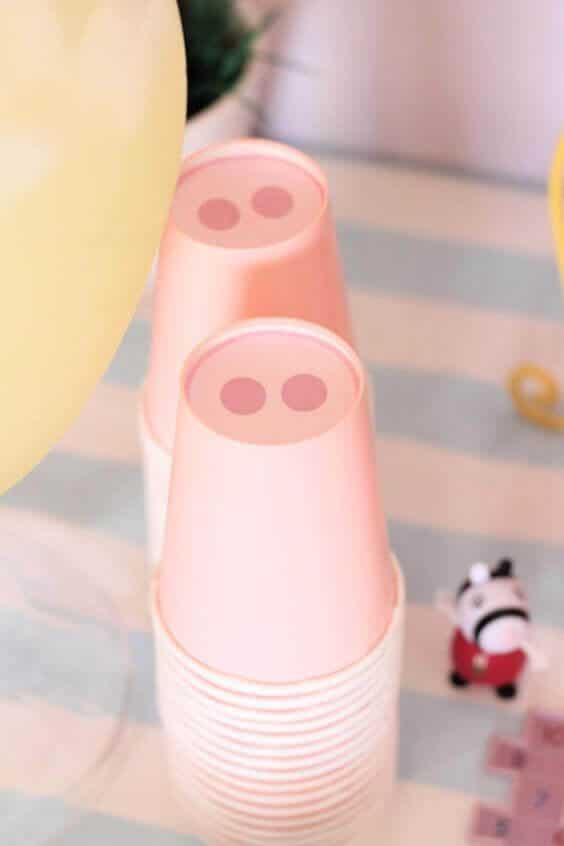 21. Peppa Pig Nose Party Cups
How cute are these pink party cups, turned Peppa Pig noses? You can easily transform a basic pink cup into a pig snout using a pink crayon or marker. Imagine the laughs to come as party guests raise their cups to their mouths to drink, revealing the pig snout!
Check out more great birthday party ideas for kids: