19 Yummy Recipes Using Snickers Bars
Table of Contents
Whether it's Snickers Salad, Snickers Cake, Snickers Cheesecake, or Cookies, there's no dessert that can't make better with a Snickers bar! We love baking desserts with chocolate bars in them. It's such a great party food idea. For instance, you can take a basic recipe and with minimal effort, turn it into something really special just by adding a Snickers bar to the recipe. We have posted a few great treats on this site already including a Snickers Almond fruit dip and a Snickers Mug Cake. But there're so many more on my baking "to-do" list, including Snickers brownie bites and cookies as well as a Snickers cheesecake.
See Also:
Having a quick and easy go-to recipe on hand for unexpected guests or to take to a last-minute party is always a good idea. This Snickers Almond cheesecake fruit dip is great for both of those situations as well as for planned celebrations or "just because". Prepare to wow your friends with your delicious Snickers recipe.
Turn a salad from drab to fab with the addition of Snickers! If you've never had this Snickers Caramel apple salad, you're in for a treat. It's a delicious dessert salad that combines so many amazing flavors and textures. Check your pantry for the ingredients — including Snickers, apples, and cool whip — and run to the store to grab whatever you don't have. This salad is totally worth a grocery store run.
Grab a big bag of Snickers Fun Size candy bars and get your bake on! These Snickers cookies are begging to be made. Soft, gooey chocolate chip cookies with big hunks of Snickers? Is it any wonder that these cookies make the perfect choice for the person who likes extra chocolate and texture on top of the traditional chocolate chip cookie?
Mug cakes made in the microwave are the latest baking craze! This might be because they are individual portion sized and can be made so quickly! This chocolate Snickers mug cake is amazing! Not only is it a moist version of its competitor mug cakes, but it is literally made and ready to eat in just a few minutes (only 70 seconds of microwave cook time!).

5. Snickers Trifle
Trifle is an amazing dessert option, but Snickers trifle takes the cake. Layers of decadence topped off with whipped cream, caramel sauce and chopped Snickers bars make this a dream come true for all Snickers lovers.
Usually, dessert is meant to be shared. But when it comes to this rich, sinfully delicious Snickers cheesecake, all rules go out the window. Good luck snatching a piece of this beautiful dessert specimen topped with ganache and a pile of chopped Snickers bars.
When no-bake, Snickers, and pie are in the same recipe title, you better believe it will be a dessert recipe favorite! Plus, dulce de leche makes a quadruple appearance in the recipe layers. This pie features a store-bought Oreo crust, keeping true to the no-bake claims.
8. Snickers Peanut Butter Brownie Ice Cream Cake
Peanut butter ice cream steals the spotlight in this Snickers peanut butter brownie ice cream cake. This rich, 4-layer beauty boasts the yummiest of ingredients: brownie, caramel and chocolate sauce, chopped snickers, and peanut butter ice cream. Snickers lovers may die and find themselves in dessert heaven. Bonus—it's easy to make and utilizes store-bought ice cream, caramel, and chocolate sauce, as well as a boxed brownie mix! Whip up the brownies, layer, and freeze the ingredients!
9. Snickers Pretzel Bites
A quick treat that is easy to make and perfect for a lazy weekend or a fun get-together, these Snickers pretzel bites are a must-try. A handful of ingredients are all you need—pretzels, Snickers bites, peanut butter, and chocolate. Get ready for chocolate peanut butter Snickers perfection!

10. Deep Fried Snickers Bites
Deep-frying candy bars are a real phenomenon. And what better candy bar to deep fry than a Snickers chocolate bar? Can your taste buds handle it?
Three layers of chocolate cake with peanut nougat filling and a smear of salted caramel sauce. Sounds divine, right? Add to it a thin outer layer of salted caramel buttercream to coat the entire cake and top that with a milk chocolate ganache and chopped peanuts. What does this get you? An unbelievable Snickers-inspired cake that will leave you in a dessert coma (or at least close to it).
Attention Snickers lovers. Your dreams are about to come true in the form of these heavenly Snickers brownie bites. Just imagine fudge brownie squares topped with peanut butter nougat and a thin coating of buttery caramel, followed by salty chunks of peanuts and a milk chocolate coating. (Yeah, we're drooling too.) Print out this recipe now, and prepare to bake up a bit of heaven.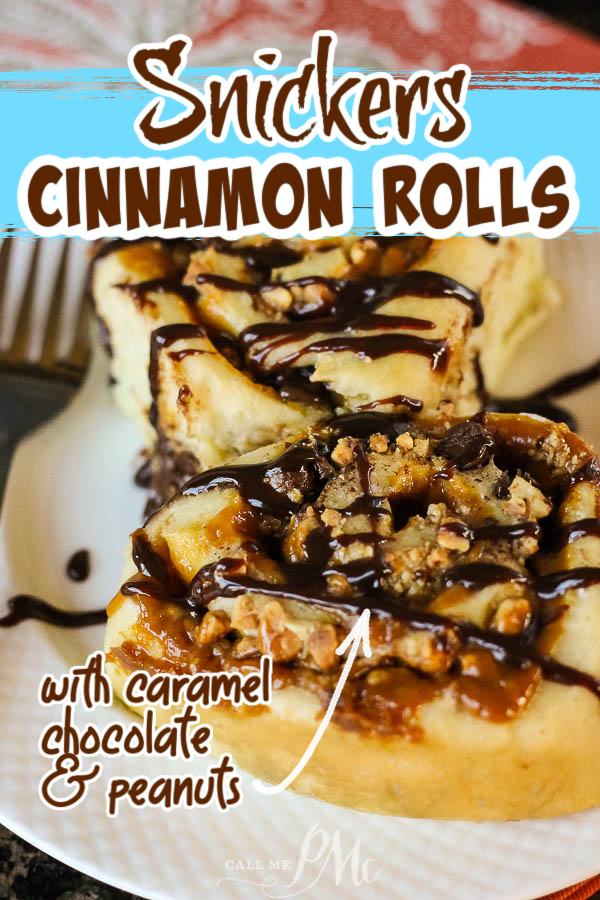 Ooey, gooey, and pure decadence. We bet you could go for one of these Snickers bars cinnamon rolls after that description. Full of rich cholate, buttery caramel, and crunchy peanuts, this recipe pairs the taste of two delicious treats—Snickers bars and cinnamon rolls—into one fabulous treat.
Stop the cookbook presses! This recipe for Snickers cookies results in cookies as beautiful to look at as they are delicious to taste. Imagine crispy shortbread cookies topped with nougat, caramel, peanuts, and chocolate. Heaven in a bite! Ooey-gooey deliciousness combined with a hint of crispiness! How can you say no to dessert when it's this good?
Have you seen those bite-sized Snickers bars, conveniently unwrapped for baking? They are a cute, mini size—perfect for mixing into cookie dough. They save you unwrapping and chopping time, making this recipe for Snickers cheesecake pudding cookies even easier to make. You'll love this delicious cookie. Serve it up at your next birthday, holiday celebration, or dessert night!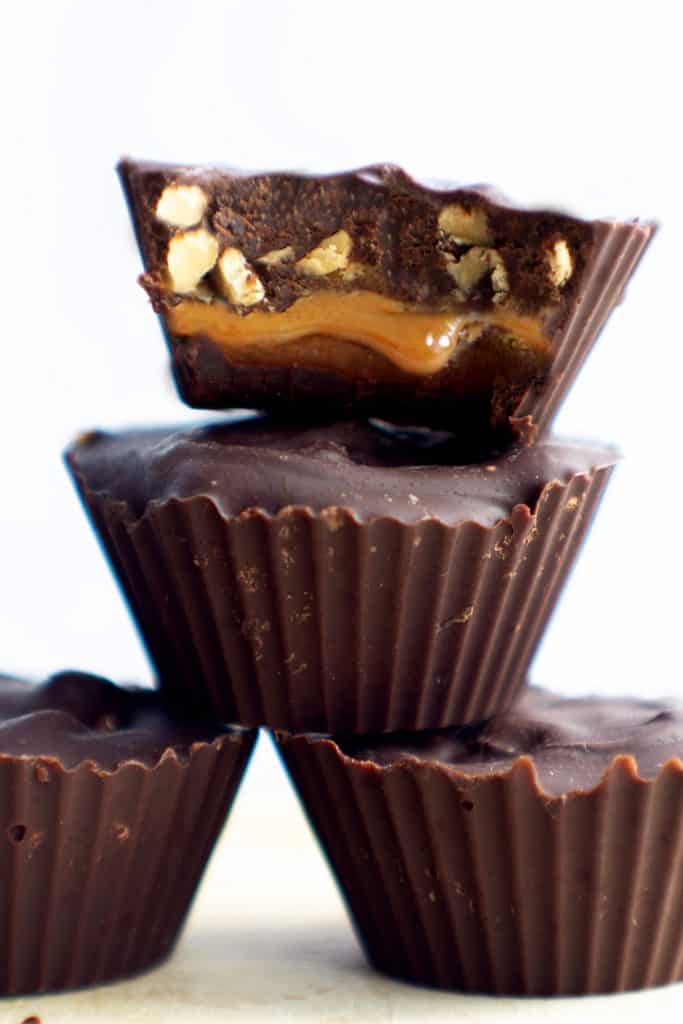 Try your hand at making homemade chocolates! This recipe for homemade Snickers cups is probably easier than you think. Only seven ingredients separate you from chocolate Snickers-inspired dessert heaven. Make up a batch to enjoy and share now. Freeze a batch for later.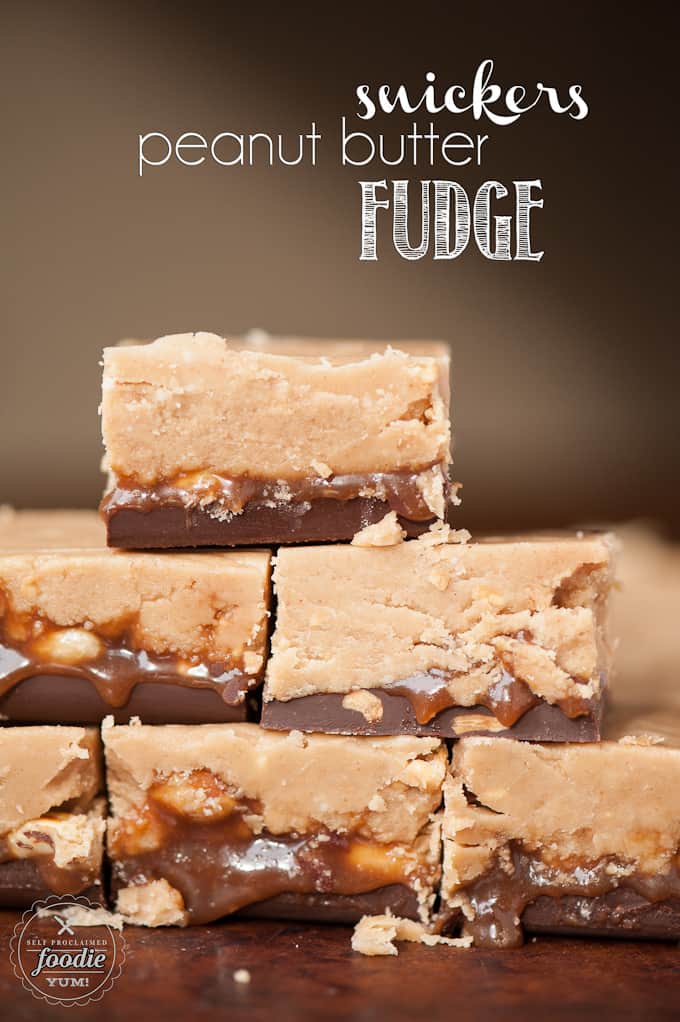 17. Snickers Peanut Butter Fudge
A dessert that everyone is sure to love, this Snickers peanut butter fudge is a microwavable dessert that combines all the delicious flavors of your favorite candy bar into a simple-to-make dessert! While this recipe doesn't actually feature Snickers, it has all of the components people love about it—peanuts, caramel, and chocolate. (You could add Snickers if you wish.)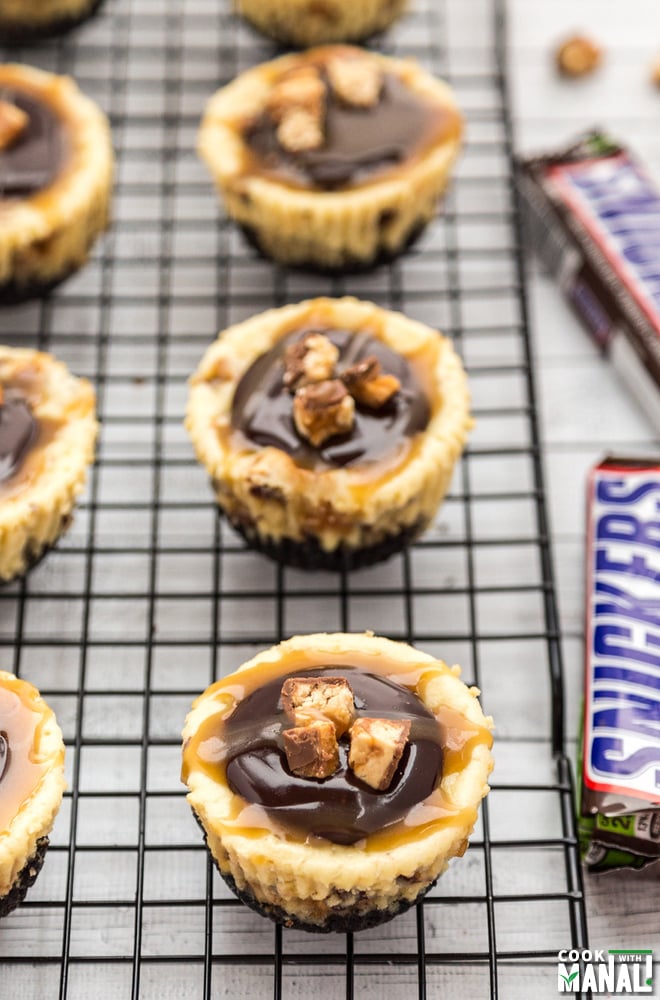 If you are a Snickers fan, these mini Snickers cheesecakes are the ultimate treat! The mini size allows you to indulge in this decadent dessert without feeling too guilty. Featuring an Oreo crumb crust and topped with a chocolate ganache and an easy-to-make caramel sauce, they are sinfully delicious. Add this recipe to your dessert file stat.
Check out this recipe for Snickers cookie cups, especially if making easy everyday treats is your jam. It doesn't get any better than creating an over-the-top cookie using simple ingredients. You can't beat chocolate, caramel, peanut butter, and Snickers.
Check out more delicious dessert ideas: