18 FREE Printable Valentine's Cards For Kids
Table of Contents
Today, we're talking Valentine's Day parties! Valentine's Day is a fun and beloved holiday, and we want to share some awesome FREE printable valentine's cards that you can make with your kids. If you are looking for something that would be exciting to hand out but not too "lovey-dovey", then this will be just what you are looking for.
See Also:
These video game valentines are perfect for video game lovers out there. Simply print and cut these free valentines and give them as is, or add a piece of candy for added fun. These would be perfect to hand out to classmates or friends this February!
Your children will love sending out these monster valentines. Too cute to be scary, they can be printed right from home as a free download. These are fun to hand out, and they can also play with them after. These adorable valentines turn into finger puppets so your kids can let their creativity run wild.
Looking for a non-candy valentine with entertainment value? These printable maze valentines are pretty "ah Maze-ing"! This will give kids a fun activity to keep them entertained after they go through all of the candy they get from other valentines. Distribute them with a cute Valentine's Day pencil attached.
Little ones will enjoy coloring Valentines for family and friends. Now you can hand out a pack of crayons with our printable for an extra-sweet surprise. Let everyone color their own Valentines this year for some creative fun. Crayons are a fun treat and a great alternative to other valentines that include only candy.
Find 70 puny valentines to personalize according to each recipient's interest. All are good for a grin and who doesn't love a good corny joke on a sweet holiday?
Choose from four free printable valentine's options that are particularly well-suited for kids of all ages. Whether your child likes superheroes, dinosaurs, construction trucks, or robots, there are four fun designs perfect for classroom delivery. Let them pick their favorites and sign away so they're ready to hand out this February.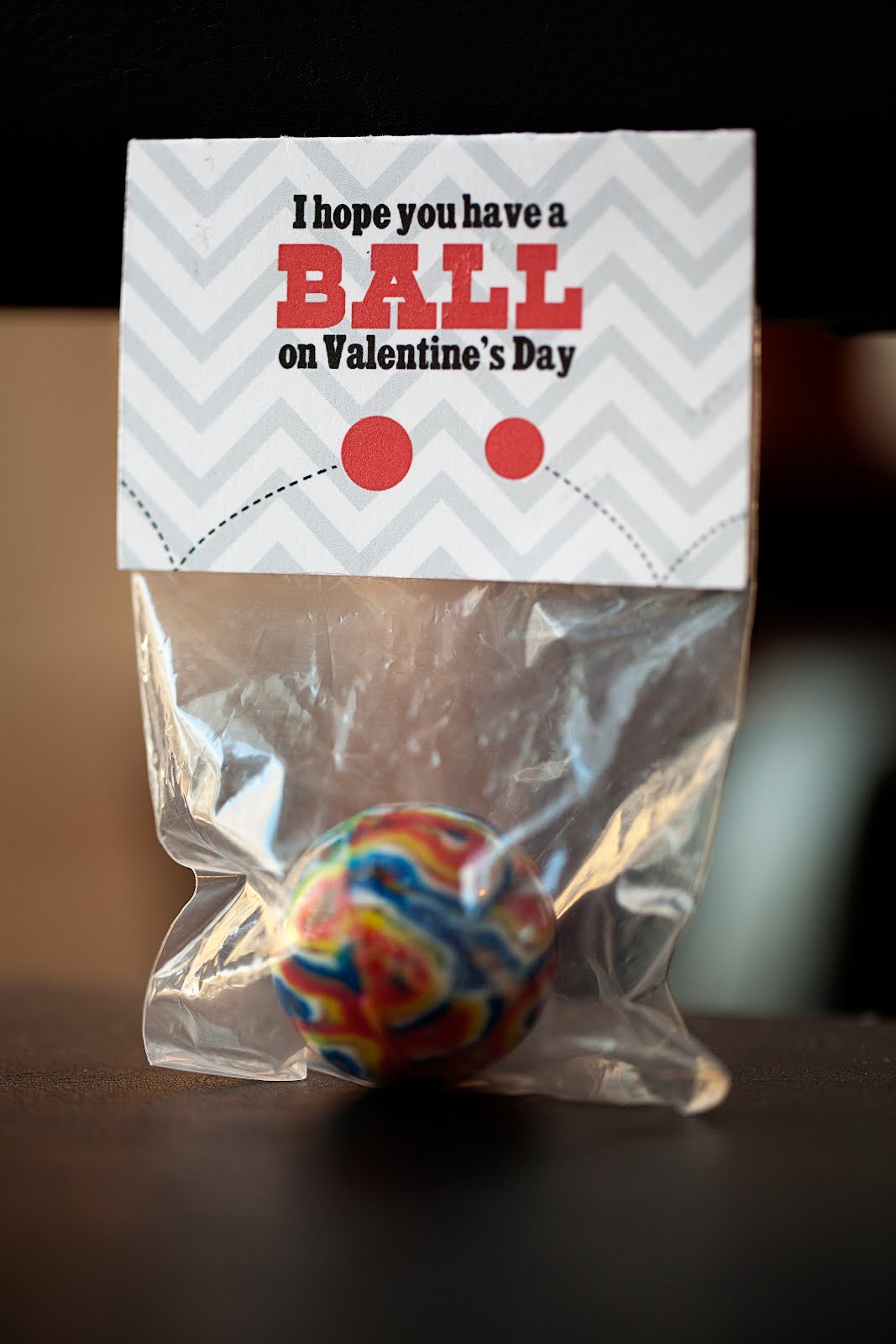 If your kids want to gift a fun toy this valentine, our "Have a ball" printable valentine is a great choice. Package up bouncy balls and attach the cute topper. Plus, kids are sure to love a fun toy with their valentine.
Here's another non-candy Valentine's idea that is sweet as it is useful. Find a pack of fun-shaped erasers at the dollar store to use as an inexpensive way to put these valentines together.
Love is in the air or at least can be! These printable paper airplane love notes are genius. Print the airplane template. Record a love note or valentine's message, and then follow the fold lines to create your paper airplane: air mail!
Put those tiny candy hearts to use this Valentine's Day! This Conversation Heart Tic Tac Toe printable can function as both a valentine's and a fun party game. Add a washi tape tic tac toe board to the printable and package up Conversation Hearts in mini glassine bags.
There is nothing fishy about these fin-tastic valentine's cards. Print them and package them up with your favorite gummy or snack fish. These would be easy and super fun. Have your kids put these together by putting the fish in each bag.
Arrrh you ready for some adorable pirate valentines? Simply print these valentines on cardstock and add hand-cut felt heart eye patches. Add stitching across the paper and a pirate saying, such as "Arrrh you my valentine?"
13. Wheel-y Glad We're Friends
Add a toy car and maybe a little candy and your young valentine will "wheel-y" be happy to hand these out. Everyone will be excited to not only get candy with their valentine but a fun toy as well. Your valentines will be the talk of the classroom!
These free printable dinosaur valentines are definitely dino-mite! Pick your child's favorite candy to attach and have them help out in putting them together. They're super simple — just print the free templates and add your favorite candies.
It's a fact that most kids like just about anything that rolls. These "I like how you ROLL" printable valentines are the perfect gift. Add a small dollar-store vehicle with wheels in place of a treat.
16. You're Out Of This World
You don't need a printable for this fun space-themed valentine, write "You're out of this WORLD" Shaped like a heart with a cool outer space vibe, then attach it to a bouncy ball that looks like a cool planet. Turn this valentine's craft into family fun by letting your kids put these together by having them cut the hearts out and write the messages on each one.
17. Funny Valentine
Add some humor to your next Valentine's Day because everybody loves a good laugh. These valentines come with jokes printed on each box. Pop in a favorite candy or small toy for some extra fun, but the most fun comes from the joke printed on top.
Hit the mark with these bullseye target printables and add pencil arrows, eraser arrowheads, and washi tape feathers. These are super simple to whip up in no time and it should be easy to find a pack of inexpensive pencils at your local dollar store. Clever!
Don't miss these fun party ideas: