How to Organize Your Life in 2022 (16 Free Printables)
Table of Contents
If getting is a New Year's resolution in your household, you're going to love these free printables to organize your life in 2019.
You'll find printables to help you learn how to organize your life, a master goals list, home management and organization lists, money management lists, a grocery planner, a menu planner, a coupon binder, and a craft project to-do and materials list.
For a healthier you, there's even an 8-a-Day printable to help you keep up with drinking enough water.
Check out and check off the boxes in these lists to save time, money and sanity.
---
See Also
---
1. Coupon Binder Printable Pages
From Passion for Savings
Setting a New Year's resolution for money-saving? This coupon binder could be the answer for you!
If saving money is high on your priority list for the upcoming year, these coupon binder printables will help you get your coupons organized. This will make your shopping trips easier and more budget-friendly!
2. Free Printable Downloads to Help Organize Your Life
From I Heart Organizing
I Heart Organizing offers all sorts of free printable downloads to help organize your life.
From printable calendars, to sorting signs for house purging, to project attack sheets, to goal setting sheets and time management printables, there is probably something for just about any area of your life that needs organizing.
Pick one favorite, or a few that way you can your New Year in order.
3. Master Goals Form
From Buttoned Up
Get help sticking to your New Year's goals this year by printing off this free master goals form.
This printable will make setting your goals and remembering them a lot easier this year. By mapping out your goals for the New Year, you'll be able to better remember them and stick to a plan.
It also includes a section for a reward once you complete your goal, so you can treat yourself once you complete it.
4. Free Home Management Binder
From New Bee Homeschooler
Looking for a way to get a few aspects in your life put together in a more organized way in this upcoming year?
With over 35 forms (and growing), this free home management binder will help you organize many areas of your home—finances, housekeeping, meals, projects, and more.
Use them all or pick which ones you want to focus on this year.
5. Free Cleaning Schedule
From Christin Slade
This free printable cleaning schedule offers a great cleaning schedules for those daily, weekly and even monthly household chores.
Stay on top of the cleaning this year by printing them out. Adapt this cleaning schedule to fit your family's needs.
This would be a great way to create a family chore list!
6. A Clean Home Everyday Checklist
From Simply Kierste
If you love having a clean home every day, be sure to print off this clean home everyday checklist. The tip is in daily maintenance that will save you time overall by doing a little cleaning every day.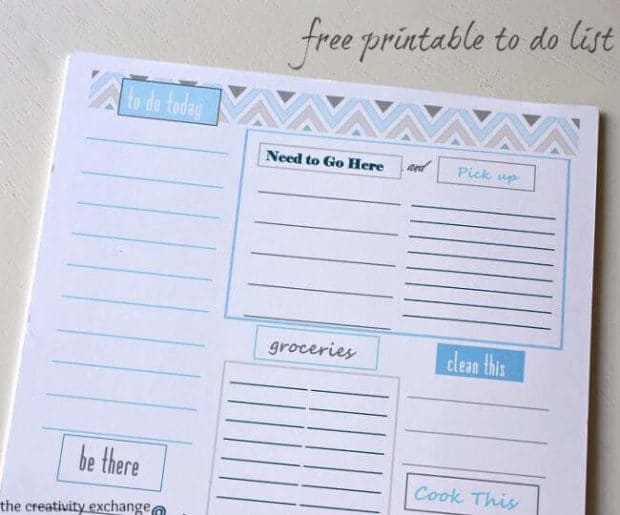 7. Printable To Do List
This daily printable to do list is fantastic! More than just a basic "to do" list, there are mini list areas such as a grocery list, and areas like "to clean" and "to call/text/email", as well as a places "to be" area with room to indicate times.
Sit down in the morning or the day before and fill out all the information for the day ahead that way there's no forgetting what you need to do.
Your day just got organized.
8. Menu Planner
From Homemade by Carmona
Get the menu planner of your dreams—free! No more wondering what you will fix for dinner at the last minute. This printable planner even includes an area for writing down meal ideas.
9. Grocery Planner
From Design Sponge
Simplify your grocery store trips by printing out this grocery planner. There are a few options to choose from based on your style and needs.
This will also help you plan out your family's meals for the week and hopefully save you from the mindless shopping that happens without a list.
10. Budget For Beginners
From Pretty Providence
If you are trying to make a monthly budget to help you manage your money, this basic budgeting worksheet is perfect. Keep track of your daily spending, track debt pay-off, and future financial goals all in one place.
This is a great way to visualize where you're spending the most money and where you could cut back to save some.
Try it out and see how much you're able to save this year!
11. Craft Project To-Do List
Like most crafters, you probably have a few long-lingering craft projects to finish up.
You may even have the supplies, but not a plan for completing them. This craft project to-do-list printable is the answer for mapping out your craft project plan.
12. Weekly Menu Planning
From Mama Bear Diaries, via The View From 510 Looking In
When your family asks what's for dinner, whip out your printable copy of this pretty weekly menu plan.
Not only will it answer the age-old question, it will help you keep up on your menu plans. Sit down with the family and plan your week.
This will also make the grocery shopping easier when the time comes!
13. 8-a-Day
From Wild Olive
Looking to be a little healthier this year? If you struggle with drinking enough water each day and like to check things off, this 8-a-day printable is for you! Make sure you're getting your 8 glasses a day.
14. Home Management Binder Printables
From Organizing Home Life
These free printables will help you keep your entire household organized in one place. Pick out a few that will help out you and your family the most or use them all for maximum organization in the New Year.
Putting them all together in one place will make it easy to sit down and make sure you're on track.
15. Free Printable To-Do Lists
From Moritz Fine Designs
Several daily printable to-do lists are ready for printing to make organizing your life easier. Find the one that best fits your needs and style.
From planning out the daily things such as dinner or to-do tasks, to planning out things in the long-term, these printables have it all.
16. The Ultimate Printable Budget Binder
From Thirty Handmade Days
Get all your family's finances organized with help from these budget binder printables. This is a great way to see how much of your money is going where each month.
With all of your expenses easily listed, it will be able to see where you could cut back or spend a little more each month.
Organize your home for the New Year with these great products:
(Amazon Affiliate Links)
Mop and Broom Holder
Wall Mount Grocery Bag Dispenser
Foldable Fabric Baskets
Foldable Drawer Dividers
Double Rod Closet
Tidy Storage Bag – Nursery Storage and Organization
Can-Organization Rack
18 Loop Scarf Holder
Craft Center Organizer
More great organization ideas: