15 Circus Birthday Party Cake Ideas
Table of Contents
Come one, come all. We are featuring one of the world's most popular birthday party ideas for all ages: circus-themed birthday cakes. You'll have fun checking out decorations, favors, and activities from moms and vendors who have successfully used party supplies and imagination to create the most delightful celebrations.
See Also:
1. Circus-Themed Birthday

Isn't birthday cake so sweet for a little child's birthday party? Try a miniature carousel with its striped straw poles and little circus animals. We love how simple a cake is. With simple white frosting and a piped outline, you can recreate this cake yourself. Also, take note of the adorable clown cupcakes made with sugar ice cream cones and printed cupcake wrappers.
2. Circus Cake
Made for a circus-themed baby shower, this cake is filled with gorgeous details and a super unique design that guests will fall in love with. An adorable fondant elephant, lion, monkey, and zebra hold up a carved big top tent.
Bold colors, festive patterns, and perfect on-theme details make this big circus birthday cake one of our all-time favorites. Cobalt blue, black and white checked, flaming red, and golden layers are stacked high and then topped with a ringmaster's top hat complete with a feather. This cake is sure to be the center of attention on any circus-themed dessert table.
This beautiful two-layer birthday cake looks so festive and is easy enough to recreate at home. The extra tall bottom layer is coated in multicolored confetti sprinkles and a badge with the birthday girl or boy's name. A tiny top layer features a bunting banner with a large number one made of fondant-covered Rice Krispies perched on top.
Simple yet colorful, this festive circus cake is perfect to take to a circus-themed party. Bake up your little one's favorite flavor cake, ice it with plain vanilla icing, and then decorate it with simple fondant circus animals. Roll out red, green, blue, and yellow fondant, then use cookie cutters to create tiny circus animals and the letters of the birthday child's name.
Making your own cake for your little one's special day? Add a cake topper that will amaze your guests. We are loving the downloadable template that includes a few of our favorite circus acts. Just print out these graphics of a tightrope walker, trickster seal, and balancing elephant to spice up a plain white frosted cake. Add some fondant balls and a piped banner for added adorable details.
We love this simple yet elegant three-tiered circus cake from De La Rosa Cupcakes. The top tier of three has gorgeous golden curtains pulled back as if inviting you to enter the circus. An adorable fondant monkey and lion welcome you from the sidelines. This cake would be perfect for a birthday party or baby shower with a modern circus theme.
Come one, come all to the fabulous backyard big top circus! The centerpiece of this fun backyard bash was a beautiful big top smash cake set atop a glass cake stand and surrounded by peanuts. The cake is decorated to look just like a circus tent, with bold red and white stripes, fondant circus animal cutouts, and a little flag topping it off.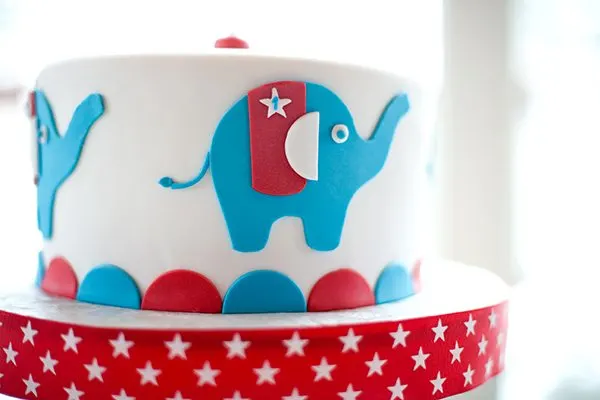 A simple birthday cake with a twist. Bright aqua elephants and cherry red accents really pop against the white background of this beautiful fondant cake. The design is simple but completely adorable, with red and blue scallops along the bottom of the cake and little elephants walking along the sides. We also love the red and white starred ribbon wrapped around the white cake plate.
10. Circus Birthday Cake
A cherry red fondant background is decorated with bold yellow and white harlequin diamonds, stripes, stars, and the birthday girl or boy's name in beautiful lettering. A friendly clown sits at the very top of the cake, pulling the whole theme together. This cake is ready for a party!
Any circus-loving birthday girl or boy would fall head over heels for this super fun birthday cake. It's decked out with bright colors, beautiful patterns, and plenty of circus-themed motifs. The top layer looks like a big bowl of popcorn, with pieces of fondant popcorn spilling out onto the cake. You will also find a bunch of birthday balloons, the child's age, and an elephant balancing right on top.
This impressive cake was made for a niece's fifth birthday. It has a lot of crazy, fun details. All decorated in teal blue, cherry red, bright yellow, and crisp white, each layer offers a new pattern even more fun than the last. Stars, polka dots, stripes, and harlequin diamonds are all topped with a fondant circus tent and birthday age.
A whimsical little elephant sits at the tent, opening this big top cake, just waiting for the party to begin. You can recreate this cake yourself with some fondant and Rice Krispies treats. The Rice Krispies treats help keep the circus tent nice and sturdy and the cake underneath is perfectly decorated with red, blue, and yellow harlequin diamonds.
14. Vintage Circus
Sometimes, simple is best. Get a beautiful white cake and dress it simply with confetti sprinkles and a mini pennant banner strung up between two striped straws. This would even be a great way to make a store-bought cake a little more special and fit your circus-themed birthday party. Add to the fun with some bright red polka dot wrapping paper wrapped around the base of a cake stand.
Four tiers mean four times the celebration. This carnival-themed circus cake is seriously impressive and features so many fun and whimsical details. Bright yellow stars, bold yellow and red backgrounds, and a big top circus tent right on top are beautifully decorated with fondant clowns and circus animals. Any birthday kid would go crazy for this amazing cake.
How stinking cute are these clown cake pops for a circus-themed birthday or baby shower? They are super easy to make too—you can even get the kids involved! Follow the simple step-by-step instructions to create these clown pops yourself with normal cake pop ingredients, some little candies, and ice cream cones.
Check out more awesome and great party ideas: