12 Valentine Boxes Kids Will Love
Table of Contents
Check out these awesome Homemade Valentine's Day Boxes. Some kids think it's just as fun to create their Valentine's boxes as it is to actually get them filled up in their classroom party. We've found some great ideas for Valentine's boxes that everyone will love. There are lots of traditional box-shaped ideas, like the Monster Box, Minecraft Valentine Box, LEGO Valentine Box, Minion Valentine Box, Pirate Ship Valentine Box, DIY Pokémon Valentine Box, and the Dinosaur Valentine Box. There are also some incredibly detailed boxes, such as the DIY Tow Mater Valentine's Card Box, DIY Letterbox, Ninja Valentine Box, and Batmobile Valentine Box. Which box will inspire your kid?
---
See Also:
Don't throw your empty boxes out just yet. Let your kids transform them into one of these adorable monster boxes with a few coats of spray paint and some fun embellishments. Cardboard heart feet and tubes for arms, plus googly eyes made from Styrofoam balls attached to craft wire make these pretty darn cute!
2. DIY Tow Mater Valentine's Card Box
Cars movie fans will love creating this DIY Tow Mater Valentine's card box/ Would you believe this is made from almost all upcycled/recycled materials? Grab a shoe box, another small box, a jelly jar lid, toilet paper rolls, aluminum foil, packing paper, pipe cleaners, a ball key chain, a medicine cup, some orange paint, and plenty of hot glue sticks!
You will love how easy this DIY letterbox is to create using two slightly different-sized cereal boxes, colored paper, and adhesive. The free downloadable template makes creating and assembling this fairly easy. Your children will love receiving Valentine's Day mail in their letterboxes.
I'm pretty certain your ninja lover will go crazy over the chance to create this awesome ninja Valentine box. It doesn't even require very many supplies!
It's amazing to think that these cool shark Valentine boxes were once baby formula and dish detergent tablet containers. A layer of grey wrapping paper and some self-adhesive craft foam accents later and you've got a pretty cool way to collect valentines.
If you want a fuss-free box for storing this year's valentines, this LEGO valentine box is your answer. Plus, it only requires 4 things—a rectangular-shaped box, small paper cups that can be trimmed down, glue, and spray paint (LEGO color of your choice).
If you think all valentine's mailboxes take forever to make, think again. This easy Minecraft creeper valentine can be prepared in no time.
This Batmobile valentine box will delight the Batman lovers in your life! Make it out of a cardboard box, cardboard scraps, black spray paint, and some printable Batman labels.
Check out this Minion valentine box, complete with jean overalls. The details definitely make this idea "one in a Minion".
10. SpongeBob Valentine Box
So, SpongeBob starts with a cereal box. Add a little construction paper and paper towel tubes. What? You thought he was really a sponge?
Create magic with some hand-drawn construction paper details and your best to paint your box brown, or cover it with kraft paper, whatever is easiest for you, then paste on the decorations. You do not have to be a perfectionist to transform a shoe or tissue box into the coolest valentine's box in the class!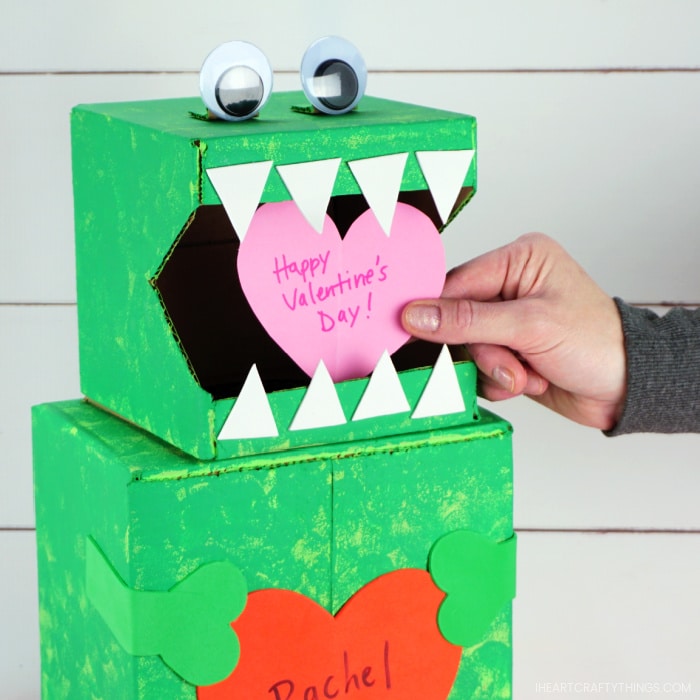 This dinosaur valentine box is easy enough that your child can make it all by themselves. Just grab some valentine's box basics: cardboard box, construction paper, permanent marker, and adhesive (even tape will work)!
BE SURE TO CHECK OUT MORE SUPER COOL THEMED IDEAS HERE: