Looking for new recipe ideas for your family dinner? Check out these 10 most popular posts from Facebook this past week for some great recipe ideas your family will love. Egg Roll Stir Fry, Chicken Bacon Ranch Pasta, Crispy Bacon Grilled Cheese Roll-Up, and Bacon Wrapped Asparagus will have your family asking for more!
---
See also
---
Here are our facebook followers favorite posts from this week:
1. Cookie Monster Cake :: Confessions of a Cookbook Queen :: Share it on Facebook HERE.
C is for cookie monster and cake! This triple layer Cookie Monster cake is adorable and is packed with cookies! It is three delicious layers of sour cream pound cake filled with chocolate chip cookie dough frosting. The goodness continues with a covering of cookies n' cream buttercream topped off with a silky ganache, cookie garnish and some edible cookie googley eyes!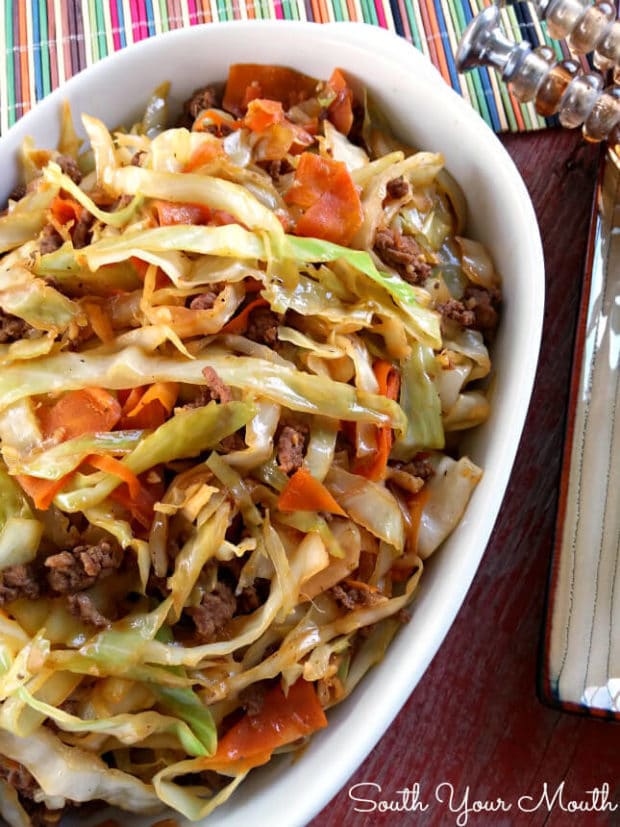 2. Egg Roll Stir Fry :: South Your Mouth :: Share it on Facebook HERE.
Low carb and gluten free, this egg roll stir fry will knock the socks of you veggie lovers! This recipe is delicious and rewarms great too! You can now enjoy the taste of egg rolls guilt-free! Save time by prepping your veggies early in the week!
3. Cadbury Egg Brownie :: Cincy Shopper :: Share it on Facebook HERE.
Calling all Cadbury Egg lovers! These Cadbury Egg brownies are filled with layers of the yummy gooey filling you love so much about the Cadbury Eggs! This dessert is perfect for Easter and starts with a store bought brownie mix, making it so simple!
4. Chicken Bacon Ranch Pasta :: Crafty Morning :: Share it on Facebook HERE.
While not the easiest or fastest recipe you'll ever make, this chicken bacon ranch pasta recipe is definitely a winner! I mean, bacon is part of the name, so it has to be good, right? Add a side salad, some fresh garlic bread, and dinner is served!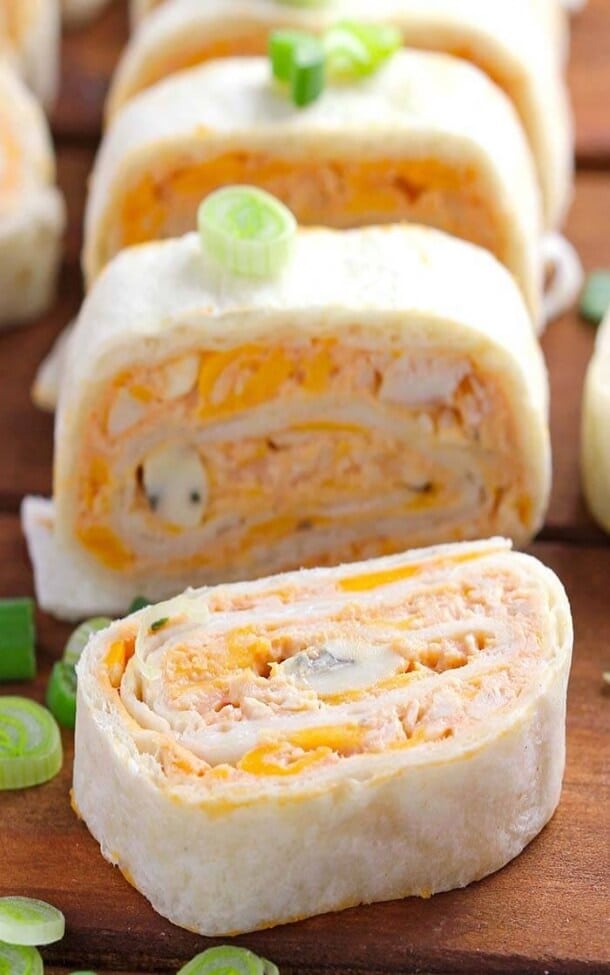 5. Buffalo Chicken Tortilla Roll-Up :: Sugar Apron :: Share it on Facebook HERE.
After their deliciousness, the next best thing about these buffalo chicken tortilla roll-ups is how easy they are to make and the fact that they can be prepared ahead. They make a great appetizer for a party, tailgating for the big game, or a yummy snack before dinner.
6. Buffalo Chicken Dip :: Spaceships and Laser Beams :: Share it on Facebook HERE.
If it's party time at your house, you definitely want to make up a batch of this buffalo chicken dip. You'll love that it only requires 5 ingredients and can be made in your slow cooker. Your guests will love this buffalo chicken dip!
7. Crispy Bacon Grilled Cheese Roll-Ups :: Spend with Pennies :: Share it on Facebook HERE.
Cheese. Bread. Butter. Bacon. Do I have your attention? This recipe for crispy bacon grilled cheese roll-ups combines all 4 of those delicious ingredients into one heavenly delight. Just imagine gooey cheese, wrapped in grilled bread, and blanketed in crispy bacon. Eat them as is, or use them to dip into your favorite bowl of tomato soup.
8. Coffee and Kahlua Crazy Cake :: Sweet Little Blue Bird :: Share it on Facebook HERE.
Crazy cake lovers (no eggs, no milk, no butter), this coffee and Kahlua crazy cake recipe results in a super moist and delicious cake. There's even two versions of the recipe—a mug version for individual serving sizes, and a traditional recipe more suited for sharing.
9. Vinegar Cucumber Salad :: Mom Endeavors :: Share it on Facebook HERE.
Looking for the perfect summer side dish? This vinegar cucumber salad couldn't be easier to assemble, and it is a great addition to summer BBQs and potlucks. You'll only need 3 core ingredients (cucumbers, onions, and apple cider vinegar), plus water, and salt and pepper.
10. Bacon Wrapped Asparagus  :: Cakes Cottage :: Share it on Facebook HERE.
What's better than serving up grilled asparagus? How about adding some bacon?! This bacon wrapped asparagus brings a whole new level of palate pleasing flavors. Add it as a featured side dish to your next meal.
Dinner will be a piece of cake with help from these great Amazon affiliate links gathered by the team at Spaceships and Laser Beams.
(Amazon Affiliate Links)
Check out more great recipe ideas you'll love.