Party Food
29 Easy Christmas Cookie Recipe Ideas & Easy Decorations
You can never have enough tried and true Christmas cookie recipes! Whether you're baking for family, sharing a holiday treat with neighbors, hosting a cookie exchange or just hoping to surprise Santa with something extra tasty, enjoy some good old Christmas cookie decorating with this variety of easy Christmas cookie recipe ideas. These peppermint stuffed chocolate cookies  might be my favorite of them all!
Because there's no limit to the number of amazing recipes that can be found this time of year, we've rounded up some amazing decorated cookie recipes with helpful pictures you can add to your must-try list. We've got all the classics like thumbprint cookies, snickerdoodles, hot cocoa cookies, gingersnaps, peanut butter balls and Ritz cookies. There are also more unique treats including 3D tree, pecan pie, rosemary and orange chocolate chip cookies, and homemade Reese's cookies. Mmm…yum!
---
See Also
---
1. Thumbprint Snowman Cookies :: Munchkin Munchies
Wouldn't these cookies look adorable on a holiday party platter? There are instructions for making them as singles and doubles.

2. Hot Cocoa Cookies :: Glorious Treats
Chocolaty, chewy and an easy sort of frosting make this recipe great cookie exchange potential.

3. Doubletree Cookies with Walnuts and Chocolate Chips :: Spaceships and Laser Beams
You can't go wrong with classic ingredients like walnuts, chocolate chips and delicious oats.
4. Chocolaty Melting Snowmen Cookies :: Better Homes & Gardens
These easy to make cookies don't really melt, making them grin-worthy candidates for gift tins.

5. Easy Gingerbread Snowman Sugar Cookies :: Spaceships and Laser Beams
Use your gingerbread cookie cutter for a perfectly shaped snowman.
6. Christmas Tree Peanut Butter Blossoms :: Java Cupcake
This sweet design is sure to impress but it isn't complicated—a real boon for busy schedules.

7. Raspberry Almond Shortbread Thumbprint Cookies :: Cooking Classy
Here's another version of the popular thumbprint cookies. The red center makes them look especially festive on a cookie tray.

8.  Cookies & Crème Cookie Butter Balls :: Living Better Together via Spaceships and Laser Beams
Gotta fill that cookie jar but you're out of time? Four ingredients and 30 minutes and you're ready to party.
9. Colorful 3D Christmas Tree Cookies :: SheKnows
Who wouldn't be thrilled to receive these edible pieces of art? They would make a spectacular platter display for a party table. No cookie cutters are needed.

10. Salty Chocolate Caramel Butter Cookies :: Tracey's Culinary Adventures
Rich chocolate, sweet caramel and a pinch of sea salt are decadent in the most delightful way.

11. Peppermint Buttercream Cake Mix Cookies :: Tidy Mom
Here's a super-easy cake mix cookie—every holiday cookie tray should have a little peppermint!

12. Chocolate Kiss Powder Puff Cookies :: Averie Cooks
How to make Christmas cookies? Here's a cheater's version of Russian teacakes with only three ingredients. Ho-ho-ho!

13.  Rosemary & Orange Chocolate Chip Cookies :: Spaceships and Laser Beams
Adding rosemary to chocolate and orange even smells like Christmas—divine!
14. The Best Snickerdoodles :: Averie Cooks
Picture this: slightly chewy edges combined with a soft center, topped with cinnamon and sugar. Who wouldn't want some of these in their gift basket?

15. Gingersnaps :: Chef in Training
Here's another favorite Christmas scent. Stuff the cookie jar with a batch of these and swoon every time you take the lid off.
16. Homemade Twix Bars :: Six Sisters' Stuff
If bar cookies are your thing, you will love this gooey homemade caramel, chocolate and shortbread version.

17.  Peanut Butter Balls :: Spaceships and Laser Beams
Not only do I love this chocolate-peanut butter combo, they're easy to decorate plus they look darling stacked on party trays. Bonus: this is a no-flour recipe.
18.  Easy Red Velvet Crinkle Cookies :: A Helicopter Mom
Use a red velvet cake mix to speed up baking day. Confectioner's sugar adds a hint of "snow".

19. Cranberry Bliss White Chocolate Chip Cookies :: The Slow Roasted Italian
From prep to plate in 30 minutes? That is bliss!

20. Cinnamon Roll Cookies :: Confessions of a Cookbook Queen
Could anyone resist these temptations? Maybe you could even call them breakfast…


21. Pecan Pie Cookies :: Spend with Pennies
This cookie dough is really pie dough with a nutty, caramel-y topping. Chocolate chips make quick work of the frosting. Yum!

22. Magic Christmas Bars :: Chocolate, Chocolate and More
Seven layer cookie bars look wonderful in Christmas red and green. Show them off in a clear, glass container on your dessert table.

23.  Peanut Butter Stuffed Chocolate Chip Cookies :: Spaceships and Laser Beams
You can't go wrong with classic flavors. These are delicious and I want one (or more) right now!
24. Candy Cane Oreo Cookie Bars :: Shugary Sweets
Bar cookies like this look wonderfully festive on a dessert plate or a party table and they transport easily in gift bags or tins.

25. The Best Sugar Cookies Ever :: It's Fitting
Is there anything better than sugar cookies? Use your Christmas cookie cutters and a little frosting to create these cookie exchange favorites.

26. Dipped Ritz Cookies :: Favorite Family Recipes
You don't even have to make cookie dough for these fancy little orbs. White or dark chocolate and caramel or peanut butter filling should please anyone on your list.
27. Whoville Cookies :: Midget Mamma
These whimsical red and green swirls require no icing to look dressed up for the holidays.

28. Christmas Tree Meringue Cookies :: This Silly Girl's Life
Aren't these sweet? No one could resist their melt-in-your-mouth goodness.

29. Homemade Reese's Cookies :: iSave A to Z
Use a mini muffin pan and Reese's miniatures in this yummy bite-sized cookie.
Bake up something sweet with these great baking sources gathered by the crew at Spaceships and Laser Beams…
(Amazon affiliate links)
More great cookie ideas everyone will love…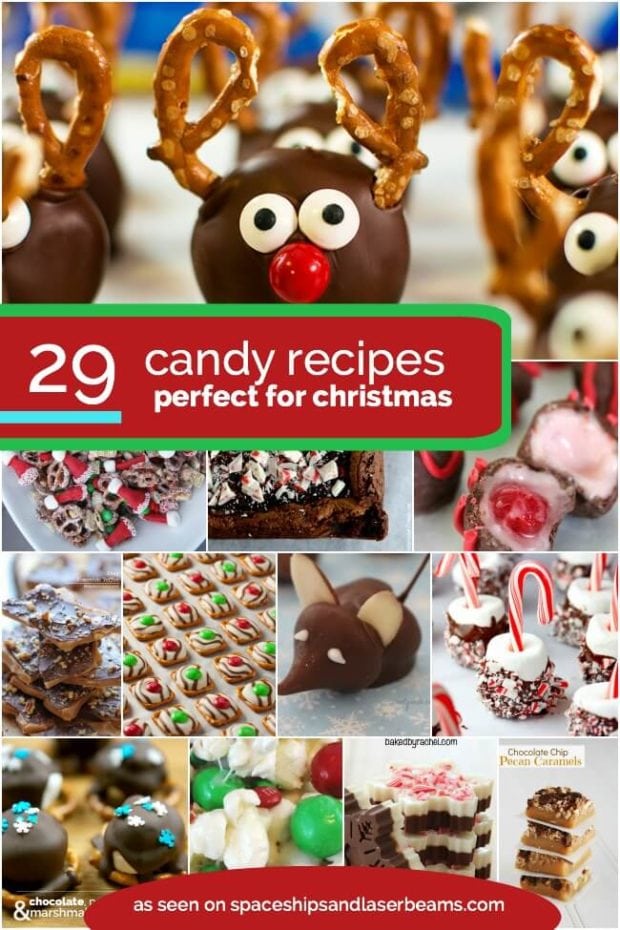 Stephanie Keeping
Stephanie is in love with a boy named Sam. He has taught her that it's okay to jump first and look later, to wear a dirty shirt to the park and to decide that today is a good day to take a nap in your rubber boots. She hangs out here blogging at Spaceships and Laser Beams and at our printable party shop on Etsy.