21 Super Cool X-Men Birthday Party Ideas
Table of Contents
We've rounded up 21 of our favorite X-Men birthday party ideas…
And we can't wait to see how these ideas mutate into something even better! From decorations like Wolverine claw balloons and paper mache letters to yummy treats like an X-Men cake featuring Wolverine to fun party favors like a Wolverine mask set, get ready for some amazing X-Men party inspiration.
---
See Also
---
1. X-Men (Wolverine) Gift Wrap Centerpiece :: Older and Wisor
A present that serves as a centerpiece? Up your wrapping game by creating a Wolverine gift wrapped centerpiece that can also function as a party centerpiece until present opening time!
2. Wolverine Claw Balloons :: My Daily Balloon
Now you can DIY Wolverine claws from balloons! What a fun X-Men party favor idea!
3. X-Men Party Favor (and Printable Tag) :: Pinkadot Shop, as seen on Etsy
Send party guests home from your X-Men party with a sweet favor! Fill a bag full of color coordinating candy and add this awesome printable tag letting guests know you hope they "had a blast".
4. X-Men Cake :: Devany, as seen on Etsy
X-Men fans will love the details of this X-Men cake featuring Wolverine. Two layers of incredible fondant details make this a sure star of an X-Men themed dessert table.
5. Wolverine Shirt :: Shirts.com
Surprise the guest of honor and/or his party guests with an awesome Wolverine shirt. Dressing up makes an X-Men party even more fun!
6. Wolverine Paper Mache Letters :: SugarLagoonParties, as seen on Etsy
These Wolverine paper mache letters are 8" tall and can be customized to spell out a special name or number. They would make a great prop for an X-Men party table!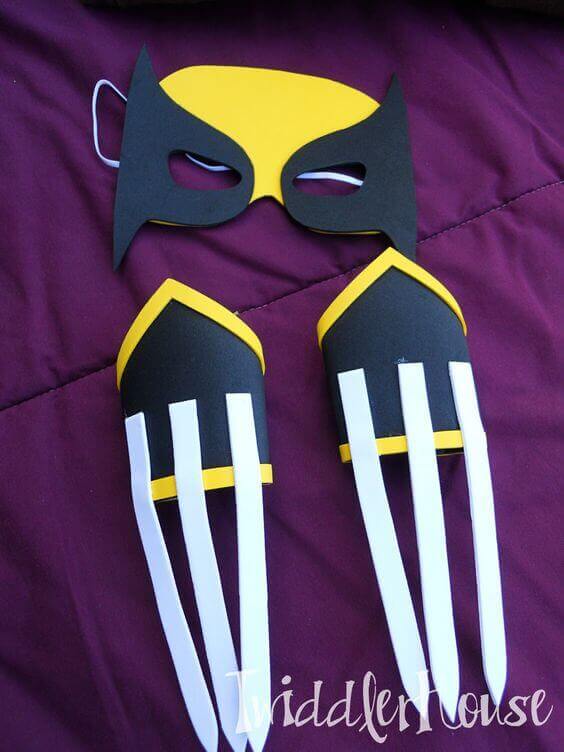 7. Wolverine Mask Set :: Twiddler House, as seen on Gingersnap Crafts
How much fun do you think can be had with a Wolverine mask set? We think this mask and cuffs set is perfect for an X-Men fan!
8. Free X-Men Ticket Invitations :: Great Kids Birthday Parties
Generate excitement for your X-Men party with these free X-Men ticket invitations. You can personalize them using the online template.
9. X-Men Charm Necklace Favors :: Ruzakosgiftshop, as seen on Etsy
Made from polymer clay, these X-Men charm necklace favors make a great gift for party guests. X-Men logos are decoupaged to celebrate favorite characters!
10. X-Men Party Favor Bags :: JJCalebCrafts, as seen on Etsy
Boring favor bags, be gone! These X-Men character party favor bags take favor bags to a whole new level! Check out the detailed paper piecing!
11. X-Men Fondant Cupcake Toppers :: MilkandHoneyCakery, as seen on Etsy
Dress up cupcakes with X-Men inspired logos created out of fondant! Kids love cupcakes!
12. X-Men Masks :: HatchWork, as seen on Etsy
With 7 different X-Men characters to choose from, these X-Men masks will excite party goers! Cutting these with your cutting machine makes prep simple!
13. Wolverine Face Painting :: Face Painting Polska
Wondering how to keep guests entertained at your X-Men party? How about setting up a face painting station? Check out this Wolverine face painting for inspiration!
14. X-Men Free Printable Logo Stickers :: Great Kids Birthday Parties
These free X-Men printable logo stickers can be used for all sorts of things. Add them to a toothpick as a cupcake topper. Punch a hole in them and use them as a favor tag. Modge Podge them to a wrapped sucker for a cool themed treat. How will you use them?
15. Wolverine Cookies :: Riley Bakes
Wolverine cookies would make an extra cool addition to an X-Men party dessert table! Or package Wolverine cookies up and send them home as a party favor.
16. Wolverine Paper Toy Box :: Make Use Of
This Wolverine paper toy box pattern makes for a fun X-Men party activity. Print a copy for each guest to cut and assemble at a craft table.
17. X-Men Party Printables :: petitbouh, as seen on Etsy
Decking out your X-Men party just got easier! Use this printable X-Men themed party printable set to easily decorate your party space and pull your theme together.
18. X-Men/Wolverine Party :: @rutthmonteiro, as seen on Etsy
Get inspired to decorate your own X-Men/Wolverine party by peeking at this party! Balloons, action figures and plenty of yellow and blue décor makes this one festive party!
19. Wolverine Claw Cupcakes :: Deviant Art
Serve up the coolest cupcakes in town at your X-Men party! These Wolverine claw cupcakes are awesome!
20. X-Men Party Supplies :: Birthday Express
Add some pizzazz to your X-Men party table! X-Men themed party goods like plates, napkins, cups and balloons are available for purchase!
21. Wolverine Cake :: Cake Rush
Here's another take on a Wolverine cake! Fondant mask and claws? X-Men lovers will approve!
Plan an awesome X-Men-themed birthday party with these great ideas gathered by the crew at Space Ships and Laser Beams.
(Amazon Affiliate Links)
XMen Balloon
XMen Cake Topper Set
XMen Silicone Tray Mold
XMen Cake Topper
Wolverine Invitations
XMen Paper Cups
Wolverine Thank You Notes
Check out more great super hero birthday ideas.
A Super Special Superhero Birthday Party