A Boy's Vintage Fishing Themed Birthday Party
For her son's 3rd birthday, Jacqulin, of the blog The Little Nook, threw this darling vintage fishing themed birthday party.
Jacqulin pulled off a wonderful celebration – with an amazing birthday cake and cupcakes, a feast fit for hungry little anglers, cool party games and the most awesome party favors, guests were surely left hooked with these fishing party ideas.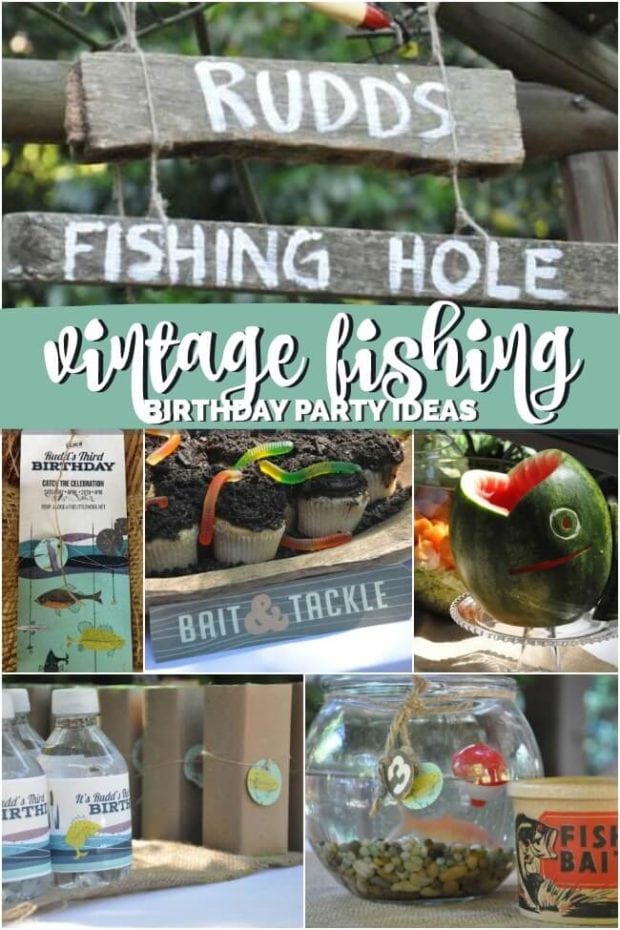 ---
See Also: Looking for more ideas? Don't miss this terrific fishing birthday party!
---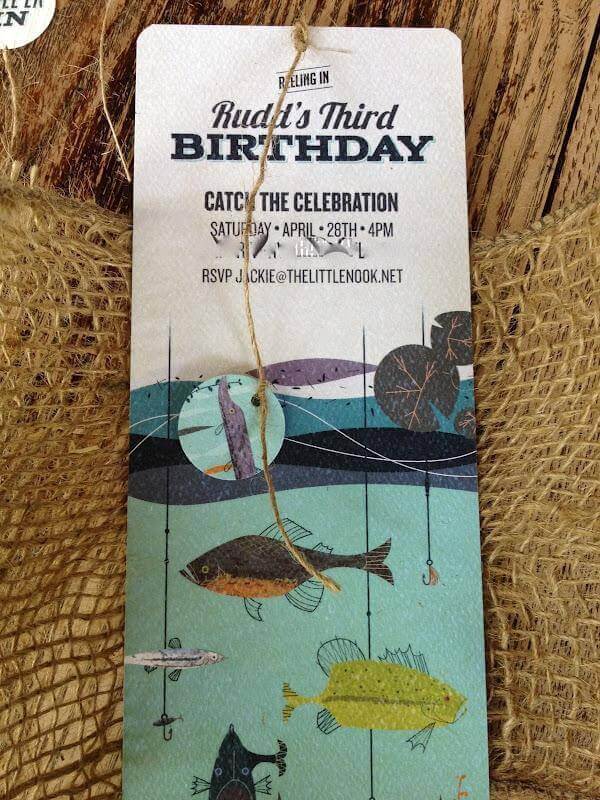 Guests were invited to "Catch the Celebration" at Rudd's 3rd birthday with our printable fishing themed invitations, which Jacqulin tied up with twine.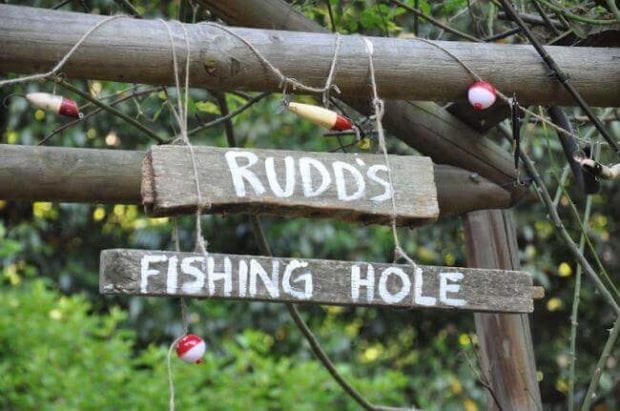 As they arrived, guests were welcomed to Rudd's "Fishing Hole". I love the rustic arbor festooned with bobbers and fish hooks strung as a one-of-a-kind garland.
Being outdoors always seems to make appetites grow. Jacqulin was ready! She had an appealing feast all set for the little fisherman.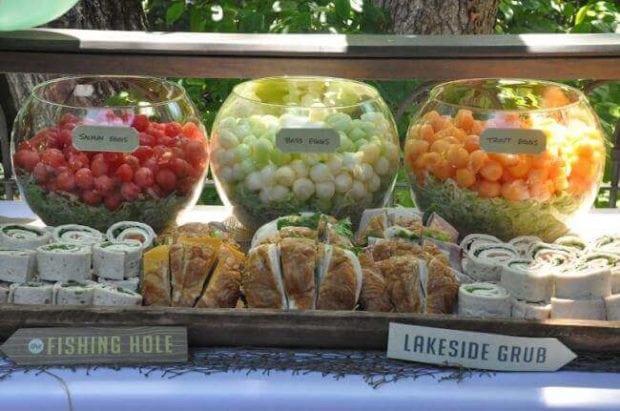 Burlap runners and fishnet served as handsome table covers and I love how food items were served on chiseled wooden trays. The variety of pinwheels and artisan bread sandwiches look so appealing.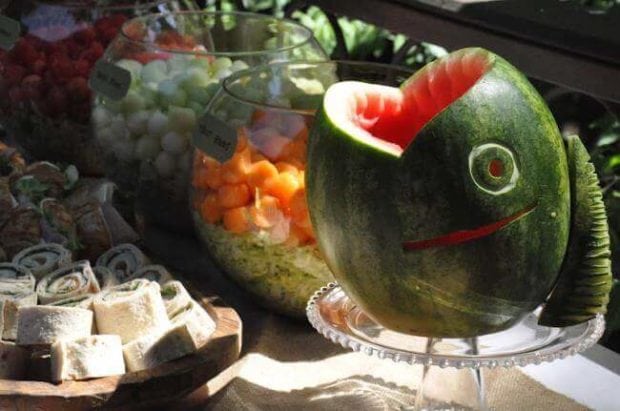 Witty labels turned balled fruit into salmon, bass and trout "eggs". And did you notice the carved fish-shape watermelon? Wow!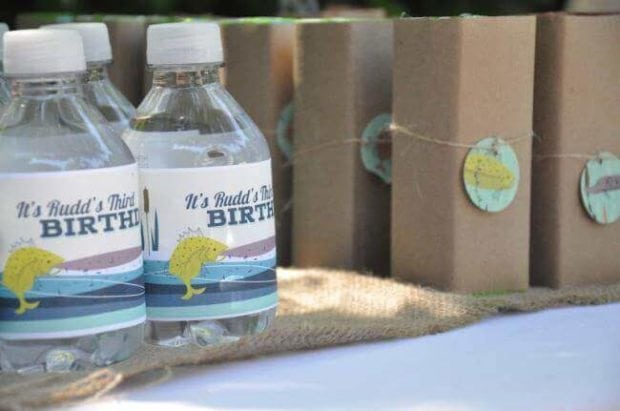 Water bottles were dressed up in our printable beverage labels and juice boxes are hiding under that kraft paper wrap. Twine and a 1" party circle makes them a perfect party catch.
The kid's table included aqua blue plates filled with the cutest menu items—goldfish crackers, ocean blue Jell-O and fish-shaped sandwiches.
And the birthday cake was amazing, complete with fondant reeds, waves and the coolest fish topper.
The second dessert delight was dirt cupcakes with gummy worms. Each of the kids received theirs in take-home "bait buckets". Great idea!
I can't imagine better activities for this party than those Jacqulin planned. Face painting (colorful fish images) is always popular with little ones.
Guests happily practiced catching a few (faux) floppy fish in giant nets.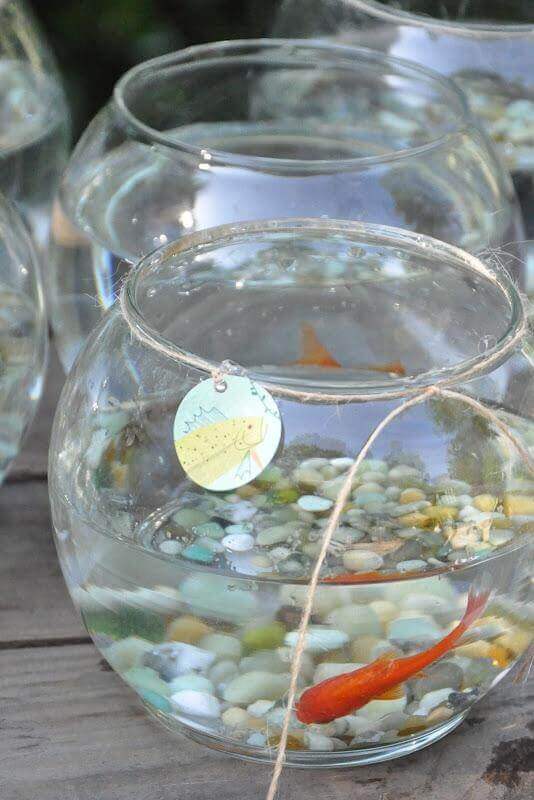 Then it was time for the real thing. Once a guest nabbed their favorite fish, they put it in a glass fish bowl to take home. Isn't that a perfect party favor for a fishing themed birthday?!
It's no fish story…happy little fishermen definitely got caught up in this adorable party!
Looking for catchy party supplies for your boy's fishing themed birthday party? We think you'll love these party sources put together by the Spaceships and Laser Beams crew.
(Amazon Affiliate Links)
Fish Net
Fishing Lure and Bobber Cupcake Rings
Fishing Action Set Cake Decorating Kit
Gone Fishin' Table Cover
Gone Fishin' Birthday Party Pack
Fish Shape Birthday Balloon
Children's Fishing Party Game
Magnetic Fishing Game
Fishing Birthday Boy Costume
Be sure to check out more fishing birthday party ideas here: