Tuck into the best oatmeal cream pies with a creamy filling or even try swapping the flavor of the filling for a new experience.
Jump to Recipe
Table of Contents
These chewy oatmeal sandwich cookies have a light and fluffy, perfectly sweetened vanilla filling, sandwiched between two buttery oatmeal cookies with the perfect hint of cinnamon flavor. If it's been years since you've eaten the Little Debbie classic, this old-fashioned copycat recipe will have you licking the filling as it squishes out from the soft oatmeal cookies.
We love hearty sweets made with oatmeal and butter! If you do too, try these classic Oatmeal Chocolate Chip Cookies, or our No-Bake Monster Cookies – perfect for little ones!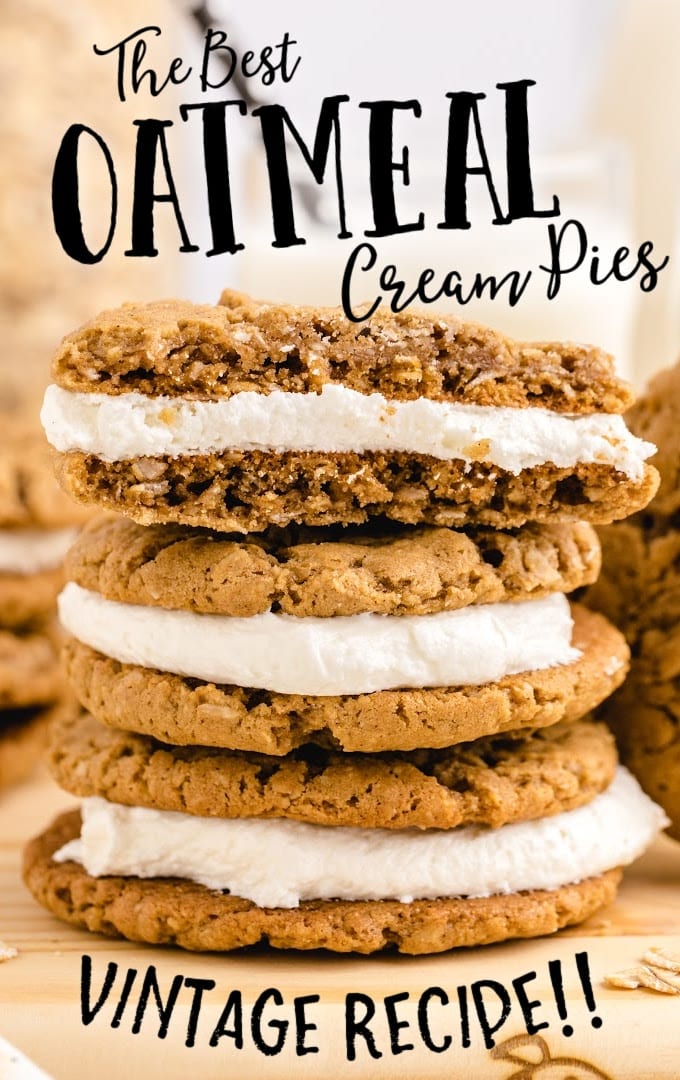 ---
MORE OATMEAL RECIPES:
Old Fashioned Oatmeal Cake | No Bake Chocolate Oatmeal Cookie Bars
---
OATMEAL CREAM PIES INGREDIENTS
You will need:
OATMEAL COOKIES
¾ cup vegetable shortening
¼ cup salted butter
1 ¼ cups sugar
¼ cup light brown sugar
2 eggs
4 teaspoons molasses
1 teaspoon vanilla
2 cups all-purpose flour
1 ½ cups quick cooking oats, pulsed 20 times in food processor
1 cup quick cooking oats, ​not pulsed in food processor
2 teaspoons cornstarch
2 teaspoons baking soda
2 teaspoons unsweetened cocoa powder, not Dutch-processed
1 teaspoons baking powder
1 teaspoon ground cinnamon
½ teaspoon salt
CREAM FILLING
½ cup salted butter
½ cup vegetable shortening
7 ounces marshmallow cream
1 ¾ cup powdered sugar
¼ teaspoon salt
SUBSTITUTIONS AND ADDITIONS
Vegetable Shortening: it may seem strange to use both butter and vegetable shortening in the recipe, but it is best to get the lighter, fluffier texture while also having the richness that comes from the butter.
Cocoa: you can use most types of cocoa but avoid Dutch-pressed because it has less acidity, and this can have a negative effect on the leavening of the cookies
Oats: quick cook oatmeal is the best for this because old fashioned oats tend to be chewier. They also cook quicker and this alters the texture. But if you want, you can pulse all of the oats in the food processor and the recipe still works just as well.
HOW TO MAKE THIS OATMEAL CREAM PIES RECIPE
OATMEAL COOKIES
STEP ONE: In a large mixing bowl, beat the shortening and butter on medium speed for 3 minutes.
STEP TWO: Reduce the speed to low and add both sugars then beat until combined.
STEP THREE: Add the eggs, molasses, and vanilla then beat until combined.
STEP FOUR: Combine the dry ingredients in a medium bowl then use a whisk to stir away any lumps of flour.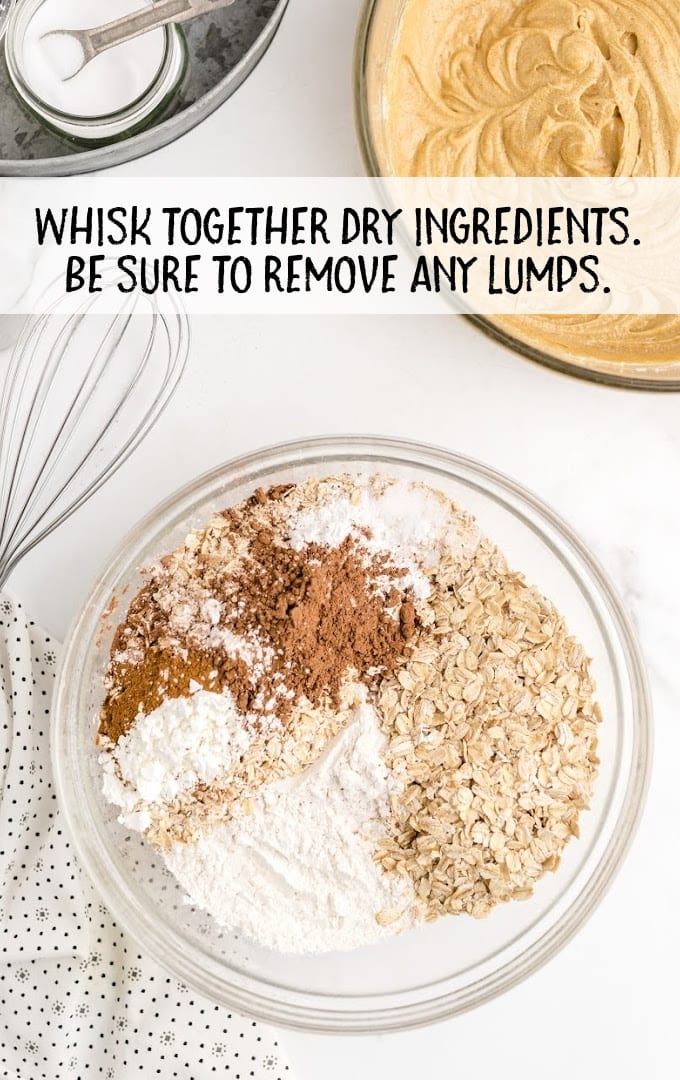 STEP FIVE: Add the dry ingredients to the mixing bowl. Start on a low speed and gradually move up to a medium speed to mix everything.
STEP SIX: Refrigerate the dough for at least 20 minutes. Preheat the oven to 350 degrees and line a cookie sheet with a baking mat or spray with a cooking spray.
STEP SEVEN: Using a 1 tablespoon cookie scoop, place scoops of dough on the cookie sheet 2 inches apart. Use the flat bottom of a glass to press them down until ½ inch thick. You may want to spray the bottom of the glass with the cooking spray before doing this to stop them from sticking.
STEP EIGHT: Bake the cookies for 10 minutes, remove from the pan and cool completely.
CREAM FILLING
STEP ONE: In a medium mixing bowl, beat the butter and vegetable shortening on medium for 5 minutes.
STEP TWO: Add the marshmallow cream, powdered sugar, and salt. Start on low speed then increase to medium until combined.
STEP THREE: Spread 2 to 3 teaspoons of filling on the bottom side of one cookie then place a second cookie on top with the bottom side against the filling.
STORAGE
ON THE COUNTER: You can store the cookies in an airtight box on the counter for up to 3 days. Or if you want to keep them fresh for longer, pop them in a sandwich box in the fridge and they should last for a week. It is best to let them come back to room temperature before eating (if you can wait) so lift them out about an hour before eating.
IN THE FRIDGE: Before you cook the dough, you can leave it in the fridge overnight if you want to prepare it ahead of time without any issues.
IN THE FREEZER: You can freeze oatmeal cream pies by wrapping them tightly and popping them in the freezer. Make sure you use them within three months while they are still at their best.
Enjoy these homemade cookies any time you want with this easy copycat recipe. Tuck into the best oatmeal pie with a creamy filling or even try swapping the flavor of the filling for a new experience. However you serve it, these will become a firm family favorite!
MORE RECIPES YOU'LL LOVE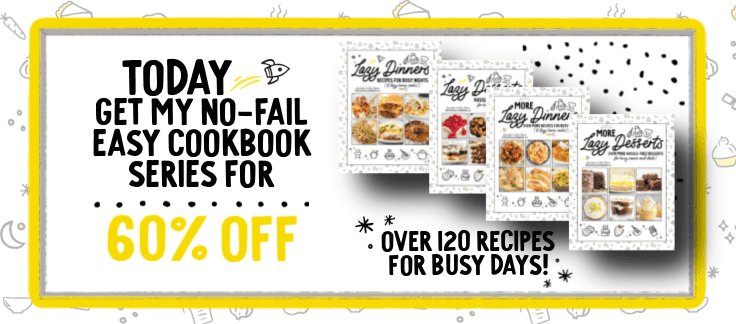 Oatmeal Cream Pies
Tuck into the best oatmeal cream pies with a creamy filling or even try swapping the flavor of the filling for a new experience.
Ingredients
OATMEAL COOKIES
3/4

cup

vegetable shortening

1/4

cup

salted butter

1 1/4

cup

sugar

1/4

cup

light brown sugar

2

eggs

4

tsp

molasses

1

tsp

vanilla

2

cups

all-purpose flour

1 1/2

cup

quick cooking oats

pulsed 20 times in food processor

1

cup

quick cooking oats

​not pulsed in food processor

2

tsp

cornstarch

2

tsp

baking soda

2

tsp

unsweetened cocoa powder

not Dutch-processed

1

tsp

baking powder

1

tsp

ground cinnamon

1/2

tsp

salt
CREAM FILLING
1/2

cup

salted butter

1/2

cup

vegetable shortening

7

oz

marshmallow cream

1 3/4

cup

powdered sugar

1/4

tsp

salt
Instructions
OATMEAL COOKIES
In a large mixing bowl, beat shortening and butter on medium speed for 3 minutes.

Reduce the speed to low. While the mixer is running, add both sugars. Beat until well combined.

Add eggs, molasses, and vanilla. Beat until well combined.

Combine the dry ingredients in a medium bowl. Stir with a whisk to remove any lumps of flour.

Add the dry ingredients to the mixing bowl. Starting on low speed, gradually move to medium speed. Mix until well combined.

Refrigerate the dough for at least 20 minutes. Preheat the oven to 350 degrees. Prepare a cookie sheet by lining it with a baking mat or spraying it with cooking spray.

Using a 1 tablespoon cookie scoop, place scoops of dough onto the cookie sheet 2 inches apart. Using the flat bottom of a glass, press the cookies down to approximately ½ inch thickness. You may want to lightly spray the bottom of the glass so that the dough does not stick to it.

Bake the cookies for 10 minutes. Remove from the pan and cool completely.

In a medium or large mixing bowl, beat the butter and vegetable shortening on medium speed for 5 minutes.

Add the marshmallow cream, powdered sugar, and salt. Starting on low speed, gradually increase to medium speed and mix until thoroughly combined.

Spread 2 to 3 teaspoons of filling onto the bottom side of one cookie. Place a second cookie on top of the filling with its bottom side on the filling. (Bottoms facing filling, tops facing out.)
Nutrition
Sodium:
234
mg
|
Calcium:
38
mg
|
Vitamin C:
1
mg
|
Vitamin A:
303
IU
|
Sugar:
27
g
|
Fiber:
1
g
|
Potassium:
72
mg
|
Cholesterol:
29
mg
|
Calories:
319
kcal
|
Trans Fat:
2
g
|
Saturated Fat:
7
g
|
Fat:
17
g
|
Protein:
2
g
|
Carbohydrates:
40
g
|
Iron:
2
mg