A Vintage Fishing Birthday Party
Table of Contents
This boy's vintage fishing themed birthday party from Jenny, of Crossing the Bugger-Dixon Line, is full of "reel-y" cute details.
If you follow Jenny's work, you already know she is a creative master at planning incredible parties on a budget.
Hook, line and sinker, she's done it again in this fishing themed birthday party.
You're sure to be hooked when you see the clever ideas for party decorations and DIY party favors!.Jenny makes planning a budget-friendly party look easy.
Would you believe this fishing birthday party tablescape, including party favors, only cost her $17 out of pocket?
Read on to learn just how Jenny did it.
---
See also:
Inspiration for tackling a fishing party can be found here in these 20 fishing themed birthday party ideas.
Reel in some awesome fishing birthday party ideas.
---
Jenny's overall concept for this party space was to transform it into a grassy fishing area reminiscent of ponds where she likes to fish.
To accomplish this, she spray-painted inexpensive paper lanterns to make oversized fishing bobbers and hung them above her table for visual interest. Brilliant!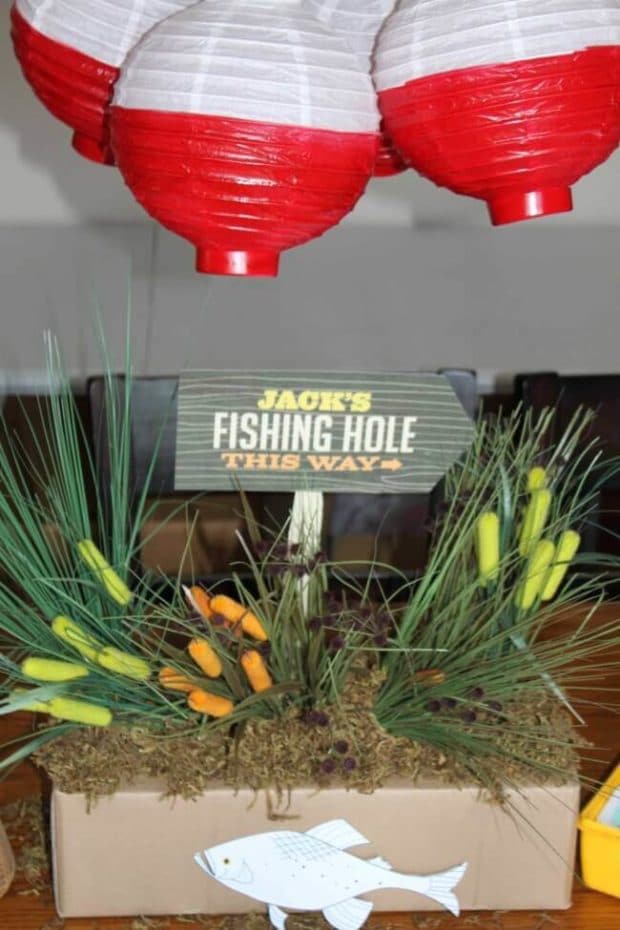 Next she created a table centerpiece from a box, faux grass and reeds from her local dollar store, and a cute "Jack's Fishing Hole This Way" sign. Doesn't it look amazing?
Jenny borrowed a fishing basket, reels and bobbers from her husband and added woven baskets to the table for interest.
Instead of covering the table with linens, she used the natural wood top to keep it simple, rustic and masculine.
Printable fish from our collection were strung with jute to look like the catch of the day. I love how Jenny displayed them as chair backers.
Jenny used real dishes as part of her tablescape, but with a unique touch: Jenny wrapped each charger plate in brown and teal yarn to harmonize with our vintage fishing printables. Silverware was wrapped in white napkins and accented with a small party circle.
A bottle of water accompanied each place setting, dressed up in a custom beverage wrap from our collection. Each cap had a "reel 'em in" sticker on top.
To keep costs down, Jenny chose to forego buying actual tackle boxes for each child's party favor. Instead, she found small dollar store containers (only $0.10 each!) that looked similar to what a fisherman would use to store bait, flies and small fishing gear.
She added gummy worms and topped the containers with a variety of our labels for a festive look. Jenny displayed all of the favors in a real tackle box—so cute.
Aren't you amazed how much Jenny accomplished on such a small budget? I'm hooked!
This vintage fishing birthday party is adorable.
Check out these reel-y great fishing birthday party supplies:
(Amazon Affiliate Links)
Decorative Fish Net
Fishing Lure and Bobber Cupcake Rings
Fishing Favor Bundle Pack
Gone Fishin' Table Cover
Gone Fishin' Birthday Party Pack
Fish Cupcake Picks
Fishing Cake Decorating Kit
Gone Fishin' Square Dinner Plate
Magnetic Fishing Game
Be sure to check out more boy-friendly fishing birthday party ideas here:
Vintage Fishing Themed Birthday Party
Vintage Fishing Birthday Tablescape
Plus, don't miss 20 Fishing Themed Birthday Party Ideas…