Party Central
24 First Birthday Party Ideas & Themes for Boys
By
| Last Updated:
Looking for first birthday ideas for your little boy?
There's something about a first birthday that is so special. I will never forget my own son's first birthday party. It was as exciting for my husband and me as it was for our guests. I also won't forget how hard it was to narrow down ideas for a theme.
I looked at monkeys and aliens and construction trucks and jungle animals and on and on until we finally decided on robots. I wanted to do a round-up post highlighting some of the best first birthday themes posted on our blog, some of the most popular collections in our Etsy shop for first birthdays (based on sales), as well as some of the cool examples that were submitted via our Facebook page.
What I've come up with is a list of our 24 most popular! [Note: While I have ordered them, they really are in no particular order. 🙂

1. Vintage Plane First Birthday
Hands down our vintage plane party collection is the most popular first birthday theme we have in our Etsy shop for boys. As one mom put it, the planes represent the little guy's potential to soar to great heights.
Vania of Canadian Hostess also threw a very cool plane-themed first birthday party (below) for the son of a very good friend. You can check out more of that party here.
Another great plane party for inspiration is this one (below) from Amanda of Red Wagon Events. I love how she DIY'ed the backdrop. It looks amazing!
Or how about this amazing plane party from The Pear Events. The runway, wow!!
2. Woodland-Themed First Birthday
Since the day it was published, this woodland first birthday party (above) has been a favorite post of mine. Megan of Tea Party for Alice threw this party in honor of her son's first birthday and made almost everything herself.
Our own woodland theme was also recently photographed as a dessert table for first birthday party (above). And I also love the owl-themed first birthday party that Hazel of the blog Hazel Loves Design threw for her son (below). The blue and aqua color scheme brings a nice spring feel to the woodland theme.
If you're looking for a more natural color palette, the woodland-themed first birthday thrown by Katie Grace Design (below) might be more up your alley.
Or this eclectic woodland-themed first birthday that has a sweet vintage feel (below).
3. Baby Elephant-Themed First Birthday
The baby elephant theme for first birthday parties has been around for a while and it is safe to say that it's not going anywhere! I would say it is now a classic. Check out this version from Magdalena of Oh So Chic Celebrations (above). She planned the party for the one-year-old son of a client. I am also in love with the baby elephant-themed dessert table (below) that Susanna of Mon Tresor created for the first birthday of a son of a client.
If you're looking for baby elephant-themed inspiration, you don't want to miss this one (above). It's perhaps the gold standard for baby elephant themed parties and was planned by a customer of Australian-based Style Me Gorgeous. Although, one of my favorite versions of this theme has to be the baby elephant-themed first birthday party (below) planned by Dulce Sobremesa for a client's son. That room is such a stunner. I will never forget it.
Want one more baby elephant first birthday party for inspiration? Check out this one (below) from Jen of the blog Koehler Family.
The teddy bear theme was used perfectly by Festa Cum Gusto to honor a special little boy. We just recently featured it on the blog and I love the red, white and blue color palette, as usually you see this theme in pastels.
Speaking of red, white and blue, how adorable is a nautical theme for a boy's first birthday party? This gorgeous party (above) was thrown by Julie of Middle Aisle for her own son's first birthday. Below you will find an equally beautiful nautical themed first birthday party we featured that was styled by Cakealicious by Reem.
Another great blog post for inspiration is this wonderful nautical themed first birthday party (below) that was planned by Sugarbird for the son of a client.
6. Vintage Circus First Birthday
I love every single detail of this circus themed cake. It was part of a first birthday party planned by the talented Jasmine of IDEA! event + style. The themed treats like the marshmallow dumbells are great too. Check out our full feature of this vintage circus first birthday. And while you're doing some surfing on our site, you'll want to also take note of this vintage circus birthday party from Eunice of Hello!Lucky (below). She thew it to celebrate her son Jude's first birthday and you'll find SO MUCH inspiration from all of the handmade details. It's one of my favorite parties we've ever featured on the blog.
And here's the vintage circus first birthday party that I did for my good friend's son:
7. Favorite Baby Book Themed Party
This Guess How Much I Love You Party was thrown by Rochelle from Sweet Table by Chelle for her own son's first birthday. It's such a special book for many moms — including me!
Vanessa of Tried and True threw this adorable Busytown party for her son's first birthday based on The Busy World of Richard Scarry. I love all the personal details.
And just how cute is this Cat in the Hat first birthday party? Planned by Cutie Pie Sweets, it was found via Sweet Designs by Amy Atlas.
Or this gorgeous first birthday (below) from Festa cum Gusto based on the Little Blue Truck book, found via Hostess with the Mostess.
8. Milk and Cookies First Birthday Theme
This milk and cookies first birthday party was thrown by Lauren of Capes and Crowns for her own son's birthday. Of her choice of a milk and cookies theme for a first birthday, she says "When I started planning my youngest son's first birthday party the first two things that came to my mind is his love for milk and his unique, sweet personality."
9. Hot Air Balloon First Birthday
Hot air balloon themed parties for boys have become…well, hot. I've been seeing more and more traffic to these posts. And I absolutely love the hot air balloon themed first birthday party that Angela of Taffie Wishes threw for her youngest son. Playing on the theme "growing/going up," the inclusion of the massive hot air balloon in the decor is nothing short of inspired.
Another gorgeous take on the hot air theme is this first birthday party (below) by Fabiana Moura Projetos Personalizados, found on Kara's Party Ideas.
We've featured a number of little man or moustache themed birthday parties on our blog and I would say that this is the case of a trend that is not going anywhere anytime soon. They are still super popular themes for boys' parties. The favor bags above were part of a party thrown by Mel of Bliss Bloom (Blog). Even though this post is from 2011, I regularly get emails on them!!!
This Little Gentleman first birthday party from Top it Off Designs (above) is also an adorable take on the theme. I am loving the tie cookies and the cupcake toppers (and the adorable cake they had too!).
A unique variation on the little man party is the vintage barbershop first birthday party. The one (below) is from Little Teas, which we featured on our blog in March.
11. Lemonade Stand First Birthday
I'll admit, I don't come across a lot lemonade stand first birthday parties for boys but this one from AlyssaPix Photography is just too cute not to include as inspiration. The theme was "You are My Sunshine" because the birthday boy makes everyone smile. Awe, so sweet.
12. Vintage Farm First Birthday
This gorgeous vintage farm themed dessert table was created by The Caketress for the first birthday. I am completely in love with it. Created in 2011, I've seen so many versions of this table since!
If you're looking for cake inspiration for a barnyard theme, I absolutely love the cake (below) created for this farm-themed first birthday.
13. Vintage Car First Birthday Party
My very first dessert table ever – this vintage car dessert table – was set up for a first birthday party and you can learn more about it here. You can also check it out in use at one of our customer's first birthday parties.
The beautiful cowboy themed dessert table (above) was created by Kendall from Sweet Project and found via Sweet Designs by Amy Atlas. Since her husband is an ex-bull rider, they thought it would make the perfect theme for their son's first birthday. I have to agree!
We also recently styled a cowboy first birthday dessert table here at Spaceships and Laser Beams. This Cowboys and Cookies party (below) actually incorporates two popular first birthday themes!
16. Monster-themed first birthday party
This monster birthday party dessert table I styled is our most popular post ever. (Although there are a few now that are starting to gain on it.) It's one of our most popular themes in the Etsy shop for first birthdays for boys (and girls too!!!).
While we're on the idea of inspiration for a monster theme, I think that this monster party set-up (below) that was done by Katie of Starburst Studio is BEYOND (all caps necessary) clever. It's one of those parties that I look at and wish I had done it.
10 More First Birthday Party Themes You Will Love
Plan a party just like a pro. Sign up for our newsletter and get our FREE PARTY PLANNING CHECKLIST as well as tips from a professional children's party planner — and even recipes and craft ideas!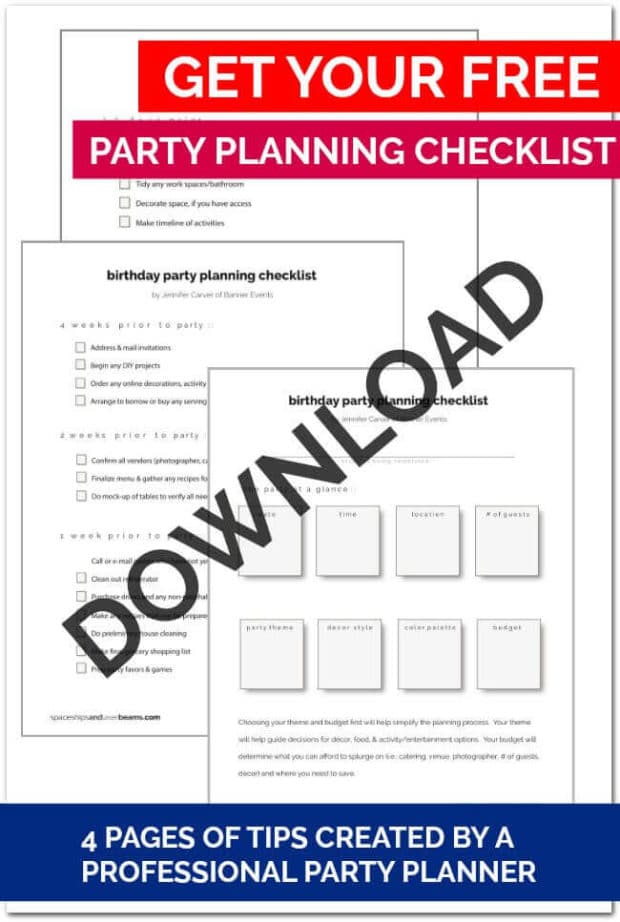 Looking for one more amazing first birthday party idea for a boy? Check out this bumble bee party!

Here are some of my favorite first birthday party supplies, decorations and gifts:
(Amazon Affiliate Link)
Plane Party: This Fisher-Price Little People Lil' Movers Airplane
was one of my son's favorite toys when he was little! I love giving a gift that ties in with the theme.
Circus Party: I love this Retro Vintage Tin Sign
. It would be great to decorate with at the party, plus can be re-used in your son's bedroom or toy room later!
Woodland Party: This Plush Treehouse with Animals
would be darling on the table of a woodland themed party, plus could be enjoyed by the birthday boy later as well!  This Enchanted Forest Bedding Set
would be beautiful as a backdrop for your son's first party! How darling is this Interactive Owl Plushie
? You could use it to decorate for your party, as well as providing a fun toy for your son to keep enjoying after the party as well!
Book Party: This vintage Sam and the Firefly Book would be great to enjoy at the party and then add to your son's library (I still have mine from when I was a child and we read it to our son Sam often). The Elephant and Piggie books are some favorites in our house! This Elephant and Piggie Book Set
would be a fantastic gift, plus how fun to include Elephant on your tablescape!
Teddy Bear Party: The Teddy Bear
is a classic children's book that would be perfect to add to your party.
Nautical Party: This Nautical Illustrations
book would be a beautiful addition to your table – and your son's library! These Nautical Sailor Cupcake Boxes
would be so darling to send treats home in for guests! Lighthouse Wind Chimes
would be a fun way to decorate your outdoor nautical-themed party!
Mustache Party: These Mustache Whistles
would be so much fun to give to guests! Think about the awesome photo opps with everyone wearing these! 🙂 Mustache Notepads
would be great to include in party favor bags! I love these bright and colorful Mustache Rubber Bracelets
for a party favor idea! Take a peek at these Mustache Balloons
to use as part of your decorations. You can put all your party favors in these darling Small Mustache Gift Bags!
!
Lemonade Stand Party: These Ball Jar Pint Jars
would be perfect with a classic lemonade stand theme!
Vintage Car Party: This Classic Toy Car Poster Size
would make a great back drop of wall decoration for your party! As well, this Vintage Toy VW Bug Convertible Car
would make a great decorative item for a table – plus, lots of fun for the birthday boy after his party!
Farm Party: This Lamplight Farmer's Lantern
make it easy to pull off this vintage cowboy feel!