Party Central
20 Bug Themed Birthday Party Ideas
By
| Last Updated:
Is there a budding entomologist at your house? Boys and bugs equal true love and he's gonna love you for choosing this 
best boy birthday party theme
!
Read on to learn some fascinating ideas that include birthday wishes and bugs on your next birthday dessert table. The invitations, decorations, favors and games will leave him bug-eyed with wonder and excitement!
---
See Also
---
20 Bug Themed Birthday Party Ideas
1. From Spaceships and Laser Beams: Bug Bash Birthday Dessert Table– I had so much fun doing this dessert table! Crispy insect nests, chocolate hives and bug specimen cookies looked (and tasted) great with our Bug Collection features adorning the table and the wall.

2. From Pizzazzerie: Fun and Colorful Bug Party – Nothing creepy about this celebration —– it''s all fun and colorful discovery right in your own backyard!

3. From Cindy via Catch My Party: Judah Bug's 1st Birthday – Wonderful balloon bugs, a clever smash cake and sunshine colors created a happy celebration.

4. From Emily via Spaceships and Laser Beams: Boy''s 6th Birthday Bug Party – I didn''t know a bug themed party could be so stylish and gross at the same time! A guy would LOVE celebrating with hissing cockroaches and eating dirt and worms (chocolate cake and gummy candies) and caterpillar kabobs (grapes)!

5. From Debbie via Catch My Party: Ollie's Bug Hunt – A boy''s sixth birthday was made even more special by celebrating with his favorite bug: the ladybug.  Go here to see a cute cake, a ladybug piñata and a photobooth that turned everyone into a ladybug.

6. From Kristen Fetsch via Project Nursery: River's Buggy Bash – With a wiggle-worm one-year-old, mom decided a buggy party would be a perfect theme. She decorated everything in green, blue, yellow and orange for a summery feel.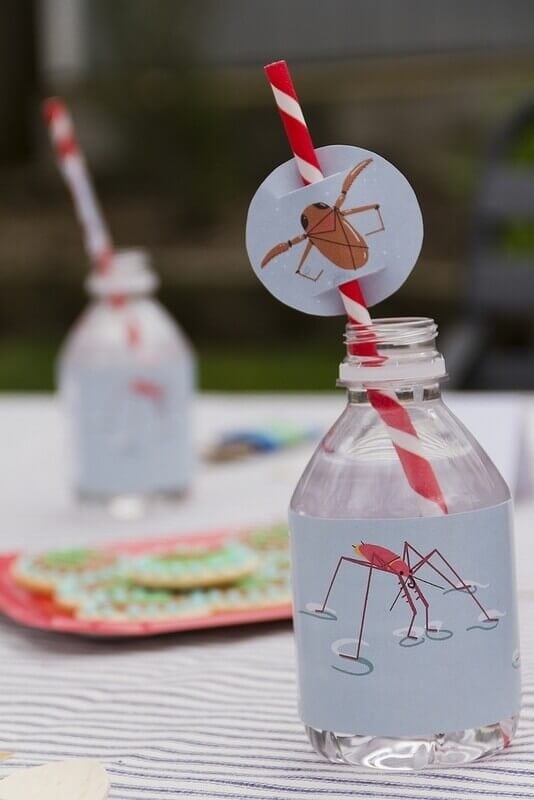 7. From Fun Favors via Spaceships and Laser Beams: Boy Bash Bug Birthday – I do think our Bug Collection is the greatest! Terrific color and a wide variety of insects make it easy to host a Bug Bash. Budget how-to ideas are included at this party.
8. From Ambrini Events via Chickabug: Insect Themed Party – Bug-topped cupcakes in grass-like wraps and LOTS of blue, green and orange lanterns ramped up the party style.

9. From Creative Juice via Pizzazzerie: Bug Bash Birthday – If you were invited to this party you could dig and color and eat bugs…well, not real ones.
10. From Mariela via Catch My Party: Brandon's 5th Birthday – How about a ladybug release for one of the party activities —great idea! A fully stocked craft table and a faux bug-in-the-grass hunt made this party lots of fun.
11. From My Little Mod via Spaceships and Laser Beams: Bug Birthday Party – Darling cake and cupcakes are just the start of a wonderful food display. Notice the theme-perfect take-home favors, too.

12. From Laurel and Ursula via Anders Ruff: Insect and Reptile Birthday Party – The attractive moss table runners (with insects!) caught my attention and there are especially nice favor ideas here, too.

13. From Jennifer via Catch My Party: Bug Birthday Party – Two birthday boys + two birthday cakes + bugs + terrific menu + great favors = one fun party!
14. From Prop Shop Boutique via Party Wagon: Bug Party – Nature''s green with pops of orange and a few other colorful bugs enliven the outdoor venue at this party.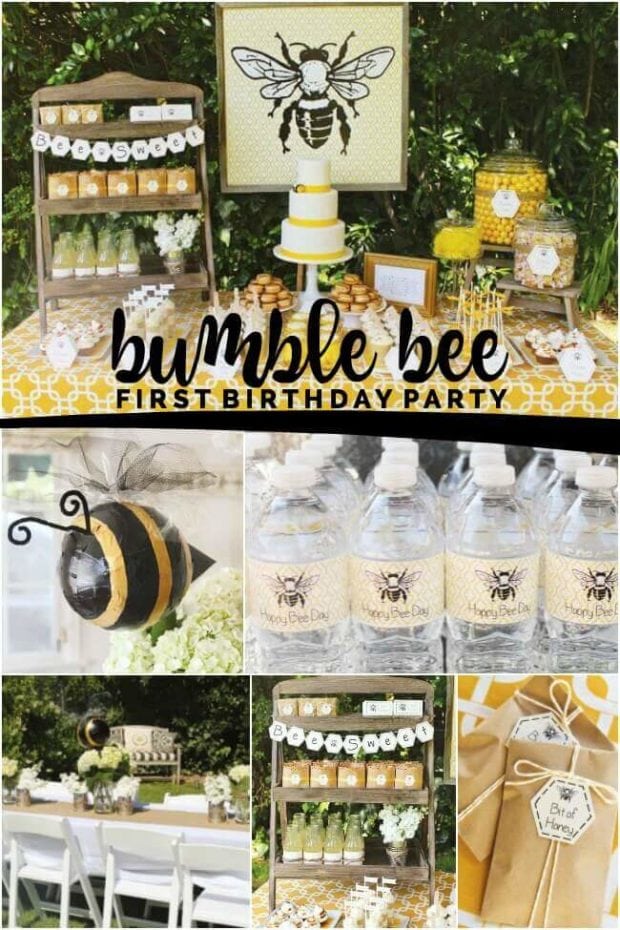 15. From Bloom Designs via Spaceships and Laser Beams: Bumble Bee First Birthday Party A bumble bee theme should suit busy-as-a-bee little guys. These ideas are sweeter than honey!

16. From Candy Chic via Spaceships and Laser Beams: Insect Birthday Party — A beautiful outdoor venue, a stylish set-up and awesome food choices all add up to a lovely party whose theme is still BUGS!

17. From Jessica via Pizzazzerie: A Very Hungry Caterpillar Birthday Party – What a theme for a growing boy! The dessert table at this colorful celebration was filled with foods that the caterpillar eats throughout the book — —clever!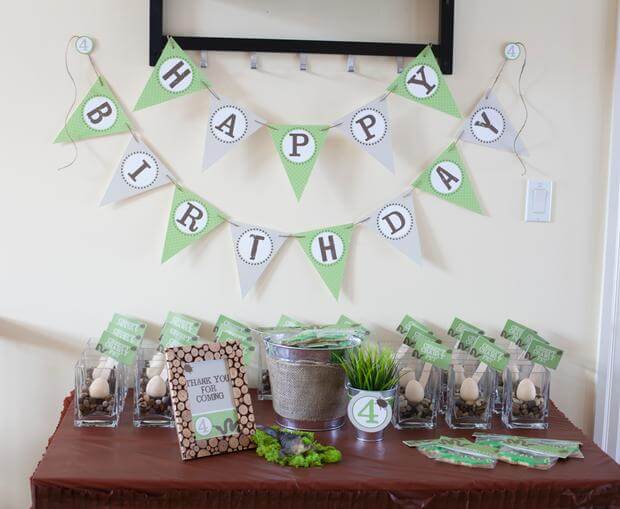 18. From Janine Burk via Hostess With the Mostess: Creepy Crawlie 4th Birthday – Bugs are joined by lizards, snakes, turtles –…all things creepy and crawlie that might delight a young boy.
19. From Oh Goodie Design via Amanda's Parties to Go: Bug Out 6th Birthday – How ''bout inviting a face painter to the party? Kids love having bugs crawl on their faces!

20. From Amy via Spaceships and Laser Beams: Cool Customer Bug Themed Birthday Party – A spider web maze to crawl through and a (faux) bug hunt kept the budding entomologists happily engaged for a long while.
Bonus!
From Ginger Snap Crafts via Design Dazzle: How-to Make Egg Carton Bugs – Whether you're looking for party decorations or an activity for your bug party, here''s a way to make some of those little buggers.