18 Baseball Birthday Party Ideas
Table of Contents
Chances are there is a kid in your house that loves baseball. Whether or not you're a fan of the game, you can enjoy throwing a baseball-themed birthday party. Classic colors, a bit of nostalgia, and a dessert table concession stand full of favorites rank high on everyone's list.
See all sorts of baseball party ideas that include invitations, decorations, favors, birthday cakes, and banners. Catch suggestions for edible baseballs, too, made from Rice Krispies, donuts, graham crackers, and strawberries. This round-up will have you cheering "batter up" — you'll have a ball!
---
See Also:
---

Pay homage to America's favorite pastime with this all-star baseball party right in your backyard. The fun and festive concession stand features sweet and salty treats like kettle corn popcorn, peanuts, and single-serve cotton candy bags. Close family members were outfitted in specially-designed team logo tees and guests received souvenir buttons and vintage-inspired custom baseball cards featuring the birthday girl or boy!
Baseball is considered America's favorite pastime and it's also one of the most popular sports around. After all, it's been around for many, many years. So, it's no wonder baseball parties are so popular. One great idea when planning your party is to create an invitation to get your guests excited to attend and this vintage baseball invitation, which mimics an old baseball game ticket, will do just the trick.
Take me out to the ball game! This legendary vintage baseball party is full of amazing ideas that really take the party theme to the next level. The dessert table is decorated with a swath of burlap and some vintage-looking wooden crates, then garnished with baseball cake pops and chocolate-covered Oreo cookies, Twinkies decorated to look like hot dogs, and glass Coca-Cola bottles. We love all of the vintage-inspired details at this party.
Hit a home run with snack time. Whether it's for team snacks, after-practice munchies, or just for the baseball fanatic in your life, these simple Rice Krispie baseball treats will certainly score big.
Better's up! Shying away from the traditional baseball theme, this mom threw an extra cute curveball with this amazing vintage baseball party for her little slugger's third birthday. Burlap, houndstooth, and hunter green décor create a beautifully rustic and masculine vibe, while the ballpark-inspired sweet treats sound out the bases. My highlights include the mini apple pies, baseball cake pops, "hamburger" cupcakes, and "French fry" cookies!
Every baseball all-star needs some baseball-themed sweet treats at their birthday bash. These chocolate-covered graham crackers do just the trick. They are easy and inexpensive to recreate yourself with graham crackers cookies, white chocolate melts, and red chocolate or royal icing. Pipe the red chocolate onto the cookies to look like the stitches on a baseball and you have the ultimate festive dessert.
Complete your dessert table with these cute baseball cake pops. They are made to look like mini baseballs on a stick. But, filled with delicious cake recipes for your guests to enjoy. Wrap each one with a clear bag and tie it with a ribbon for guests to take home or display them in a jar filled with peanuts to make your party pop!
12. Vintage Baseball Welcome Sign
Welcome your guests to the birthday bash in style, with this personalized chalkboard welcome sign. It is the perfect addition to a classic baseball-themed party full of vintage flare. With an upcycled chalkboard and a little bit of creativity, you can easily recreate this sign. Display it at the front of the house or the main entrance of the party to direct guests to the party field.
These brown paper bag invitations double duty. Not only are they printed from your home computer onto brown paper sacks to use as invitations, but they can also be set up at your party to hold peanuts, popcorn, and of course cracker jacks. Add some decorative twine to the top for a bit of added flair.
Each of the three layers of this impressive fondant cake looks even more amazing (and delicious) than the last. The first layer is inspired by a vintage baseball jersey, with three buttons running right down the center. The second looks like a leather-laced baseball glove, and the top looks like a baseball! It's topped off with the birthday girl or boy's favorite team baseball cap and the base is decorated to look like the field!
The details on this baseball cake are amazing! The first layer is decorated in red and white fondant stripes with a perfectly crafted personalized baseball displayed front and center. The top layer is complete in navy with a quilted pattern and 3 different-sized baseballs. It's topped off with a baseball cap made from fondant and a pennant banner with the birthday girl or boy's age.

16. Burlap Baseball Party Banner
No baseball party is complete without a baseball banner. This burlap baseball banner would be perfect to hang over a dessert or food table and would look great hanging up in the birthday child's room afterward.
These adorable "Fresh Roasted Peanuts" printable tags take your salty party snacks to the next level. The adorable tags add a little something extra special to a snack table, and are available as a free download on this blogger's site! Print them out on label sheets then affix them to plain white paper bags for an easy and fun DIY!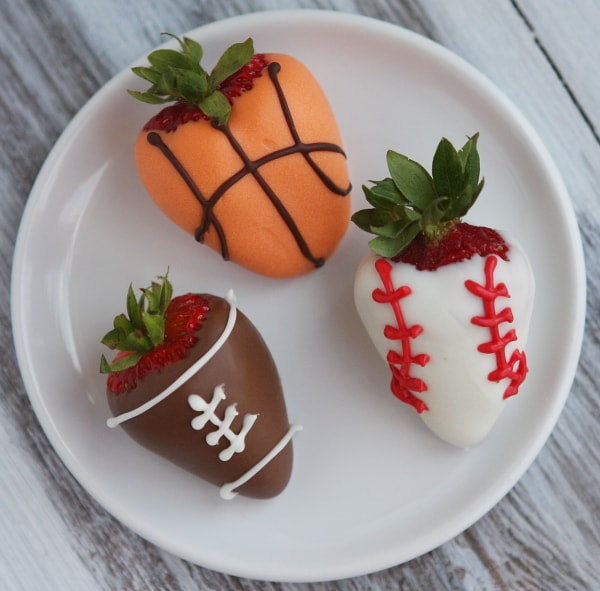 For Father's Day celebrations, birthday parties, or championship game gatherings, these baseball-decorated chocolate-dipped strawberries are the perfect treat! All you need is a little bit of patience, a steady hand, and just five ingredients. These chocolate-dipped strawberries aren't too difficult to make and are way more affordable than the same-bought treats.
Check out more great party ideas kids will love: