29 Cocktail & Mocktail Recipes For New Year's Eve
Table of Contents
Ringing in the New Year with friends or family definitely calls for a special celebration and a great cocktail or mocktail recipe for toasting. Whether you prefer something non-alcoholic or something spiked, these are fabulous and beautiful recipes for you to test out before the ball drops on New Year's Eve. Enjoy everything from virgin mimosas to layered Shirley Temples, to champagne slush cocktails and pink peppermint Russians. There are so many drinks to choose from for your signature beverage. Choosing just one may be harder than you think.
---
See Also:
---
Tart cranberries, juicy tangerines, and tickly bubbles make this Cranberry Orange Punch drink recipe the best for the holiday season. The sweet fizzy punch is perfectly bubbly and so, so tasty. It starts with a homemade cranberry simple syrup which comes together in a snap. Once the simple syrup cools it is muddled with slices of juicy tangerine and finished off with a splash of seltzer water. Try some cranberry lime seltzer for added flavor.
Growing up we always had Shirley Temples on special occasions. The whole family looked forward to the day that the grenadine and maraschino cherries were pulled out of the fridge! These fun and festive drinks are so easy to make and the addition of orange juice not only adds beautiful layers but great flavor as well. They are the perfect drink to serve for family holiday gatherings because they can be made as mocktails or cocktails.
Whether you are having a New Year's Eve celebration, a Christmas cocktail hour, or a holiday season girl's night, this Peach Cobbler Martini is going to be your new go-to drink. It's an impressive-looking cocktail that tastes great and is super easy to make yourself. The martinis are made with a delicious mix of peach vodka, peach nectar, hazelnut liqueur, and a scoop of peach or vanilla ice cream!
We love opening our home to guests for get-togethers, and every good house party needs a signature cocktail. These his and hers signature drinks are perfect for grilling with friends or sipping at a holiday cocktail party. Delicious, quality ingredients paired with delicious liqueurs create drinks that your friends will talk about for years to come.
Kick iced water up a notch with these wonderful faux cocktail ice cubes. Recreate some of your favorite cocktail flavors using a variety of fresh ingredients without alcohol. These infused waters are the perfect drink option for party guests that choose not to drink. You can mix up drinks that taste like mojitos, pina coladas, or sangria by simply popping a few of these ice cubes into a glass of water. Try sparkling water if you are feeling extra fancy!
French 75 is a classic cocktail that combines bright citrus flavor with the earthy notes of gin and the sparkle of champagne. A delicious drink recipe for holiday parties, New Year's Eve brunch, bridal showers, and more. Make sure you use fresh ingredients because you will be able to taste them all in this refreshing champagne cocktail. Garnish each glass with a swirl of lemon peel for a beautiful extra touch.
This citrus strawberry mocktail recipe is the perfect refreshing drink for holiday sipping. It is perfect for any celebration where you want a non-alcoholic drink or any time you are craving a smooth and citrusy beverage. The finished drink is incredibly beautiful too. Tall glasses are rimmed with homemade lime zest sugar, filled with the tasty strawberry lime cocktail, and garnished with slices of fresh strawberry and lime.
The holidays are upon us and there is nothing like a festive drink to take your party to a whole new level! These berry and cream mocktails are easy to make and beautiful to serve to guests of all ages. I love the fun flavors of fresh berries combined with sparkling water. A big scoop of berry ice cream or sorbet adds a creamy sweetness that makes these drinks downright irresistible.
Take a festive twist on the classic creamy cocktail with this recipe for Pink Peppermint Russians! The beautiful color and candy cane garnishes look make this cocktail perfect for holiday parties, and they can be made kid-friendly too! That great peppermint flavor is infused in the drink, paired with smooth vodka and creamy Kahlua. It is the perfect holiday twist on the traditional White Russian drink.
Mimosas are a traditional, bubbly drink for mid-morning celebrations, but if you have guests at your home that are not drinking alcohol these mock mimosas are the perfect option. They taste just like the classic champagne cocktail with only two ingredients! Simply switch out the champagne for ginger ale for fun and a fizzy drink that every guest can enjoy. You really can't go wrong with this simple fun drink.
This pomegranate margarita recipe only needs three ingredients and it tastes so good that you will want to make a whole pitcher for yourself and your friends. Your non-drinking friends can try out their mocktail version too. Limeaid, pomegranate juice, and a splash of gold or silver tequila come together to make one tasty cocktail. Rim the glasses with sugar or salt and add a lime wedge for garnish!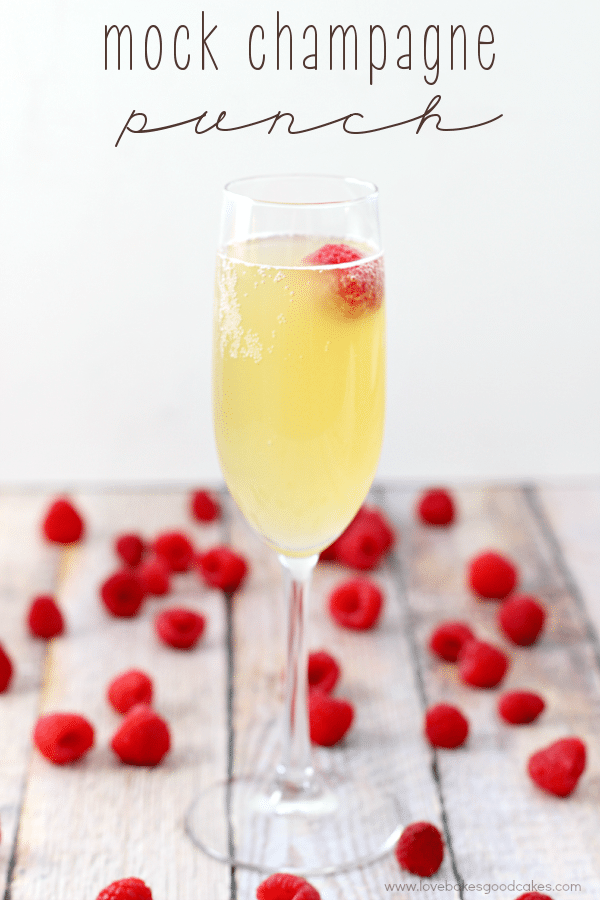 Originally created for a baby shower, this mock champagne punch is the perfect non-alcoholic drink for any holiday celebration. Who doesn't love a fruity, bubbly drink to celebrate? Served in traditional champagne flutes, these drinks are festive and fun. Chilled ginger ale, pineapple juice, and white grape juice create a wonderful flavor with just the right amount of fizz.
The unique flavor combination in this Red Hot Punch seems just too crazy to work but believe me when I say it is totally delicious. If you are looking for a party drink that will surprise and delight your guests, this is definitely it. Tart pineapple juice is infused with cinnamon flavor from Red Hots candies and then topped with a splash of lemon-lime soda. Anyone that loves cinnamon hearts will go crazy for this drink.
Adding a homemade cocktail makes any holiday dinner a little more special and this Tornado Twist Mocktail is just the drink for any non-alcoholic celebration. Cranberry and lime combine to create the tastiest flavor combination and festive-looking drink. Add a slice of lime to the rim and a splash of lemon-lime soda to the juice for a fizzy and beautiful drink that all of your party guests are sure to enjoy.
This strawberry lime punch is a refreshing drink on hot summer afternoons but also makes a special frozen drink for holiday bashes. Just two ingredients are thrown together to make this delicious strawberry lime slush mocktail, but feel free to toss in a few nips of vodka for an alcoholic option! The beautiful red slushy drink and slices of lime make for a festive-looking pitcher too.
16. Spiked Pumpkin Spice Eggnog
As soon as Thanksgiving is on the horizon, many of us start scoping the dairy section for the holiday favorite beverage. Eggnog is delicious on its own but is also fantastic dressed up a little to create an after-dinner drinkable dessert. Spiked Pumpkin Spice Eggnog adds some extra flavor and spice to the traditional drink. Store-bought eggnog is spiked with a splash of spiced rum, pumpkin spice coffee liqueur, and a dash of pumpkin pie spice.
17. Berry Bourbon Spritzer
When it comes to spirits that pair perfectly with chilly weather sipping, bourbon is at the top of my list. A splash of bourbon on ice is great on its own, but this berry bourbon spritzer is a fun and festive way to warm up this holiday season. Homemade berry-infused cider is mixed with a splash of bourbon and topped with your favorite ginger ale for a balanced cocktail with sweet and tart flavors.
This sparkling dark cherry lime slush is a fun alternative to the sugar-drenched mocktails that are usually available during the holidays. Tart from the lime, mildly sweet from the dark cherries, fizzy from the sparkling water, and slushy to boot. It's a great combination that is sure to be the buzz of any party. It's a beautiful and festive drink for an Ugly Christmas sweater party, new year's cocktail party, or any other winter get-together.
19. Ginger Basil Grapefruit Spritzer
This fresh and friendly cocktail is easy to make yet sure to wildly impress your friends and family. Use simple syrup to make the perfect base, then jazz it up with a beautiful mix of ginger soda, freshly squeezed grapefruit juice, and muddled basil. Pour over ice then add a sprig of fresh basil and a slice of grapefruit for the best holiday cocktail you have ever laid your eyes on.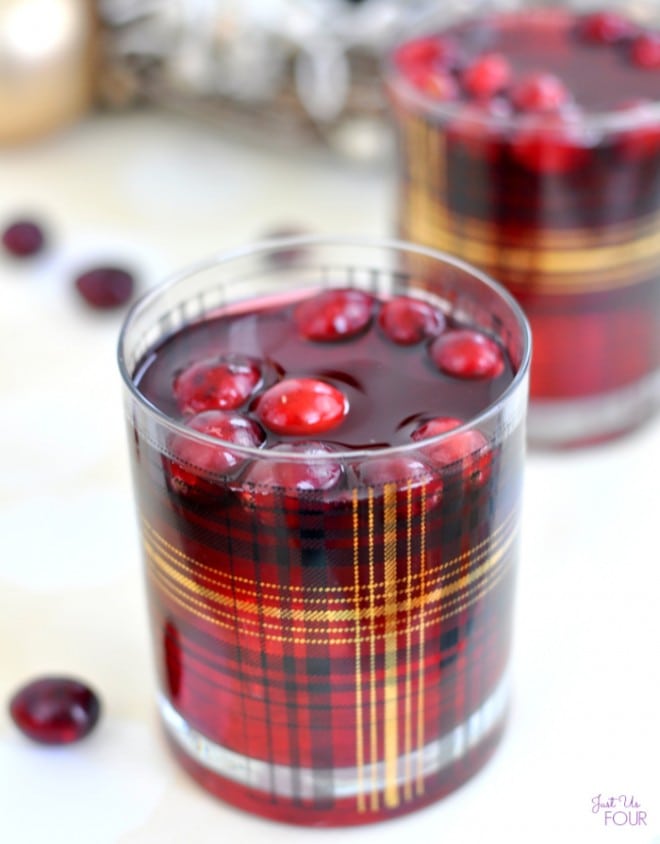 If you host a family Christmas party every year add to the drink menu. This sparkling cranberry mojito is definitely getting added to this year's cocktail lineup. The sweet and simple homemade cranberry syrup is easy to make and creates the perfect base for this festive drink. Add some fresh mint leaves, a splash of lime juice, and a shot of white rum, and finish with prosecco for the perfect drink.
Lavender is one of those beautiful flavors that make for perfect mixed drinks any time of the year. This Lady Lavender Mocktail uses a delectable homemade lavender simple syrup full of silky flavor. Blend the lavender simple syrup with fresh lemon juice, grenadine, and a few dashes of bitters for a refreshing drink this holiday season. If you grow your own lavender, you can even add a sprig for garnish!
Apple cider is a favorite drink for chilly weather and holiday sipping. Perfectly compliment the warming flavors of spiced apple cider with fresh and tart cranberry juice to make this delicious Cranberry-Apple Cider Punch for your next holiday party. It tastes delicious as a mocktail or you can add a splash of your favorite alcohol for a wintery adult drink. Don't forget to garnish with an apple slice and rosemary sprig complete with frozen cranberries.
Moscow Mules are hugely popular right now, and we have been seeing these gorgeous trendy copper mugs all over the place! Pick a few up to make this Moscow Mule Mocktail for this year's big holiday bash. Crisp, cool, and refreshing, this mocktail combines ginger beer, fresh lime juice, and a hint of club soda. Pour over plenty of ice and garnish with a wedge of lime for a tasty festive drink.
Turn your favorite cocktails into non-alcoholic friendly mocktails with this blogger's smart tips and tricks. Learn how to use a little fizz and a lot of flavor in any drink. The Classic Bloody Mary Mocktail is a rich drink made with a basic bloody mary mix, elevated with the perfect blend of spices and impressive garnishes. Garnish with a stalk of celery, a piece of rosemary, and some blue cheese olives.
Have you ever heard of a shrub? It is essentially juice extracted from fresh produce and mixed with vinegar to create a fantastic mixer for cocktails. A delicious homemade peach shrub is the base of this wonderful peach mocktail perfect for holiday entertaining. The peach shrub is mixed with spiced apple cider, fresh sage leaves, and a pinch of freshly grated nutmeg for a winter spiced cocktail that you won't forget.
Just wait till you try this refreshing cocktail!
At this time of year, holiday food is easy to find but it is also a fun tradition to make special drinks for the whole family at your family celebration. Italian Cream Sodas are such a fancy treat to splurge on when you are out to eat. Now you can make these delightful specialty drinks right at home for much less. They look so festive and pretty, topped with a swirl of whipped cream and a maraschino cherry.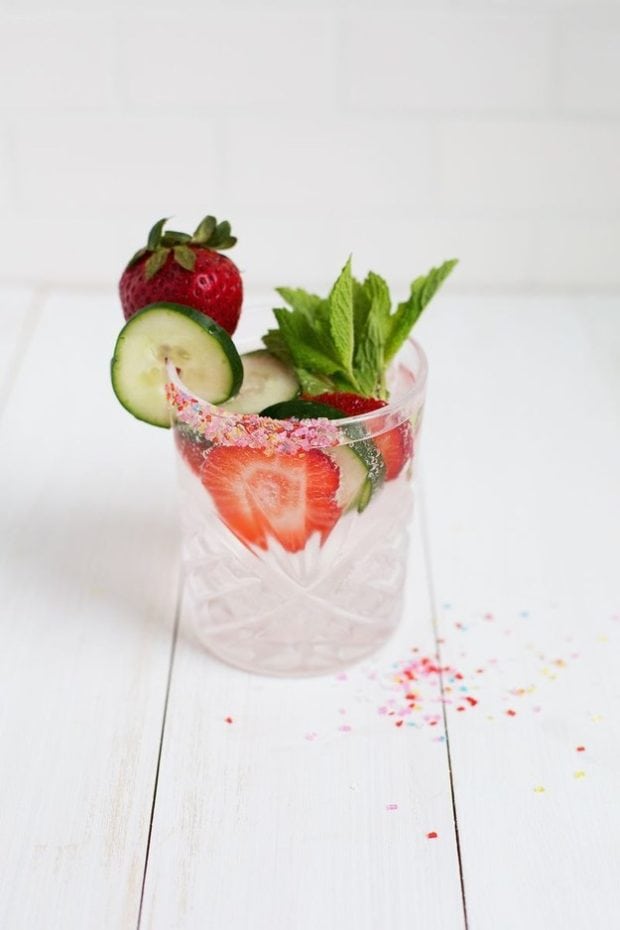 Another fresh and friendly mocktail option, this Strawberry Cucumber Limeade is a wonderful non-alcoholic option to offer at your holiday parties. Fancy glasses are rimmed with honey and sugar sprinkles and then filled to the brim with a delicious mix of lime juice, simple syrup, club soda, and freshly sliced cucumbers, strawberries, and mint. If you want to get extra fancy try adding strawberries and cucumber to the simple syrup while it simmers for infused flavor!
A drink with vodka slush and champagne? This champagne slush cocktail looks lovely and tastes delicious at any holiday get-together. The slush is made from an expert mix of vodka, Midori, and pear nectar frozen for an icy consistency. Spoon the slush into champagne flutes and then top with some bubbly champagne for a festive treat.
More great ideas for your New Year's Eve party: