29 Baileys Irish Cream Recipes
Table of Contents
If you are a fan of Irish Cream, particularly Bailey's Irish Cream then you will love this roundup of 29 recipes that are perfect for kicking up your next celebration a notch. Find everything from pumpkin tarts to cookies, cheesecake, truffles, fudge sauce, buttercream, macarons, and more, there is a Baileys Irish Cream recipe just about everyone can appreciate!
---
See Also:
---
Calling all cheesecake fans! This Oreo Chocolate Irish Cream Cheesecake with Irish Cream Whipped Cream is a luscious cheesecake perfect for a St. Patrick's Day celebration or any day. Slice up a strawberry and fan it on top of the cheesecake to make it look all fancy. The delicious dessert is sure to wow your taste buds.
Meet your new favorite St. Patrick's Day dessert. A rich chocolate cupcake with a splash of Guinness in the batter is topped with a delicious vanilla frosting laced with Irish Cream. You may want to make a double batch if you are serving these up to a crown. Everyone will certainly be back for seconds.
3. Mini Baileys Chocolate Cheesecake Trifles
Between the luxurious no-bake cheesecake, crumbly crushed Oreo cookies, and light and fluffy whipped cream – these trifles have it all! Mini Baileys Cheesecake Trifles are full of rich chocolate and smooth Bailey's flavor. We are totally in love with the fun mix of textures. All of the layers get piled high inside of a mason jar or fancy glass for the greatest grab-and-go treat at parties.
4. Baileys Irish Cream Dip
A sweet and festive alcoholic drink in dip form? This Baileys Irish Cream Dip recipe has it covered. It has booze, chocolate, cream cheese, and festive green sprinkles. It is a party in a bowl and sure to bring good luck to your St. Patrick's Day celebration. It tastes great served with fresh-cut fruit, graham crackers, or vanilla wafers. Make the dip a day ahead of time and let chill in the fridge until you are ready to get the party started.
Bailey's chocolate mousse is deliciously light, fluffy chocolate mousse infused with the sweet flavor of Baileys Irish Cream. It makes the perfect dessert to compliment a heavy meal, especially on special occasions like birthdays or St. Patrick's Day. Just one bite of this rich but airy dessert and you will fall in love.
6. Guinness Cupcakes With Irish Cream Frosting
Transform a plain old chocolate cake mix into these outstanding Guinness Cupcakes with Irish Cream Frosting. They taste like an even yummier version of the classic Irish Car Bomb cocktail. Chocolate cupcakes are filled with a thick chocolate ganache and then topped with a yummy Baileys Irish Cream frosting. You can also top them with some easy-to-make chocolate pieces for some extra fun and fanciness.
Make sure you save room for dessert because these Baileys Chocolate Cookies are crazy delicious. Imagine the creamy sweetness of your favorite Irish cream liquor wrapped in the sugary goodness of a classic chocolate cookie. This is definitely an amazing recipe that your friends and family will love you for bringing to the party. So make a batch today and share the love.
Just in time for St. Patrick's Day. This Irish Cream Chocolate Brownie recipe is a great way to enjoy your favorite chocolate dessert with a little added Irish flavor. Cake-like chocolate brownies are topped with a thick layer of rich and creamy Baileys Irish Cream frosting. Brownies are irresistible on their own, but this frosting adds a little extra special flavor to the classic dessert.
These Baileys Irish Cream Brownies are extremely chocolatey, and the baked cream cheese filling is spiked with a little kick of Baileys Irish Cream. They are the perfect treat for St. Patrick's Day thanks to the Irish cream, but honestly, we are probably going to make these all year round!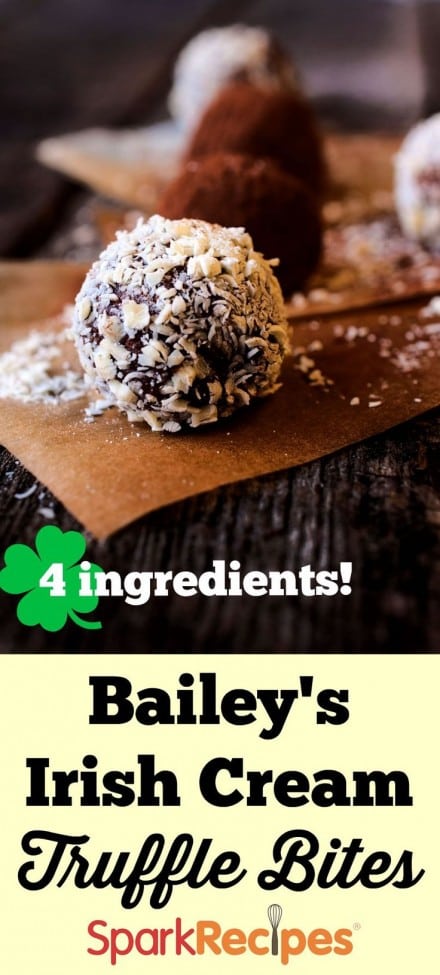 Using just four simple ingredients, these chocolate Baileys Irish Cream truffle bites are simple to make and so much fun to eat. They can easily be made ahead of time to save time and space, too. Roll them in cocoa or chocolate sprinkles instead of sugar to mix them up. We also like rolling them in white chocolate shavings or toasted coconut flakes.
Boozy, sinful, and decadent, these Baileys Irish Cream Cheesecakes are loaded with Baileys Irish Cream and topped with a thick layer of smooth and rich chocolate ganache. All on top of a buttery Oreo crust, this will be a fantastic dessert for St. Patrick's Day parties or special dinner parties. This cheesecake looks mighty impressive on a dessert table and is also surprisingly easy to make!
These Mint Irish Cream Bars are full of sweetened coconut, chocolate chips, chopped-up dark chocolate mint cups, and a splash of flavorful Honey Irish Cream. The alcohol gets baked right out, so everyone in the family can enjoy them. These scrumptious cookie bars are great by themselves or with a big scoop of ice cream and a drizzle of hot fudge sauce on top.
Use the Baileys Irish Cream that is surely in your liquor cabinet to make these amazing Cream Cheese Frosted Baileys Brownies. With the addition of smooth and creamy Baileys in both the brownie and cream cheese frosting, you will get a hint of that famous Irish Cream flavor throughout. They are perfectly served with a warm cup of coffee. So get baking, brew up some coffee, and you'll be in Irish Cream bliss.
The perfect combination of coffee and Baileys in macaron form. Light-as-air coffee-flavored cookies are filled with a perfectly paired, rich Bailey's chocolate ganache. They are a gorgeous espresso treat that tastes just as wonderful. Even if they don't turn out perfect, they will still taste delicious!
This Salted Caramel Milkshake spiked with Vegan Irish Cream liquor is a sweet and salty delight. It is the perfect Baileys treat that you can enjoy all year round if you are snowed in and need a cozy drink or in the middle of summer when you need something cool to sip on. Easy to make and quite the treat, these milkshakes have to make it to your recipe list!
A cozy snow day spent cuddled up by the fire, a fun girl's night out, or a fancy dinner party all make perfect occasions for this Baileys Chocolate Martini. The delicious concoction is made with chocolate-infused vodka and classic Irish Cream. Drizzle some chocolate syrup in the class before pouring your cocktail, then garnish the finished drink with a chocolate stick or chocolate flakes for an extra special drink.
17. Baileys Banana Colada
This recipe for Frozen Baileys Banana Colada drinks is delicious and refreshing. Baileys Irish Cream, Pina colada mix, and dark rum are blended together with a sliced banana, cream of coconut, and ice. Add a dollop of Cool Whip and a maraschino cherry on top for the ultimate frozen summer drink.
18. Five Minute Irish Chocolate Pots
Set a timer and you'll see for yourself, these Irish Chocolate Pots de Crème only take five minutes to make! On top of being incredibly quick to prepare, these five-minute chocolate pots are the most delicious, silky-smooth treat that you could ever imagine. The Bailey's adds a delicious layer of flavor that pairs perfectly with creamy, dreamy chocolate. They are fantastic with a dollop of whipped cream or drizzled with Bailey's syrup.
You will have a hard time saying no to another piece of this delicious dessert. The moist chocolate cake and flavorful real whipped cream frosting are to dream of. And you would never guess how easy this from-scratch cake is to make. It doesn't take much longer than a boxed cake mix, but it tastes so much better! This is definitely the best Irish Cream Cake you will ever taste.
These Baileys Irish Cream Cheesecake Swirl Brownies are mixed together by hand with dark chocolate cocoa, semi-sweet chocolate, and Irish Cream for a chocolatey and fudgy dessert that is swirled with a light Irish Cream infused cheesecake. These brownies are the perfect texture, not too dense and not too cakey, and have just the right amount of delicious Irish Cream in every bite. It's the perfect treat for your family!
For those of you who have ever baked with Baileys Irish Cream, you are probably wondering what else you can put all that yumminess in. Well here is a recipe for you. This Baileys Irish Cream Bundt Cake is moist, delicious, and super easy to make. It's always a crowd-pleaser, making it a great dessert for family dinners. The simple Irish cream glaze makes the perfect topping.
Cut into a rich and fudgy chocolate cake to reveal a gooey, molten, and Baileys-infused center. These homemade Dark Chocolate Molten Lave Cakes with Baileys are an indulgent treat sure to please anyone with a sweet tooth. And don't let the fact that it is a two-step recipe fool you, this dessert is so easy and quick to pull together. Lava cakes are also absolutely delicious topped with a scoop of vanilla ice cream!
Fresh, creamy, and bright, this Baileys Tres Leche Cake is a beautiful and delicious dessert complete with layers of sweet vanilla cake, fresh whipped Baileys whipped cream, and assorted fresh berries. Edible flowers make the most elegant and beautiful topping. This amazing layered cake does not disappoint.
This is one of the best recipes for Baileys Irish Cream and Pistachio Fudge that we have ever tried. The super sweet treat is perfect for special occasions like Christmas or Easter and is great for holiday gifting. The fudge has just the right amount of white chocolate flavor dotted with pieces of chopped-up pistachios. If you are a lover of fudge, you need to give this recipe a try!
Switch up your classic Thanksgiving pumpkin pie with this delicious Baileys Irish Cream Pumpkin Tart! The buttery graham cracker crumb crust is topped with a thin layer of rich and decadent pumpkin pie filling, and indulgent Irish Cream infused whipped cream. This dessert is the perfect ending to Thanksgiving dinner or any fall meal.
Every bite of this Bailey's chocolate chip cheesecake is better than the last. It is super rich and creamy while Bailey's flavor takes it totally over the top. Smooth and creamy Bailey's infused cheesecake is sprinkled with chocolate chips and baked on top of a tasty graham cracker crust. Serve cold from the fridge with a little garnish of whipped cream! Your friends and family are sure to love this dessert.
27. Baileys Irish Cream Marshmallows
In the chilly winter months, a big mug of hot chocolate is just the thing you need. Add a little extra special flavor to your winter treats with these Baileys Irish Cream Marshmallows. The boozy marshmallows are simple. You cook down some sugar, corn syrup, and Baileys Irish Cream then transform them into fluffy, melty marshmallow goodness. In no time at all and you'll have Bailey's Irish Cream-infused hot chocolate.
Super creamy, silky smooth, and incredibly light, this Best Ever Irish Buttercream frosting is infused with plenty of Baileys Irish Cream liqueur. Its decadent notes of caramel melt on the tongue without being too sweet. This frosting tastes delicious spread on top of cakes and cupcakes or eaten right from the bowl. It is one recipe you do not want to miss.
Baileys Fudge Sauce only needs a few ingredients and a few spare minutes to make. Then you are ready to indulge by pouring it over a few scoops of ice cream, drizzling it on a piece of cake, blending it into a milkshake, or just eating it by the spoonful! If you have a bottle of Irish Cream liqueur or coffee creamer in your fridge, you are ready to make velvety and luscious Five Minute Baileys Fudge Sauce.
Celebrate with more great ideas for your holidays: