Table of Contents
Say hello springtime with these cute spring craft ideas for kids.
And say good-bye to cold and slush!
This grouping includes daffodil sun catchers, adorable yarn crafts, rainbow wind catchers, lady bugs, butterflies, egg monsters, dinosaurs, birds and nests, cherry blossoms, green grass head pots, umbrellas, flowers, and egg maracas.
You and the kids will enjoy the visual color treats and the fun hands-on activities!
---
See Also
---
1. Egg Carton Lady Bugs
From Crafts by Amanda
Lady bugs are well-loved by kids and teens alike, making them a great subject for a spring craft project! These lady bugs are a simple project that we especially love because the foundation is made using recycled egg cartons.
Who doesn't love an inexpensive craft project? In addition to egg cartons, you will need black chenille stems (for antennae), google eyes, black pom poms, acrylic paint in a variety of colors, glue, hot glue gun, scissors, and a paintbrush.
2. Bird and Nest Craft
From Buggy and Buddy
Kids of all ages will enjoy this darling little baby bird and nest craft—a favorite spring craft for kids! Creating these cute baby chicks is simple enough for toddlers to do and only requires a few materials that you may already have in your craft stash.
Construction paper, scissors, liquid glue, feathers, brown yarn, and googly eyes are the basic craft supplies you will need. You can also download a free printable template for creating the paper pieces (nest, bird, and beaks).
3. Egg Carton Flower Art
From Mod Podge Rocks
Speaking of egg carton craft projects…this egg carton flower art project may just be the cutest use of egg cartons I've ever seen. This kids' craft project is actually cute enough to display somewhere permanently in your home.
Egg cartons are turned into a 3-D bouquet of flowers using paint, Modge Podge, glue, buttons, ribbon, chenille stems, and an art canvas. The end result may just surprise you!
4. Green Dinosaur Craft
From Spaceships and Laser Beams
This green dinosaur craft is a perfect kid's party craft, especially if the party theme is dinosaurs! Kids both young and old will love this craft.
Older children who can successfully use scissors can complete the whole process from start to finish. Each child will need 3 paper plates, 1 partial sheet of construction paper/cardstock, scissors, and glue.
5. Yarn Easter Eggs
From Six Sisters' Stuff
You won't believe how inexpensive and easy these yarn Easter eggs are to make! The egg shape is created from air blown water balloons. The glue mixture is a simple piñata paste created from flour and water.
Now the fun (and messy) part of the process is adding yarn to the glue mixture and adding it to the then to the balloons! Photos and tips will help you be successful with this process and create a dried, finished project perfect for spring and especially Easter.
6. Pasta Butterfly Craft
From How Does She?
You will not want to miss this adorable pasta butterfly craft! Have you ever seen a more fun use for bowtie pasta, paint, and terra cotta pots? Kids will love decorating their own pasta butterflies! What a fun craft for spring.
7. Happy Cloud and Rainbow Craft
From Meet the Dubiens via Bambino Goodies
When the rain comes, so do the rainbows! Children can create their own happy rain clouds out of paper and add the beautiful colors of the rainbow by attaching ribbons to their clouds. This makes a great rainy day craft project during the spring.
8. Toilet Paper Roll Butterfly
From Bo Bunny
Kids will love crafting these cute, colorful and earth-friendly toilet paper roll butterflies. Make one, or a whole flock to celebrate spring! Start saving your toilet paper rolls and grab a colorful variety of scrapbooking paper or colored cardstock.
You'll also need ribbon, googly eyes, adhesive and craft punches. Check out these helpful instructions for preparing the paper pieces for easy use by younger children.
9. Cherry Blossoms
From Inner Child Fun
Cherry blossoms are a beautiful first sign of spring in many areas. You can craft up your own beautiful cherry blossoms to enjoy indoors! They are cheerful and will brighten up your home for spring.
Children will love gathering up sticks from the yard. Blossoms can be made using tissue paper. Twist ties help to attach the beautiful paper blossoms to the tree branches. Such a fun and frugal craft idea that children will love.
10. Monster Eggs
From Project Party Perfect via Spaceships and Laser Beams
Don't let springtime rain turn your little ones into monsters. Instead, encourage them to create their own monsters using plastic Easter eggs.
This craft project is especially great for those inside play days because it is so simple using craft paint, feathers, googly eyes, hot glue, rick rack, pipe cleaners, and other random craft supplies.
Fill the finished monster eggs with some candies and hide them for a fun monster egg hunt.
11. Rainbow Wind Catcher
From A Pretty Cool Life
Paint, paper plates, and crepe paper are the core materials needed to create these bright and colorful rainbow wind catchers. Hang them from your windows and watch the joy they bring.
Children will love painting the rainbow colors on their paper plates before adding matching crepe paper streamers.
12. Goofy Foam Glasses
From Dollar Store Mom
Get your crafty hands and wild imaginations moving to make these wildly fun goofy foam glasses. Design your own wacky lenses out of foam pieces and then decorate with stickers, gems, glitter glue, and more. Attach the foam to clear lensed glasses from the dollar store and you have a fun and wearable craft.
13. Daffodil Sun Catchers
From Baby Centre
Welcome spring this year with a beautiful daffodil sun catcher craft. Kids of all ages will enjoy making this craft which can add some cheer to your home! To start making these daffodil sun catchers, cut daffodil shapes from yellow cardstock.
Young children may need help to cut out the centers of each daffodil. The frames should be attached to contact paper. To decorate, tissue paper is needed in shades of yellow. They can tear it into pieces, and add it to the project.
The center of the daffodil is created from yellow cardstock. Green cardstock is used to create a stem.
14. Ladybug Cuteness
From Inner Child Fun
Do your kids love ladybugs? Celebrate the little things this spring with a cute ladybug craft project that is as inexpensive as it is adorable.
This project features free leaf shaped paint chips that make great leaves for ladybugs. Color coding sticker labels (cut in half) are used to create easy ladybugs.
Crayons and markers are used for adding details like veins on leaves, branches for the leaves, and details on the ladybugs.
15. Paper Umbrellas
From My Kids Guide
"April showers bring May flowers." Check out this fun and frugal rainy day craft for kids that celebrates the fun of rain, even when it keeps you indoors! Kids will enjoy crafting umbrellas out of cupcake liners.
Sure to be a great boredom buster, you'll only need a few simple supplies to keep your children entertained.
Gather construction paper (any color), blue construction paper, cupcake liners, glue, scissors, tape, pipe cleaners (any color), and Bingo Blotters.
16. Egg Maracas
From Project Party Perfect via Spaceships and Laser Beams
During spring time, chances are good that you have extra plastic Easter eggs hanging around. This fun tutorial for creating egg maracas is a great use for them.
Celebrate spring with a fun "concert" with music from maracas and plenty of rhythm and movement.
You'll need eggs, jumbo straws, rice or beans, and crepe paper plus tape, hot glue, Modge Podge, paintbrush, and scissors.
17. Toddler Daffodil Sun Catchers
From Minne Mama Via Fun at Home with Kids
Another great toddler daffodil sun catcher idea, this craft provides something bright and cheerful to look at while you are enjoying spring. This version is crafted from adhesive foam and features a cupcake liner.
18. Salt Dough Flower Fingerprints
From Meaningful Mama
Is spring a time for excitement for your children? Celebrate with a fun salt dough flower fingerprints.
This salt dough craft is not only a fun activity, but it also makes a great gift for Mother's Day, a grandparent's birthday, or for brightening up the smile of a friend or neighbor.
The steps are easy to follow and suitable for even young children. Some adult supervision is needed due to oven bake time.
19. Cookie Cutter Bird Feeders
From Mama.Papa.Bubba. via CBC Parents
Welcome birds into your yard this spring by helping your children make these awesome cookie cutter bird feeders. These bird feeders are molded into fun shapes using cookie cutters and are held together using unflavored gelatin.
The end result is a hanging bird feeder that is similar to a crunch cookie, but for birds! Adult help is definitely needed for this project since boiling hot water is needed to prepare the gelatin.
20. Coffee Filter Butterfly
From Mommy Gaga
Looking for a fun spring craft to do with your kids? You've come to the right place! This coffee filter butterfly craft is perfect for toddlers on up and is budget-friendly too.
Gather water colors, paint brushes, coffee filters and pipe cleaners for this easy spring craft project for kids.
21. Tissue Paper Flower
From Mess for Less
Start spring off right with a colorful tissue paper flower craft! This easy spring art project only requires a few supplies—glue, tissue paper, and the free flower printable.
Children should be able to handle this simple project without much adult involvement. Just cover the picture with glue (glue stick or white glue) and place scrunched up tissue paper squares on the circle templates on the flower picture.
They will have a cheery spring flower picture to share in no time.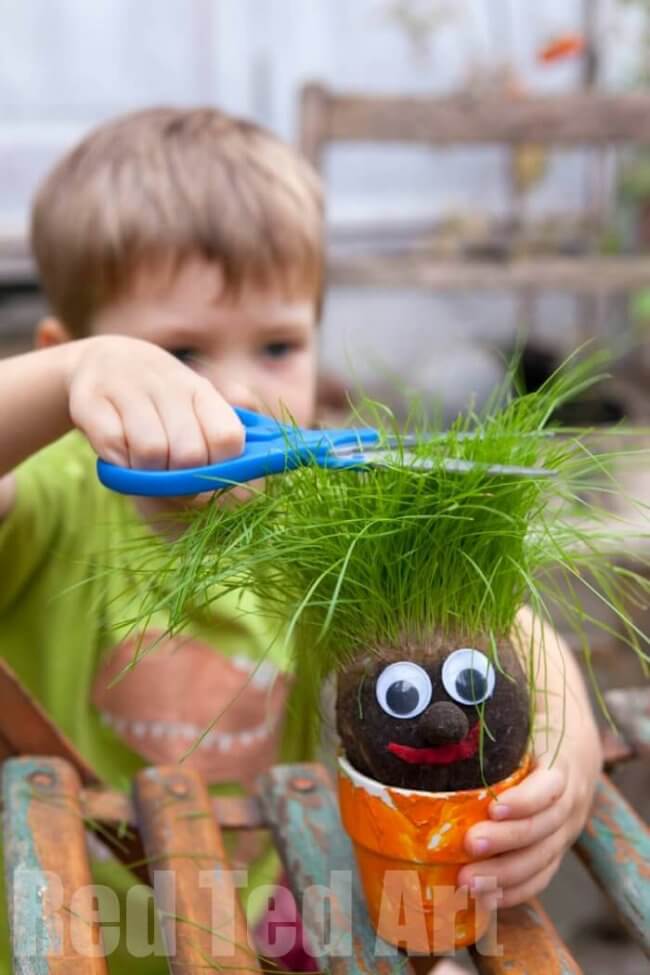 22. Grass Heads
From Red Ted Art
Use this grass heads craft as a spring boredom buster. Kids will be excited to see the grass grow, and will love trimming it down and watching it grow again.
You can watch the video tutorial on how to make this cool spring craft or read the step-by-step instructions.
Be sure to have old tights, compost, grass seeds, rubber bands or thread, a pot, and googly eyes and felt on hand so you can get started away on this thrilling project.
23. Paper Bird Craft
From Whatever
This paper bird craft is perfect for a spring day. You'll need paint and paper plates—the thicker plates work the best. Kids will paint half the plate blue for the sky, and the other half of the plate brown for the bird's nest.
Once the painting is done, a lot of white school glue is used to create the 3-D version of the nest using brown tissue paper shred, string, and small sticks/tree branches. Birds are free-handed out of construction paper, while eggs are cut from blue paper.
Once everything is glued in place, cover the nest in a lot of white glue and let it dry overnight. You'll wake up to some awesome paper bird artwork ready to be displayed.
Get crafty this spring with these great sources gathered by the team at Spaceships and Laser Beams.
(Amazon Affiliate Links)
Craft Giant Art Jar
Washable Glitter Pens
Fibre Craft Sm'ART Parts
Bright Buttons
Foam Stickers
26 pc Plastic Alphabet Stampers
Crayola Washable Kid's Paint
Crayola Washable Watercolors
Plastic Pony Bead Mega Critters Bucket
Peel and Stick by Numbers
Fused Bead Kit
Check out these craft ideas your kids will love creating with you any time of the year.