23 Adorable Easter Egg Decorating Ideas
Table of Contents
These Unique and Adorable Easter Egg Decorating Ideas have me running to the store for supplies!
Decorating Easter eggs is a popular Easter tradition in our house. We have so much fun thinking of new ways to paint and dye our eggs (kid-friendly of course). Whether you go the traditional dye route or like to mix things up, challenge yourself to try one of these 23 adorable Easter egg decorating ideas.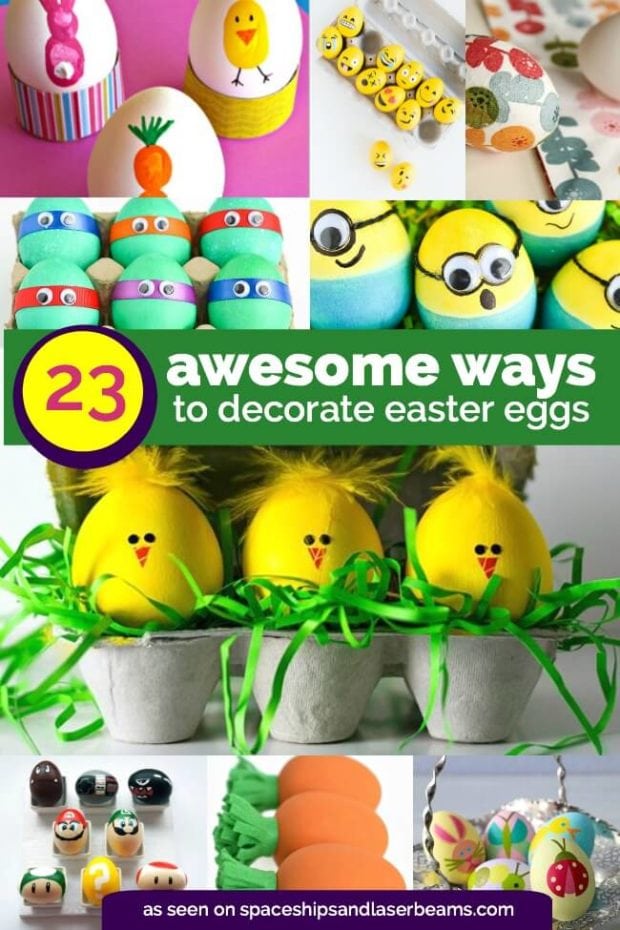 ____________________________________________________________________
SEE ALSO
____________________________________________________________________

There are so many ways to dress up an egg—decorate them to look like Minions or Super Mario Bros. or do silk tie-dying, use nail polish, tacks or buttons. Fun techniques can make your Easter eggs stand out in any Easter egg hunt!
1. Dyed Minion Easter Eggs
Despicable Me fans are going to go crazy over these dyed Minion Easter eggs! Minion Easter eggs are really simple to create, making them a perfect Easter decorating activity for involving kids. You can create your own using an egg dye/decorating kit, vinegar, moveable (googly) eyes, a black permanent marker, glue, and black string.
2. DIY Emoji Easter Eggs
From Studio DIY
You're going to want to have an emoji themed Easter egg decorating party when you see how fun DIYing these emoji Easter eggs can be. Talk about creative and on-trend! Kids, teens, and adults will love these. They're a little bit more challenging than the Minion Easter eggs above, but you can still get the kids involved in dyeing the eggs yellow, then do the decorations yourself. The great thing is you can start with blown out eggs, paper mache eggs or even hard boiled eggs (not recommended for eating). You'll need craft pain and paint markers. Follow the tips for creating all of the different emoji faces!
3. Chick Easter Eggs
From It All Started With Paint
These chick Easter eggs are slightly more traditional, and are really quick to whip up. You can even decorate them the night before Easter! You'll start the decorating process by giving your hard boiled eggs a coat of yellow acrylic paint. Add self-adhesive black vinyl eyes created with a hole punch (or use a permanent black marker to draw some on). Add an orange beak using washi tape cut into a small triangle. Some old school glue is all you need to attach pieces of yellow craft feathers to the top of each egg chick's head. Adorable, right?
4. Fingerprint Easter Eggs
From Crafty Morning
Mix things up this year when it comes to decorating Easter eggs. These super simple fingerprint Easter eggs are a great way to decorate Easter eggs with your kids, even if they're really young. Just let them do the fingerprints to create a bunny, chick, or carrot! You can help do the decorations. Supplies needed: acrylic paint, paintbrush, colored Sharpie markers, hard boiled eggs, recycled toilet paper rolls, and scrapbook paper.
5. DIY Carrot Easter Eggs
From A Night Owl Blog
If you want some Easter décor that is display worthy, these DIY carrot Easter eggs are great! This project starts out with ceramic eggs that can be painted using chalk pain for a matte look. Green felt is cut into fringe to create the carrot top before being attached with hot glue. If you are looking for something temporary, hard-boiled eggs would give the same effect.
6. Mustache Eggs
From ellas inspiration
If you want something a little less traditional at your Easter table, but still want it to be completely adorable, then these mustache eggs are the way to go. You can use hard-boiled or wooden eggs as the base for this Easter craft. A permanent black marker can be used to draw on miniature faces. Scraps of patterned paper can be used to create party hats and bowties for a festive finished look! This is definitely a unique Easter egg decorating idea.
7. Watercolor Floral Easter Eggs
These watercolor floral Easter eggs look really artsy, but they're actually pretty easy to make. They'd make a great decoration for a spring-inspired Easter table. Made from faux, decoration eggs, liquid food coloring and a permanent black pain marker, the beauty of this egg decorating technique is that the results are perfectly imperfect. There is no right or wrong way to do this. The technique involves using slightly watered down liquid food coloring as "paint". A paintbrush is used to layer the colors to create flowers which are allowed to dry completely before highlighting the shape and the flower centers using a permanent paint marker.
8. Dyed Ninja Turtles Easter Eggs
This is a great, simple and fun way of decorating eggs for Easter, and you can definitely get kids of all ages to help with these dyed Ninja Turtles Easter eggs. With only a handful of supplies needed, they are inexpensive too. You'll need green egg dye or food coloring, vinegar, ribbon, google eyes, and glue. Kids of all ages will enjoy making their favorite turtle characters!
9. Decoupage Easter Eggs
From By Wilma
If you have some gorgeous paper serviettes (napkins) that you can't quite bear to let go of this Easter egg decorating idea is for you! You can create decoupage Easter eggs using napkins, scissors, and Mod Podge. These eggs will last pretty much forever if you blow the eggs before decorating them!
10. Silk Tie Dyed Easter Eggs
From Our Best Bites
Once you see how beautiful these silk tie dyed Easter eggs are, this might just become your new family Easter egg decorating tradition! This is a really great way to use old silk ties or scarves that you've picked up over the years. Just tie the fabric around the eggs, boil in vinegar, and open up to reveal a stunning design.
11. DIY Nail Polish Easter Eggs
From Little Inspiration
These DIY nail polish Easter eggs look like a million bucks, but don't worry. They can cost next to nothing if you have leftover plastic Easter eggs from past years and/or have a bunch of old nail polish that you don't where anymore. You can also hit your local dollar store to stock up on new supplies inexpensively. Kids and adults alike will love making nail polish Easter eggs.
12. Babouchka Easter Eggs
From OhOh Blog
Aren't these Babouchka Easter Eggs the most adorable thing you've ever seen? While they look impressive, they're actually not difficult at all to create, and definitely worth a try. This tutorial will walk you through the process, helping even the most unartistic person to be successful. You'll need hard boiled eggs, a pencil, acrylic paints, and a paintbrush. Use the cap of a glue stick as a template for tracing a circle towards the top of the egg for the "head". Below the circle, draw a line horizontally all around the circle to become the bottom dress portion of your doll. You'll follow the instructions for filling in the details of the face, head scarf and bottom dress. Before you know it, you'll have a whole carton filled with these adorable Babouchka Easter eggs.
13. Black and White Scandinavian-Inspired Easter Eggs
From Hellolidy
Black and white is so popular and trendy making these black and white Sharpie eggs a fun addition to Easter décor. Teens would especially love decorating eggs like this! This is a really simple but effective design, and all you really need is eggs and a black Sharpie marker. It doesn't get simpler than this!
14. Super Mario Bros. Easter Eggs
From Instructables
Have a gamer in the family? They'll love these Super Mario Bros. Easter Eggs, whatever their age! You don't need to consider yourself an artist to accomplish these cool characters! Use a pencil to sketch characters on your egg using images found online. Use acrylic paint to fill them in and Sharpie paint markers to finish smaller details. Step-by-step instructions are included to walk you through the creative Easter egg decorating process!
15. Painterly Pastels Easter Eggs
From Paper & Stitch
We're confident Monet would approve of these painterly pastel Easter eggs inspired by impressionist techniques. Collect acrylic craft paint, a paint palette, paintbrush, and hard boiled eggs. Choose a color scheme and mix your paints to achieve the desired look! You can customize the colors to match your décor!
16. Easter Egg Piñatas
From Corner Blog
Nothing screams "party" quite like a piñata! Bring some festiveness to Easter this year with Easter egg piñatas! This Easter egg decorating idea begins with blown out Easter eggs (you can look online for a tutorial on how to do that) that are then stuffed with dollar bills and confetti. These Easter egg piñatas are great for Easter, but they'd also work really well for kids' parties, as well as for Cinco de Mayo.
17. Embroidered Eggs
From Wikipedia
If you love to sew, then these Embroidered Eggs are great. They're a little bit more challenging than some of the other Easter eggs on this list, but worth the effort. They are sure to win over Easter guests for their originality and beauty! Are you up for trying a new and unique Easter egg decorating technique?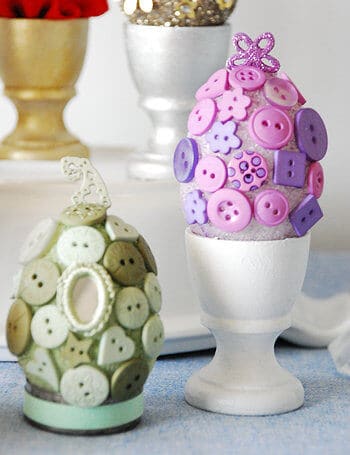 18. Button-Covered Easter Eggs
From Dotcom Women
Button, button, who's got the button? Round up your colorful button collection for this fabulous button-covered Easter egg decorating idea! Additionally, you'll need Styrofoam eggs, acrylic paints, and craft or jewel glue. Get your kids to help you pick the buttons for each button-covered Easter egg, and then glue to your heart's content. They are sure to capture the attention of all of your Easter guests!
19. DIY Pineapple Easter Eggs
From Studio DIY
Get ready to smile! DIY pineapple Easter eggs are as fun to make as they are to find during a traditional Easter egg hunt! These DIY pineapple Easter eggs add a really exciting pop of color, and are really simple to make. Add them to your egg decorating ideas! They only require hard-boiled or hallowed out eggs, yellow craft paint & paintbrush, green cardstock, hot glue gun, and scissors to make!
20. People Easter Eggs
From Mr. Printables
Are you stumped on how to decorate your Easter eggs this year? Are you ready to give up the traditional egg dye in favor of something more unique? These people Easter eggs add a great graphic element — perfect if you're getting into your more creative side.
21. Party Animals Eggs
From FamilyCircle
Animals can be on parade for Easter this year! Create adorable party animal eggs by using the tutorial here and the free origami templates to create bugs, bunnies, and ducks! You'll put to use various sized oval and circle craft punches to cut regular and origami paper to form shapes that you can adhere with regular white glue.
22. Sakura Easter Eggs
From Craft Passion
These Sakura Easter Eggs are inspired by the Japanese cherry blossom season. They're perfect for spring, and a great way to teach your kids about different parts of the world. You'll need clean plastic Easter eggs, quick-dry all-purpose adhesive, yarn, tweezers, pink flower sequins, metallic bronze and gold acrylic paint, fine tip brush, water, and a marker pen. Kids will love the process of winding and gluing the yarn around the plastic eggs. Then comes the fun of decorating the egg with hand-drawn branches, painted over with metallic bronze and gold paint. Gluing on the pink "flower" sequins is the final touch!
23. Silver and Gold Tack Easter Eggs
From Create. Craft. Love., as seen on The 36th Avenue
All you need for these for these Silver and Gold Tack Easter Eggs are foam eggs, thumbtacks and fasteners. The creative process is a cinch! Unwrap your foam egg and start by pinning a straight line of thumbtacks from the top of the egg to the underneath part of the egg and up the other side. Then simply start to fill in the rest of the egg with thumbtacks. Each egg requires about 200 thumbtacks/fasteners and approximately 15 minutes to complete it. This would be a great Easter craft for older kids, and getting everything you need is a breeze.
DON'T MISS MORE FUN EASTER IDEAS PERFECT FOR KIDS.
22 Easter Egg Decorating Ideas
PLUS, CHECK OUT 40 THINGS TO PUT INSIDE EASTER EGGS…