23 Easter Desserts with Peeps
Table of Contents
Adorable Easter desserts made with PEEPS – the colorful marshmallow candies both kids and adults love!
Trying to come up with a cute, clever and delicious Easter dessert? The great news is you can accomplish all three goals with those quintessential Easter candies called PEEPS!
From chocolate dipped PEEPS to PEEPS candy bars and brownie nests to pudding pops and even cake (or cupcakes), these recipes will absolutely delight you, your family and friends.
---
See Also
---
1. PEEPS Pudding Pops
From Oh My! Creative
These PEEPS Pudding Pops are perfect for Easter — cute, delicious, and super easy to make! All you need is pudding, PEEPS, popsicles sticks and a little bit of colorful coconut and you're in business.
2. Easter PEEP-Za
From Cooking Channel
Ever tried a dessert pizza? What better time to try than Easter, with these Easter PEEP-zas. Why not have a PEEP-za party this Easter?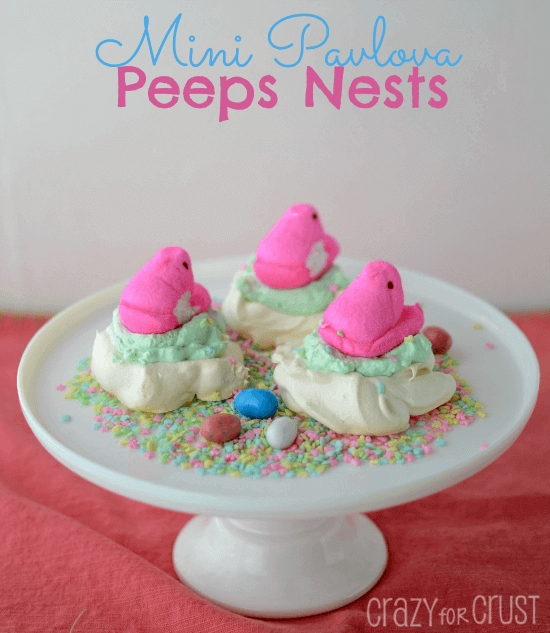 3. Mini Pavlova PEEPS Nests
From Crazy for Crust
How adorable are these Mini Pavlova PEEPS Nests? Meringue is super easy to make from scratch, and it's a great Easter dessert to get the kids involved with.
4. PEEPS Pudding Cups
From Love From the Oven
These PEEPS Pudding Cups just give you so many options to customize, perfect if you have a few picky customers this Easter. Plus, you can even get some fruit into your Easter dessert with the PEEPS Fruit Cup Parfaits.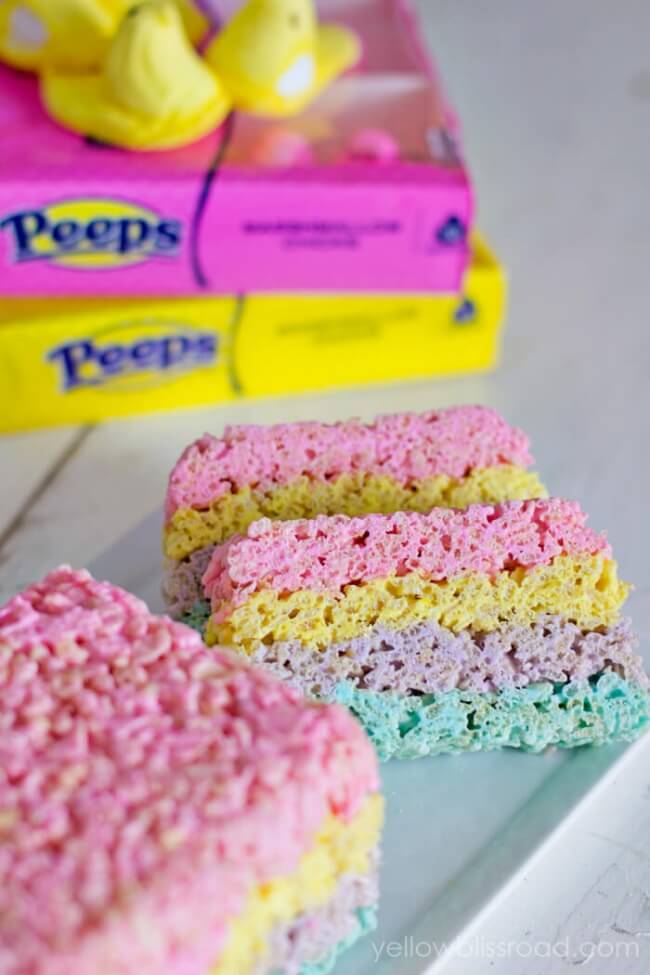 5. Layered PEEPS Crispy Rice Cereal Treats
From Yellow Bliss Road
I just love the colors of these super creative Layered PEEPS Crispy Rice Cereal Treats, don't you? A great subtle Easter dessert, and all you need is butter, crispy rice cereal and, of course, PEEPS!
6. Spring PEEPS Truffles
From The Java Cupcake Blog
Rich, decadent and fun, these Spring PEEPS Truffles are a great Easter treat for the grown ups this Easter.
7. PEEPS Centerpiece Cookies
From The Baked Equation
Super easy, gorgeous and fun, these PEEPS Centerpiece Cookies would look awesome on any Easter table. And if you want to get the kids involved, this is another great Easter dessert they can help with.
8. Chocolate Peanut Butter PEEPS Skillet S'mores
From How Sweet It Is
Have you ever heard of anything more delicious than Chocolate Peanut Butter PEEPS Skillet S'mores? Um, I think not! Easter just got a whole lot tastier.
9. Easter PEEPS Pops
From Love From the Oven
These candy-coated Easter PEEPS Pops will guarantee you a happy, mess-free Easter. All you need are straws, a candy coating, a shimmer sixlet for the little tail, and our beloved bunny-shaped PEEPS. Yum!
10. PEEPS Easter Garden Cake
From Betty Crocker
Into the woods? Nah. Into the garden! This PEEPS Easter Garden Cake is perfect if you're having an outdoor Easter party or if you want to bring the outdoors in.
11. Chocolate Dipped PEEPS
From Tastes Better from Scratch
How do you make PEEPS even more delicious? Dip them in chocolate, of course! Plus these Chocolate Dipped PEEPS are as easy as they are delicious — a perfect Easter recipe.
12. Bunny Dirt Cake
From Easy Foods
Let the PEEPS have their own garden Easter egg hunt with this Bunny Dirt Cake. The kids will love decorating this one, and it's easy enough for them to decorate on their own.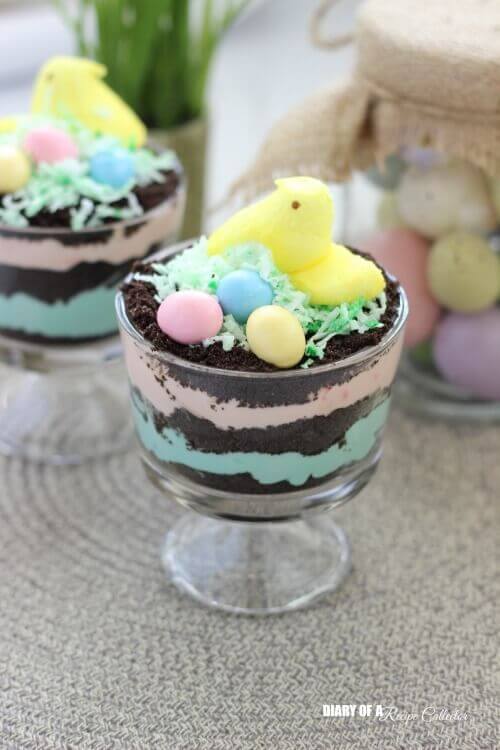 13. Easter PEEPS Dirt Pudding Cups
From Diary of a Recipe Collector
Speaking of Dirt Cake, why not try these Easter PEEPS Dirt Pudding Cups? Cute, super easy to make and really delicious — what more could you want?
14. PEEPS Kabobs
From A Thrifty Mom
Looking for an Easter dessert with a little more spring in its step? These PEEPS Kabobs are the perfect spring craft, and are a great make-ahead Easter treat.
15. Peek-a-Boo PEEPS Cookies
From In Katrina's Kitchen
Peek-a-Boo PEEPS – try saying that three times! These Peek-a-Boo PEEPS Cookies are so clever, and are really cute and easy to make. If you don't have Biscoff spread, try using your favorite cookie butter.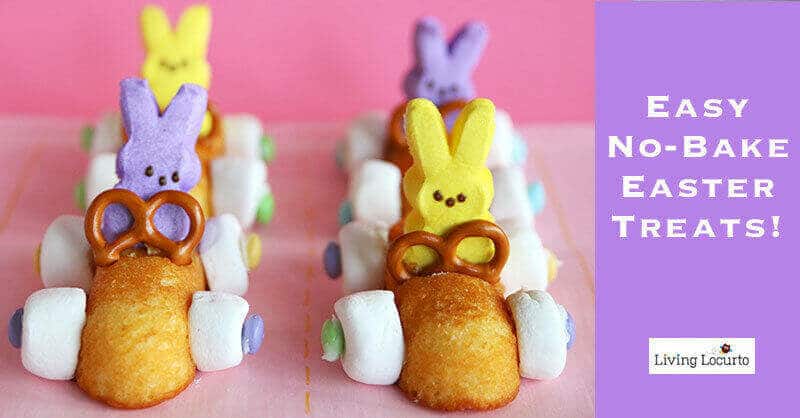 16. No-Bake Easter Treats
From Living Locurto
These little No-Bake Easter Treats are perfect if you have any kids obsessed with cars or racing — they're really simple to make, using a Twinkie as the racecar and a pretzel as the steering wheel!
17. Rainbow PEEPS Trifle
From Shake Bake and Party
If you're looking for an Easter dessert to use as a centerpiece rather than lots of individual portions, then this Rainbow PEEPS Trifle is for you.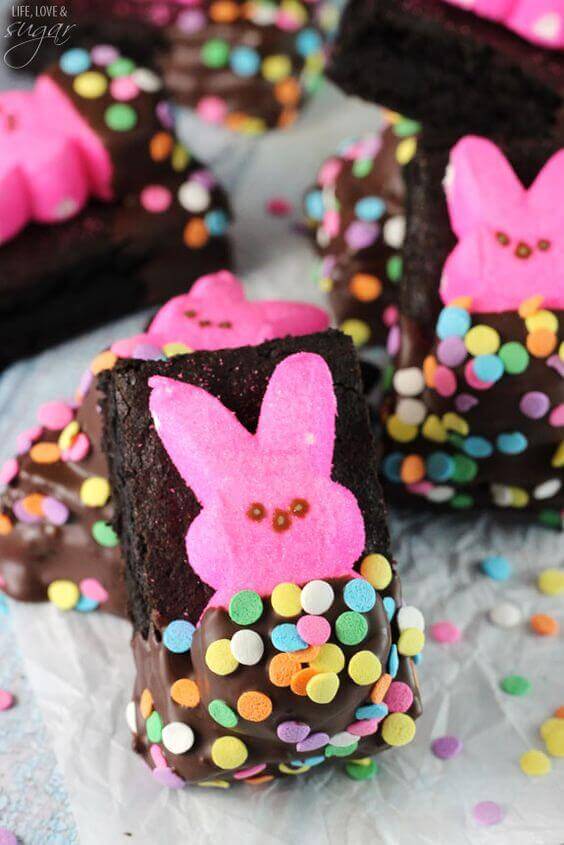 18. Bunny PEEPS in a Blanket Brownie
From Life, Love and Sugar
These Bunny PEEPS in a Blanket Brownies are just too cute. This is a little more of a labor-intensive recipe, but it's still really easy and just too darn cute not to make this Easter.
19. PEEPS Sunflower Cake
From Raining Hot Coupons
This has got to be one of the most creative PEEPS recipes I've seen — I just love this PEEPS Sunflower Cake! It's the perfect way to bring a little sunshine to your Easter, even if the weather isn't playing ball quite yet.
20. PEEPS Candy Bars
From The Domestic Rebel
This recipe for PEEPS Candy Bars is so simple and delicious, perfect if you're looking for something impressive that doesn't take too much time. Just choose your favorite chocolate cake mix, cover with PEEPS and pop into the oven, sprinkling with speckled M&M's as you set it down to cool.
21. PEEPS Brownie Nests
From Betty Crocker
These PEEPS Brownie Nests are an ideal Easter dessert if you're after something to impress your guests.
22. PEEPS Eclair Cake Cups
From Inside Bru Crew Life
Apparently this pudding tastes like cake batter, so we're definitely going to be making these PEEPS Eclair Cake Cups for Easter!
23. PEEPS Bunnies in Chocolate Easter Eggs
From The Decorated Cookie
These PEEPS Bunnies in Chocolate Easter Eggs are just too cute to handle. They're a little more work than a lot of the Easter desserts on this list, but they're definitely worth it!
Get set for baking with Peeps these products gathered by the crew at Spaceships and Laser Beams…
(Amazon Affiliate Links)
Peeps Cookie Pan
Peeps Rainbow Pops
Peeps Cookie Cutter
Peeps Treat Stand
Peeps 3D Cake Pan
Peeps Yellow Chicks
Marshamallow Peeps Easter Bunnies
Peeps Bunny and Chick Mold
Cookbook for Peeps Lovers
Don't miss more fun Easter dessert ideas perfect for kids…
Easter Party Ideas & Easy to Make Desserts
Easy Easter Stencil Cookies