23 Adorable Easter Desserts
Table of Contents
Easter is coming! Get ready by trying out these 23 adorable Easter desserts. How cute are the Easter basket cake pops, pretzel bunnies and ducks? Or, whip up a batch of Oreo bark. There are sweet bird's nests easy enough for little ones to make. And for those who love a little challenge, the rainbow Jell-O eggs look amazing!
---
See Also
---
1. Easter Basket Cake Pops
From Bakerella
When it comes to Easter desserts they might as well be adorable and delicious, right? This tutorial for Easter basket cake pops will help you accomplish both criteria. Just imagine bite-sized cake pop baskets filled with candy! Everything but the stick is edible, including the green candy shred "grass" and basket handles made from licorice belts.
2. Easter Oreo Bark
From Lil' Luna
Are you on the hunt for a great Easter treat to share with friends and family this year? Easter Oreo bark can be whipped up in 5 minutes (+ a half hour of fridge time). The recipe is easy enough that kids can help! Adult supervision is a good idea because stove use is required for this recipe. Only 4 ingredients are needed—vanilla candy coating, Spring Oreos, spring/Easter colored sprinkles, and Easter/spring M&Ms. Once the bark has set up in the refrigerator, simply break it into pieces for sharing.
4. Mint Blossoms
From Land O' Lakes
When you need the ultimate Easter dessert star, this beautiful and scrumptious Mini Egg Easter cake is a great option! Bonus—it only takes an hour of prep time outside of chilling and cooling times. That's pretty good for a cake that looks gourmet! Check out the ingredients list and steps in the tutorial to make this cake for your Easter celebrations!
5. Easter Nest Sugar Cookies
From Seeded at the Table
Sugar cookies are delicious in all shapes and sizes. These miniature soft frosted sugar cookies just happen to be stinking cute too! Decorated to look like Easter nests, they are topped with frosting "grass" and candy eggs. You can choose between jelly bean eggs or the ever-addicting Cadbury mini eggs. Either way, the result is a sweet treat perfect for Easter time!
6. Bunny Tail Truffles
From Pizzazzerie
A tasty Easter treat made from only 4 ingredients sounds like a winning recipe to us! These bunny tail truffles are too-cute-for words. Involve your kids in the process of mixing cream cheese, powdered sugar, and almond extract and rolling the dough into 1" balls. They will love rolling the balls in coconut as a final step and tasting the finished edible bunny tail truffles.
7. Easter Muddy Buddies
Hip. Hop. Easter is on its way. For a yummy snack mix that even the Easter Bunny can't resist, grab some fun seasonal ingredients and make up a batch of Easter Muddy Buddies! The base of this irresistible Easter inspired snack is Chex cereal coated in a mixture of melted chocolate chips, peanut butter, butter and vanilla. Once the mixture is transferred into large Ziploc bags, confectioners' sugar is added to the bags before sealing and a serious round of shaking begins! The final step is spreading the cereal out onto a baking sheet and adding mini marshmallows and pastel Easter M & M candies.
8. Easter Basket Cupcakes
From Skip to My Lou
If you're starting to think about Easter, be sure to tuck this adorable Easter dessert idea away for the holiday! This tutorial for Easter basket cupcakes even comes with a free printable Easter basket cupcake wrapper! Besides the supplies you need for the cupcakes, you will need some additional supplies to complete this cute idea—glue stick, brown chenille stems, ribbon, scissors, scalloped scissors, jelly beans, and the printed cupcake wrapper. What a genius presentation for an Easter cupcake!
9. Easter Bunny Cupcakes
From My Kitchen Escapades
Get inspired for Easter with this adorable Easter dessert—Easter bunny cupcakes! Get your kiddos in the kitchen to help you with this fun baking project. You'll begin by baking a batch of cupcakes and letting them cool completely. While the cupcakes are cooling, you can start on the creation of the bunny ears by cutting large marshmallows diagonally and dipping the freshly cut sides in pink sugar sprinkles. Fill a frosting bag with your favorite white frosting, and add grass tip for piping, or for a simpler look, just slather the frosting on with a butter knife. Add a pair of marshmallow bunny ears to complete the look.
10. Push Pop Peeps Cupcakes
From Love From the Oven
You're going to want the 4-1-1 on making these push pop peeps cupcakes for Easter this year! The great news is you can used a boxed cake mix to make your mini cupcakes if you wish and achieve perfect pastel cupcake colors using food coloring. Once the mini cupcakes are baked and cooled you're ready for the layering game. Basically you will be layering varying colors of mini cupcakes and frosting into the push pop containers and topping each with the head of a bunny Peep.
11. Carrot-Shaped Rice Krispies Treats
From Kraft
Rice Krispies treats are always a holiday favorite. Hand make a batch colored and shaped to look like an Easter carrot. Would you believe that orange flavored gelatin is used to create the perfect shade of orange for the carrot, while green food coloring is the easy choice for the carrot top? What a simple, fun idea!
12. Bunny Butt Cookies
From Pillsbury
Move over jelly beans, these bunny butt cookies are about to become a new Easter dessert favorite! Kids will love how cute and yummy they are. Parents will love how easy they are to make using refrigerated sugar cookie dough, prepared ready-to-spread frosting, pink gel food coloring, mini marshmallows, and a variety of pink candies and/or sprinkles. In 60 minutes, from prepping and baking to decorating and serving, you can create these precious Easter cookies.
13. Coconut Bunny Cake
From Jenny Steffens
There is something so simply beautiful about this coconut bunny cake. And when you see how easy it is to make, you'll especially agree. One round cake is all you'll need. That is cut in half, with matching halves frosted together before standing up on the cut sides to form the bunny's body. A couple of simple cuts later to create the bunny's head and tail and you are ready for a coat or two of frosting, and a coconut coating. Paper ears finish off the minimalist look. This makes a great Easter table centerpiece before it is cut for dessert.
14. Bunny Oreos
From Party Pinching
You're bound to bring joy this Easter by serving up a plate of these bunny Oreos. And, you don't have to break a sweat to do it! This adorable Easter dessert idea requires just 5 ingredients—Oreo cookies, white candy melts, marshmallows, pink jelly beans, and pink sanding sugar—plus an edible black ink marker. While the use of a microwave is needed to melt the candy melts, no stove or cook top baking is required. This is a great dessert making activity for kids!
15. Easter Egg Brownie Chicks
From Party Pinching
We consider it winning when you can purchase a store bought treat, make a few additions and alterations and end up with something unique to serve for a holiday dessert. These Easter egg brownie chicks are made by transforming Little Debbie Easter egg brownies. Check out the small list of items you'll need to complete your own transformation : small oval cookie cutter, orange rainbow chip sprinkles (beak), and black non-pareil sprinkles (eyes).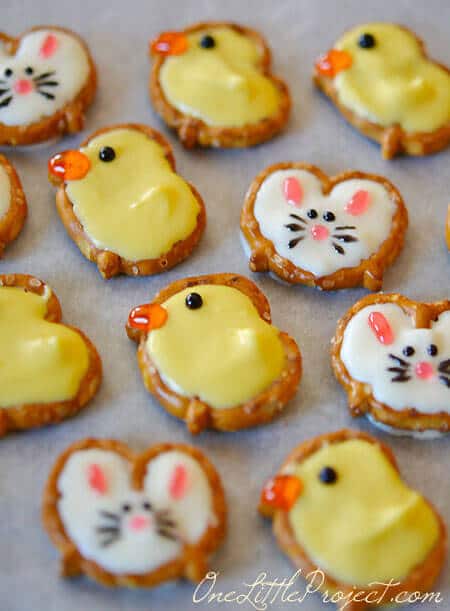 16. Pretzel Bunnies and Ducks
From One Little Project
You'll be excited to celebrate spring once you see how cute these pretzel bunnies and ducks are! What a darling Easter treat! A small ingredients list is always a bonus—pretzels, candy melts, and decorating gel. The process is simple. Melt the candy melts and drop small amounts to fill in the middle of the pretzels. Once the candy melts are dry, you can draw on the facial details using the decorating gel.
17. Sweet Bunny Buns
From Dixie Crystals
Just the name of this fun Easter dessert will make you smile—Sweet bunny buns. (Say the name and just try not to smile! We dare you!) Made from a sweet bread dough, this treat is easily made with help from children. A simple twist of the dough is all that is needed to form the shape of a bunny. A brush of butter and dusting of cinnamon later and you have a delicious Easter treat that is ready to hop on your Easter brunch table. Package in cellophane, and add a pastel ribbon for a thoughtful edible Easter gift.
18. Chocolate Chick Brownie Truffles
From Baked Bree, as seen on Dixie Crystals
If you didn't think Easter could get any sweeter, think again! These chocolate chick brownie truffles are definitely as adorable as they are deliciously sweet! They feature a no-bake chocolate truffle center with a candy coating and colored coconut outer covering. The candy eyes and chocolate covered sunflower seed nose really bring the Easter chick look to this treat!
19. Easter Egg Cookie Dough Truffles
From Wine and Glue
If you are looking for something irresistibly yummy and equally beautiful to serve for dessert this Easter, take a peek at the how-to for these Easter egg cookie dough truffles. I had you at cookie dough didn't I? Or maybe truffles. Chances are good that you already have the core ingredients on hand and may only need to pick up the necessary pastel candy melts for coating! No baking required, but a microwave for melting the candy melts is a must.
20. Rainbow Jell-O Easter Eggs
From Thrive.
If you really want to impress your family or guests this Easter, make up some of these rainbow Jell-O Easter eggs. They are a labor of love, but totally worth it! They definitely aren't easy, but the layers of Jell-O have to each set up individually, which can be taxing on your time and patience. If you love that wow factor, this Easter recipe is for you!
21. Sweet Bird's Nests
From Bake at 350
If you have chow mein noodles, butter, vanilla, marshmallows and Easter candy (jelly beans or malted eggs) on hand you can get started on this recipe for sweet bird's nests—a great treat idea for your Easter parties and get-togethers. This tasty Easter dessert recipe creates a lot of nests. They would look cute displayed on a cake plate or platter, or as part of individual place settings on your Easter table. Add a marshmallow Peep chick for an added measure of fun!
22. Bunny Butt Cupcakes
From Spend with Pennies
These bunny butt cupcakes are sure to draw some smiles come Easter time! Take your favorite chocolate cupcake recipe and add a coating of chocolate frosting prior to dipping in chocolate cookie crumbs. Create the adorable bunny butt out of scooped out balls of round cake (a melon baller can help with this step). Heat up some white frosting slightly to create a runnier consistency for dipping the white cake balls in. These will be rolled in coconut and stacked on top of each other to create the bunny bottom. The darling bunny feet are made using melted pink and white candy melts.
23. Easter Carrots Rice Krispie Treats
From Frugal Coupon Living
Sometimes you just need a no-bake dessert recipe, and we've got the perfect one for Easter! Would you believe this carrot-shaped Rice Krispies Treats recipe features pre-packaged, store bought Kellogg's Rice Krispies Treats? Believe it, because it's true! You'll just need two additional ingredients—orange candy melts and edible Easter grass! You'll be amazed how quickly these treats come together.
Plan the ultimate Easter egg hunt with these great Amazon affiliate links gathered by the crew at Spaceships and Laser Beams.
(Amazon Affiliate Links)
Plastic Easter Eggs
Easter Egg Hunt Sign
Teenage Mutant Ninja Turtles Easter Egg Decorating Kit
Easter Egg Hunt Bundle
36 Toy Filled Easter Eggs
Easter Egg Cutouts Party Accessory
Easter Plastic Table Cover
Easter Round Dinner Plates
Jumbo Inflatable Easter Bunny Rabbit
Don't miss more fun Easter Ideas perfect for kids.
Plus, check out these Cream Egg Sugar Cookie Cups…