23 PAW Patrol Birthday Party Ideas
Table of Contents
Throwing a PAW Patrol birthday party can be made so much easier with some inspiration. Chase may not be on the case, but we are with 23 PAW Patrol birthday party ideas. Ryder, Chase, Marshall, Skye, Zuma, Rocky, Rubble, Everest—if you know all those names, chances are you or someone you love is a PAW Patrol fan. Throwing a PAW Patrol birthday party can be made so much easier with some inspiration. Scroll the list for my favorite ideas for party favors, birthday decorations, place settings, puppy-inspired party games, food, cake, treats, and more.
---
See Also: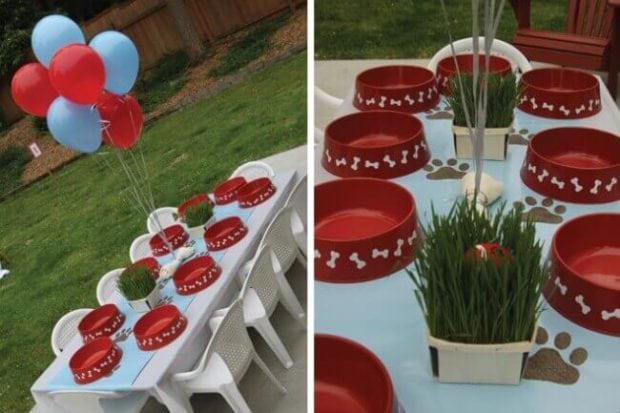 1. Dog Food Dish Place Settings
A Paw Patrol birthday party definitely calls for some new party-planning tricks. Forego regular plates and place settings in favor of adorable dog food dishes, like those seen here. Party guests will have so much fun eating like their favorite puppy from PAW Patrol. "Bone appetite!"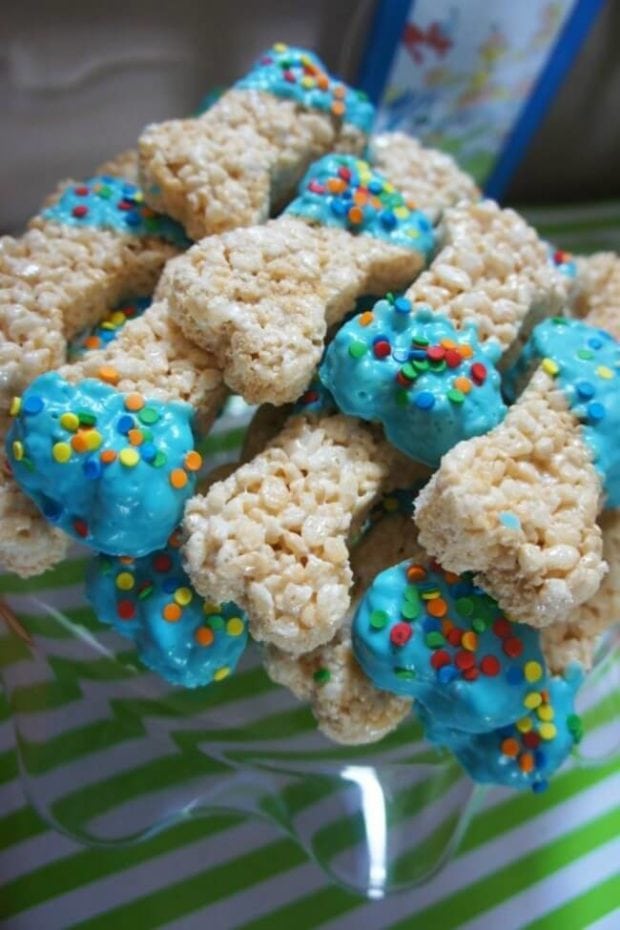 2. Bone-Shaped Rice Krispy Treats
These bone-shaped rice Krispy treats make an adorable treat idea for a Paw Patrol party. Use a cookie cutter to easily create the bone shape. For added fun, dip one end in colored candy melts and/or sprinkles. You can display them in a dog dish bowl on a PAW Patrol birthday party dessert table or even wrap them in clear cellophane and send them home with guests as a party favor.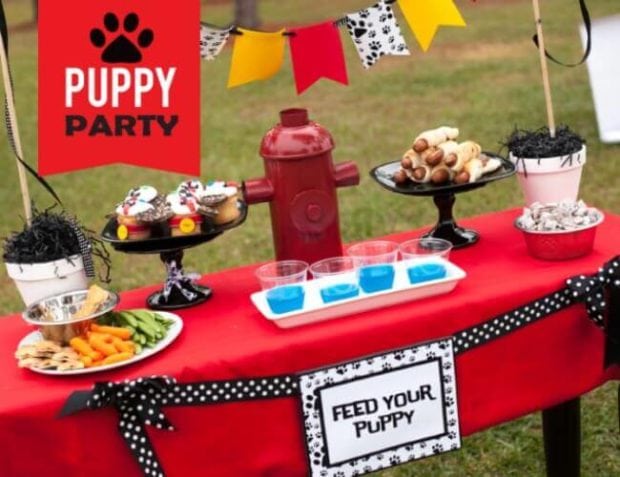 If you're combing the internet looking for budget-friendly ideas for a PAW Patrol birthday party, we've found a goldmine of awesome ideas. This puppy party playdate is adorable and won't break the bank. Awesome tips for a DIY doghouse out of cardboard and spray paint, free printable birthday party invitations, and DIY puppy cupcakes.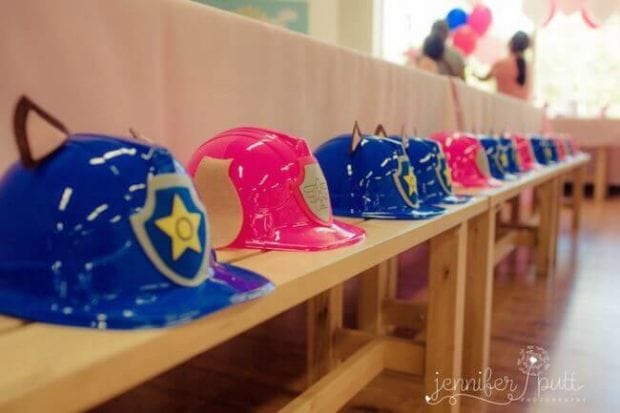 4. PAW Patrol Birthday Hat Favors
Get inspired to craft up your own PAW Patrol birthday hat favors. We love the birthday hat favors pictured here made from plastic hard hats dressed up with felt ears and embellishments. You can create blue and pink versions for both boy and girl party guests.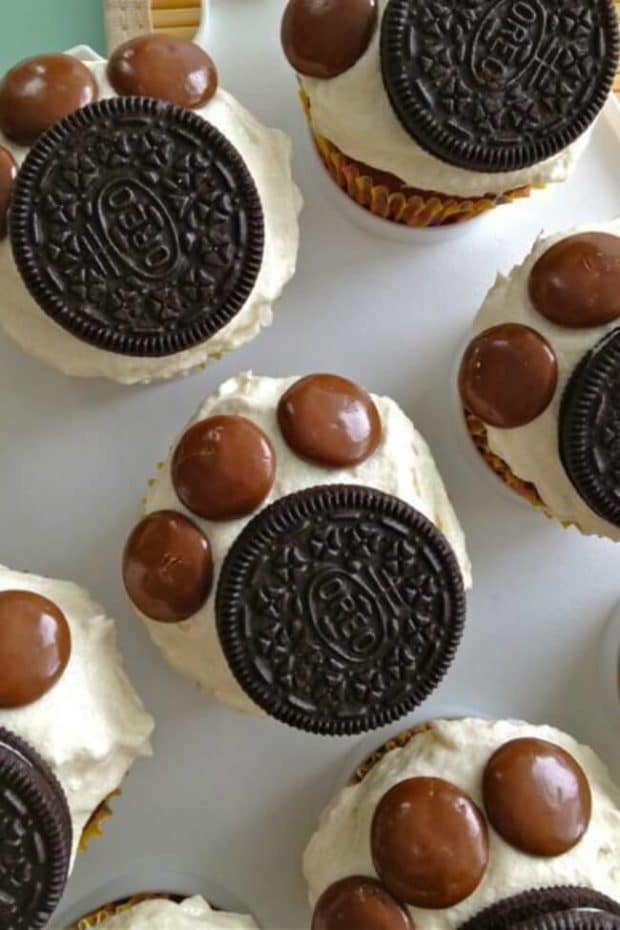 5. Puppy Paw Cupcakes
Puppy paw cupcakes, known as "pupcakes" are so easy to make. Just frost a cupcake with white frosting and add an Oreo and 3 Milk Duds to create the "paw". Serve them up in your "barkery" (bakery) and be sure to have plenty of doggie bags on hand for guests who want to take their "pupcake" home.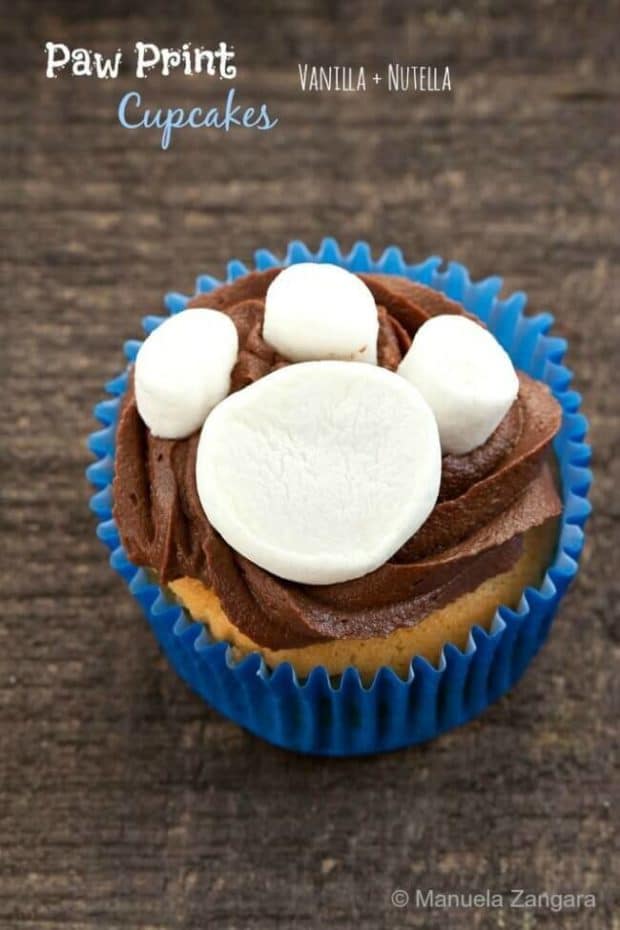 6. Marshmallow Paw Print Cupcakes
Another easy paw print cupcake idea includes baking and frosting cupcakes (although store-bought would work too) and using marshmallows to create the paw topper. Simply frost your cupcakes with chocolate or colored frosting. Add half of a large marshmallow and 3 mini marshmallows to create your edible paw topper.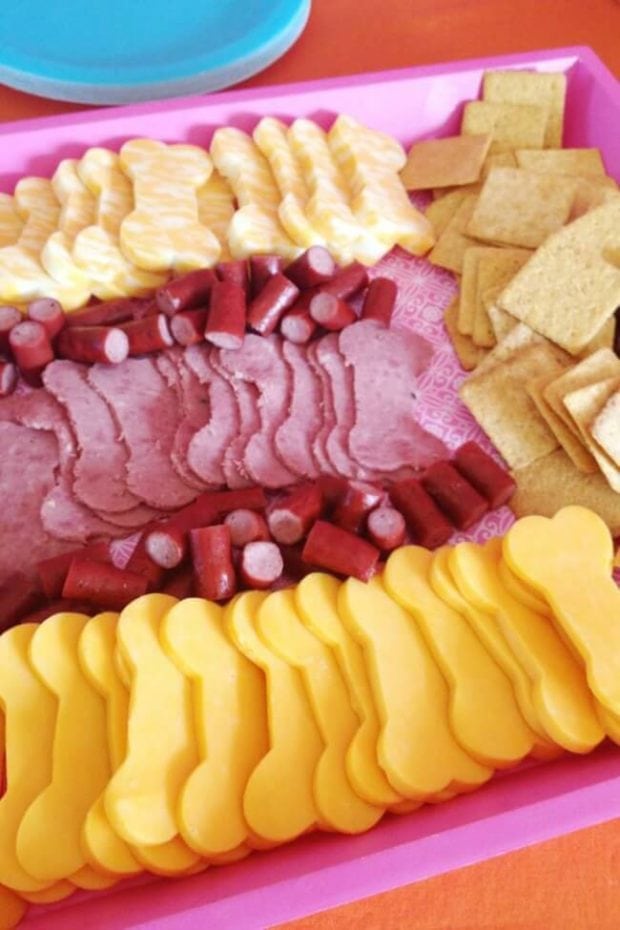 7. Bone-Shaped Meat &Cheese
Don't end up in the doghouse this year! Create a dog-inspired menu that everyone is sure to love. Put to together a meat and cheese "pawty" platter for guests to enjoy at a PAW Patrol party. Meat and cheese can be cut into bone shapes using a cookie cutter.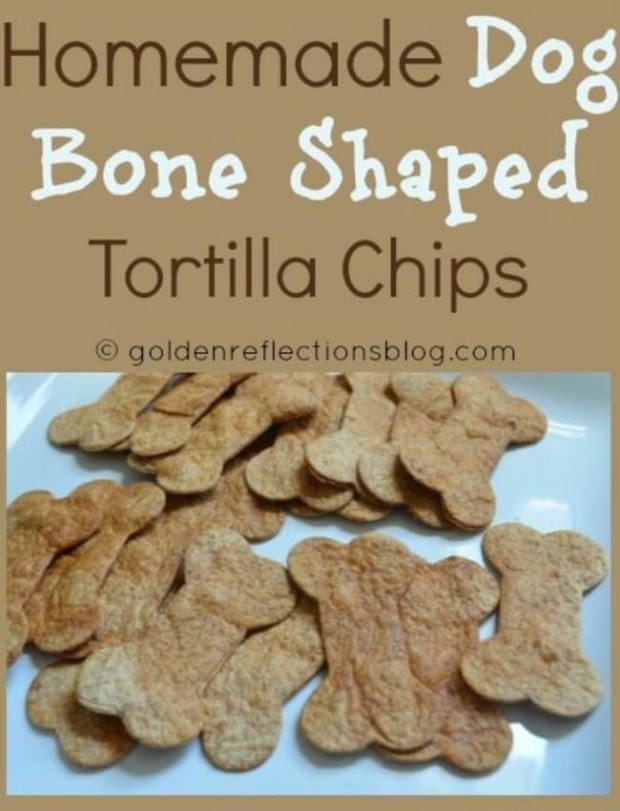 8. Homemade Dog Bone-Shaped Tortilla Chips
You've got to see this idea for homemade dog bone-shaped tortilla chips! Just use store-bought tortillas wrappers and a bone-shaped cookie cutter and bake them in the oven to create some seriously cute chips. Challenge guests to eat their bones without using their "paws" for a fun party activity.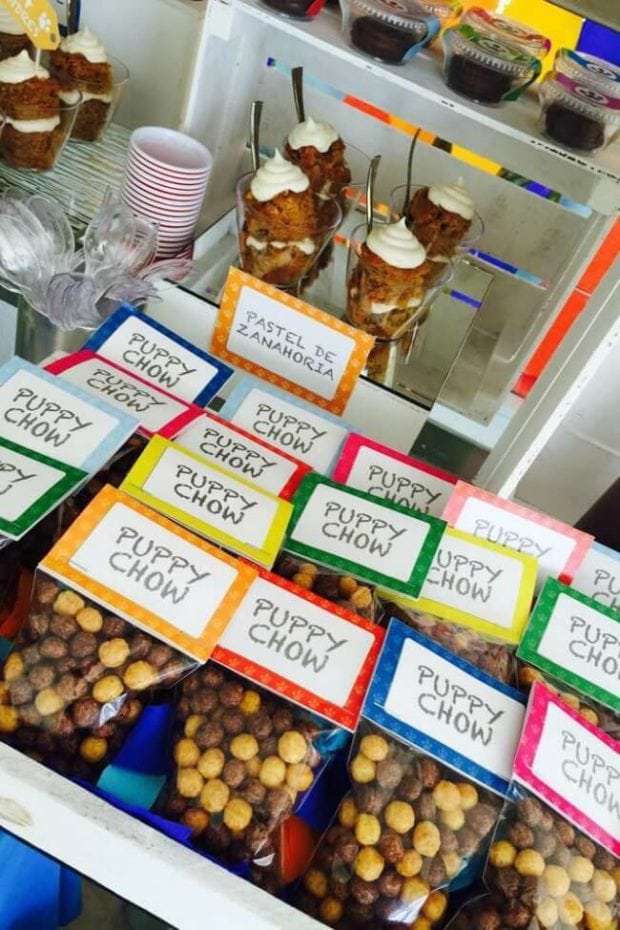 9. Puppy Chow Favor
While you'd never send guests home with real puppy chow, why not get creative and put together favors inspired by it? Add a cute topper to a clear party favor bag and add a mixture of cereal that resembles puppy chow (Kix, Cocoa Puffs, and Peanut Butter Puffs work well). You could even package it in a real dog dish which you can find at most dollar stores.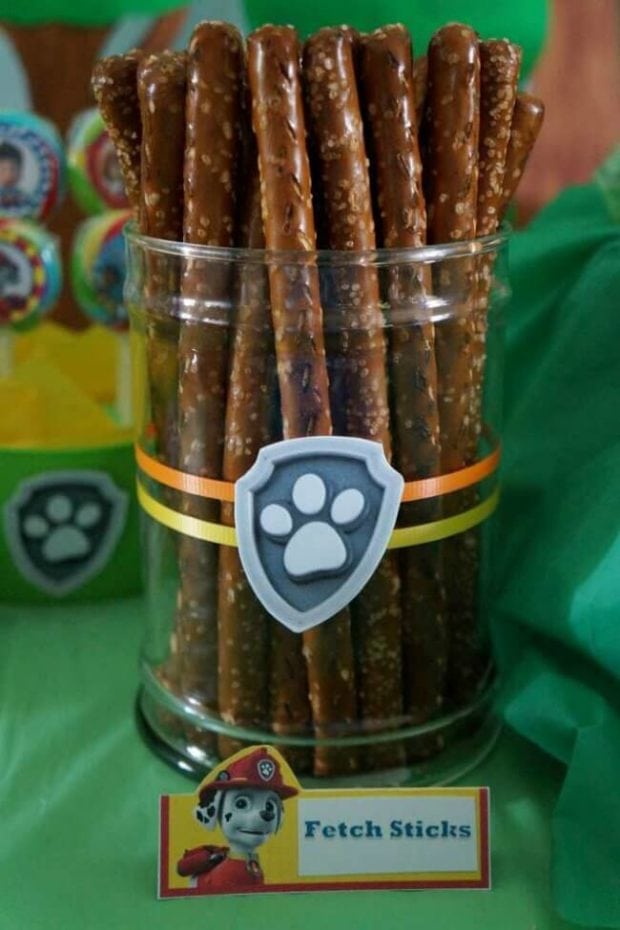 10. Fetch Sticks
Planning for a child's party means putting on your thinking cap and drumming up a little creativity. When it comes to creating a themed dessert table, a few simple details can go a long way in reinforcing the birthday party theme. Adding theme-coordinating treats to your Paw Patrol snack table is a fun idea. Label a jar of pretzels "fetch sticks."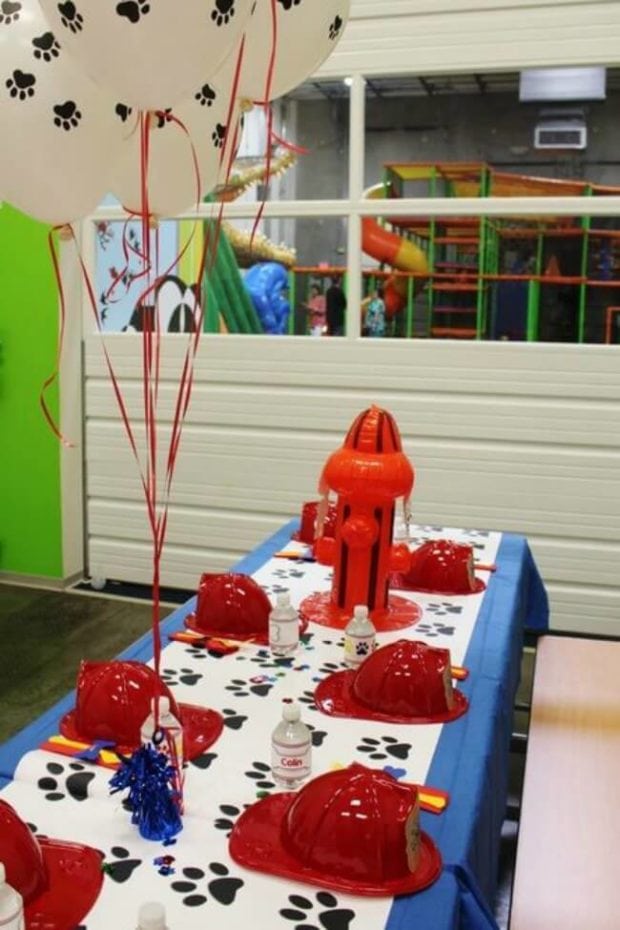 Whether you use paw print wrapping paper as a table runner or use a black permanent marker to DIY your own runner and paw print balloons, we think they add such a fun touch to a Paw Patrol birthday party. Add these ideas to your list of budget-friendly PAW Patrol birthday party ideas. If you choose to go the wrapping paper route make your own paw print on white butcher paper, it makes cleanup a cinch with a disposable runner.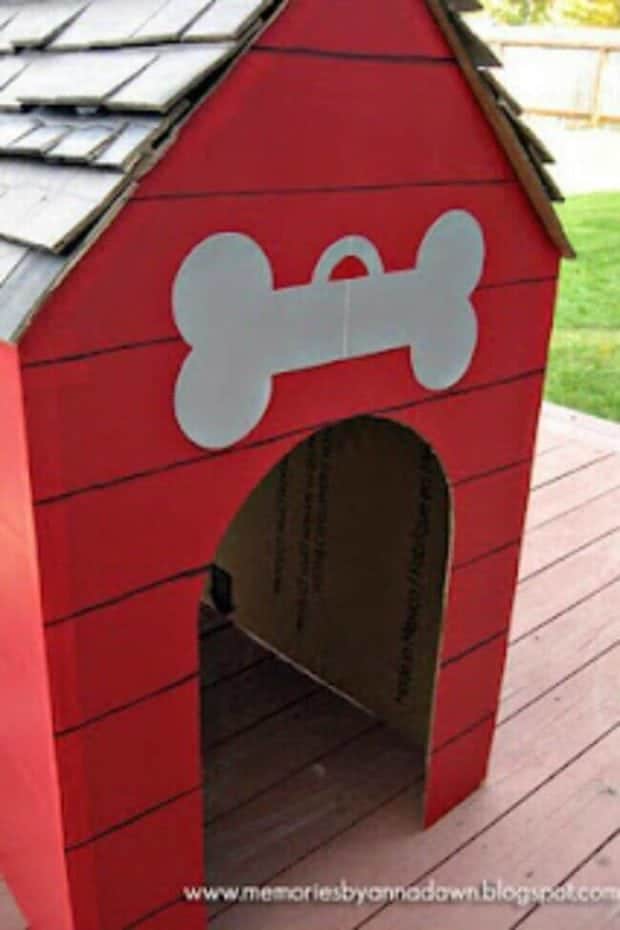 12. DIY Cardboard Doghouse
With a few simple and inexpensive materials, you can DIY your own cardboard doghouse for your Paw Patrol Party using a recycled refrigerator box. It makes for a great photo op, party prop, and activity. Kids will love imaginary playtime in this doghouse. You will love how budget-friendly this party decoration is.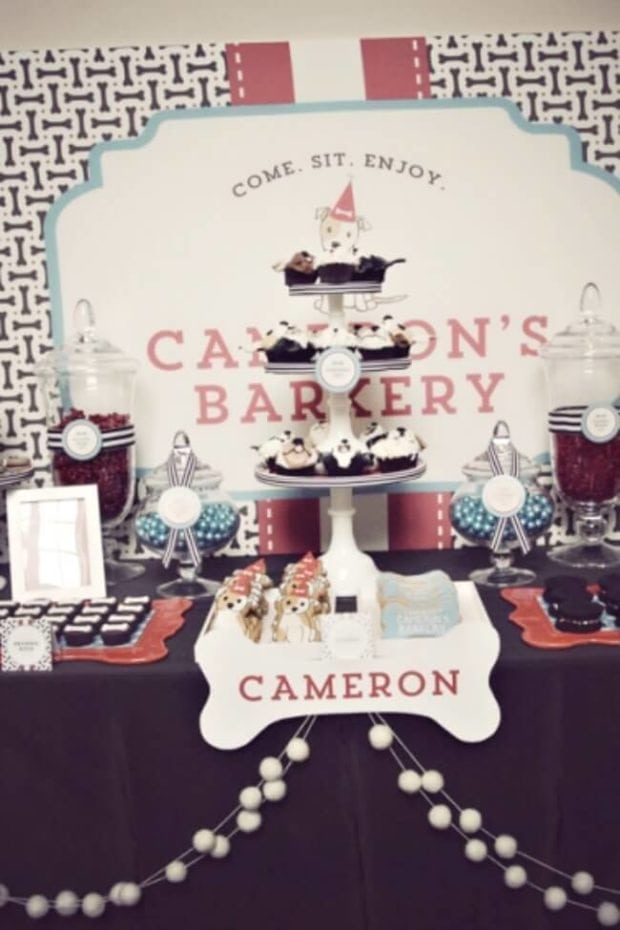 Instead of a bakery-themed dessert table, create a "barkery" with dog-inspired treats for guests to enjoy. Party guests can fill up doggie bags with treats displayed on a bakery-style counter. Printable elements, such as the personalized backdrop, tags, and toppers can help coordinate the look.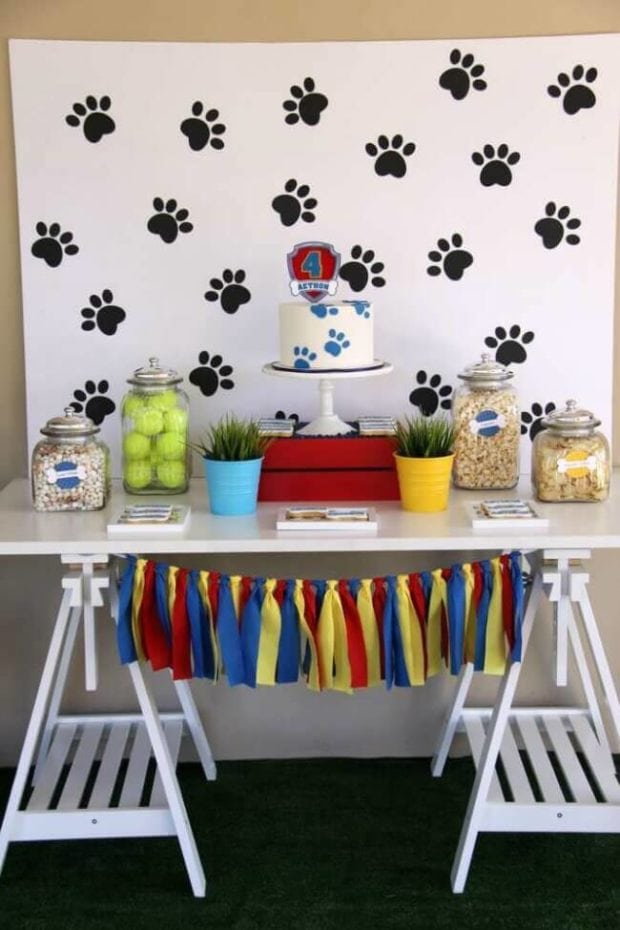 14. Paw Print Refreshment Table Backdrop
When it comes to great party decorations, they don't have to be expensive. You can make an adorable paw print backdrop using black cardboard paw print cutouts adhered to the white fabric. (You could also hand draw paw prints on white butcher paper using a permanent marker.) It's amazing how it adds that pop of pizzazz to your dog-themed refreshment table.
15. Puppy Adoption Center
You'll win over your PAW Patrol party guests with this fabulous party favor idea. Send guests home with their own stuffed puppies. Setting up a puppy adoption center is a fun idea. Just load up an area with plenty of stuffed pups and printed adoption certificates, plus any newborn pup essentials. Go the extra mile by staging the puppy adoption center with faux grass and a mini fence.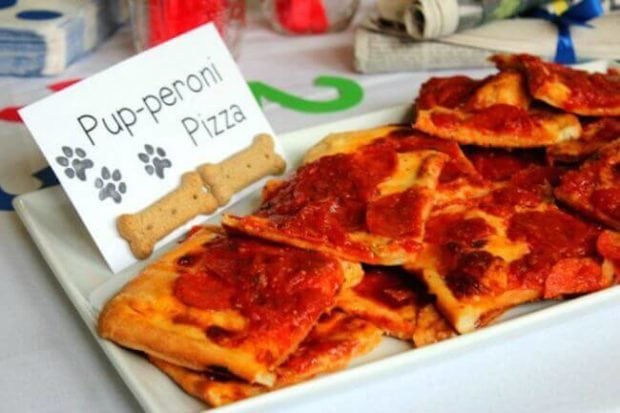 Create some excitement around your party snacks and treats by giving them fun theme-appropriate names. We love how pepperoni pizza was changed to "pup-eroni pizza" with a cute food label. And doesn't the addition of dog bones and stamped paw prints make it even cuter? Kids will dig the cleverness and effort.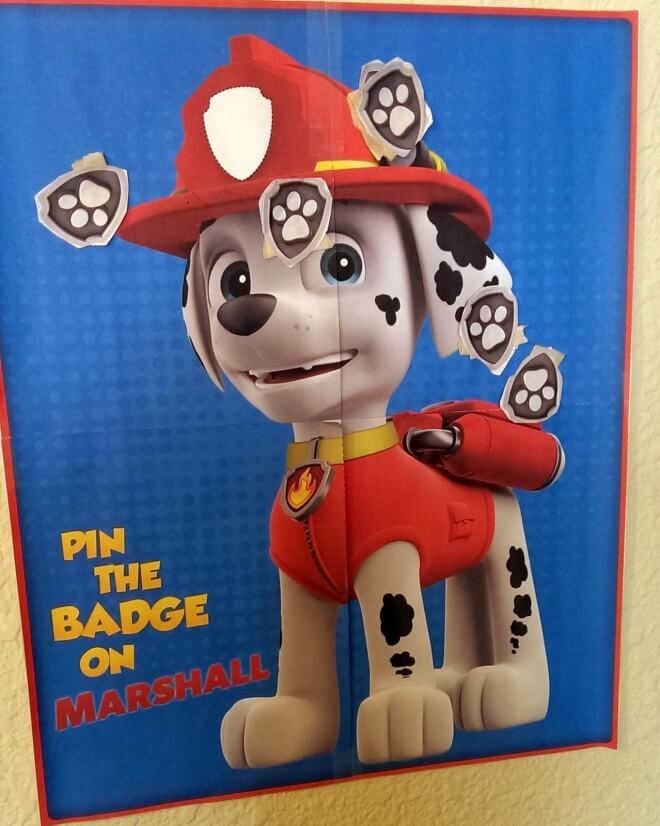 This is a fun game to add to your lineup of PAW Patrol party entertainment. Party guests will love this Paw Patrol-inspired twist on a classic game. Played like "Pin the Tail on the Donkey," guests will pin the badge on Marshall.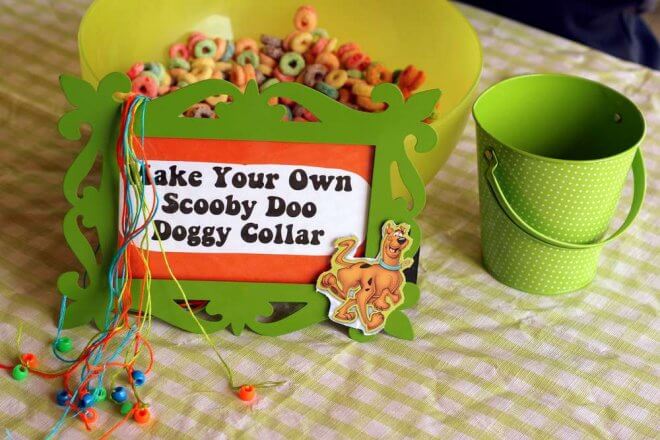 18. Dog Collar Activity
Nothing is better than a fun-themed activity right at the start to get a birthday party going. This make-your-own dog collar activity is perfect for a PAW Patrol party or any dog-themed birthday. All you need is simple dog collars and some glue. Guests can string cereal, candy, noodles, or even beads to make their own collars.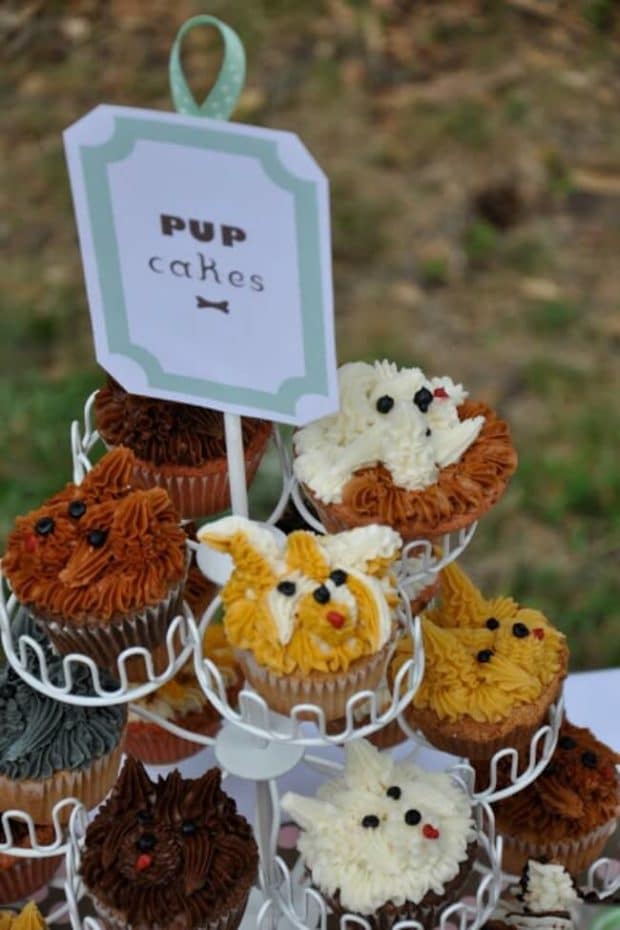 19. Pup Cakes
With a little bit of frosting in a variety of colors, some patience, and practice, you can transform ordinary cupcakes into these adorable pup cakes. They are so realistic looking. Create a whole litter of darling pups to add to your party treats.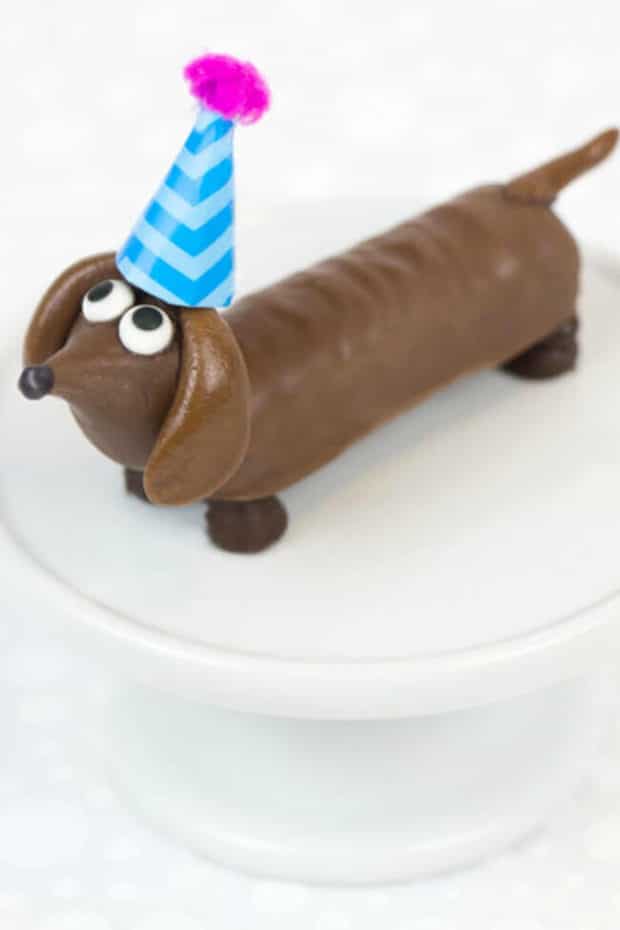 Everyone will go crazy over these candy canines. Made from Twix candy bars, Hershey's Kisses, Tootsie Rolls, and chocolate chips, they are so doggone cute. Add a little paper party hat on top for the most adorable canine treat ever to grace a PAW Patrol birthday party dessert table.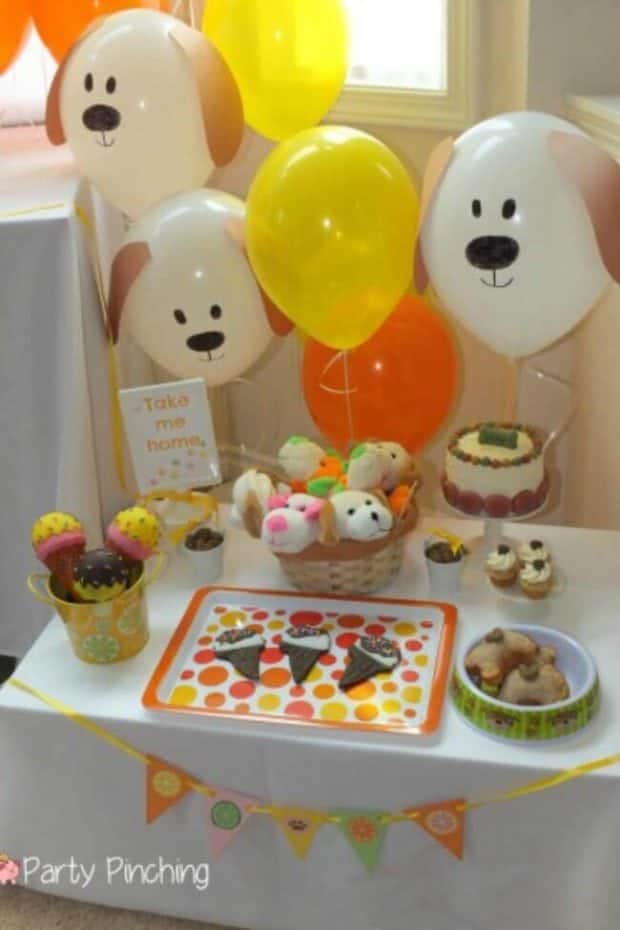 21. Dog Balloons
Need dog balloons for your Paw Patrol Party? No problem! Just use a permanent marker to draw facial features on balloons and attach paper ears with tape. Dog balloons make an adorable party decoration and can double as a take-home party favor when the party is finished.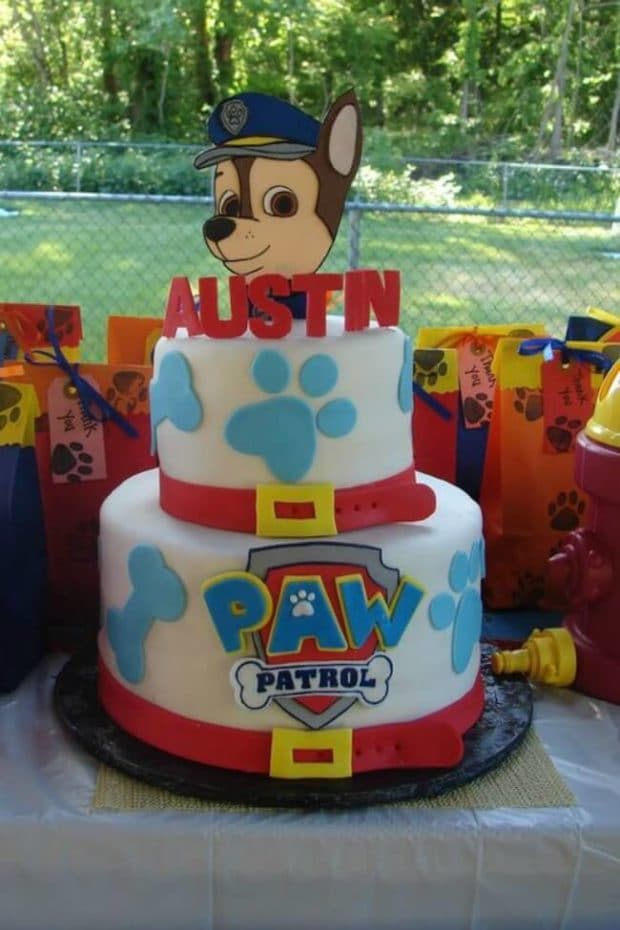 No detail was spared in the making of this Paw Patrol cake. The fondant Paw Patrol logo and paw prints paired with the guest of honor's name look impressive. Plus, how cute is the little pup on top? If your guest of honor is a big PAW Patrol fan, you can let them choose which PAW Patrol character to feature on the top of their birthday party cake.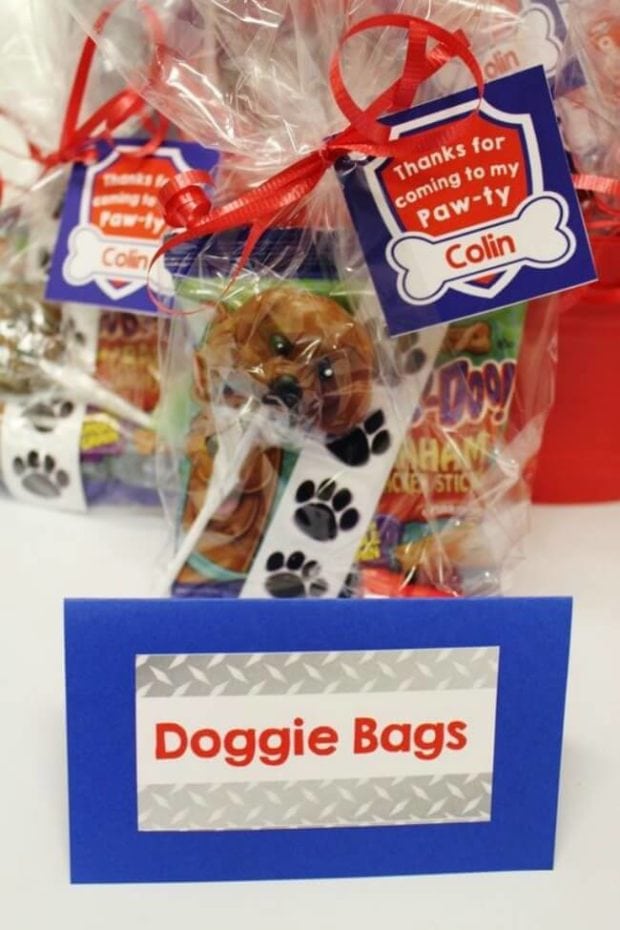 23. Doggie Bags Paw-ty Favors
If you want a doggone cute way to send off your PAW Patrol party guests, this is it. Thank guests for coming to the "paw-ty" with cute "doggie bags." These can be filled with leftover party refreshments or things like sticker sheets, small toys, and a fresh supply of treats. Attach a PAW Patrol-themed favor tag and add a personalized sentiment.
Plan a party just like a pro. Sign up for our newsletter and get our FREE PARTY PLANNING CHECKLIST as well as tips from a professional children's party planner — and even recipes and craft ideas!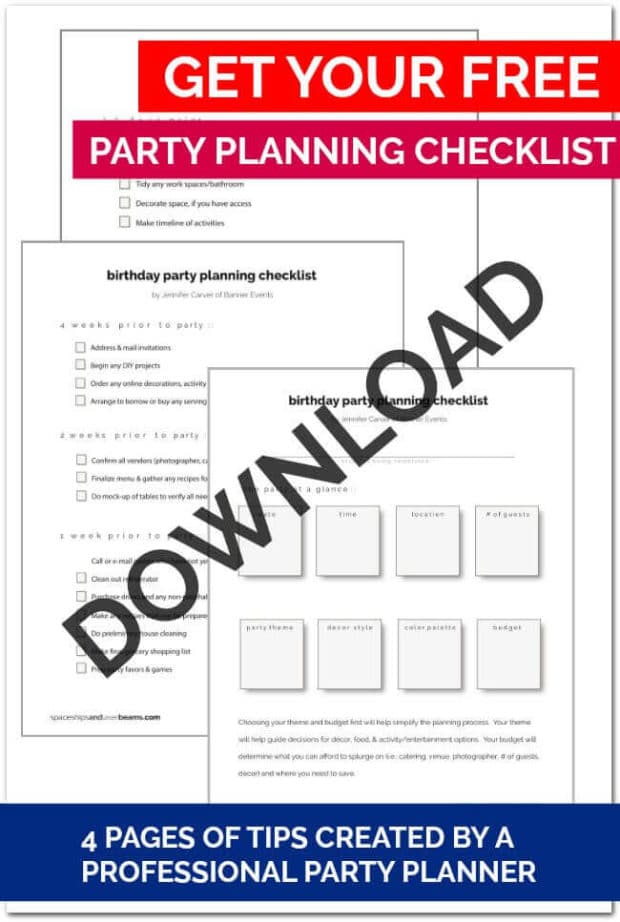 Be sure to check out more puppy birthday party ideas here: