23 Christmas Leftovers Recipes
Table of Contents
After days of feasting and festivities, often your fridge is packed and you're left wondering how to use up all of those Christmas leftovers
Don't throw them out, use them up. How? We are sharing 23 fantastic recipes for using up Christmas leftovers.
Whether you have leftover ham, turkey, roast beef or even cranberry sauce, you can create something delicious from those leftover items in your refrigerator. And—it's easier the second time around.
---
See Also
---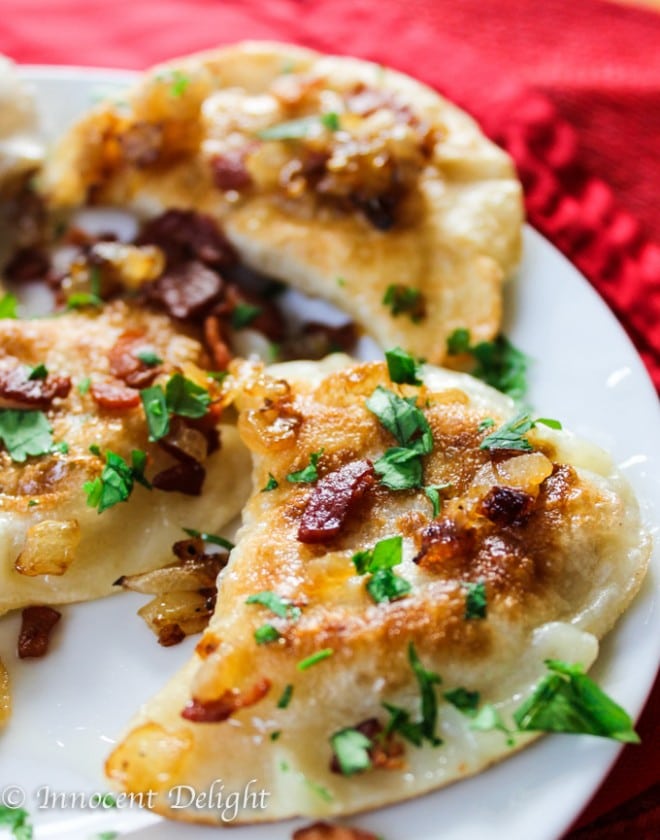 1. Authentic Polish Pierogi with Potatoes and Cheese
From Innocent Delight
Pierogies are always a delicious meal choice. These pierogis are completely authentic and a lot of fun to make.
The potatoes and cheese are a traditional method of serving pierogis that is very versatile and destined to be a hit with your family and friends.
2. Cranberry and Sage Appetizer
From Spaceships and Laser Beams
These cranberry and sage appetizers make a perfect New Year's Eve appetizer. They use turkey, stuffing, cheese, cranberry sauce, and crunchy triscuts. Easy to put together, even easier to eat.
3. Easy No Bake Cranberry Cheesecake
From Spaceships and Laser Beams
Cheesecake is always a great dessert idea. I love the idea of using your leftover cranberry sauce to offset the richness of cheesecake.
These are layered kind of like a trifle, layers of cheesecake and cranberry sauce. Deliciousness in every bite.
4. Slow Cooker Ham and Potato Soup
From Cupcake Diaries Blog
This soup is a lighter recipe which means you won't have to feel guilty about indulging in it! It's perfect for winter… Super comforting and super easy. The crock pot basically does all of the work for you.
5. Leftover Turkey Pockets
From The Typical Mom
You'll absolutely love this leftover turkey recipe. These turkey dumplings are super easy to make and super flavorful.
Your kids will love helping put these together.
6. Hawaiian Fried Rice
From Food Folks and Fun
Christmas dinner is not complete without ham. This recipe uses holiday ham to create an entirely new dish, Hawaiian fried rice! Your family won't even know they're eating leftover ham for dinner.
7. Crockpot Turkey Chili
From Passion For Savings
After you put this recipe together, it doesn't even taste like the healthy alternative it is, turkey.
It freezes really well so you can even batch cook it. If you aren't ready to make it right after Christmas, you can easily freeze your turkey and make it later.
8. Turkey Pot Pie
From A Pretty Little Life in the Suburbs
Pot pies are one of the most comforting winter dishes you can make. The crust on this pot pie is so elegant and so easy to make! This recipe uses your leftover turkey and gravy to create a decadent and beautiful pot pie that everyone will love.
9. Savory Crepes with Turkey & Stuffing
From Butter With a Side of Bread
These savory crepes are perfect for the morning after a delicious turkey dinner. Crepes are so easily customizable and everyone loves to wake up to them! These make the perfect holiday weekend brunch. The crepes are made with mashed potatoes, then filled with turkey and stuffing and topped with cranberry sauce and gravy (my favorite part.)
10. Cheesy Potato and Ham Pie
When it comes to holiday cooking, easier is always better. I don't want to be stressed when I have family and friends over! This dish is easily made ahead (and even frozen ahead) using leftover ham. You can't go wrong with a puff pastry pie!
11. Cheesy Roast Beef Egg Roll Bites
From Kleinworth & Co.
These cheesy roast beef egg roll bites are stuffed with roast beef, mozzarella cheese, and baked until they turn into a crispy and delicious appetizer or snack.
12. Sweet Potato Grain-Free Brownies
From Make the Best of Everything
Sweet potatoes act as a deliciously sweet binding agent in these grain-free brownies. They are the perfect way to use up your leftover sweet potatoes, and a great healthy alternative to using flour and sugar in your brownies! Just don't tell your kids that they are healthy.
13. Ham and Pea Noodle Soup
From Tastes of Lizzy T's
Creamy soups are always a family favorite comfort food this time of year. This one comes together in under 30 minutes! You can get the prep work for it done in the morning as well, to save you time at dinner.
14. Leftover Ham and Potato Soup
From Who Needs a Cape
This recipe is perfect morning-after comfort food and so easy to make. If you don't have a hash brown casserole in your fridge, just use any cheesy potatoes you have in your fridge. The result is a cheesy, savory dish that the whole family will love!
15. Ham Salad
This recipe is perfect for making sandwiches with you Christmas dinner leftovers, or even just spreading on a cracker! The ham salad doesn't use eggs, but that is totally optional. What a great idea!
16. Autumn Lasagna
From The Cozy Apron
This autumn lasagna uses familiar ingredients in new and innovative ways. It takes a classic comfort food and uses a variety of different autumn foods to make it even cozier! The turkey and butternut squash are also very healthy, which is a bonus during the holiday season.
17. Creamed Turkey Over Biscuits
From Frugal Foodie Mama
There is almost always leftover turkey during the holidays. This creamed turkey over biscuits dish is so easy to make and you will most likely have everything you'll need in the house.
You can double or even triple this recipe depending on how many people you are cooking for, which is always a bonus. If you want to make these even easier (if it's a weeknight dinner, etc.), skip the homemade biscuits and buy store-bought ones.
18. Turkey Parmesan Baked Rotini
From Rock Recipes
When you serve a recipe like this, nobody will have any idea that you are using your holiday leftovers up.
Adding red peppers definitely adds a fresh kick to this savory dish. I have always been a huge fan of pasta bakes, and this one is up there on my list.
19. Turkey Cranberry Strudel
From Recipe Girl
Puff pastry is always so much fun to bake. I love this idea of using your Christmas leftovers in a beautiful and elegant braid! The recipe adds squash, cranberries, leftover turkey, and cheese. Try adding stuffing or sweet potatoes if you have them on hand!
20. Turkey Shepherds Pie
21. Herb Crepes with Ham, Swiss, Eggs & Browned Butter
From Cooking Classy
Savory crepes are one of my favorite breakfast ideas. They are simple to put together and make for a fancy breakfast or brunch. With these crepes, you can add many different things, they are very versatile. The browned butter really does pull these together!
22. Ham and Cheese Potato Pancakes
From Buns In My Oven
Mashed potato pancakes are always a family favorite around here, and using your leftover mashed potatoes takes half of the work out of them.
Adding ham and cheese brings these savory bites to the next level. I could probably eat the whole batch.
23. Ham and Cheese Breakfast Bars
From Mom on Time Out
These bars are loaded full of ham, cheese, and vegetables then backed on a flaky crescent roll crust. With these breakfast bars, you'll be sure to start the day out right.
I like to bring these bars for an on-the-go breakfast if I need to get back to work, but they do serve as a perfect brunch dish, too.
Celebrate the new year with these great ideas to create a great family dinner.
(Amazon Affiliate Links)
Stay Or Go Slow Cooker
Crock-Pot Little Triple Dipper
Programmable Slow Cooker
Casserole Crock Slow Cooker
Slow Cooker with Locking Lid
Slow Cooker with Insulated Tote and Transport Lid
Check out more great recipe ideas.