21 Trendy Emoji Party Ideas
Table of Contents
Who doesn't love the idea of an emoji birthday party?! 😉
Would you believe emoji birthday parties are totally on trend? Here are 21 of our favorite emoji party ideas. (Check out the emoji eggs here as well. So cute.) We're dying over the poop emoji cupcakes, cakes and cookies as well as all the cute party decorations and party supplies. We also love the DIY decoration ideas for creating emoji paper lanterns, masks and even a photo booth.
---
See Also
---
1. Marshmallow Emoji Cookies
From Nomageddon
"Every party has a pooper", or so the song goes. Now every party can have edible emoji Peeps poop too. (Stay with me here.) Learn how to make marshmallow Peeps shaped like the poop emoji (basically, marshmallows coated in brown sugar crystals).
We have a feeling these might be the talk of the party!
2. DIY Emoji Paper Lantern Decorations
From Frog Prince Paperie
Looking for easy decoration ideas for an emoji party? DIY your own emoji paper lantern decorations by adding a few printable facial features to yellow paper lanterns. I love the idea of tossing these emoji paper lanterns in center pieces or hanging them from trees at a backyard bash.
3. Emoji Cheesecake Recipe
From How to Cook That
These emoji cheesecakes will bring a smile to party guests! Perfectly personal sized cheesecakes are made yellow with a dash of gel food coloring and then topped with icing emojis. Follow the super easy step-by-step tutorial provided and bake up all sorts of fun.
4. Emoji Poop Rice Krispy Treat
From Jessica Sisken, as seen on Yahoo Style
Never in your wildest dreams did you imagine you'd be looking up directions for making emoji poop rice krispy treats, right? And yet here we are! These little beauties actually look pretty appetizing if I do say so myself.
5. Free Emoji Party Printables
From Living Locurto
Don't be a party pooper – join the emoji party trend! Grab these free emoji party printables and have fun throwing your own emoji party.
This awesome party set is complete with emoji wrapping paper, straw flags, gift tags, printable invitations, water bottle wrappers, and more. I love the vibrant and bright colors.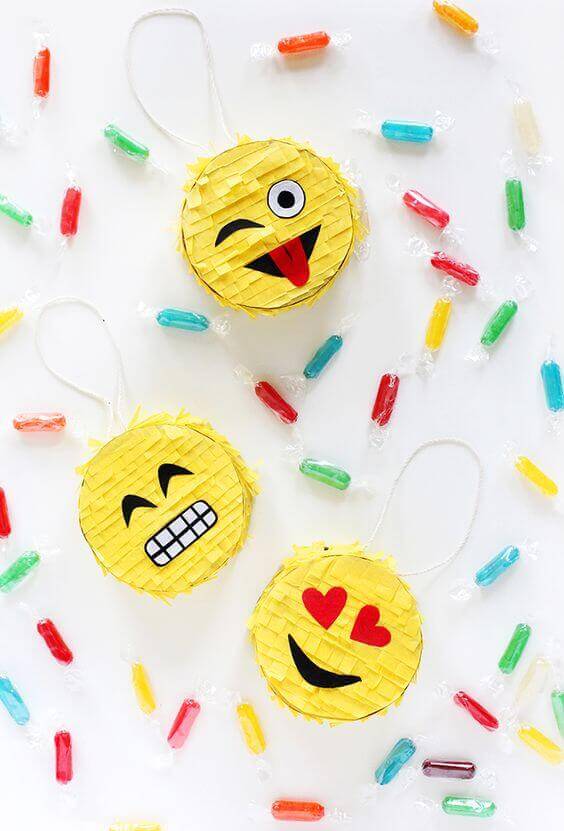 6. Emoji Mini Pinata Favor
From I Spy DIY
An emoji party lends itself to some pretty awesome party favors. Are you wondering what our pick is for best emoji party favor idea? Definitely these mini emoji pinatas. They are an awesome DIY project that even the birthday kid can help get ready.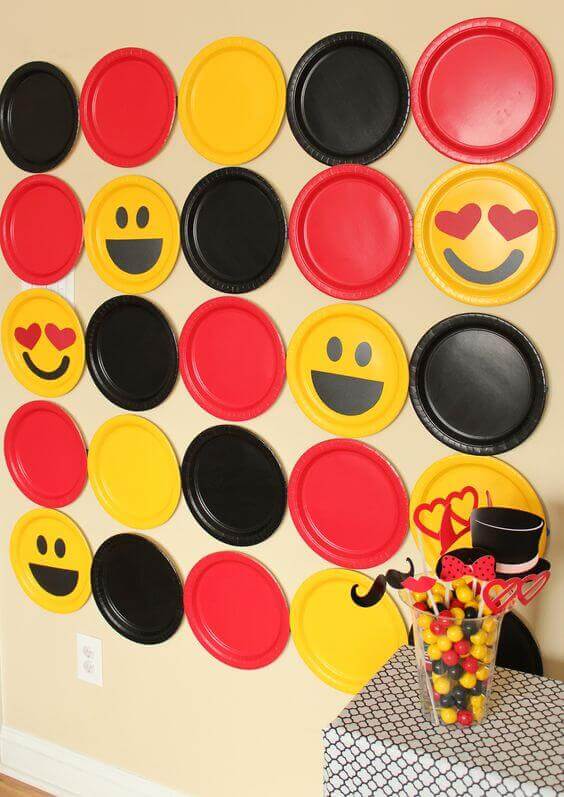 7. DIY Emoji Photo Booth Backdrop
From Wholesale Party Supplies
We are flashing all the heart eyes for this incredible DIY emoji photo booth backdrop. Made from yellow, red and black paper plates and some emoji facial features cut from cardstock, it is quick and easy to hang with painter's tape.
8. DIY Emoji Masks
From diy inspired
If you love saving money and aren't afraid of a little DIY, these emoji masks are a fun addition to any emoji party.
The inexpensive craft is perfect for decorating nearly any surface in your house, hanging from trees, or using as photo props! The best part? They are inexpensive and can be made with just a few basic supplies.
9. Emoji Oreo Pops
From Oh! Nuts
Might as well bring the emoji obsession into the kitchen. These emoji Oreo pops are so simple to make and can be prepared ahead and stored in an airtight container until party day. You'll be getting all the heart eyes for these!
10. Emoji Garland Decoration
From Misty, as seen on Catch My Party
It just isn't a party without a birthday banner! All you need to make this festive emoji garland is paper, a hole punch, ribbon and a little bit of time.
Decorate with some tissue paper pompoms or paper streamers for added flare. Hang it up in your party space to bring all the feels (as the cool kids would say).
11. Poop Emoji Cookies
From Cheetah Cookies
It's all about the poop these days—the poop emoji, that is. Check out these poop emoji cookies and add a little excitement to your emoji party dessert table. They are sure to be the hit of the party with guests young and old.
12. Pin the Face on the Emoji Game
From Today's Parent
Pin the Tail on the Donkey just got a face lift… an emoji face lift. This twist on a classic game will bring plenty of smiles.
13. DIY Emoji Balloons
From Studio DIY!
Helium balloons can get expensive quick, especially any of the licensed designs. Give some inexpensive yellow balloons an emoji makeover.
DIYing emoji balloons is easy! Just cut out facial expressions from vinyl and add them to yellow Mylar balloons.
14. Emoji Cake
From Queen Bee Baker
The birthday boy or girl of honor deserves an impressive birthday cake. We love this idea for an emoji cake! Create emoji faces from fondant and add them to simple white frosted cake tiers. You can use your child's favorite emojis or mix it up with all the crazy faces you can think of.
15. Emoji Pizza
From Frog Prince Paperie
Are you looking for an easy emoji party food idea? This one is as easy as it gets — emoji pizza!
Ask your pizza place to arrange the pepperoni into an emoji face or have the birthday party guests make personal pizzas and create their own emoji faces.
16. Emoji Cupcakes
From Wants and Wishes
Printable toppers are one of the easiest way to dress up cupcakes! Whether you place them on top of store bought cupcakes or homemade desserts, these emoji toppers are an especially fun way to tie in the emoji party theme.
17. Emoji French Macarons
From Chokolat Pimienta
If you didn't think the French macaron could be improved upon, guess again. I'm pretty sure emoji French macarons just one-upped every other kind of macaron. Learn how to make them for your emoji party!
18. Emoji Party Cake Table
From Wants and Wishes
Talk about an expressive table! This emoji party dessert table incorporates some of the most popular emojis and makes them edible.
The table is covered with a simple white table cloth, decorated with a fun emoji banner, and topped with an assortment of tasty emoji goodies.
19. Emoji Cookies
From Misty, as seen on Catch My Party
Cookies are a dessert table staple. Whip up your favorite sugar cookie recipe and check out these emoji cookies for inspiration on decorating them! Now you can eat your feelings.
20. Easy Emoji Cake
From bttrmilk, as seen on Instagram
If you love a simple cake that wows, this emoji sprinkle cake is a winner. It looks easy enough for kids to help decorate, too.
Simply ice any flavor round cake, then pat yellow sprinkles all around. Top with a black fondant face to transform it into your favorite emoji.
21. Poop Emoji Cupcakes
From Confessions of a Cookbook Queen
We are not certain what it is about the poop emoji that makes it so popular, but it is the perfect picture to express dissatisfaction with anything negative about life.
One thing is for certain, these poop emoji cupcakes won't bring negativity. In fact, we are pretty certain they will bring just the opposite.
Plan an Emoji birthday party with these party supplies:
(Amazon Affiliate Links)
Emoji Balloons
Emoji Themed Party Decor
Emoji Plates
Mini Emoji Plushies
Emoji Photo Booth Props
Emoji Wristbands
More fun birthday party ideas: