19 Toy Story Birthday Party Ideas
Table of Contents
There may be no "snake in [your] boots", but these Toy Story-themed birthday party ideas will add pep to your party step. We've rounded up the most adorable party food ideas including Mr. Potato Head cookies, the coolest Toy Story birthday cake, and even alien Jell-O. Plus, don't miss the Toy Story costumes or the creative decorations, favors, and party games.
---
See Also:
---
Mr. and Mrs. Potato head are two of the funniest characters in the Toy Story movies, so they deserve to be recognized at the party with their very own craft. The kids at this party went crazy for this fun and easy paper craft with printable potato head body parts. It takes some time to prep, cutting out all of the arms, eyes, and necessary accessories, but it is easy to do while watching TV and so worth it.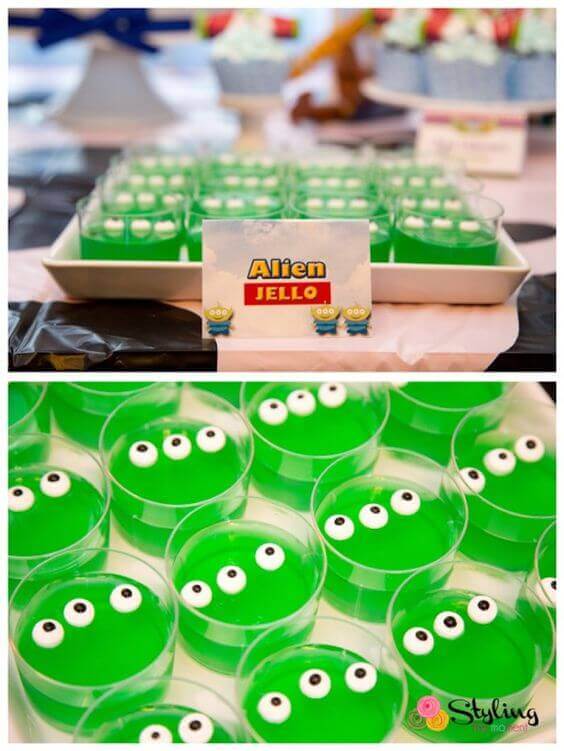 With an endless array of Toy Story themed treats, sweets, and décor, this birthday event will inspire endless party ideas and have you craving a Toy Story marathon. Turn Jell-O cups, every child's favorite jiggly sweet treat, into a festive treat that is right on theme. These green alien Jell-O cups are easy to recreate with a few packs of green Jell-O and a bag of candy eyeballs from your local craft store or grocery store.
3. Toy Story Cake
ring four of your favorite Toy Story characters to life with this amazing fondant cake! Each layer perfectly captures the characters of Woody, Buzz Lightyear, Jessie, and the goofy green aliens. We are in love with every single detail of this layered cake, including Woody's famous sheriff's badge, Buzz Lightyear's spaceman uniform, and the crazy alien antennae.
4. Toy Story Mr. Potato Head Cookies
Bring Mr. Potato Head's character to life with adorable and delicious iced sugar cookies. You can use a cardstock paper guide to cut around, or easily make your own character shaped cookie cutter. These cookies are lots of fun and look totally perfect displayed on a dessert table.
5. Buzz Lightyear Space Ranger Gear
To infinity, and beyond! This simple yet out of this world Buzz Lightyear birthday party would make any boy's day, especially when he is wearing a pair of super cool homemade Buzz Lightyear gloves. Lime green and bright blue accents, paired with some sparkly silver stars make the perfect decorations on the dessert table. We also love the giant hanging stars against the dark blue background. It's like you're right in outer space!
There are so many wonderful details in this Toy Story birthday party. The tables are littered with all of the toys from the Toy Story movies, including favorites like the army men, Buzz Lightyear, Woody, and stuffed octopus. Colorful balloons and splashes of fun cow print pull together the theme with expert style and personalized favor bags are the perfect way to say thank you to your guests.
7. Toy Story Dessert Table
Shops for party props in your very own home with this colorful Toy Story party that incorporates your child's very favorite collectables. This blogger combined her household finds with fun printable decorations and incredibly clever details from the movie! Alien marshmallow pops, chocolate pudding boot cups, and piggy cupcakes are among the treats displayed on the wonderful treat table, covered with a cow print table runner and coordinating bandana garland.
A piñata filled to the brim with yummy candies and fun toys is the highlight on any kid's birthday party. Save yourself some money this time around with this kid friendly papier Mache piñata made to look like the Toy Story aliens. Some lime green crepe paper, cardstock eyes, and DIY pencil antenna complete the look. Hang it up inside or out for an exciting party activity for party guests of all ages.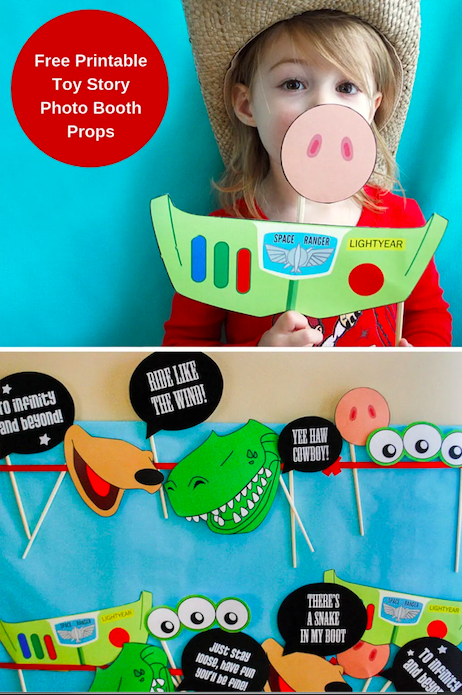 Make memories with your birthday boy and all of his special guests by setting up an awesome Toy Story-themed photo booth. These free printable Toy Story photo booth props are sure to put the Yee Haw! into the birthday celebration. Print the free graphics on cardstock paper, cut out, and attach a chopstick or dowel rod with some tape. Add some fun accessories like cowboy hats or animal ears then just let your guests go.
Grab a cowboy hat, red bandana, sheriff's badge, and come on in to the party to celebrate the birthday boy or girl. Woody is the center of attention at this Toy Story inspired party. The dessert table is decorated with swaths of blue and red fabric, splashes of cow print design, and a giant sheriff's badge with the birthday kid's initials. Among the treats Mr. Potato Head mustaches, chocolate dipped Oreo cookies, and a beautiful fondant cake!
11. Toy Story Costumes
Welcome your birthday party guests to the Toy Story themed bash with a rack full of costumes inspired by the favorite characters Woody and Jessie. You can buy costumes in bulk online through websites like Amazon or, if you are super crafty, take on the project yourself. What are the essentials? Brown and red cowboy hats, and matching vests for all the cowboys and cowgirls at the party.
12. Buzz Lightyear Party Ideas
Calling all space rangers! This Buzz Lightyear birthday party is totally out of this world! Created to their son's second birthday party, this blogger did a stellar job incorporating her sons absolute love for the Toy Story movie and his favorite colors (blue and green). Backed by a sparkling sea of shimmering party tinsel, the dessert table was surely beyond little guests' wildest dreams. The Buzz Lightyear cake is the perfect finishing touch.
Every great party needs some fun and interactive activities for the little guests of honour. Recreate this fun Mr. Potato Head Bean Bag Toss Game in no time with some recycle coffee jars or soup cans, handmade or printable Mr. Potato Head graphics, and a few beanbags from the kid's play room! Party guests can take turns tossing their bean bags at the tower to see how many cans they can get to topple over!
This is another fabulous homemade piñata idea for your Toy Story birthday celebration. Recreate the loveable and hilarious character Mr. Potato Head with some papier mache and basic crafting skills. Fill it with as much candy as you can then affix the paper arms, face, and accessories. Hang from a swing set or tree branch and let the kids go crazy.
15. Alien Marshmallow Pops
Marshmallow pops are a tasty handheld treat perfect for big parties when kids need a sweet treat on the go! Bring the Toy Story aliens to life using striped paper straws, marshmallows, lime green candy melts, and three little candy eyes. They look adorable on the dessert table and what little kid wouldn't go crazy for them?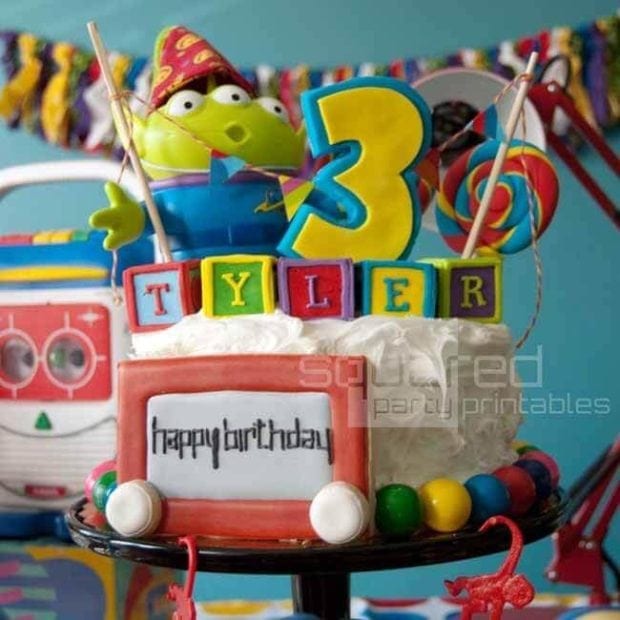 16. Toy Story Birthday Cake
We are totally in love with this Toy Story birthday party and dessert table with the perfect blend of movie characters and creativity. The dessert table is stocked with all of the fun toys from the Toy Story movies, as well as a ton of tasty treats. The birthday cake is beautifully decorated and you could easily recreate it yourself! A simple iced cake is decorated with fondant and rice krispie treat blocks, a cookie Etch-a-Sketch, and colorful gumballs.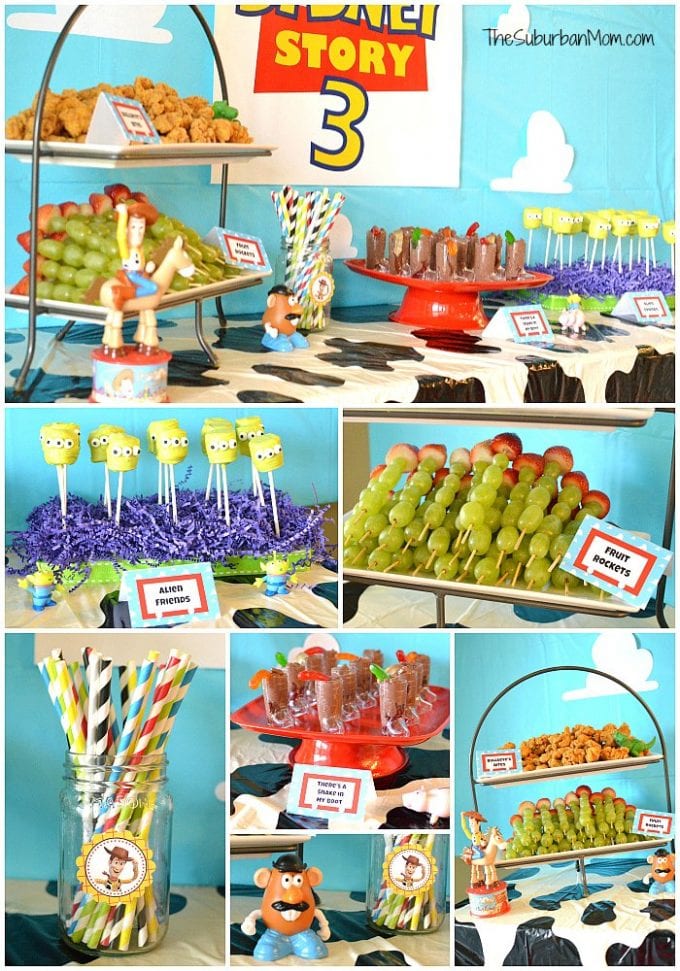 There are so many amazingly creative Toy Story party food ideas in this birthday party post! Popcorn chicken Bullseye bites, fruit skewer rockets, slinky dog pasta salad, and pirate's booty galaxy puffs are among some of the adorable snacks displayed at the beautiful food table. We love that there is a mix of sweet treats and healthy treats!

To Infinity and Beyond!!! Bring your Toy Story party to life with cookies shaped like famous icons from the movie. The yellow bouncy ball, Woody's boot and hat, Buzz's rocket and even a personalized cookie title. Make your cookies stand out with custom cookies shaped in your child's initial and age decorated to match the Toy Story theme.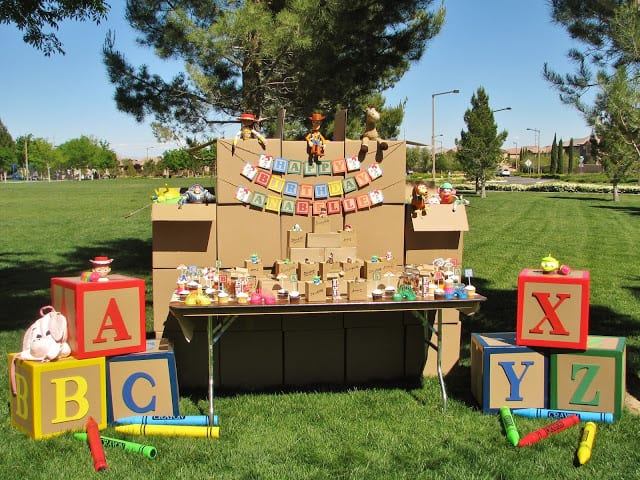 Leave no toy behind with this Toy Story party inspired by the third movie in the wildly popular animated movie series with DIY projects and inspiration. The backdrop for the dessert table was built out of cardboard boxes and filled with the Toy Story toys popping out of them, with a banner strung across with alphabet block letters. Buckets of candy add a colorful touch, and Sunnyside lunch boxes make the perfect party favor!
Be Sure To check out More Story Book Party Ideas