19 of the Best Graduation Party Favor Ideas
Table of Contents
At the heart of every great graduation party is the graduation party favor. Wow your guests with these fun grad-inspired favors that everyone will go crazy for!
The party favor has evolved from giving nothing at all to getting super creative and sending your people off with a creative little gift.
If you are planning a graduation party, check out these party food ideas or these cool games.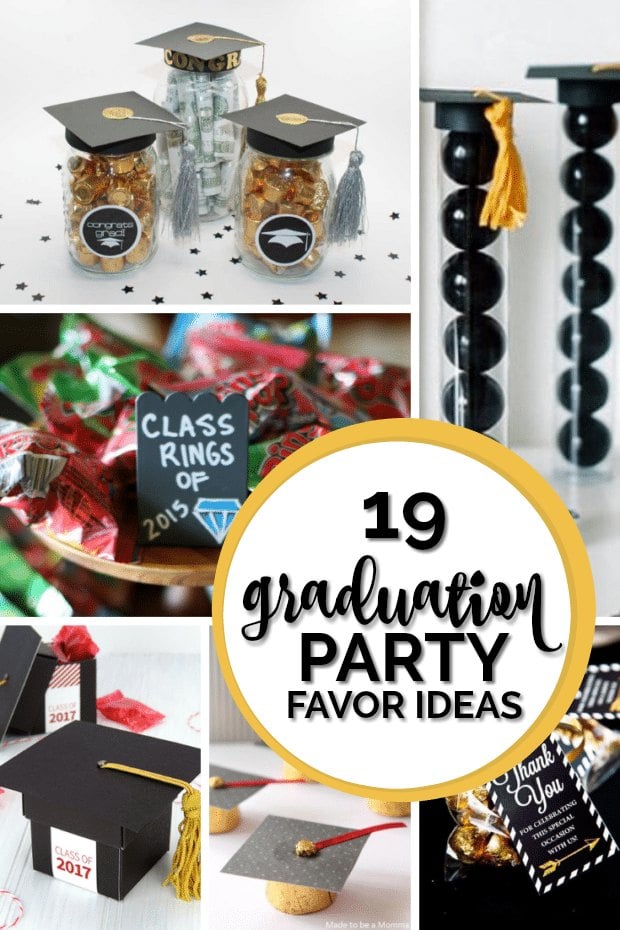 Graduation Party Favor Ideas
Every great favor is stylish, themed and affordable. I know this seems hard to do, but with these ideas, you can totally make this happen.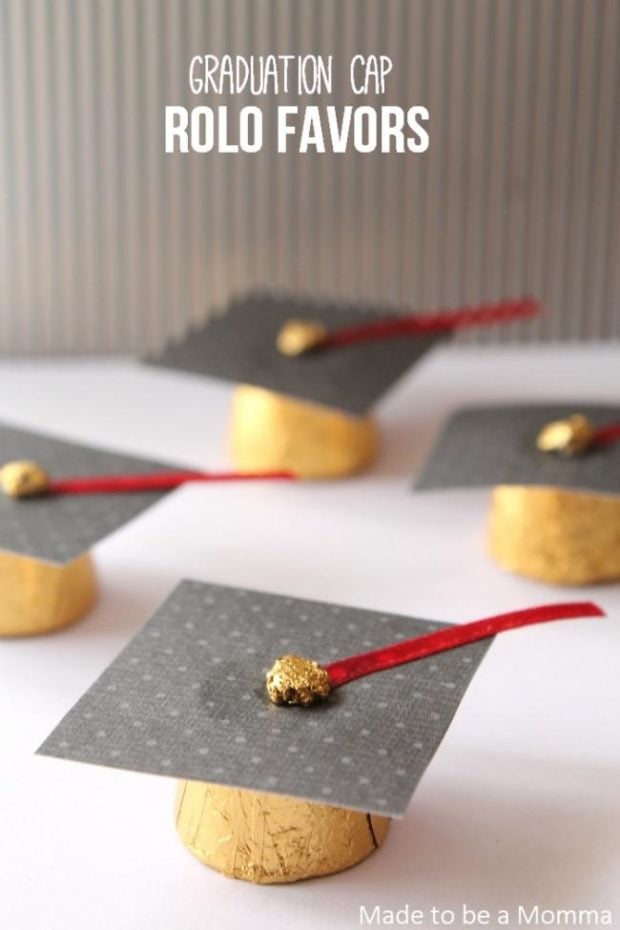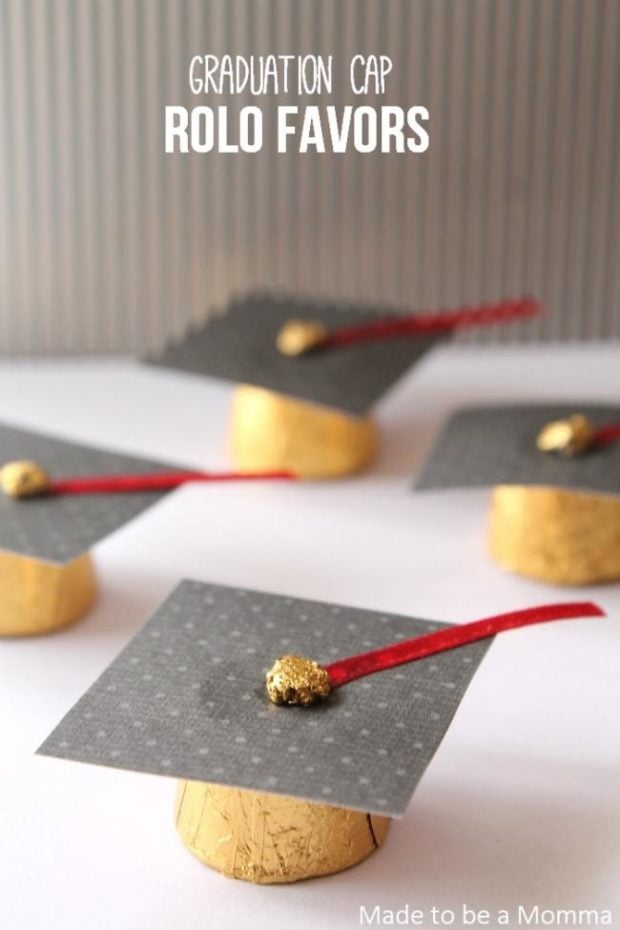 1. Graduation Cap Rolos
A bag of rolos and a few sheets of scrapbook paper will have you well on your way to making up these sweet graduation caps.
I love that part of this treat is made with a wrapper on top. You know what that means… one treat for you and one for me.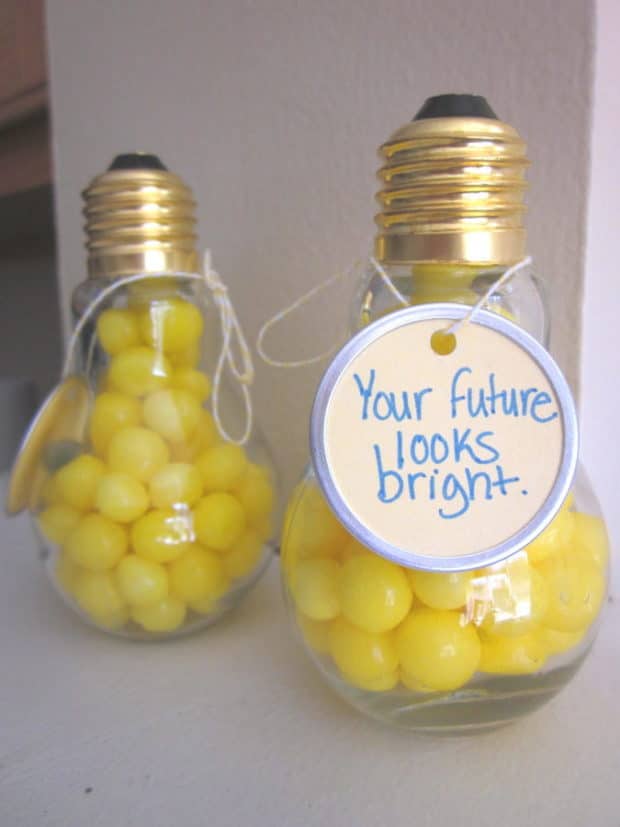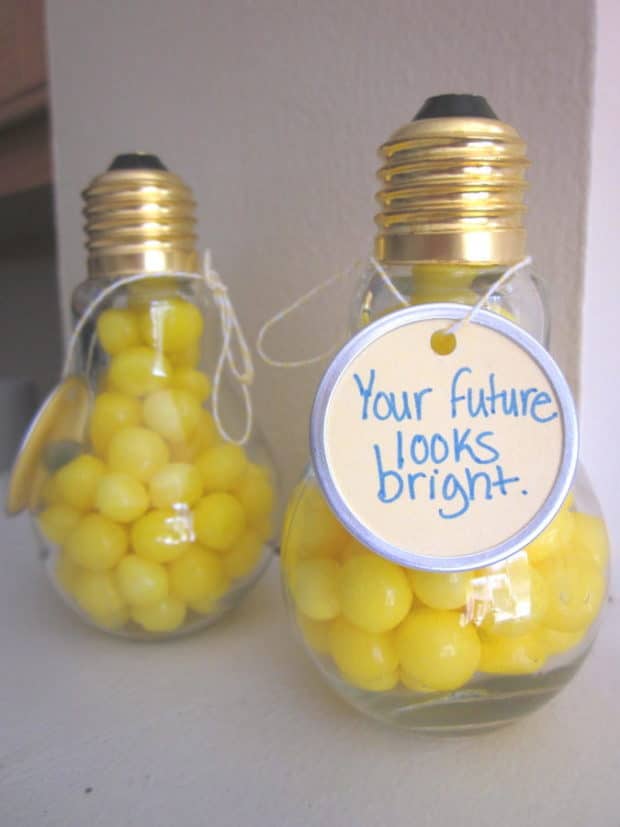 2. Bright Future Lightbulb Graduation Party Favor
These lightbulbs will light up any party table. Fill them with your grads favorite treats or go with their school colors and let them know that their future is bright!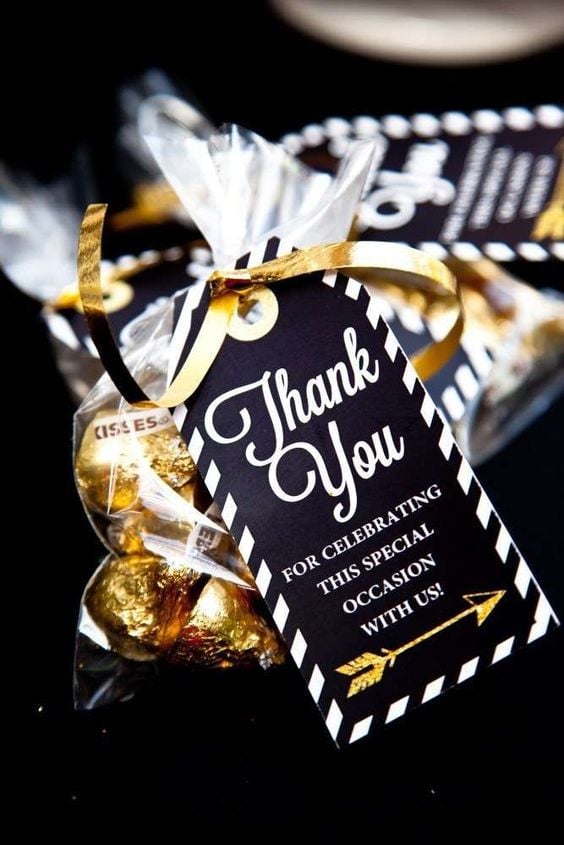 3. Black and Gold Printable Party Favor Tags
Thank you's come together beautifully with these gold foil tags. I love how classy they are and you can pair them with just about any type of treat.
4. Ring Pop Class Rings
I love the idea of ring pop class rings. Super simple, but a colorful addition to your party. I've never met a person who didn't enjoy a good ring pop every now and again.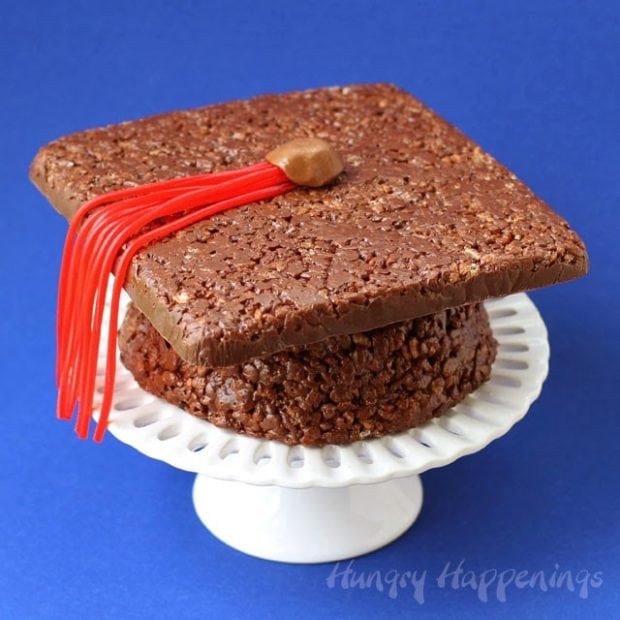 5. Chocolate Rice Krispies Graduation Cap Treat
These rice krispies treats shaped like graduation caps are just too cute for words. I love the cap streamers, too.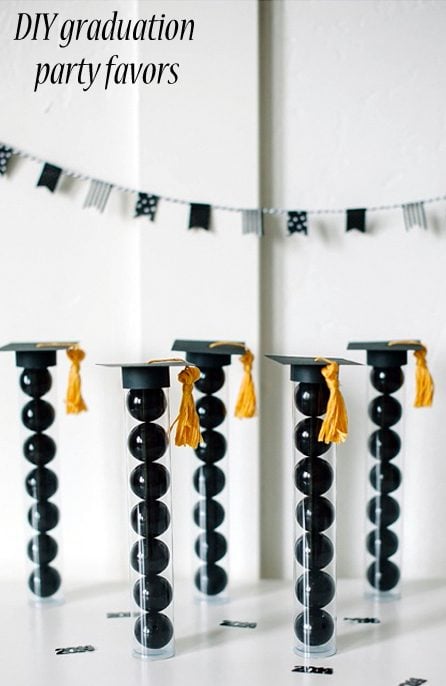 6. Graduation Gum Party Favor
This idea is so elegant, but masculine at the same time. This is a very cool graduation party favor idea. I love how professional they look.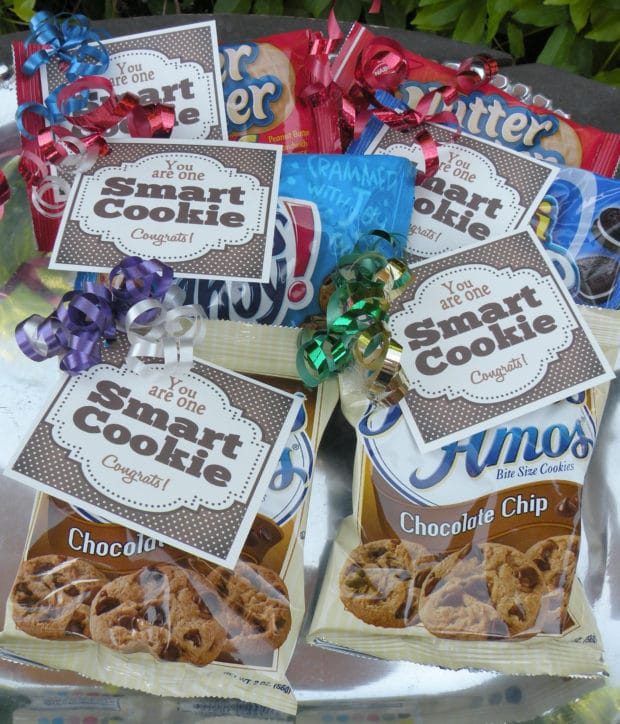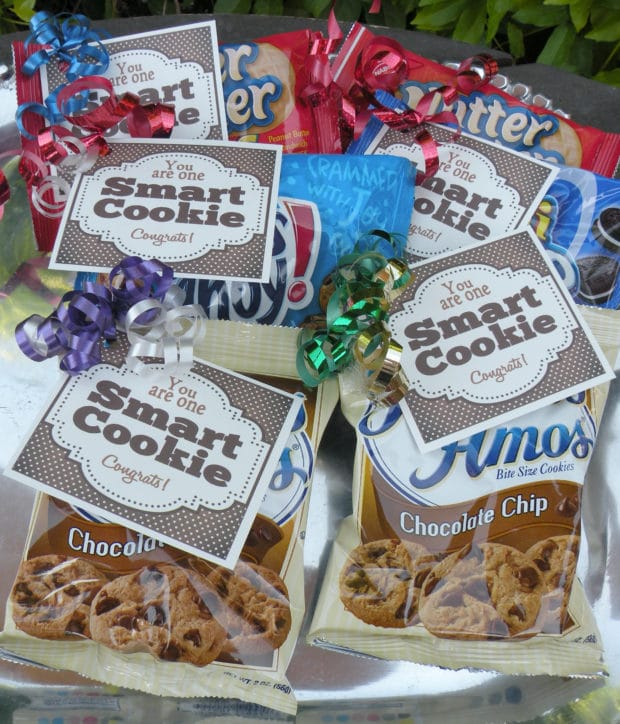 7. One Smart Cookie Printable Tags
From Caramel Potatoes
Graduates sure are smart cookies and they should be told just so. Give them the gift of pride and cookies… they will love you for it.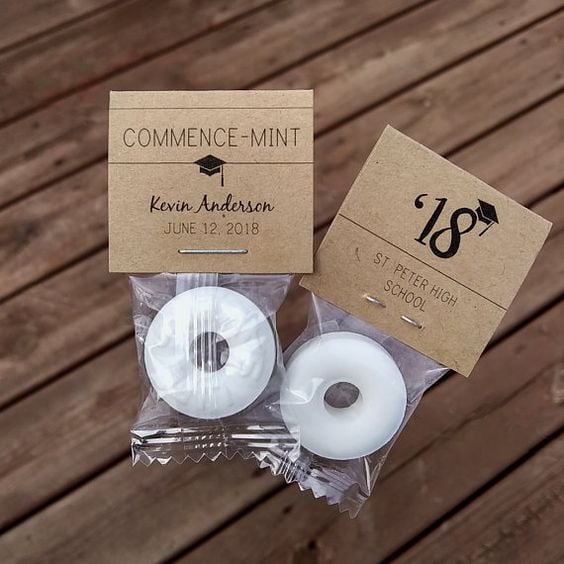 8. Commence Mints Party Favor
From Wedding MerriMint
I love a good play on words and these commence mints favors are an adorable and affordable idea. So creative!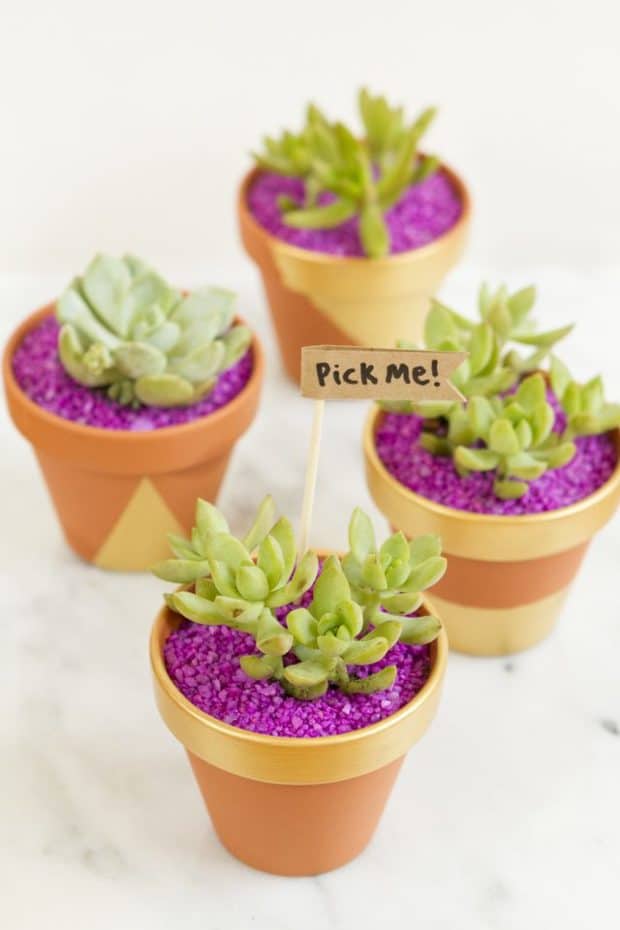 9. Mini Planter Party Favor
From Ehow
Use the colors of your school for the rocks at the top and these mini planter party favors are just the thing for your graduation party.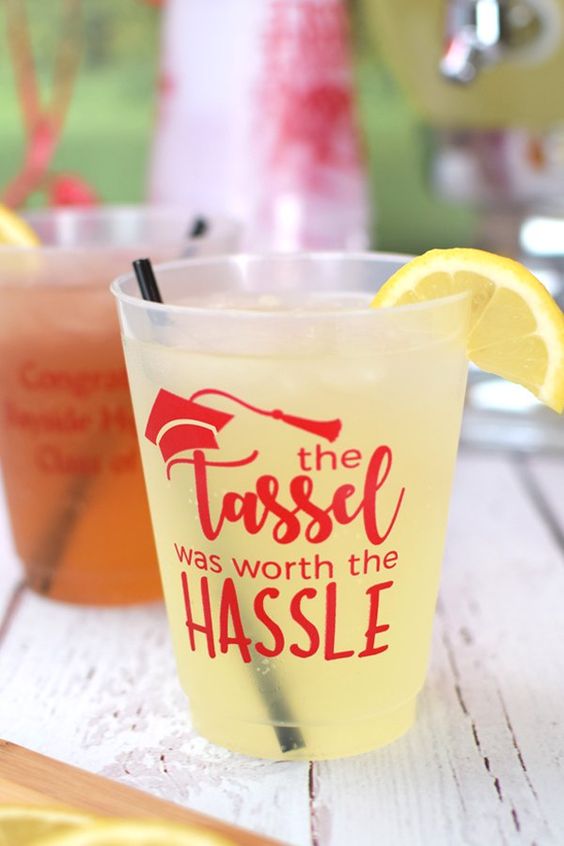 10. The Tassel was worth the Hassle Party Cups
This idea is great for all ages… personalized cups. You can never have too many cups.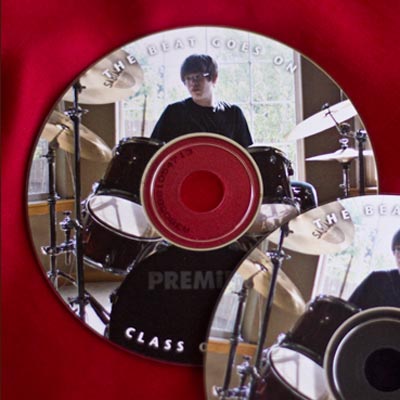 11. Graduation Year CD
Go old school and make a mixed cd of all the songs popular during your graduate's senior year. Get custom labels printed and you have the best idea ever.
12. Smarties Graduation Glass Party Favor
Load up on smarties and fashion them in a plastic stemmed glass. Add a graduation cap and you have a really "smart" idea.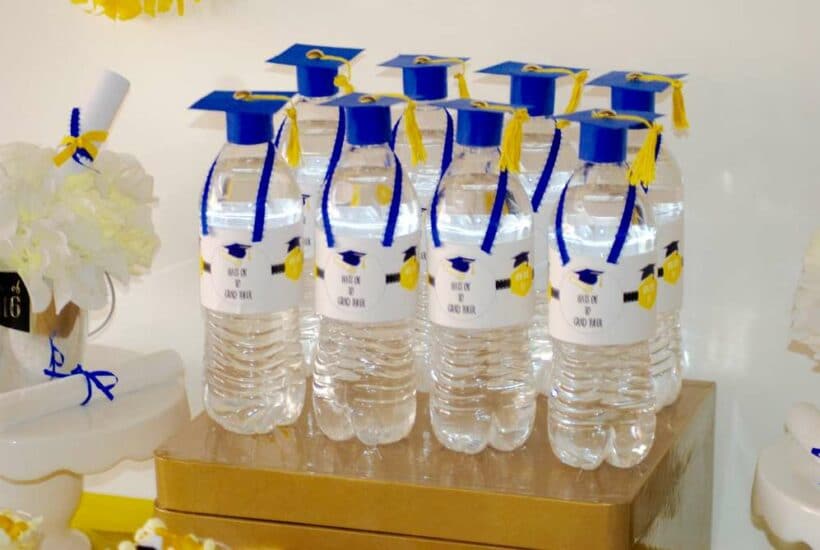 13. Graduation Cap Water Bottles
I love the thought of dressing up your party beverages. These labels and caps set the stage for the best graduation party yet!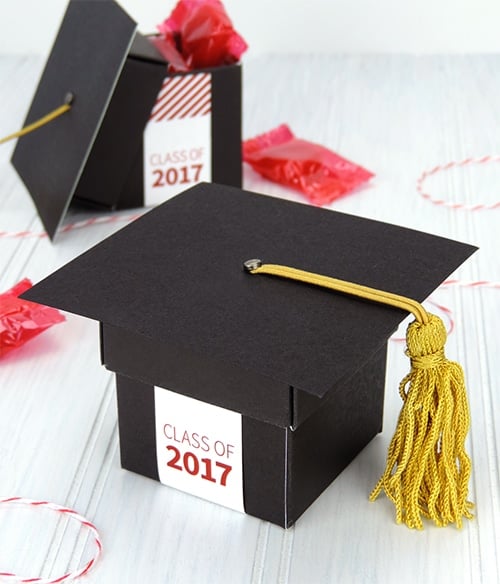 14. Graduation Cap Favor Box
These graduation cap favor boxes are so cool! You can fill them with just about anything from small gifts to candy. The sky is the limit!
15. Tulle Wrapped Candy Party Favor Idea
I love decorating and gift giving with school colors for graduation parties. These candies are tied in tulle and the tags make them perfect.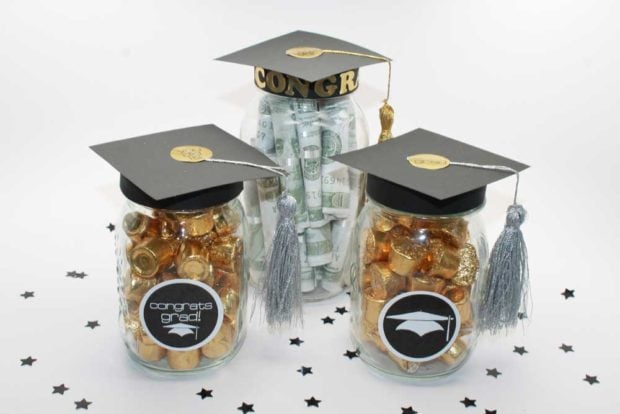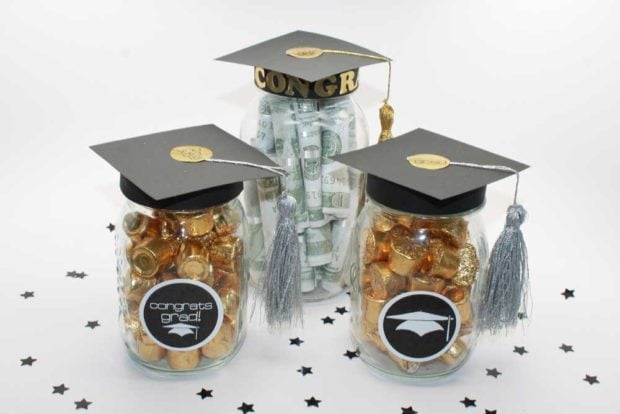 16. Graduation Mason Jars
Grab small mason jars and create these awesome jars. Fill them with candies for your party guests.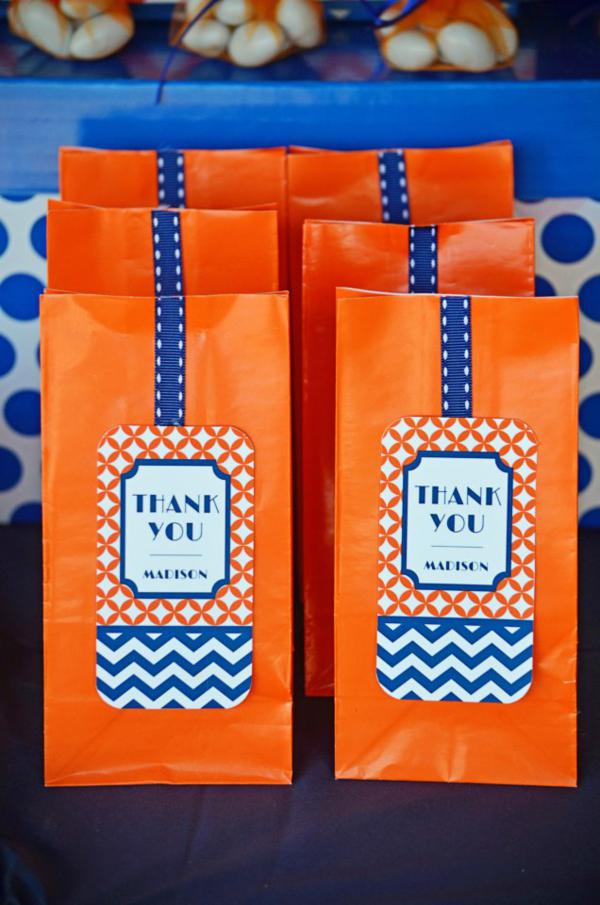 17. School Colors Party Favor Bags
These simple party favor bags are so classy with the printed tags. Again using those school colors for a stylish display and gift.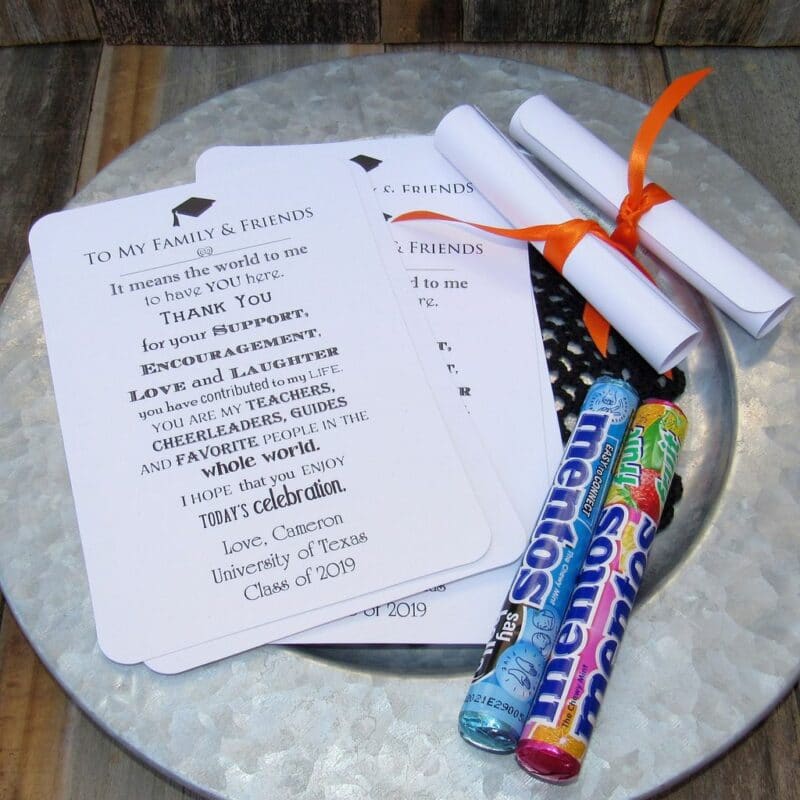 18. Candy Diplomas with Printable
These mentos are rolled up with a very sweet graduation printable and tied to look like a diploma. I love how personal these prints are.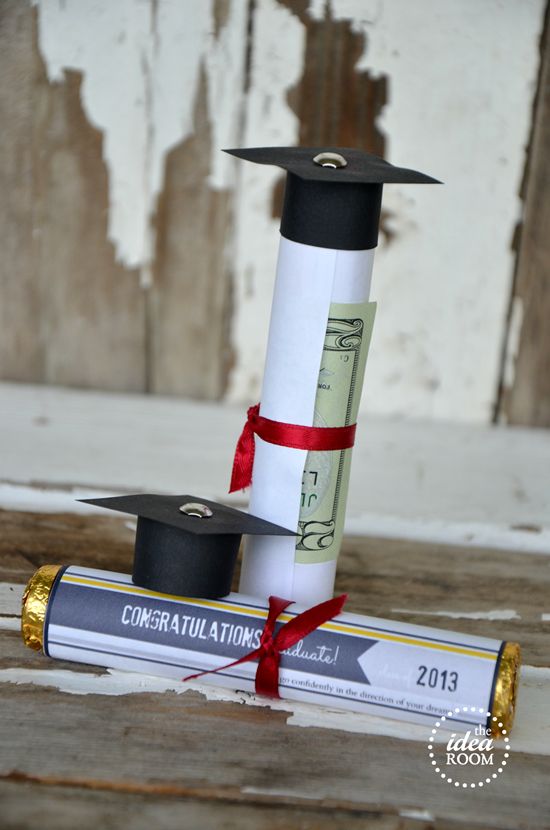 19. Rolo Graduation Diplomas with Free Printable
Finally, get the rolls of rolos ready to bid your guests bon voyage. You can even use these as gifts when you add a little cash to the diploma.
I know it will be hard to choose, but I hope you've found some inspiration for your graduation party favors!
DIY the Ultimate Gift for Your Grad with these ideas…