19 Amazing Home Organization Tips and Hacks
Table of Contents
These 19 amazing home organization tips and hacks will help you whip your house into shape
An organized home is heavenly. And, contrary to popular opinion, achieving home organization success doesn't have to take forever or cost a lot.
From a DIY homework or gift wrap station to creating a cleaning command center to organizing your Tupperware and board games, these roundup ideas can help you clear the clutter and get your home in tip top shape.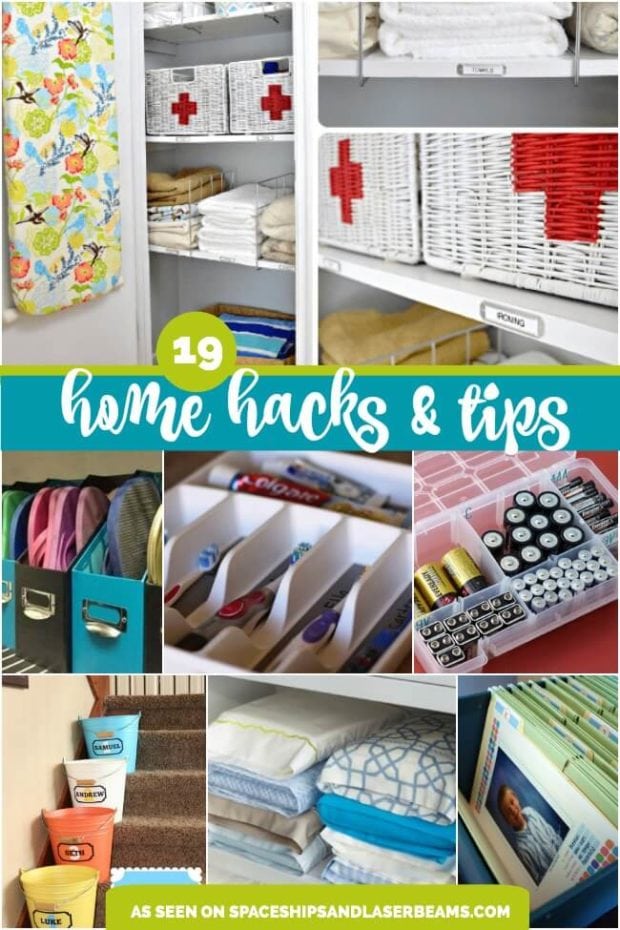 ---
See Also
---
1. Craft Room Organizational Pegboard
From Honeybear Lane, as seen on Hometalk
I just love pegboards as organizational tools, as they're so versatile. Take a look at this Craft Room Organizational Pegboard — it's absolutely stunning and can be easily customized.
2. Cutlery Organizer Toothbrush Holder
From Little Penelope Lane
This an especially awesome tip if you have younger kids. Just label each spot with a different name and pop in the corresponding toothbrush.
3. Garment Bag Wrapping Paper Storage
From The Chic Site
If you, like me, have a huge pile of wrapping paper and can never find the one you want, then this is the organizational tip for you. Just get a garment bag, pop in all your wrapping paper and voila, it's organized.
4. Sheet and Pillowcase Storage
From Home Goods
Linen cupboards tend to get disorganized pretty quickly, but this tip will totally have you bucking that trend. Store sheets inside their matching pillowcases and say hello to the most organized linen cupboard you've ever seen.
5. Cleaning Command Center
From Teal + Lime
This Cleaning Command Centre is a brilliant home hack, keeping your cleaning products organized, neat, and out of your children's reach.
6. Gift Wrap Station
From O is for Organize
This Gift Wrap Station is a fantastic way to keep all your gift wrapping essentials organized and in one place, which is ideal for stressful birthdays and the festive season.
7. Hanging Shoe Rack Cleaning Supplies Storage
From Love This Pic
This is an awesome home organization hack, and is also a great way to keep your cleaning supplies away from your kids.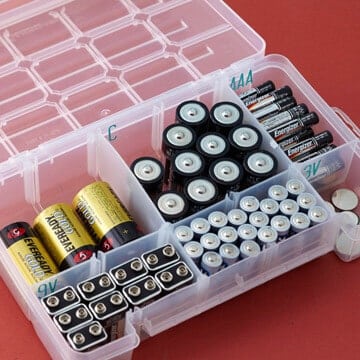 8. Tackle Box Battery Storage
From Better Homes and Gardens
How many times have you bought batteries, only to be running around looking everywhere for them the moment you need them? If you're me, then this has happened many times, which is why I love this Tackle Box Battery Storage idea.
9. CD Tower Tupperware Storage
From This Old Apt. on Tumblr
Tupperware drawers are near-impossible to keep organized, or so I thought. Just use a CD tower to store the lids, and stack the containers next to the. Incredible!
10. DIY Charging Station
From Lil' Luna
This is a great home organization tip if you're a techie family. This DIY Charging Station avoids all the fuss of tangled cords and cables, and centralizes all your small tech in one area.
11. Bathroom Cupboard Organization
From Better Homes and Gardens
I absolutely love this idea for bathroom cupboard organization. It's a really good way to keep everything neat, tidy and organized, ready to clean.
12. Crap Buckets
From ReMarkable Home
Don't you just love the name? Crap buckets are such a wonderful idea, and are really cheap and easy to make.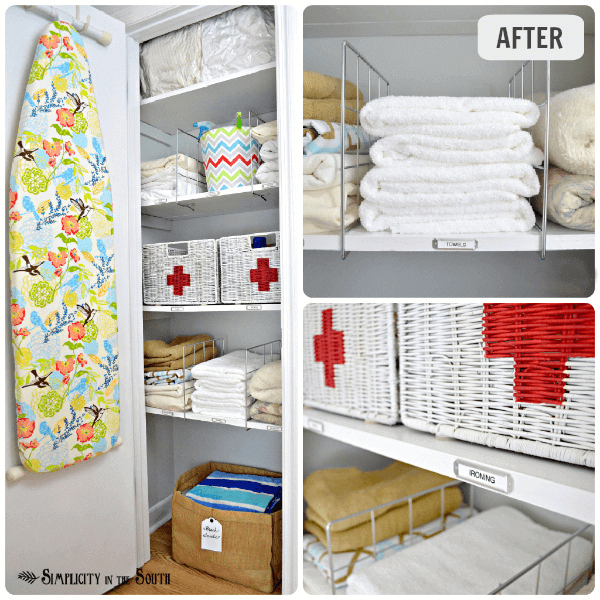 13. Linen Closet Organization
This is a fantastic way to get your linen closet organized, and keep it that way. The dividers stop piles from falling over, so things will stay neat for much longer.
14. DIY Homework Station
From The 36th Avenue
This DIY Homework Station is the best home organization hack if you have a few kids at the age where they're starting to get more homework. Use the calendar to keep everyone's dates straight, and hang everything that your kids need for their homework so that it's all easily reachable.
15. School Paperwork Storage
From I Heart Organization
This is a really great way to keep all your kids' important school tests, pieces of homework and documents in one place.
16. DIY Cereal Box Drawer Dividers
From I Heart Organization
We love a bit of upcycling here at Spaceships and Laserbeams, so these DIY Cereal Box Drawer Dividers are right up our alley. Just wave your cereal boxes, but them to size, cover with the paper of your choice, and feel great about your super organized home.
17. Magazine Holder Flip-Flop Storage
From HGTV
If you live in a warm climate or near the ocean, then chances are you have a lot of flip flops. Ever wondered how to organize them? With magazine holders, of course.
18. Tension Rod Shoe Rack
From A Loyal Love
This is the home organization hack if you have a little bit of a shoe collecting habit. It's the perfect way to organize and display your gorgeous shoes at the same time!
From Money Saving Sisters
Say goodbye to that messy games cupboard with this Sweater Bag Board Game Storage — it's literally and figuratively a game changer.
Get organized with these great organizational supplies:
(Amazon Affiliate Links)
Mop and Broom Holder
Set of 6 Foldable Fabric Baskets
Foldable Drawer Dividers
Double Rod Closet
Tidy Storage Bag
Craft Center Organizer
Birch Storage Cabinet
Twirling Tie Rack
Over the Door Shoe Organizer
20 Pair Shoe Rack
Kitchen Wrap Organizer Rack
Plus, check out more organization ideas…