15 Very Hungry Caterpillar Birthday Party Ideas
Table of Contents
Today we are sharing the ultimate roundup of Very Hungry Caterpillar Birthday Party Ideas. Here's everything you with everything you'll need for your next Hungry Caterpillar theme birthday party, from invitations and caterpillar balloons to a honeycomb fruit and caterpillar centerpiece. We have found some awesome party decorations and party supplies for you.
See Also:
1. Party Invitations
Wow, your guests with Very Hungry Caterpillar-inspired invitations delivered in a canning jar! Using red and green craft pom-poms and brown pipe cleaners you'll create your own little hungry caterpillar and tuck in a green cardstock leaf invitation with cute hole-punched "bites" out of it.
2. Caterpillar Balloons
You will love this genius idea for creating your very own Very Hungry Caterpillar-inspired balloons! Each caterpillar requires one red balloon and 3 green balloons, plus colored cardstock to create the facial features.
Grab fruit-colored honeycomb tissue paper balls and hearts, plus some green-colored crepe paper for crafting some leaves, and get ready to make the cutest honeycomb fruit. Hang this adorable fruit all around your party space to look like the fruit straight from the Very Hungry Caterpillar book!
Dress up your Very Hungry Caterpillar party with a cute caterpillar centerpiece! Use mini paper lanterns in red and green (or paint paper lanterns in red and green) attached to sucker sticks to create the caterpillar. Display your cute creation from a container of grassy plants.
Craft up a wood age sign inspired by the Very Hungry Caterpillar. Whether your birthday child is one or five, paint the first letter read to represent the caterpillar's head and the remaining letters green to represent the body. Add chenille stem antennae for a completed caterpillar look.
6. Caterpillar Sandwich
Instead of serving up plain old sandwiches, use a circle cookie cutter to create round ham and cheese sandwiches. Turn dozens of sandwiches on their edges and line them up to create a caterpillar, complete with an edible head made from tomato, oval cheese slices, and basil!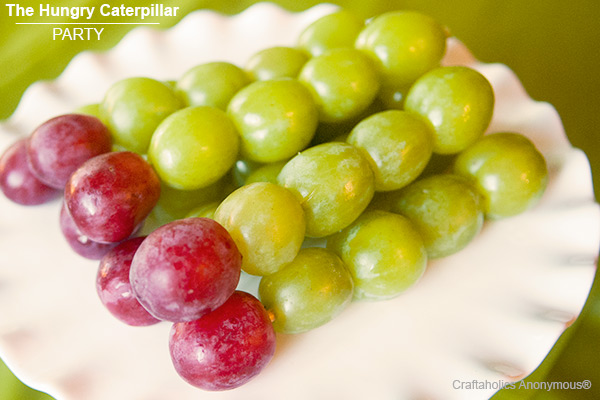 Transform red and green grapes into caterpillars reminiscent of the Very Hungry Caterpillar book! Simply add a red grape, followed by green grapes on a skewer to create this edible caterpillar.
Kids at your Very Hungry Caterpillar party will go crazy for this apple cheese caterpillar. He's made from Babybel cheese, a green apple, a piece of cheese slice, and pieces of fruit leather.
Guests will enjoy inching their way through every detail of this Very Hungry Caterpillar dessert table. It features the cutest caterpillar cupcake cake and some fun healthy book-inspired offerings like cheese, strawberries, apples, pears, and watermelon too!
You can whip out a bunch of these honeycomb fruit skewers in no time! You'll need to cut small circles from honeycomb paper to create apples and oranges and an oval shape for the pineapple. Add small green paper leaves and glue your cute honeycomb fruit to a skewer!
This caterpillar birthday cake was surely the star of the Very Hungry Caterpillar-inspired dessert table! Two tiers of fondant cuteness are accented with an adorable 3-D caterpillar topper and so many details that kids will recognize from the beloved story.
A Very Hungry Caterpillar party calls for one slice of cherry pie! Slice mini cherry pies in half for an easy way to serve up pie!
If you thought kids couldn't love ice cream any more than they already do, guess again! Layering scoops of red and green ice cream and adding candy eyes and antennae is pure genius!
Pay a visit to your local dollar store and hunt for bug catchers! It turns out they make darling Very Hungry Caterpillar party favors when dressed up with a cute thank-you label and filled with gummy worms.
Prepare yourself for the coolest caterpillar cocoon party favors made using balloons and a papier-mache technique. While these are definitely time-consuming, imagine the look on your guest's faces seeing the finished favors hanging from tree branches for them to pluck prior to departure!
For more birthday party inspiration check out these great ideas: