A Pirate Party Dessert Table
Table of Contents
Does your son's idea of adventure include following a treasure map to uncover buried treasure? Chances are he'd love to celebrate his next birthday with a pirate themed party!
This adorable boy's birthday party was thrown by Peta of Pure Bliss Creations. She planned it for her son's third birthday.
Come along on his birthday adventure as we show you fun ideas for pirate themed props, birthday cake, decorations and party games used to create this exciting pirate party dessert table.
---
See also:
---
Peta set her party plan in motion by incorporating elements of found treasure and good old fashioned pirate adventure.
Quintessentially pirate, a red and white striped backdrop set the tone for the dessert table. I love the personalized poster with a photo of the birthday boy, which acted as the backdrop focal point.
A darling banner hung from the table front. To add to the pirate décor, bottles were filled with treasure maps and cups with "rum".
Pirate bounty overflowed from an old wooden chest. Swords, weapons, telescopes, precious "jewels" and beads made up the pirate plunder, carefully guarded by stuffed parrot, Rio.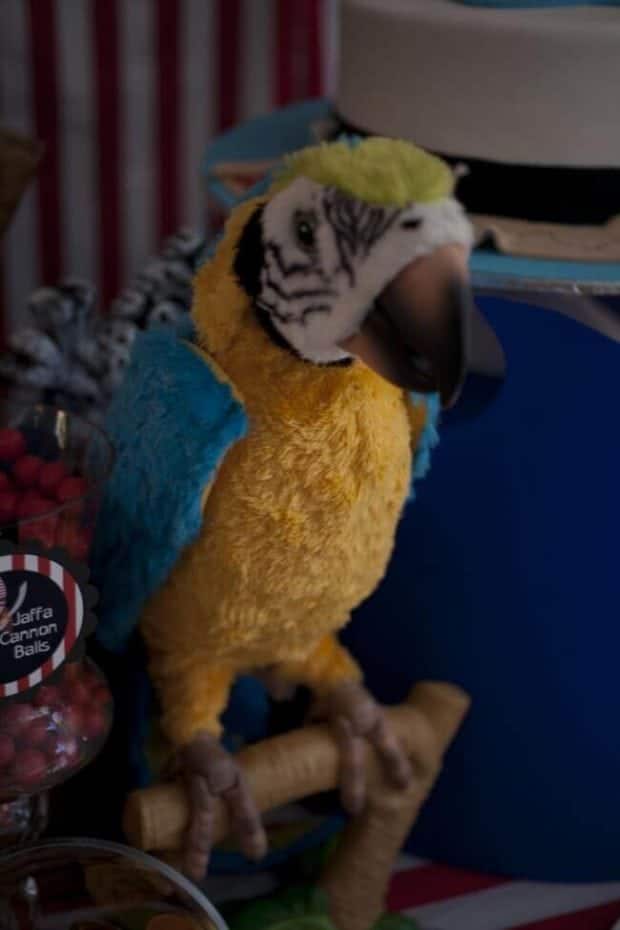 Across the table, a leather case covered with fish net gave rise to a tall toy pirate ship, complete with its scurvy crew.
Sweet delights such as candy bracelets and edible "cannonballs" were plunder for young pirates to enjoy. And there were cute pirate cookies too! They are by
Mar-Valicious Bites
and I'm told they were as delicious as they were cute!
Bronze metal buckets displayed pirate cake pops and lollipops with personalized labels.
Personalized candy bags were an invitation for guests to fill 'er up with sweet pirate bounty!
The cool factor of a pirate party is elevated when an impressive cake is served.
Created by Sweet Stix, the amazing pirate and treasure chest embellished cake was displayed on a riser, complete with hand cut waves. The little pirate on top of the cake appeared to be rising tall against the circling waves.
At the request of the birthday pirate, guests were treated to a treasure hunt. They sang as they followed their captain leader who helped them find long, lost treasure. They were thrilled with what they found! The treasure included leather pouches, telescopes, eye patches and pirate jewels.
Little pirates continued their party adventures by walking the plank to earn a bubble sword, followed by sliding down a pirate slide for one final treasure chest reveal: custom pirate hats, personalized with each guests' name!
"Aargh" you as in love with this pirate party and dessert table as I am?
Plan a pirate party with these party supplies:

(Amazon Affiliate Links)
Pirate Captain Cardboard Party Hats
Red & White Stripes Tablecover
Felt Pirate Eye Patches
Pirate Loot Backpacks
Pirate Party Dessert Plates
Treasure Chest Treat Boxes
Plastic Gold Treasure Coins
Pirate Bandana
Pirate Party Kit
Plastic Treasure Map Party
Pirate Tattoos Favors
Weathered Pirate Flag
Pirate Party Luncheon Napkins
More pirate party inspiration: