Swashbuckling Fun Boy's Pirate Birthday Party
Table of Contents
Arrgh! Ye dare not pass up the swashbuckling fun details of this boy's pirate themed birthday party by Candice Birmingham of Pocket Full of Parties.
With a scurvy captain at the helm and lots of vintage prop decorations, I'm thinking a "pirate's life" is looking pretty amazing. But just wait until you see the double chocolate cupcakes, parrot topped birthday cake and themed party games. Yo ho—is this pirate's life for you?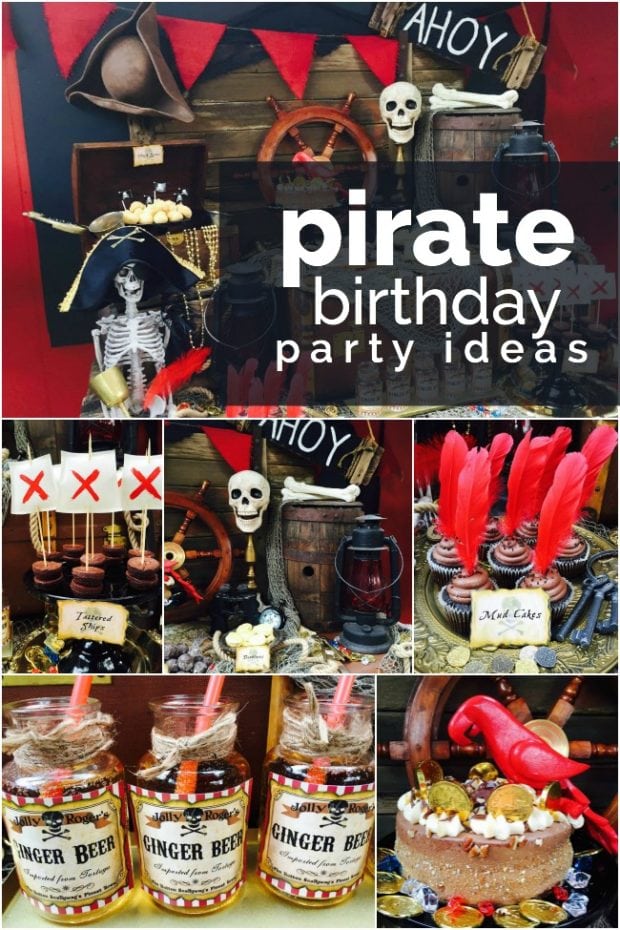 ---
See Also
---
Candice set the tone for her party by sending out awesome DIY message-in-a-bottle style invitations.
Invitations were printed on aged parchment. Candace then carefully burned the edges with a lighter.
They were rolled up like scrolls and tied with red jute prior to being tucked inside the bottle and capped with cork—awesome!
Inspired by a ship's wheel she had acquired for a previous party, Candice set up an amazing cake and dessert table.
Weathered fishing nets and a variety of treasure chests set the foundation the sweets and treats. Bottles were filled sand, shells, jewels and gold coins.
You could almost play a pirate version of "I Spy" while trying to notice all of the mood-setting props and details.
Old lanterns, a wood barrel, red pirate flag bunting, jewels, coins, keys, gold cups and rope added rich layers to the overall vibe.
Love that jaunty skeleton outfitted in his pirate patch and hat.
Notice the story he tells with the empty golden goblet and a full bowl of golden coins in his lap—party styling at its best.
Plundering pirates are known for hearty appetites. Candice's dessert menu surely delighted guests.
There were double chocolate cupcakes outfitted in feather toppers—love the way they look.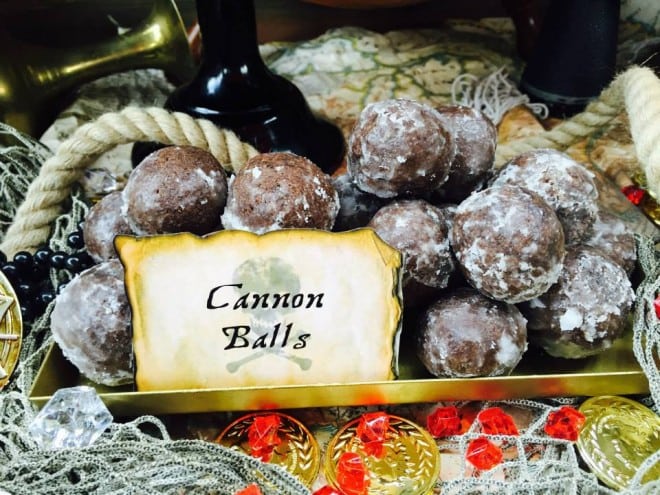 Chocolate donut holes were cleverly labeled "cannon balls" using printable food labels.
Brownie bites topped with sails looked like tattered ships.
Peanut butter cookies were dipped in yellow candy melts and covered in edible gold dust to look like doubloons.
Cream puffs were embellished with pirate sails—such a fun addition.
Polly made her debut perched on top of the turtle cake.
Guests washed down the treasured treats with bottles of Ginger Beer. Note the authentic looking labels.
Aren't printables such a great way to bring in themed elements?
Swords, pirate hooks and hats filled a treasure chest, and little scallywags were invited to pull out their favorite pirate props so they could dress the part.
Guests certainly didn't leave this celebration empty handed.
Wooden treasure chests were filled with perfect party loot: jewels, tattoos, an eye patch, coins and a medallion necklace.
Additionally, red velvet bags contained doubloons and black drawstring bags were filled with edible chocolate treasure.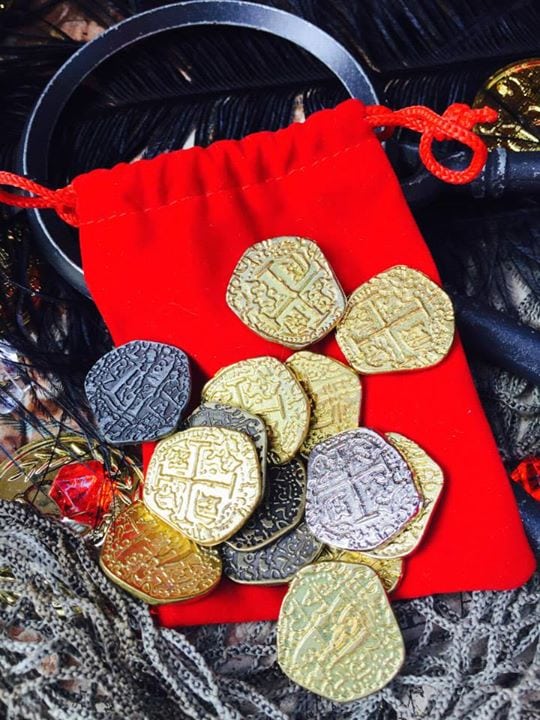 With such a terrific array of themed props and treats, you know the pirates at this party were stoked for adventure. What a great celebration!
Check out these party supplies for your pirate birthday party:
(Amazon Affiliate Links)
Pirate Captain Party Hats
Red & White Stripes Table Cover
Pirate Party Dessert Plates
Treasure Chest Treat Boxes
Plastic Gold Treasure Coins
Pirate Bandana
Felt Pirate Eye Patches
Pirate Party Kit
Pirate Dress up
Plastic Treasure Map Party
Pirate Tattoos Favors
Weathered Pirate Flag
More pirate party ideas: