A Camping-Themed Birthday Party for a Girl or Boy
Table of Contents
Are you thinking of throwing a camping-themed birthday party? Just imagine the fresh air of the great outdoors, a trail mix station, A-frame-style tents, and camping food. What's not to love? Cari, of Socially Circled, sure knows how to build a great theme. Planned for her son and his friend's fourth birthday, this celebration is loaded with decorations inspired by the great outdoors. Camp-favorite foods, desserts, and activities fuel the party.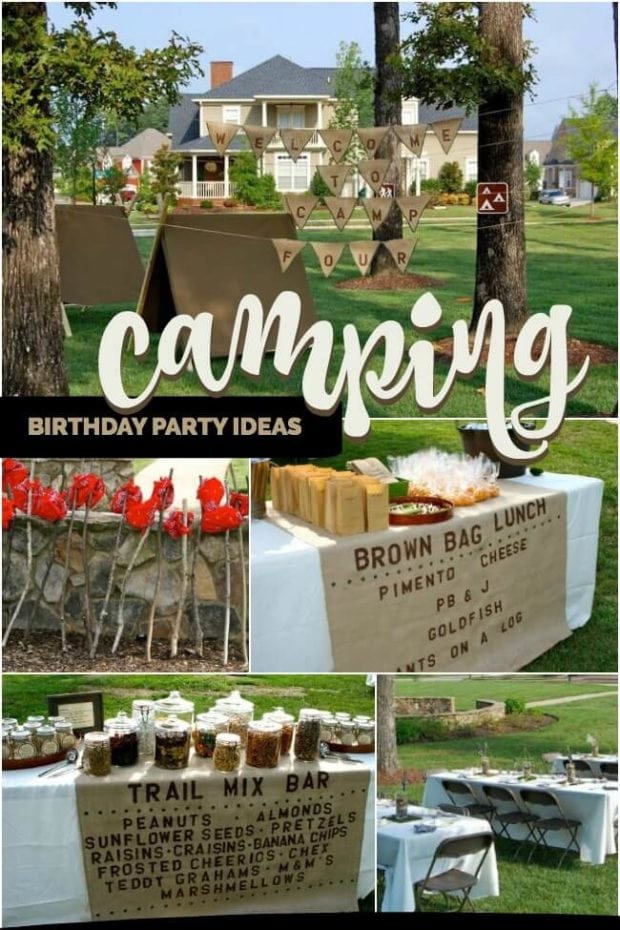 ---
See Also:
---
Guests are welcomed to "Camp Four" with a super-cute burlap banner strung between trees. Additionally, a camping sign is hung near mini A-frame tents and a faux fire (safety first!).
Tables are set simply with outdoor-themed centerpieces filled with…rocks. The place settings are perfect for little guys with paper plates, gingham napkins, and stamped wooden cutlery, plus a li'l camper place marker creatively displayed from a marshmallow.
There are so many things we love about this party, but the self-serve trail mix bar is my absolute favorite detail. What a fantastic alternative to sugar-loaded treats. Mason jars are dressed up with customized labels. Guests get to fill them with their favorite trail mix add-ins. Lidded jars are full of options like peanuts, almonds, and sunflower seeds. There are also pretzels, banana chips, M & Ms, raisins, marshmallows, and more!
The brown bag lunch station makes us smile. We love the snack food inspired by nature — "ants on a log" (celery + peanut butter + raisins), bags of goldfish crackers, and guests' choice of peanut butter and jelly or pimento and cheese sandwiches. In keeping with the simplicity of the "great outdoors", the menu is painted onto a burlap tablecloth—genius!
Beverages are served in metal tubs for easy access. In addition to the trail mix bar, a sweets table is also part of the outdoor fun. Cari uses moss to display peanut butter pops and s'more pops. "Dirt" cups and campfire stacks (pretzels) are some of the other clever dessert choices. Two cakes—one for each birthday girl or boy—are definite dessert table highlights. Each is decorated to look like a campsite, complete with a tent and campfire. What incredible works of art!
In addition to totally creative decorations, food, and treats, Cari planned plenty of fun party activities. Camp Four includes finding plastic bugs and snakes on a nature hike, a camp craft (creating birdhouses), and potato sack races.
For the trip home, guests are presented with hobo-style knapsacks with camping-themed party favors tucked inside. Have a four-year-old to celebrate? Head to the great outdoors and live it up with a camping-themed birthday!
Be sure to check out more themed birthday party ideas here: