Diary of a Wimpy Kid 9th Birthday Party
Table of Contents
We're huge proponents of anything that will help foster a lifelong love of reading in little boys.
It will come as no surprise that featuring a birthday party themed around books aimed at boys is a total thrill for us.
This Diary of a Wimpy Kid Party was thrown by Margarita of Party Inspirations for her son's 9th birthday.
What a great way to celebrate a birthday and give a playful nod to her son's favorite book series.
This party is a page turner for sure. You will not want to miss any of the details or photos that tell the tale of an exciting party.
Pay particular attention to the theme coordinating graphic designs that help pull all of the party details together.
Don't miss the birthday cake and cupcakes, or any of the colorful refreshments.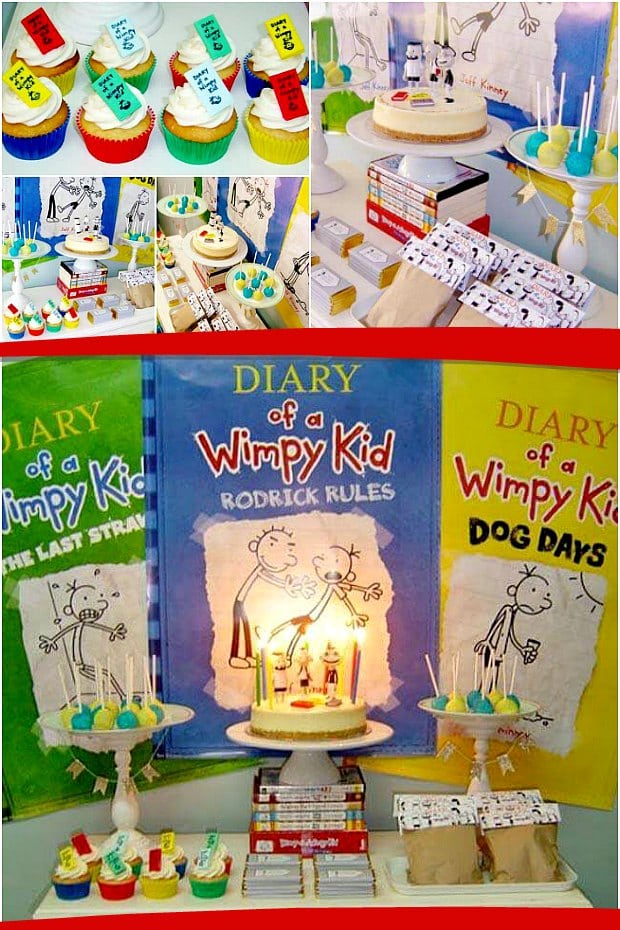 ---
See Also
---
Margarita set the scene for an unforgettable 9th birthday party.
Enlarged posters featuring the covers of some of the Diary of a Wimpy Kid books served as an attention grabbing backdrop for a festive dessert table.
Any fans of the book series are sure to have instantly recognized the birthday party theme and the childlike hand-drawn characters from the books.
To further reinforce the Diary of a Wimpy Kid theme, a stack of books from the series served as a riser for the cake, adding height to the table and helping the cake serve as the star of the dessert table.
(I can just imagine party guests checking out the stack of books and thinking about which title from the series was their personal favorite!)
Her son's favorite cake—classic New York Style Cheesecake—was definitely a hit.
It showcased beloved characters from the books on top, which we are confident brought a smile to the guest of honor's face.
Mom, Margarita, shared that she DIYd a lot of the party food. Cupcakes were made at home and carefully displayed in colorful baking liners.
Each cupcake was topped with its own mini Diary of a Wimpy Kid book made out of fondant by Lisa of Ciaobaby Creations.
Colorful cake pops were also homemade and displayed on dessert stands flanking the cake. They provided a great grab-and-go option for little guests.
Custom wrappers were added to chocolate bars for a custom birthday sweet.
What a fun treat for guests to take with them to remember the party.
Birthday party guests always appreciate a great party favor. Margarita was sure to deliver.
Party favor bags were displayed on the refreshment table alongside the sweets.
These were another simple-to-replicate DIY by Margarita. She used Kraft-colored bags and topped them with cool toppers featuring graphic designs representing the Diary of a Wimpy Kid.
I bet kids couldn't wait to open the favor bags and see what was inside!
Margarita included specially purchased bookmarks. We can't think of a more perfect favor idea for a party inspired by a book.
To add a little fun to the party setup, Margarita made mini flag garlands to string from the dessert plates as well as her own tissue paper garland to string from the front of the dresser used to display the desserts.
Bright hues of yellow, green, blue, and red tissue paper added the perfect pops of color and helped nicely tie the party colors together.
What books do your children love that would provide sufficient inspiration for a birthday party theme?
This Diary of a Wimpy Kid 9th birthday party is a great example of how you can tie in party decorations, a birthday cake, birthday cupcakes, and party favors to your child's favorite book.
Create your own book themed birthday party with these party supplies:
(Amazon Affiliate Links)
Diary of a Wimpy Kid Book Collection
Diary of a Wimpy Kid Mad Libs
Diary of a Wimpy Kid Movie Poster
Rainbow Tissue Paper Tassle Garland
Rainbow Colored Cupcake Liners
Brown Paper Kraft Bags
White Cake Stand
Heavy Duty Twine
Check out more great parties based on your favorite books.