Party Food
Classic Coleslaw Recipe
When you have the best coleslaw recipe as your side dish, everything just tastes better
What's a staple at BBQs, potlucks, birthday parties, and all sorts of celebrations? A creamy classic coleslaw recipe with mayo and vinegar dressing is one of the foods that often gets invited out.
But don't reserve coleslaw just for entertaining. Family dinners—especially those featuring specialties like southern fried chicken—are enhanced with a simple homemade coleslaw recipe.
Today I'm sharing one of my favorite slaw recipes. I love the tang of a good coleslaw and this is one of the best mixed salads I've tasted!
You'll often find signature coleslaw recipes at places like Chick-fil-a, KFC, and Jamie Oliver. For good reason: all generations enjoy the sweet-sour taste and it pairs well with anything you serve it with.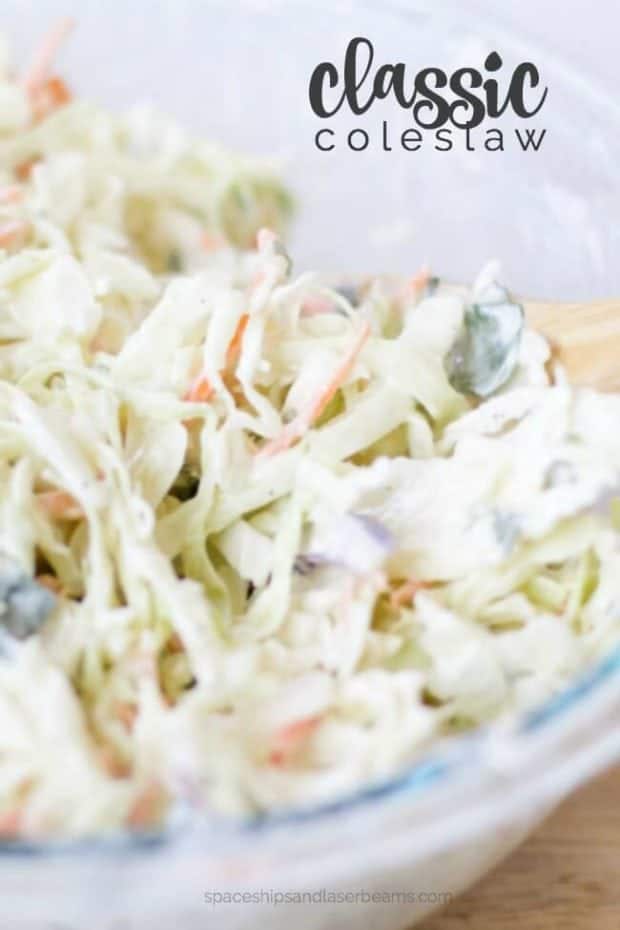 ---
See Also
---
Grilled and smoked meats like burgers and dogs and fish and chips wouldn't be the same without a great coleslaw side.
It's also one of those recipes that keeps well in the fridge for a couple days if you store the cabbage and carrots undressed. Pour dressing over the slaw about an hour before you want to serve it to retain that fresh, crunchy taste.
Although coleslaw offers a nuanced flavor, there's nothing exotic about it. Salad ingredients like cabbage, carrots, and green onions are easy to grow in your own garden but they're even easier to find at your local grocery store.
Wherever you get your ingredients, don't pass up the opportunity of a bowl full of good taste and great benefits.
If the cool creaminess, crunchy texture, and tangy flavor of slaw doesn't entice you to add it to your recipe repertoire, the beneficial perks of cabbage will certainly grab your attention.
You might call this "Ode to a Cabbage". The humble cabbage is a treasure trove of good-for-you nutrition. It's rich in several phytonutrients and vitamins like A, C, and K (it's actually richer in Vitamin C than oranges). And cabbage is high in fiber but low in calories.
So move over Peter Rabbit—that cabbage is mine!
HOW DO YOU MAKE CABBAGE SALAD?
The very easiest way to make coleslaw is to use bags of already shredded cabbage, carrots, or coleslaw mix.
Typically, you'll find a bit of purple cabbage mixed in with the green cabbage and a few shredded carrots in coleslaw mix so it's already exhibiting a bit of colorful personality.
You can also shred your own cabbage and carrots. Use a mandoline, or a food processor's grating attachment makes quick work of the job, but a sharp knife and a few moments will also yield fresh ingredients. FYI, one small head of cabbage yields about two cups of slaw.
HOW DO YOU MAKE COLESLAW DRESSING?
My favorite coleslaw dressing is simple—which might be why it's my favorite! Simply whisk mayonnaise, milk, vinegar, and sugar together. I also like to add chopped parsley and onions for an extra flavor kick.
Want to go beyond the classic? Substitute buttermilk or sour cream for about half the amount of mayo in my recipe. Lemon juice can be used instead of vinegar, and it dials down the tang a little.
Swap out sugar and use honey and a little ginger. Spice it up with a teaspoon of mustard or horseradish cream. Toss in a sprinkle of celery seed or sunflower seed. Finely chopped celery and bell peppers add interesting diversions, too.
HOW DO YOU MAKE COLESLAW?
Pour the dressing over the cabbage and carrot mix. Pop it into the fridge to chill for a bit (about an hour) because slaw tastes much better when the cabbage has time to marinate in the dressing. Just don't leave it in there too long if you want to retain the fresh crunch.
However, if you want to make coleslaw ahead of time, you can make a freezer version that keeps for months. You trade the creaminess for that convenience but it is also delicious. And leftovers—if you have any—can be refrozen without losing quality.
FREEZER COLESLAW :: Grate one medium head of cabbage. Add one teaspoon of salt and
let it stand an hour. Squeeze out the juice. Add one grated carrot and one finely diced green pepper to the cabbage.
Make a simple syrup of one cup of vinegar, one-fourth cup of water, and two cups of sugar. Tie one teaspoon of celery seed and one teaspoon of mustard seed into a small cloth bag and drop it into the syrup mixture.
Bring it to a boil and boil for one minute. Let it stand until it becomes lukewarm. Remove the cloth bag and pour the syrup over the cabbage mixture. Spoon into freezer containers and freeze.
Whatever recipe additions you choose, coleslaw makes everything taste better!
Classic Coleslaw Recipe
When you have the best coleslaw recipe as your side dish, everything just tastes better! What's a staple at BBQs, potlucks, birthday parties, and all sorts of celebrations? A creamy classic coleslaw recipe with mayo and vinegar dressing is one of the foods that often gets invited out!
Print
Pin
Rate
Ingredients
1

bag

coleslaw mix

1

cup

shredded carrots

1 1/2

cup

mayonnaise

3

tablespoons

apple cider vinegar

1/4

cup

milk

2

tablespoons

sugar

1

tablespoon

chopped parsley

2

chopped green onions
Instructions
In a large bowl, toss the coleslaw mix with shredded carrots.


In a small bowl, whisk together mayonnaise, milk, vinegar, sugar, parsley and green onions.


Toss dressing with mix and refrigerate until serving.

Nutrition
Create an amazing dish with help from these great ideas gathered by the crew at Spaceships and Laser Beams:
(Amazon Affiliate Links)
Check out more great recipes:
Melodee Fiske
Melodee is a mom of two energetic and independent boys who fuel her need for coffee. She is a foodie who loves creating and photography so has combined her passions to share with the world. When she's not behind the camera, she's giving piggy back rides, building car tracks or running to Target…again.