Party Crafts and DIY
23 Adorable Easter Egg Decorating Ideas for 2017
These Unique and Adorable Easter Egg Decorating Ideas have me running to the store for supplies!
Decorating Easter eggs is a popular Easter tradition in our house. We have so much fun thinking of new ways to paint and dye our eggs (kid-friendly of course). Whether you go the traditional dye route or like to mix things up, challenge yourself to try one of these 23 adorable Easter egg decorating ideas.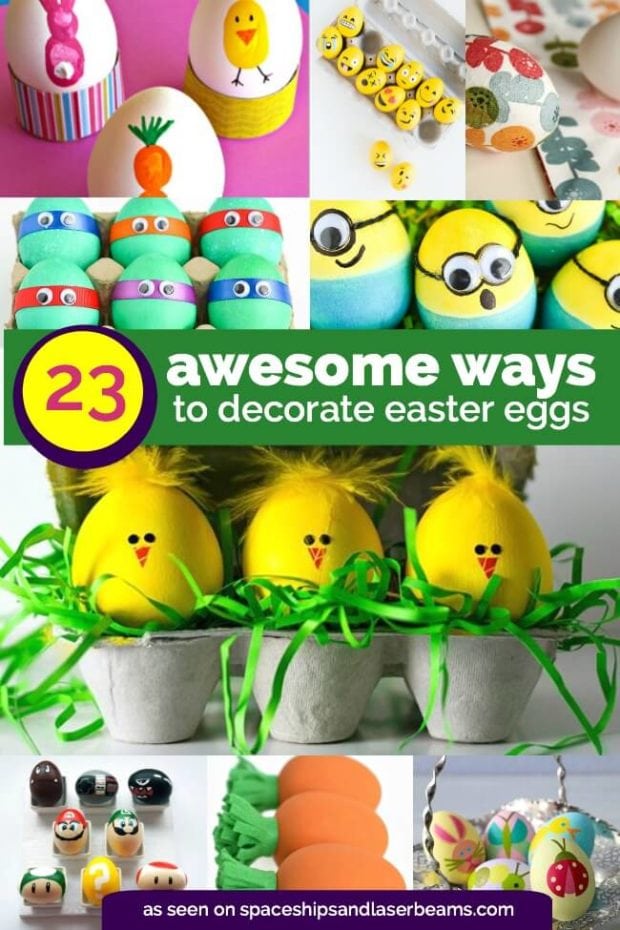 ____________________________________________________________________
SEE ALSO
____________________________________________________________________

There are so many ways to dress up an egg—decorate them to look like Minions or Super Mario Bros. or do silk tie-dying, use nail polish, tacks or buttons. Fun techniques can make your Easter eggs stand out in any Easter egg hunt!
1. Dyed Minion Easter Eggs :: A Pumpkin and a Princess
These Minion Easter Eggs are really simple, so they're great if you want to get the kids involved, and perfect for the Minion fans out there!
2. DIY Emoji Easter Eggs :: Studio DIY
These DIY emoji Easter eggs are a great way to add a bit of fun to your Easter. They're a little bit more challenging than the Minion Easter eggs above, but you can still get the kids involved in dyeing the eggs yellow, then do the decorations yourself.
3.  Chick Easter Eggs :: It All Started With Paint
These Chick Easter eggs are slightly more traditional, and are really quick to whip up. You can even decorate them the night before Easter!
4. Fingerprint Easter Eggs :: Crafty Morning
These super simple Fingerprint Easter Eggs are a great way to decorate Easter eggs with your kids, even if they're really young. Just let them do the fingerprints, and you do the decorations.
5. DIY Carrot Easter Eggs :: A Night Owl Blog
These DIY Carrot Easter Eggs are great if you want to decorate using ceramic eggs, but they'd work well with hard-boiled eggs too. Use a chalk finish paint for the matte look.
6. Mustache Eggs :: ellas inspiration
If you want something a little less traditional at your Easter table, but still want it to be completely adorable, then these Mustache Eggs are the way to go.
7. Watercolor Floral Easter Eggs :: Dream a Little Bigger
These watercolor floral Easter eggs look really artsy, but they're actually pretty easy to make. They'd make a great decoration for a spring-inspired Easter table.
8. Dyed Ninja Turtles Easter Eggs :: A Pumpkin and a Princess
This is a great, simple and fun way of decorating eggs for Easter, and you can definitely get kids of all ages to help with these dyed Ninja Turtles Easter eggs.
9. Decoupage Easter Eggs :: By Wilma
Have some gorgeous paper serviettes that you can't quite bear to let go of? Then these Decoupage Easter Eggs are perfect for you — they'll last pretty much forever if you blow the eggs before decorating!
10. Silk Tie Dyed Easter Eggs :: Our Best Bites
This is a really great way to use old silk ties or scarves that you've picked up over the years. Just tie the fabric around the eggs, boil in vinegar, and open up to reveal a stunning design.
11. DIY Nail Polish Easter Eggs :: Little Inspiration
Have a bunch of old nail polish that you just don't wear anymore? These DIY Nail Polish Easter Eggs are a great way to use it up!
12. Babouchka Easter Eggs :: OhOh Blog
Aren't these Babouchka Easter Eggs the most adorable thing you've ever seen? They're not difficult at all, and definitely worth a try.
13. Black and White Sharpie Eggs :: Obviously Sweet
This is a really simple but effective design, and all you really need is eggs, white paint and a sharpie.
14. Super Mario Bros. Easter Eggs :: Instructables
Have a gamer in the family? They'll love these Super Mario Bros. Easter Eggs, whatever their age!
15. Painterly Pastels Easter Eggs :: Paper & Stitch
These painterly pastels Easter eggs are a great way to add some fun, light colors, and you can customize the colors to match the rest of your decorations.
16. Easter Egg Piñatas :: Corner Blog
These Easter egg piñatas are great for Easter, but they'd also work really well for kids parties, as well as for Cinco de Mayo.
17. Embroidered Eggs :: Wikipedia
If you love to sew, then these Embroidered Eggs are great. They're a little bit more challenging than some of the other Easter eggs on this list, but worth the effort.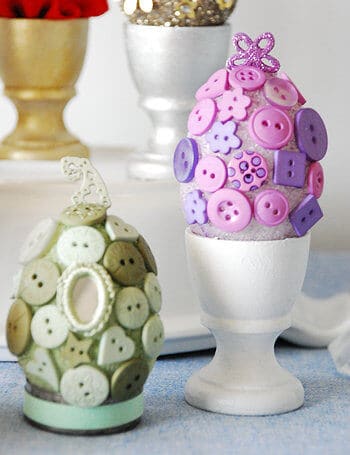 18. Button-Covered Easter Eggs :: Dotcom Women
Get your kids to help you pick the buttons for each button-covered Easter egg, and then glue to your heart's content.
19. DIY Pineapple Easter Eggs :: Studio DIY
These DIY pineapple Easter eggs add a really fun pop of color, and are really simple to make.
20. People Easter Eggs :: I'd Like to Be
These people Easter eggs add a great graphic element — perfect if you're getting into your more creative side.
21. Party Animals Eggs :: FamilyCircle
These party animals eggs come with a free template, and are great if you have a lot of colorful paper around.
22. Sakura Easter Eggs :: Craft Passion
These Sakura Easter Eggs are inspired by the Japanese cherry blossom season. They're perfect for spring, and a great way to teach your kids about different parts of the world.
23. Silver and Gold Tack Easter Eggs :: Create. Craft. Love., as seen on The 36th Avenue
All you need for these for these Silver and Gold Tack Easter Eggs are foam eggs, thumbtacks and fasteners. This would be a great Easter craft for older kids, and getting everything you need is a breeze.
DON'T MISS MORE FUN EASTER IDEAS PERFECT FOR KIDS.
PLUS, CHECK OUT 40 THINGS TO PUT INSIDE EASTER EGGS
Stephanie Keeping
Stephanie is in love with a boy named Sam. He has taught her that it's okay to jump first and look later, to wear a dirty shirt to the park and to decide that today is a good day to take a nap in your rubber boots. She hangs out here blogging at Spaceships and Laser Beams and at our printable party shop on Etsy.