A Boy's Carnival Birthday Party
Table of Contents
A celebration theme doesn't get any more fun or festive than this boy's carnival birthday party by Carol Colon of Partylicious.
Using a vibrant mix of colors and patterns in the decorations, Carol styled this party with true carnival flair. Gorgeous oversized balloon arrangements, a Big Top inspired cake and treats, and carnival style games make this party one for the memory books.
Step right up and view all of the colorful, fun carnival ideas for your next boy's birthday party!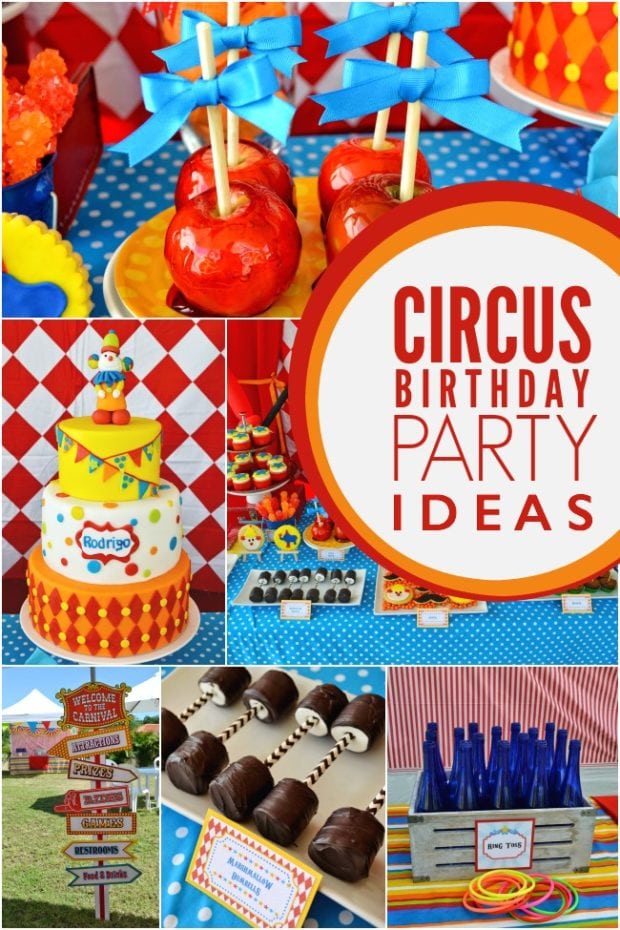 ---
SEE ALSO
Three cheers for the red, white and blue décor in this carnival themed dessert table!
To have the greatest party on earth, you need the greatest supplies! Check out these 30 circus party favors and supplies we've rounded up for you that would work well for a carnival party too.
---
We love featuring Carol's parties here at Spaceships and Laser Beams because they always knock our socks off.
For example, you may remember Carol's previously featured robot party or Minecraft party.
Carol's mantra might as well be, "go big or go home". She takes a theme and runs with it, not sparing any details. It comes as no surprise that her take on a carnival party is just as impressive.
To set the stage for a Big Top celebration, Carol covered a backdrop with heavy fabric and red curtains. A ringmaster, clown and monkeys were on hand for the event, created out of balloons by the talented Joanna Padin of GloboArte.
How amazing do those characters look? I love how that unique balloon arch added extra "wow" to the backdrop, too.
Traditional carnival fare filled the dessert table. At center stage was a gorgeous cake by Mary Valentin of The Cake Factory. Each layer of the cake incorporated darling carnival and circus inspired details, concluding with a cute fondant clown on top.
.
Popcorn filled, yellow polka dotted boxes and lovely candy apples were just a couple of the popular items.
Berry baskets were filled with peanuts and dipped marshmallows on paper straws were transformed into strong man dumbbells.
There were candy peanuts and moustache topped brownie bites. Beautiful clown and elephant inspired cookies and star topped cupcakes added additional pizzazz to the menu.
Glass vessels filled will gum balls, swirly lollipops and various candy surely delighted guests of all ages! Bright ribbons and food labels finished off the coordinated look. The beautiful desserts were by Carol's go-to dessert company, Sugar Bliss by Mari.
Underneath a canopy, tables were set for guests. I love how centerpieces were made from printable-topped paper rosettes and pinwheels inserted into metal pails filled with peanuts and paper shred.
A huge carnival themed directional sign pointed guests toward all of the fun carnival games that Carol set up under the Big Top.
Each station was festooned with bunting and linens and included all of the supplies to make a whole lotta fun. There were ring toss and duck matching games, a can toss and even a bouncy house and carousel!
This looks like one of those celebrations that nobody would want to leave!
Planning a carnival themed birthday party? Check out these party supplies:
(Amazon Affiliate Links)
Big Top Cupcake Holder Set Party Accessory
Mini Cake Decor Kit
Red & White Striped Table Skirt
Circus Sign Cutouts Party Accessory
Circus Time Honeycomb Centerpiece Set
Ticket Booth Cardboard Stand
Under the Big Top Empty Favor Boxes Party Accessory
Big Top Circus Themed Hats
Welcome Sign Banner Party Accessory
Charmed Ferris Wheel Cupcake Stand
Circus Animals Mylar Foil Balloon Bouquet Set
Baby Circus Elephant Standee Circus Party Prop
Mini Red Striped Popcorn Boxes
Big Top Paper Baking Cups
Retro Big Top Circus Themed Bake Cups
DON'T MISS THESE CIRCUS AND CARNIVAL BIRTHDAY PARTY IDEAS: