Table of Contents
Having a great list of crockpot recipes to rotate through the monthly meal plans can make your life easier
After a long, busy day, it's so nice to come home to a delicious meal that's been cooking in the crockpot.
Lucky for you, we've rounded up some tried and true crockpot recipes, including comfort food favorites like beef stew and tortilla soup plus apple crisp and white chicken chili. Excuse me while I go plug in the crockpot!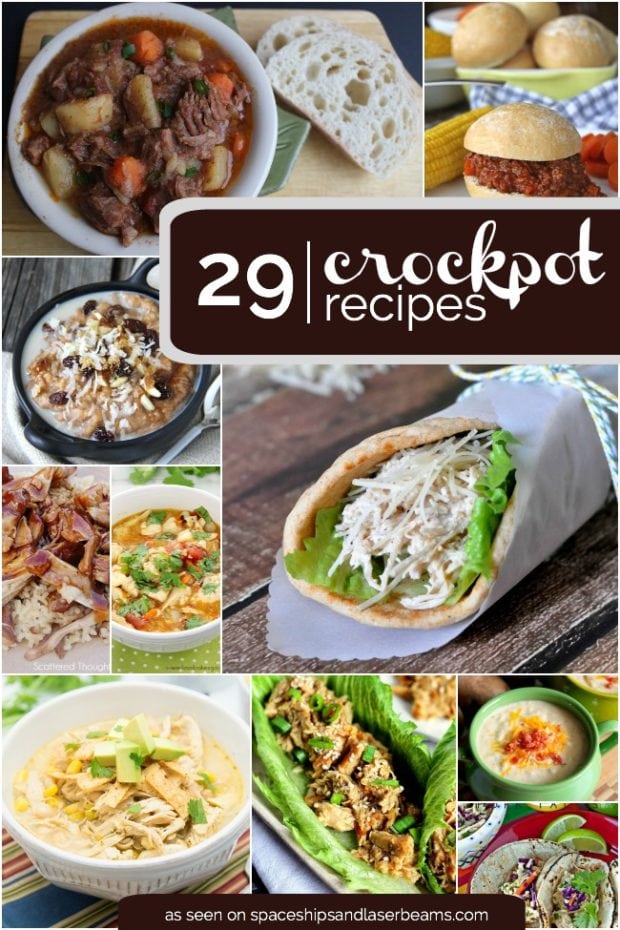 ---
See Also
---
1. Honey Maple Crockpot Pork Tenderloin
From Creations by Kara
This honey maple pork tenderloin is easy to make, and tastes so good! The honey and maple mix with the drippings from the pork tenderloin to create a glaze that goes absolutely perfect with it. I like to serve this on top of rice or with buns!
2. Easy Crockpot Shredded Beef
From Spaceships and Laser Beams
This easy shredded beef is perfect for any recipe that calls for shredded beef, and would also be awesome inside of tacos or quesadillas! It's slightly spicy and perfect for Mexican night!
3. Slow Cooker Chicken Posole
Slow cookers are perfect to make soups in, because you don't have to worry about leaving the stovetop on and watching a pot simmer for a long period of time. This recipe is super easy to make, just throw everything in, and then let the slow cooker do it's thing!
4. Three Envelope Roast
From Like Mother Like Daughter
This beef roast only takes a few ingredients and is slow cooked for the perfect easy roast that the entire family will enjoy. Add it to the slow cooker with some vegetables and spices, and you have a perfectly tender roast ready for dinner!
5. Crockpot Beef Stew
From O Taste and See
This recipe can either be made on the stovetop or in a slow cooker. I love stews during the winter, they are always so comforting and easy! Serve this one with some good bread.
6. Crockpot Salsa Chicken Tacos
From Our Thrifty Ideas
These crockpot salsa chicken tacos are so flavorful, you won't even need to add anything on top of them. These are perfect to serve in hard or soft taco shells, but can be served in lettuce wraps for an even healthier kick!
7. Slow Cooker Italian Beef Stew
From As Easy As Apple Pie
This slow cooker beef stew is perfect to make on a cold winter day. Browning the meat before adding it to the slow cooker really adds a great caramelized flavor. This one takes about 8 hours to finish in the slow cooker, but you can turn it up to high if you want to cook it for less time.
8. Beef and Noodles
From O Taste and See
This beef and noodles recipe has a secret ingredient to really bring it to the next level. It's perfect to bring with you to a potluck too! Make sure you add the noodles when the dish is almost done so they don't become mushy.
9. Slow Cooker Thai Chicken Soup
From Food, Folks and Fun
Thai cuisine is one of my all-time favorites. This soup combines sweet, sour, and slightly spicy flavors to create a beautiful soup that you'll love to serve to everyone!
10. Slow Cooker BBQ Chicken Sandwiches
From Butter With a Side of Bread
These BBQ chicken sandwiches are slow cooked to tender perfection. They are served on buns, I like to slightly toast them with a little cheese or even coleslaw when I serve these. The chicken shreds super easily because of how tender it is!
11. Slow Cooker Salisbury Steak
From Pink When
This delicious Salisbury steak only takes 20 minutes to prep! So easy, and so worth it. I love serving this with a baked potato and some steamed veggies. Perfect weeknight meal! The gravy mixture always turns out so flavorful.
12. Crock Pot Chicken Caesar Pitas
From The Love Nerds
Crockpots are generally used to create soups and hearty dishes, but this chicken Caesar pita recipe is made easily in it! Add all the ingredients to get a perfectly tender and flavored chicken that goes perfectly in a fresh and delicious pita wrap.
13. Easy Crockpot Lasagna
From The Typical Mom
This recipe doesn't require any boiling! It's super easy to throw together, which results in the perfect cheesy lasagna and minimal effort. Perfect for weeknight dinners, no one will know how easy it was to make, and nothing compares to homemade lasagna!
14. Crockpot Chicken Teriyaki
From Scattered Thoughts of a Crafty Mom
This recipe is seriously so flavorful. All of the flavor comes from cooking it in the crockpot, then thickening the sauce on the stovetop helps it to finish coming together. This is perfect served over rice, noodles, or even in a bun!
15. Restaurant Style Refried Beans
From Food, Folks and Fun
These refried beans are easily made in your crock pot, but taste like they just came from a Mexican restaurant! This recipe is simple, and tastes a million times better than canned refried beans. It's made using pinto beans.
16. White Chicken Chili
From Like Mother Like Daughter
Everyone loves chili during the holiday season, when it's chilly (pun intended.) This white chicken chili is super healthy and easy to make, but just as comforting as a classic red chili! Add this to your weeknight meal roster.
17. Loaded Baked Potato Soup
From Pink When
This loaded baked potato soup is downright comforting and hearty. It only takes about an hour to make, and can be topped with all of your favorite baked potato toppings!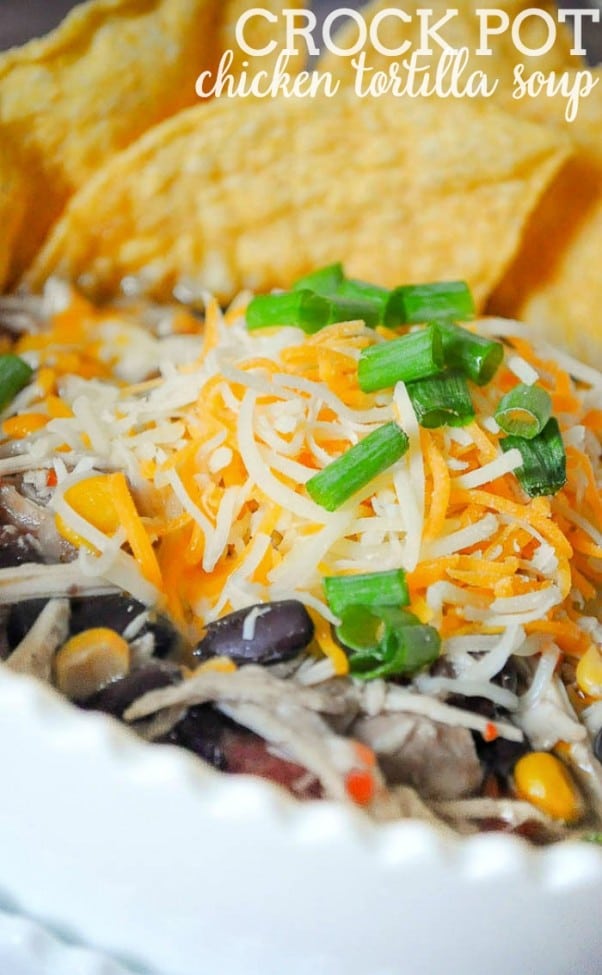 18. Crock Pot Chicken Tortilla Soup
From The Love Nerds
This easy crockpot chicken tortilla soup is so much fun! Topping it with tortilla chips adds a great crunch to the dish, which you don't normally get from the slow cooking method. I love how fresh this recipe is! I like to add a little bit of lime juice to it for an even fresher spin!
19. Mexican Chicken Chowder
From Scattered Thoughts of a Crafty Mom
If you're looking for a comforting crock pot chicken recipe to make this holiday season, you've found it. This Mexican Chicken Chowder is fantastic. My kids approved! Hearty, chicken filled, and slightly spiced.
20. Crockpot Paleo Chinese Pork
From Just Us Four
This recipe is paleo, but so delicious you won't even know it! I love serving this over cauliflower or on top of salads for a way healthier dinner option. It mimics Asian take-out food!
21. Rustic Chicken Slow Cooker Stew
From Who Needs a Cape
This recipe is so nice to have on days that you don't feel like spending too much time in the kitchen. You can make this in bigger batches and freeze it for easy meals throughout the week too! If you are freezing, just don't add the milk, corn starch, or potatoes until afterwards.
22. Sweet Chipotle Pork Tacos
From Food, Folks and Fun
These chipotle pork tacos are an easy slow cooker meal and always a crowd pleaser. You can create an awesome build-your-own-taco stand for everyone to enjoy and select their own toppings!
23. Crock Pot Sloppy Joes
From A Pretty Life
After just a few minutes of prep, you can walk away and come back to a perfect sloppy joe dinner! These are perfect to serve to kids, adults, and to fun party crowds! I like to serve them with corn and a little salad.
24. Crock Pot Pumpkin Spice Steel Cut Oats
From A Pretty Life
These delicious oats are made the night before, so you can wake up to a healthy and hearty breakfast that is hot and ready to eat! I love that you can add whatever toppings to these to customize. Throw it in some Tupperware with a spoon and you have a breakfast on-the-go for those busier mornings!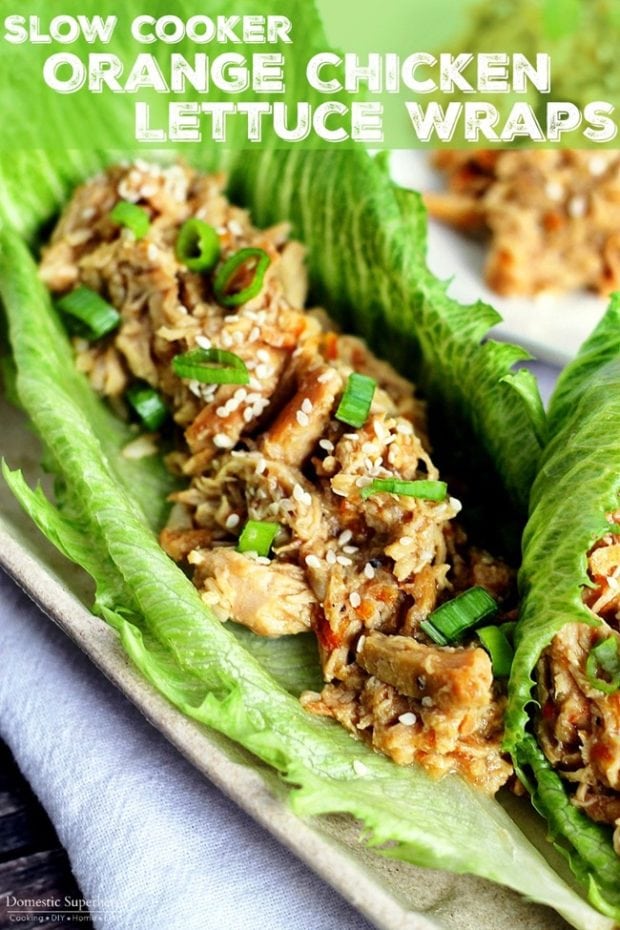 25. Slow Cooker Orange Chicken Lettuce Wraps
From Just Us Four
Lettuce wraps are always a great choice for dinner, especially when they are as easy as these. They are healthy and only have a few ingredients in them, and the end result is so delicious!
26. Crockpot Maple Brown Sugar Ham
From Nums the Word
This easy maple brown sugar ham is perfect for the holidays. It has a great subtle maple flavor that everyone will love! If you have leftovers, it's great in sandwiches to send with the kids!
27. Cheesy Bacon and Ranch Potatoes
From Our Thrifty Ideas
These cheesy bacon and ranch potatoes are the ultimate comfort food, which is perfect for the cold season. This recipe pairs well with a roast, BBQ chicken, or a nice chili dish.
28. Artichoke Lemon Slow Cooker Chicken
From Who Needs a Cape
This dish is surprisingly easy to throw together, and perfect to serve to the family. It can even be easily adapted into a freezer meal! Artichokes and lemon blend so well together.
29. Slow Cooker Apple Crisp
From Nums the Word
Everyone loves a good apple crisp. This recipe takes all of the work out of making it in an oven and makes it simpler in a slow cooker! I always serve this with some vanilla ice cream and caramel drizzle. SO good!
Help make dinner time a piece of cake with these great supplies:
(Amazon Affiliate Links)
Programmable Cook and Carry Oval Slow Cooker
Stay Or Go Slow Cooker
4-1/2-Quart Slow Cooker
Little Triple Dipper
Programmable Slow Cooker
Casserole Crock Slow Cooker
Slow Cooker
Programmable Slow Cooker with Locking Lid
Versatility Slow Cooker with Insulated Tote and Transport Lid
Oval Slow Cooker
For more easy dinner ideas, check out these recipes.