23 Dump Recipes to Save You Time
Table of Contents
Don't go by the name, these dump recipes make fantastic meals. From dinner to dessert, these dishes are so easy
While the name "dump recipes" may not sound all that appealing, just wait til you taste them! Busy families love how easy and fast they are to make, too.
And who couldn't use a little more time in the day for other things?
We've rounded up some awesome dump recipes from desserts to main dishes to soups, chili, chowder, casseroles and more.
Personally, I have my eye on that pumpkin dump cake!
---
See Also
---
1. Chocolate Pudding Dump Cake
From Buns in My Oven
This 4-ingredient chocolate pudding dump cake is perfect for busy days—just dump the ingredients, mix and bake.
In about 30 minutes, you'll be enjoying some fudgy, chocolatey goodness and can share if you want to!
2. Twenty Minute Tortellini Bake
From This Gal Cooks
Busy weeknights can be rescued with this 5-ingredient and done in twenty minutes tortellini bake. Only ten minutes to prep and another ten minutes to bake.
You can make ingredient adjustments to keep it vegetarian or add meat for some additional protein power. It serves 6!
3. Slow Cooker Steak with Gravy
From Recipes that Crock
Imagine being able to get the flavor and texture of an expensive roast, without the hefty price tag. This slow cooker steak with gravy dish may just help you with that.
This recipe features flat iron steak cut into serving size pieces layered in the bottom of a slow cooker (try this awesome recipe for steak quesadillas, too!) (try this awesome recipe for steak quesadillas, too!).
Cream of mushroom soup, onion soup mix and water are dumped into the cooker for 6-8 hours of cooking on low.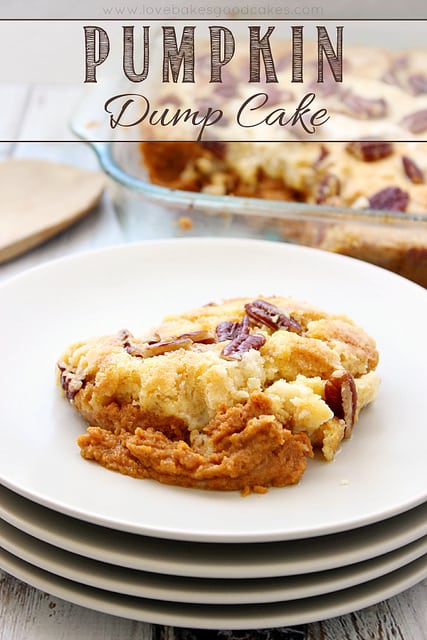 4. Pumpkin Dump Cake
From Lo0
This pumpkin dump cake recipe isn't just perfect for fall, you can make it anytime! Mix up the bulk of the ingredients to form a batter. Sprinkle dry cake mix on top, followed by pecans! Top with melted butter prior to baking. Mmmm, can't you almost taste it?
5. Strawberry Lemon Dump Cake
From Diary of a Recipe Collector
The beauty of a dump cake is the ease of preparation and the fact that most ingredients are few and commonly found on hand.
This strawberry lemon dump cake involves literally pouring/sprinkling the ingredients into the pan before baking. I think I can handle that, and so can you!
6. Crockpot Apple Cinnamon Dump Cake
From 365ish Pins
You may be surprised to learn that you only need 5 ingredients and a crockpot to make up your very own apple cinnamon dump cake.
Let that sink in. Cake in a crockpot? Yes!
When you see how simple the ingredients are (including a cake mix) and how easy the prep is (literally dump the ingredients into the crockpot), you'll want to hug me for sharing.
7. Blueberry Dump Cake
From Scattered Thoughts of a Crafty Mom
Like most dump cake recipes, this blueberry dump cake recipe involves "dumping" fruit pie filling in the bottom of a baking dish, followed by sprinkling and spreading the rest of the ingredients on top.
This recipe uses canned blueberry pie filling and fresh blueberries, as well as crushed pineapple and a sprinkling of coconut. (Of course butter and a yellow cake mix are staples of most dump cake recipes, this one included.)
Doesn't it sound divine?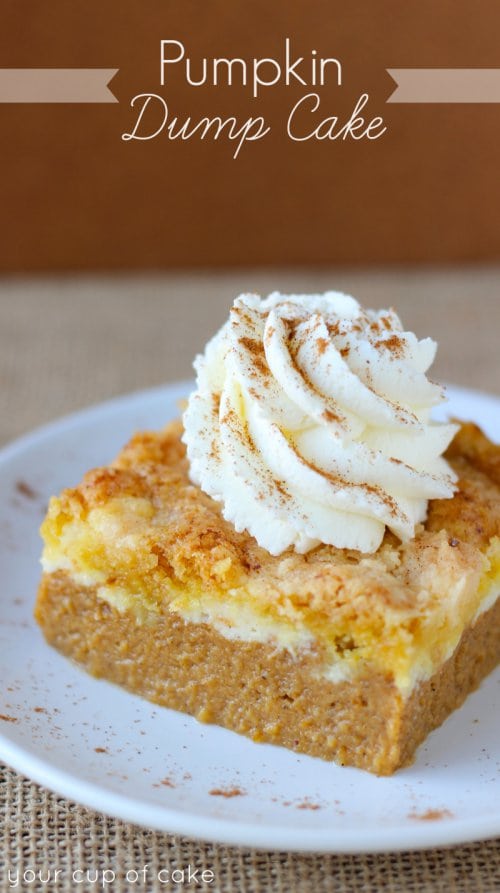 8. Pumpkin Dump Cake
From yourcupofcake
You'll definitely want to kick off the "pumpkin everything" season with this pumpkin dump cake.
While there is a little bit of mixing involved in this recipe, it is almost as simple as a traditional dump cake recipe.
We're certain you will love the deliciousness of pumpkin pie filling paired with a layer of sweet cream cheese and topped off with a crunchy cake mix crumble.
You'll especially love that making it doesn't involve much fuss.
9. Crockpot Beef Stroganoff
From Recipe Swagger
This crockpot beef stroganoff recipe tastes like you spent all day in the kitchen.
Seven of the ingredients, including stew meat can cook right in the crockpot. Egg noodles are prepared separately, just prior to eating.
10. Easy Mexican Chicken Lasagna
From Menu Musings of a Modern American Mom
The concept behind this easy Mexican chicken lasagna, was mix, layer, and bake. And the ingredients are customizable to fit picky eaters.
The layers include tortillas and a creamy filling mixture (chicken, cream of chicken soup, cream of mushroom soup, nacho cheese, tomatoes and cilantro), plus corn, black beans, cheese and a variety of garnishes.
11. General Tsaos Chicken
From The Recipe Critic
Skip the takeout and eat in tonight with this easy-to-make General Tso's Chicken recipe.
Tender chicken, slow-cooked to perfection, marinated in a savory sauce with just enough heat, makes for an amazing Asian dish.
You'll love the versatility in being able to cook it quickly on the stove or in a crockpot throughout the day.
12. Chicken and Swiss Casserole
From Table for Seven
Perfect for any night of the week, this chicken and Swiss casserole is comfort food at its best.
The Swiss cheese adds the perfect amount of flavor to a creamy dish with a bit of crunch.
It's an easy dump recipe that requires mixing some basic ingredients, pouring them into a baking dish and baking. So easy.
13. Slow Cooker Root Vegetable Stew
From Gimme Me Some Oven
Looking for a way to use up some of your seasonal root veggies? This slow cooker root vegetable stew recipe can help with that.
You can use whatever root veggies you have on hand, but this recipe features: butternut squash, Yukon potatoes, sweet potatoes, carrots, onions, and parsnips.
A little kale, some seasonings and vegetable stock later and you've got one delicious meal. The bulk of the prep work was just chopping the veggies. The slow cooker does the rest!
14. Slow Cooker Sweet Fire Chicken
From Crème de la Crumb
Now you can enjoy the sweet and spicy taste of Asian chicken made from the comforts of your own home.
This slow cooker sweet fire chicken recipe only takes 10 minutes of prep time before the bulk of the cooking is left for the slow cooker.
Add it over freshly steamed rice for a healthy dinner option.
15. Slow Cooker Honey Sesame Chicken
From Damn Delicious
Don't you love recipes that can be prepped ahead, dumped in the crock pot and left to cook while you spend your day doing something that doesn't involve cooking?
This slow cooker honey sesame chicken recipes is one of those recipes. You're welcome. It really is a no-fuss, family friendly recipe.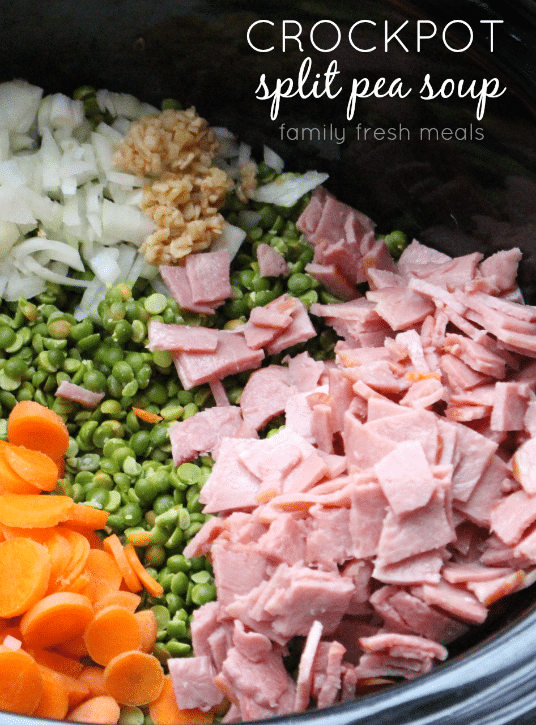 16. Crockpot Split Pea Soup
From Family Fresh Meals
Soup's on, or can be in a jiffy with this easy crockpot split pea soup recipe.
Simply chop your veggies and turkey bacon, and add the rest of the ingredient staples to your crockpot.
The most difficult part of this process is deciding how soon you want to eat—4-5 hours later on high or 7-8 hours later on low.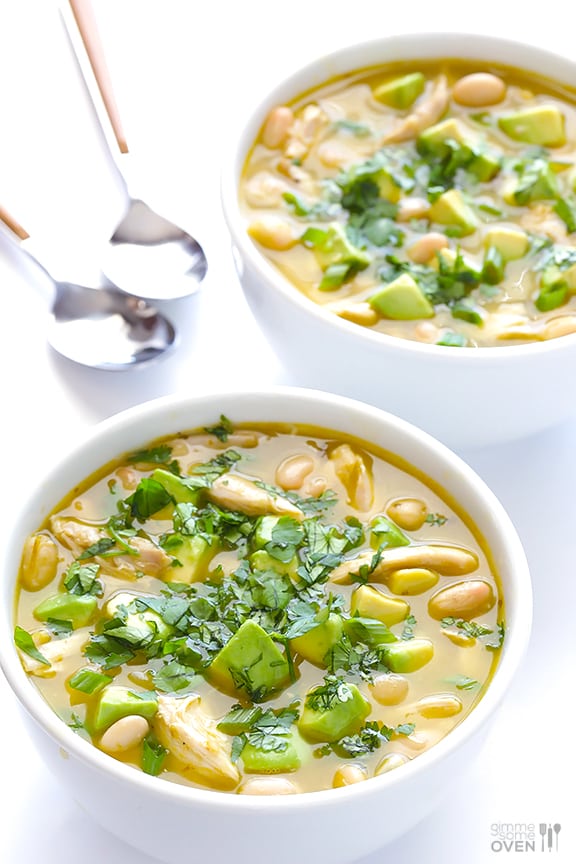 17. White Chicken Chili
From Gimme Some Oven
White chicken chili! Add this 5 ingredient recipe to your dinner menu.
Add the few simple ingredients to a pot on the stove for a quick 15 minute fix, or let them simmer all day in the crockpot.
Make a double batch and freeze some for later.
18. Slow Cooker Potato and Corn Chowder
From Damn Delicious
When we say this is the easiest potato and corn chowder you've ever made, we mean it.
Just dump all of the ingredients into your slow cooker (except butter and cream).
Let it cook on high for 4 hours, and add the butter and cream at the end! Easy, right?
19. Crockpot Minestrone
From How Sweet It Is
This crockpot minestrone soup screams spring.
Plus, it's so easy to make that you can literally throw the majority of the ingredients into the crockpot and let them cook before coming back and adding the final ingredients about 15 minutes prior to eating.
Don't you love a good "set it and forget it" meal?
20. Slow Cooker Veggie Omelette
From Diethood
This slow cooker veggie omelet is about to rock your world! Talk about savory goodness that is simple to make.
And when I say simple, I mean dump all of the ingredients in the slow cooker and walk away for two hours, simple.
While it is a great recipe for any morning, it is especially great for those busy holiday mornings!
21. Cherry Dump Cake
From Kitchen Nostalgia
If you are looking for a truly effortless dessert, this cherry dump cake may be it.
You simply dump cherry pie filling into the bottom of a baking dish/pan and finish by dumping the remaining mixed ingredients on top before baking for about an hour.
How is that for minimal effort?
22. Pumpkin Dump Cake
From 365ish Pins
A great substitute for pumpkin pie during the fall, this pumpkin dump cake may just be the easiest and most popular dish you make all season!
It features a yellow cake mix and pumpkin puree, plus 6 additional ingredients: eggs, butter, brown sugar, pumpkin pie spice, evaporated milk and toffee bits.
23. Crockpot Shredded Chicken
From Recipes that Crock
This crockpot shredded chicken recipe is one of those foolproof, go-to family recipes that is perfect for an easy dinner any night of the week and can be prepared in bulk for freezer meals.
Full of flavor, the shredded chicken can be used on quesadillas, in sandwiches, or added to a casserole.
Best of all—it only requires 3 ingredients dumped into your crockpot set to low for 6-8 hours.
Make a stress free dinner with these great products:
(Amazon Affiliate Links)
Programmable Cook and Carry Slow Cooker
Stay Or Go Slow Cooker
4-1/2-Quart Slow Cooker
16-Ounce Little Triple Dipper
For more delicious dinner ideas, check out these recipes: