21 Truly Genius Gardening Tips and Ideas
Table of Contents
Whether you're a beginning gardener or were blessed with a green thumb, these 21 genius gardening tips, tricks and ideas might just save you time, money, and frustration — while also increasing your gardening success and overall yield.
Which of these hacks are you most excited to try? Will you DIY a strawberry gutter garden or a rain barrel watering system? Or will you try making your own homemade weed killer and plant pesticides?
There are so many awesome ideas. I give 'em two green thumbs up!
---
See Also
Keep cool in the summer heat with this Strawberry Lemonade Popsicle.
Get inspired for your next DIY with these pallet projects.
---
1. DIY Milk Jug Watering Can
From A Journey to a Dream
The great thing about these DIY milk jug watering cans is that they are easily and inexpensively made from recycled milk jugs. They are simple to fill, carry and pour, and don't leak or drip like store bought water cans.
Plus, you can customized the size of the spray needed for different areas of your garden by using a smaller or larger needle to create the water flow you desire!
All you'll need is a clean, empty milk jug with lid, needle and box of matches (for heating the needle).
2. DIY Strawberry Gutter Garden Idea
From Beautiful Home and Garden DIY
This DIY strawberry cutter garden creatively uses rain gutters as planter boxes. Filled with soil and fertilizer, seeds are planted in the gutters, which are plugged off at both ends and hung overhead using heavy duty wire.
3. Coffee Filter Drainage Plugs for Pots (to keep soil from falling out)
From This Old House
Whether your potted plants are part of an indoor display or outdoor garden, soil falling out the bottom is less than desirable.
This coffee filter hack allows for drainage after watering, but keeps the soil from falling out the drainage holes.
4. DIY Watermelon Slings from Old T-shirts
From Vegetable Gardener
Make space for growing watermelons in your garden by training your watermelon vines to climb up a trellis.
As the watermelon begin to swell and get heavy, you can help support them by DIYing slings from old t-shirts.
5. Insulate Tomato Plants with Saran Wrap
Tomatoes like a warm climate. You can use Saran Wrap around the bottom two rungs of your tomato cage to simulate a greenhouse.
Wrapping your tomato cage helps to trap the heat inside and block your plants from the wind.
6. DIY Self-Watering Garden Table
From Instructables
DIYing your own self-watering garden table will save you a lot of money on buying one. However, you should still plan on spending about $100 on materials, and will need quite a few power tools (electric drill, chop saw, hand saw or band saw, matt knife, forstner bit, or hole saw bit, drill bits) and the ability to build it.
The result is a watering system that allows plants to draw water as needed from the bottom of a container reducing the possibility of under-watering or overwatering.
7. Damp Towel Seed Tester (to test if old packets of seeds are viable)
From Ebay
Before you throw out your old seed packets, test them with this damp towel seed testing hack!
Simply dampen a paper towel with warm water before placing some seeds on it from the packets in question. Fold over the paper towel to cover the seeds. Keep the paper towel damp for a few days, and begin checking it for sprouting.
8. Foam Peanuts Plant Drainage
From The Family Handyman
Don't break your back with heavy outdoor planters filled to the brim with potting soil.
Cut the weight in half and improve drainage by packing the bottom third to half with lightweight packing peanuts. Cover the foam peanuts with landscape fabric, and fill the rest of the way with your potting soil and plants.
9. Calcium Rich Eggshell Soil
From Graceful Little Honey Bee
Did you know you can improve your garden soil using eggshells? Eggshells are rich in calcium. Save up your eggshells and grind them to a fine powder in your blender. Sprinkle in your garden soil to provide a calcium boost!
10. Plastic Fork Animal/Pet Deterrent
From Listotic
Don't let animals and pets use your garden as their litter box! Insert the handle of plastic forks throughout your garden area to deter them from destroying your plants!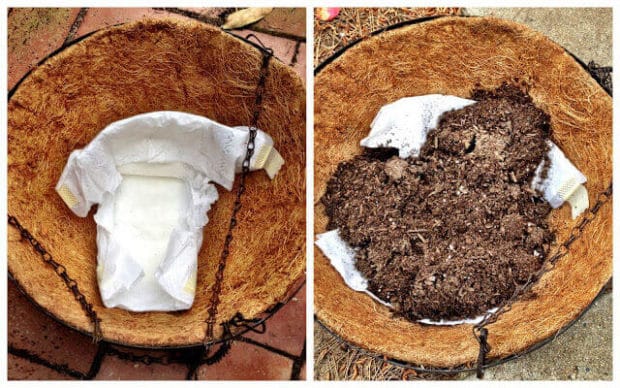 11. Diapers, Potting Plants and Moisture Retention
From Sandpaper and Silly Putty
If your plants tend to dry out, try this diaper gardening hack! Stick a diaper in the bottom of your potted plants or hanging baskets to help with moisture retention.
12. Eggshell Starters
From Squawk Fox
Save yourself a lot of money by starting your garden from seeds instead of buying store-grown plants, even during colder months, using this eggshell starters gardening hack! You'll get an egg breakfast or two out of this hack which uses a thumbtack to punch a small drainage hole into the bottom center of the egg, after which you'll chop off the top third of the egg.
After carefully washing and boiling your eggshells, you'll dry them, fill them with soil and house them in an egg carton for planting.
13. DIY Rain Barrel Watering System
From Workbench Magazine
To build your own rain barrel watering system, you'll need a container, such as a heavy-duty industrial trash can, and a few basic plumbing and gardening parts.
A drill, scissors, utility knife and a couple of hours later, you'll be able to DIY your own rain barrel from these directions.
14. Homemade Weed Killer
From Listotic
Use this great gardening hack to make your own homemade weed killer! Three everyday household ingredients — white vinegar, table salt, and liquid Dawn — can help you get rid of these pesky garden invaders.
15. DIY Natural Plant Pesticides
From Bless My Weeds
Avoid using potentially toxic pesticides by DIYing your own natural plant pesticides! After identifying the type of pests are infesting your yard, you can customize your natural pesticide from all of these suggestions.
16. DIY Biodegradable Toilet Paper Roll Planters
From Earth 911
Did you know that toilet paper tubes are made from a biodegradable material that will compost back into the soil making them perfect for use in your garden?
This garden hack features toilet paper rolls as the perfect starter planters for starting seedlings.
17. Rain Gutter Garden
Short on gardening space? Create a vertical garden with this gardening hack made from rain gutters and strong wire!
18. Pot-in-Pot Landscaping
From House Hacks
If you like to change out seasonal plants, this pot-in-pot gardening hack is pure genius! Bury a pot in the ground that is slightly larger than the potted plant you'd like to feature in your landscaping.
You simply put the potted plant inside of the buried pot. When it is time to change plants for the season, simply remove the inner pot and replace it with the new seasonal varieties of your choice!
19. Binder Clip Plant Tags
From Ebay
This simple binder clip plant tag hack will ensure you always where and what you've planted. Never mistake your hard work for weeds again! Attach an empty seed packet to a metal garden marker with a binder clip!
20. Insulate Plants with Milk Jugs
Many plants thrive in warmer weather. To help create that greenhouse warmth, recycle your plastic milk jugs and use them to insulate your smaller outdoor plants.
This gardening tip takes just a minute or two to cut off the top and bottom of the milk jug with scissors before placing it over your plants.
You can secure it from flying away with a wind gust with a little soil packed around the edges.
21. DIY Wood Pallet Strawberry Planter
From Lovely Greens
What makes this DIY wooden pallet strawberry planter such a great gardening hack is the fact that it allows you to plant up the top as well as in between the slats, increasing your potential for a bigger harvest of strawberry plants.
The project is quick and inexpensive, only requiring a single pallet (you can find for free), some basic hand and power tools and a couple of hours.
Check out these gardening supplies sourced by the Spaceships and Laser Beams crew…
(Amazon Affiliate Links)
Four Tier Mini Greenhouse
All-in-One Gardening Set
Soil Test Kit
Raised Garden Bed
Rolling Garden Work Scooter
Check out more great household tips and hacks with these great ideas.