17 Brilliant Backyard Entertaining Hacks
Table of Contents
If you love to entertain outside, be sure to check out these 17 brilliant backyard entertaining hacks!
From Mason jar luminaries to DIY yard Yahtzee, to a clever drink and snack storage station, to a make-it-yourself lemon and clove bug deterrent, these ideas will have you celebrating in your backyard all spring and summer long!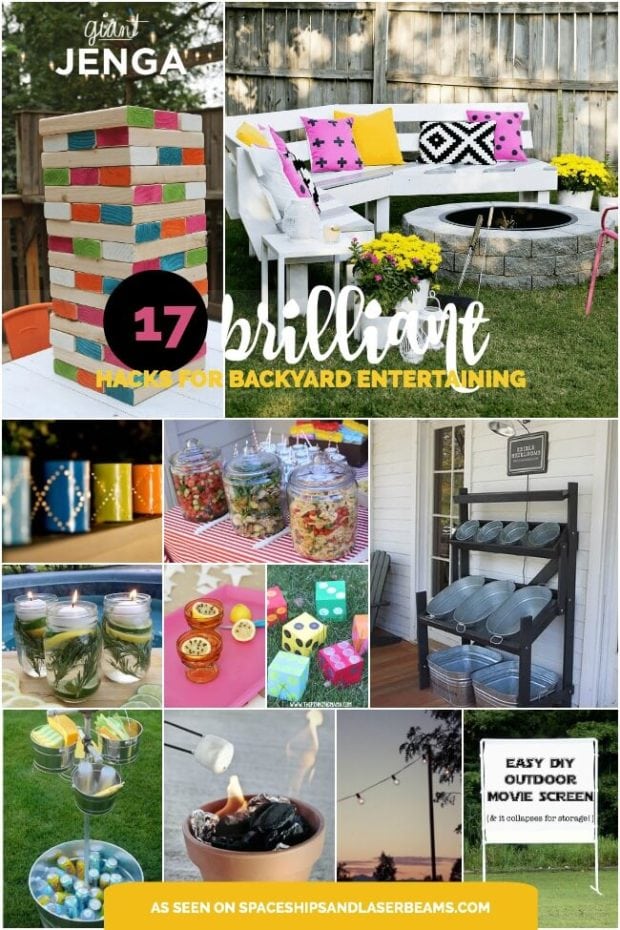 ---
See Also
Summer time is meant to be enjoyed outside and this Outdoor Movie Night is the perfect way to do it.
Don't miss this list of 15 Very Clever Outdoor Toy Storage Ideas to keep your outside space organized.
Take advantage of these clever pallet projects during your next round of DIY.
---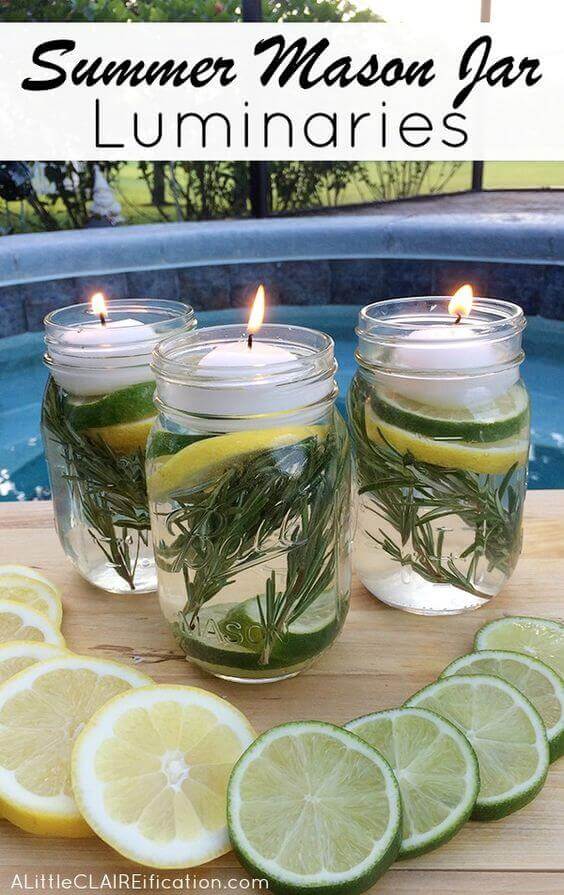 1. Mason Jar Luminaries/Bug Repellent
These Mason jar luminaries act as a decoration, but they are also a bug repellent, which is great for summer barbecues outdoors.
You can use recycled jelly jars or purchase Mason jars. To duplicate this idea, you'll need 4 jars, 40 drops each of the following Essential Oils (Cedarwood, Lavender, Lemon, and Thieves), 2 lemons, 2 limes, 8 sprigs of rosemary, water, and floating tea light candles.
The result is a collection of beautiful candles that are perfect for your outdoor gatherings!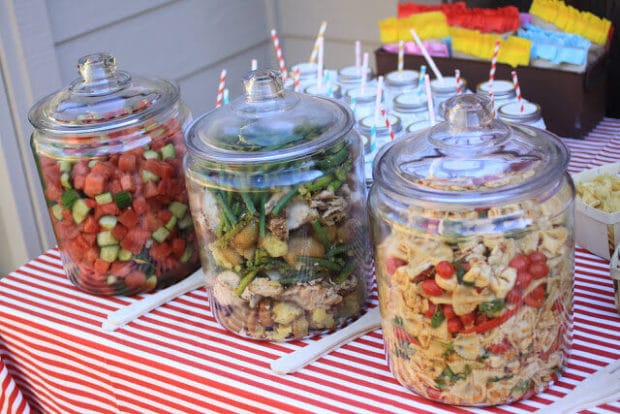 2. Bug-Free Salads
From Cookie Mondays
Summer salads and outdoor entertaining go hand-in-hand. But, outdoor entertaining means more bugs, and nobody likes to find a pesky bug in their salad.
Keeping your salads in lidded glass jars will keep them bug-free, plus they'll keep fresh for longer.
We love this backyard entertaining hack because the jars are functional and look gorgeous too!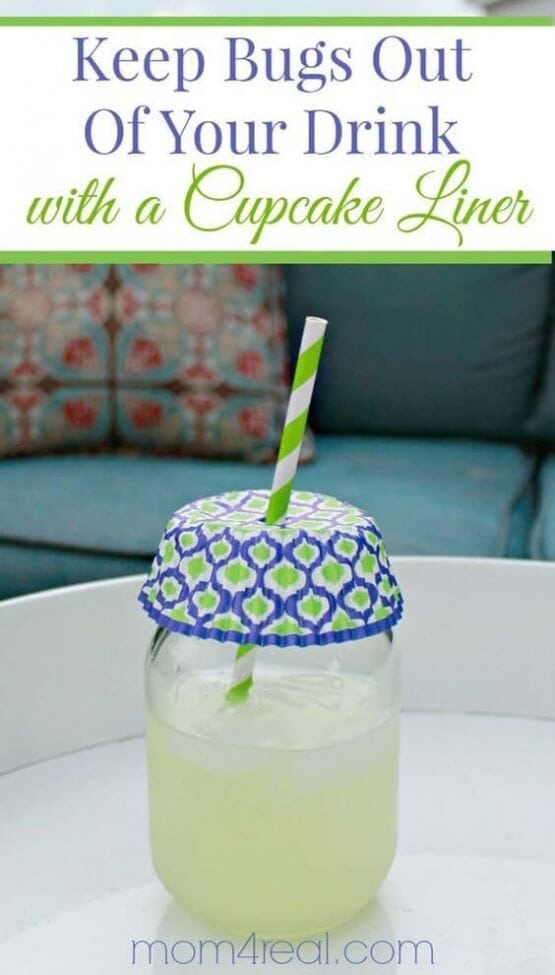 3. Cupcake Liner Drink Covers
From Mom 4 Real
Speaking of bugs, nobody wants to find them in their drinks either. These cupcake liner drink covers are a brilliant backyard entertaining hack, and a simple and inexpensive way to keep bugs the heck away from your drink!
Not only do the liners help keep bugs away, they add some pizzazz to your drinks, effectively dressing them up for your gathering.
You can even customize the liners to fit your theme and color scheme.
4. Giant Jenga Game
From A Beautiful Mess
If you're looking for a great outdoor game to add to your party plans, we recommend creating a giant Jenga game. It's a fun game for all ages!
You can quickly DIY your own using 2 x 4 boards, cut into 48- 10.5" pieces. To ensure a pleasant game-playing experience for guests, be sure to sand the surface of each brick until smooth.
You can paint the ends of each Jenga block or keep the wood raw. Some suggest sealing the wood to withstand the elements.
5. Terra Cotta Tabletop S'more Cookers
From Smart School House
Is there anything quite like roasting s'mores in the backyard? This year, you won't have to fight for space around the campfire because you can DIY your own terra cotta tabletop s'more cookers.
This is a super easy way to bring some delicious fun to your table this summer. Just fill a foil-lined terracotta pot with charcoal, light it up and toast to your heart's content.
These are so simple to make and inexpensive, you can have enough on hand for every guest.
6. Lemon & Clove Bug Deterrent
From A Subtle Revelry
When it comes to outdoor summer fun, bugs are not invited. Help keep bugs at bay with this simple lemon and clove bug deterrent.
The scent of lemons and cloves is heavenly to humans, but not to bugs. About 30 minutes before food will be served, cut a lemon in half and add cloves to it. Set it out in bowls or pretty glassware.
You'll love this super simple and natural way to keep bugs away and off of your food.
7. Outdoor String Lights Hack
From Bright July
Lighting is essential for creating that ambiance and magical atmosphere you want at your summer parties once the sun has set.
With café lights all the rage, this outdoor string lights hack is a great DIY that will seriously brighten up your summer.
Depending on your backyard, hanging the lights can be tricky. But the plans for this outdoor hack utilize sturdy pieces of electrical conduit, PVC pipe, pipe straps, and end caps to create a secure set of supports for hanging lights.
It's really pretty simple once you've read the instructions, and is easily transportable. You can create your own supports for under $30!
8. DIY Paint Can Lights
From Lowes
Are you looking for a beginner level DIY project that can add something special to your backyard parties?
These DIY paint can lights are a great way to get your upcycle on, and can be completed in just a few hours.
Create one or many, the cost is minimal! You can customize them to match any party theme or outdoor décor. The lantern designs and patterns are up to you.
Follow the step-by-step instructions for tips on how to easily complete this project.
9. DIY Yard Yahtzee
From The Pinning Mama
This DIY yard Yahtzee will take you $5 to DIY. Five. Dollars. That's it! (Assuming you have the paint already — you don't need much.)
The dice are so easy to make, even your kids can help! Craft night can easily turn into a backyard family game night. Make a set to gift to neighbors and friends, or invite them over to make their own set.
Use them to play yard Yahtzee or any number of games that require dice.
10. Personalized Cups
From Etch-It
If you've ever reached for your disposable cup at a party, only to find yourself trying to pick yours from a slew of others that look identical, you'll appreciate the beauty of these personalized cups.
Never lose your drink again! This is one of our favorite backyard entertaining hacks, as these personalized cups are cheap, easy and fun.
Simply remove the protective cover on these drink labels, and use your fingernail to etch your name or an identifiable design.
This is a great way to make your guests feel special, and prevent arguments from breaking out between the kids over whose cup belongs to which kid.
11. Build Your Own Curved Fire Pit Bench
From A Beautiful Mess
This is a little more work than our last backyard hack, and is definitely not a cheap project, although DIYing your own bench is cheaper than buying something similar.
You can rest assured that this is a pretty simple build if you know your way around a toolbox and can follow directions.
A curved fire pit bench feels cozy, and you can dress it up in whatever way you'd like. It makes a great addition to your backyard entertaining space.
Plus, if you don't already have a backyard fire pit, we've linked to a DIY fire pit project next, and it can be completed in an hour!
12. DIY One Hour Fire Pit
If you've ever had an outdoor fire pit on your backyard bucket list (and who doesn't?), tune in for this great one hour DIY. This is probably the quickest way to give your backyard a major upgrade.
And you'll get so much enjoyment from it.
Just imagine late night conversations around the glow of a fire or roasting s'mores over the flames.
Once you have all the materials—stones, lava rock, a level, and shovel—this DIY fire can be completed in a mere 60 minutes. Crazy, right? Summer, you just got hacked.
13. DIY Outdoor Movie Screen
Get ready to kick your outdoor summer entertainment up a notch! Wondering how? What is better for summer entertaining than this DIY Outdoor Movie Screen?
A DIY outdoor movie screen that folds up for easy storage. And if you're smart like The Shabby Creek Cottage, you'll hack this backyard entertaining hack a little further and be watching movies from the pool. What's even more amazing it that you can create your movie screen for under $50!
Check out the materials lists for specific measurements, but the basics you need include: PVC pipe, PVC elbows, PVC T fittings, 10" spikes, 1 full size white sheet, and grosgrain ribbon.
Additionally, you'll need use of a sewing machine and compound mitre saw. The full instructions will walk you through the process of constructing your movie screen, which will provide hours of summer entertainment right from the comfort of your own backyard.
14. DIY Outdoor Beverage Station
From Lil' Luna
When it comes to outdoor summer entertaining, a beverage station makes the perfect addition to backyard barbecues, kids' birthday parties, and pretty much anything and everything in between.
You'll need to head to your local home improvement store—specifically the plumbing aisle—but don't you worry, this project is simple and will only take you about 10 minutes to put together once you have your materials gathered.
You'll need a beverage tub, some pails, galvanized pipes, connectors and end caps, plus J-B Weld bonding material.
You can follow the tips and tutorial for all the details. You'll be so glad to have this DIY outdoor beverage station in your backyard!
15. DIY Beverage Station
From Our Southern Home
When it comes to entertaining, you can never have enough drinks. You'll need a place from which to serve them, making this DIY beverage station idea a great entertaining hack.
This idea features the use of an old door, two scrap board for shelf, 4 shelf brackets, 2 outdoor porch spindles, wood screws, outdoor paint (regular and spray), a wine glass rack, and basic tools.
The finished project is awesome and is a great way to store your snacks and drinks, especially if you're going to be having a long day of backyard entertaining.
16. DIY Flamingo Ring Toss Game
From Sugar and Cloth
Flamingoes are all the rage, and definitely make a trendy addition to your backyard parties. This DIY Flamingo ring toss game doubles up as a decoration.
It's fun for all ages, and great to look at, bringing a bright pop of color to your backyard.
There are two versions to choose from, one that suits those who have grass in their yards, and another version that suits those who wish they did.
17. DIY Outdoor Pallet Sofa
From Jenna Burger
Backyard entertaining requires backyard seating. You can DIY your own seating using pallets. If you're resourceful, you can even find pallets for free.
This DIY outdoor pallet sofa is a great upcycle project. You can make the main sofa frame for less than $5 using 4 free pallets, some scavenged fence wood, and some store bought brackets.
Cushions are an additional cost, but with the structure made, you're well on your way to getting some great new outdoor furniture.
Check out these great products gathered by the team at Spaceships and Laser Beams that will help make your backyard entertaining more enjoyable…
(Amazon Affiliate Links)
Popsicle Molds
Hard Bottom Cooler
Electric Ice Cream Maker
Roll-Up Blanket
All Weather Umbrella
Color Croquet Playset
Indoor S'mores Maker
Check out more great ideas for outdoor fun.