20 Charming Gender Reveal Party Ideas & Themes
Table of Contents
Can you keep a secret? If so, gender reveal parties are going to be fun for you. This round-up of charming gender reveal party ideas includes entire party set-ups as well as suggestions for the big reveal. There are so many cool gender reveal themes and ways to announce a sweet arrival whether you say he/she, rifles/ruffles, ties/tutus, miss/mister, boots/ballet, or stashes/lashes. Say it with cake, cookies, balloons, silly strings, water pistols, piñatas, clocks, cards, eggs, or scratch-offs. For the most delicious reveal ever, check out our gender reveal cupcakes.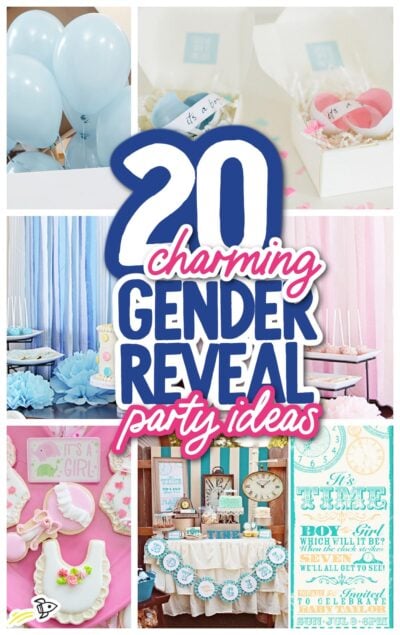 Celebrate the mom to be with A Vintage Style Dessert Table.
Who says a gender reveal party must be in pink and blue? This "ties or tutus" gender reveal is a clever alternative. This gender reveal features yummy desserts, silly string, and bubbles, party favors bags, confetti, and ultrasound pictures.
There are so many fun ideas in this gender reveal, including a vote-casting station for a boy or girl, complete with a mustache (boy) or pink lips (girl) photo props to coordinate with your vote. The food is divided into two areas for typical boy vs. girl favorites too. Plus, this party features such a unique way to get everyone involved in the reveal of the baby's gender as each person is given a color-camouflaged can of silly string. On the signal, guests celebrated by spraying their can of silly string, revealing the baby's gender. What fun!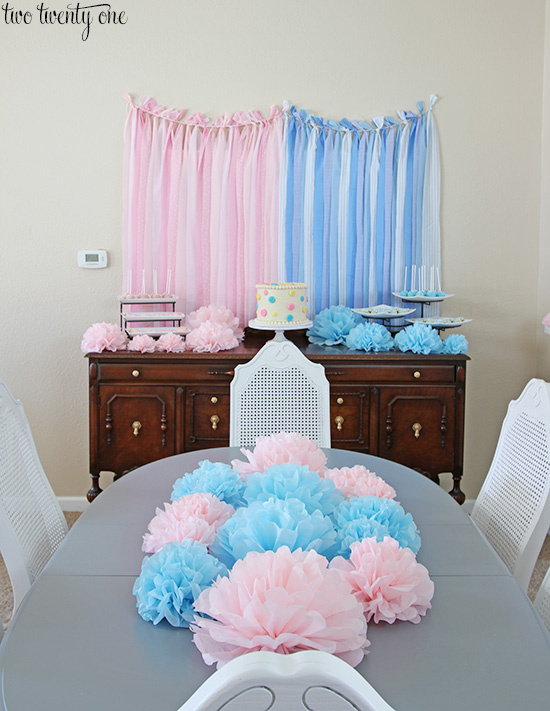 One charming idea for your gender reveals party table is to create a fabric strip backdrop featuring half-pink strips and half-blue strips. The dessert table in this gender reveals party was the focal point of the party and featured pink cookies and cake pops on the pink side and matching treats in blue on the other side. The gender reveals cake is centered in the middle, awaiting the big reveal.
Who says only kids like a party piñata? A fun way to announce the gender of a baby at a gender reveals party is by stuffing a piñata (or having the piñata stuffed by a friend if the parents-to-be want to be surprised too) with colored tissue paper confetti to coordinate with the baby's gender (blue = boy and pink = girl). Adults and kids will have fun with the reveal. You can have the couple pull a string to unleash the colored confetti or have guests take swings at the piñata to unveil the surprise.
5. Colored Hair Ties Or Bows Tie
Have your party guests wear their vote at the next gender reveal party you host. This party features a handmade blue bow tie or pink hair bow, which guests are invited to don after making their prediction for the baby's gender. Guests sporting bow ties predict a boy, while guests wearing hair bows predict a girl. The big reveal confirms whether it is a boy or girl by adding a bow tie or hair tie to the icing on the cake.
6. Team Spirit
Invite family and close friends to come to your baby's gender reveal party dressed in either pink (girl) or blue (boy) according to their guess of the baby's gender. It's a fun way to see who is Team Pink or Team Girl and guess which team will win. Unveil the answer using cupcakes with appropriately colored frosting. Then celebrate the big reveal by eating the cupcake.
7. Baby Reveal Decorations
Creating lovely and soft baby gender reveal party decorations can be totally affordable with some of these genius ideas. A dessert table backdrop made from pink and blue scrapbook paper is a clever idea. Or how about DIYing your own onesie-shaped party banner using glitter, scrapbook paper, and letters? Printable decorations such as bottle wrappers and party logos attached to sucker sticks can tie the look together.
8. Confetti Balloons
Shower guests at your gender reveal party with the sweet news of your baby's gender. Fill large 36" balloons with a festive confetti mix in shades of pink or blue. When it's time for the big reveal, grab a pin, pop the balloon, and let the fluttering confetti do the talking. What a festive way to share the sweet news.
9. Gender Reveal Cookies
Add gender-reveal cookies to your creative list of gender-reveal party ideas. You've seen cakes and cupcakes with interior cake or frosting in pink or blue—now there's a cookie version too. Dispatch the good news with a bite of something sweet. A colored cookie within a cookie reveals the surprise. It's like two treats in one—double the fun!
A lot of waiting is required when it comes to the big reveal of a baby's gender, making a clock theme a fun gender reveal party theme. You'll love the details of this celebration which include plenty of clock decorations and desserts with references to time. The actual reveal is genius—a DIY mock cuckoo clock that trumpets the announcement.
11. Box Of Balloons Reveal
Blue or pink? What do you think? Always a fun way to telegraph the exciting news, fill a decorated box with pink or blue balloons, and let the happy parents-to-be send the balloon news sky-high.
12. DIY Scratch-Its Reveal
Want to get all of your guests in on the action for your gender reveal? This DIY scratch card reveal is so fun and clever. This tutorial will walk you through the steps of making your own scratch cards using clear contact paper, metallic acrylic paint, liquid dish soap, paper, round circle punch, paintbrushes, and plenty of time. Plan ahead for this cool gender reveal idea.
Want to surprise your out-of-town friends and family with your fun gender reveal news? This interactive gender-reveal card is a fun way to spill the beans on your exciting news. Best of all, you can create these inexpensive cards yourself and personalize them with your information. Your loved ones will enjoy getting your sweet surprise in their mailbox.
14. Paint Party
Ready. Aim. Fire! This paint party gender reveal is so much fun. Happy parents-in-waiting make great targets for guests with water pistols filled with paint. You'll want to allow plenty of time to fill water pistols with watered-down paint. Take care to ensure that if any water pistols are leaking the reveal color you disguise this by splattering both sets of colors all over the exterior of each guest's gun so that the surprise isn't revealed before intended.
15. Secret Agent 007
Party guests love solving a mystery. This time, how about inviting guests to come to your Secret Agent 007-themed gender reveal, dressed as secret agents? Then put them to work solving clues that lead to the big gender reveal.
16. Waddle It Be? Gender Reveal Theme
Soft shades of yellow and white paired with sweet little duck details make wonderful décor at a gender reveal party where guests are asked "Waddle it be?". This adorable theme is inspired by the book Make Way for Ducklings. Guests are then given an opportunity to make their best "quack" at predicting the gender before the big cake reveal.
The best gifts come in small packages, or so it's said. Share the news with friends and family by gifting them their own small package.! Send prepared eggs in paper shred-filled gift boxes with the fun news inserted.
18. Pink Or Blue
Need help planning your own gender reveal party? Incorporating blue and pink party products and treats can help set the stage for a fun reveal. Add pink or blue frosting to the middle as a surprise to announce the baby's gender.
Want to concoct a gender reveal party that is different from the balloon boxes and gender reveal cakes that are so common? Then check out this science gender reveal to see how they cleverly announced their secret concoction, including the Big Sister Prototype and The Latest Model.
Counting the votes for boy or girl is just a small portion of this fun gender reveal party. This hip countdown theme ended when the announcement came in a bang of fireworks. The clock décor is an easy choice to help reinforce the countdown theme.
More great themes and ideas perfect for a fun party: