Never Think About What to Make for Dinner for the Next Two Months with My Lazy Cooking Bundle
Minecraft makes a terrific, non-mushy theme that boys can share for those classroom Valentine's Day parties
Kids (and their moms!) will love the possibilities in this list of free, printable Minecraft Valentine's Day cards that includes creepers and other Minecraft characters, tags, bag toppers, and candy wrappers.
If you're looking for something extra special for Valentine's Day, check out the printable Minecraft bookmarks, Minecraft Valentine story tellers and cool Minecraft brick idea.
---
See Also
---
1. Free Printable Minecraft Valentine's Day Cards
From Meet Penny
If you've got a Minecraft lover on your hands, these free printable Minecraft Valentine's Day cards might just make this season of love a little more exciting! Just print the 12 Minecraft inspired designs on cardstock and trim!
2. Minecraft Printable Valentines
From Cute as a Fox
With 9 printable Minecraft inspired valentines to choose from, your Minecraft-obsessed child will love prepping these simple Valentines for distribution at school.
3. Be MINEcraft Valentines Candy Wrapper Printable
From Club Chica Circle
Sweethearts/Conversation Hearts just got a makeover! Download and print the Minecraft inspired wrappers, cut and adhere!
4. Printable Minecraft Bookmarks
From Grungezombie via Tip Junkie
With this printable Minecraft bookmark, your favorite Minecraft lover can be reminded of their favorite game while they read!
5. Easy Minecraft Valentines
From Taylor Joelle
This easy Minecraft Valentine can be ready in minutes! Plus, create your own message! We love that a sucker can be added too!
6. Free Printable Minecraft Valentines and Candy Wrappers
From Over the Big Moon
These printable Minecraft Valentines are made even cuter by attaching mini candy bars covered in Creeper-inspired candy bar wrappers. Simply print, cut, sign and attach.
7. Creeper Valentines
From Creekside Learning
Things might get a little creepy with these Minecraft inspired Creeper valentines. An easy DIY using black electrical tape and print off the corresponding messages!
8. Minecraft Valentine Story Tellers
From Julian & Co
Kids love folding and playing with story tellers. This free printable Minecraft Valentine story teller makes for a fun valentine idea!
9. Minecraft Brick Valentines and Bag Topper
From LollyJane
Looking for Valentine ideas perfect for boys? Girly Valentines need not apply! These Minecraft brick Valentines are awesome! Not only is the craft idea fun for boys, but the Minecraft brick inspired bag topper adds that finished touch! You can print it for free!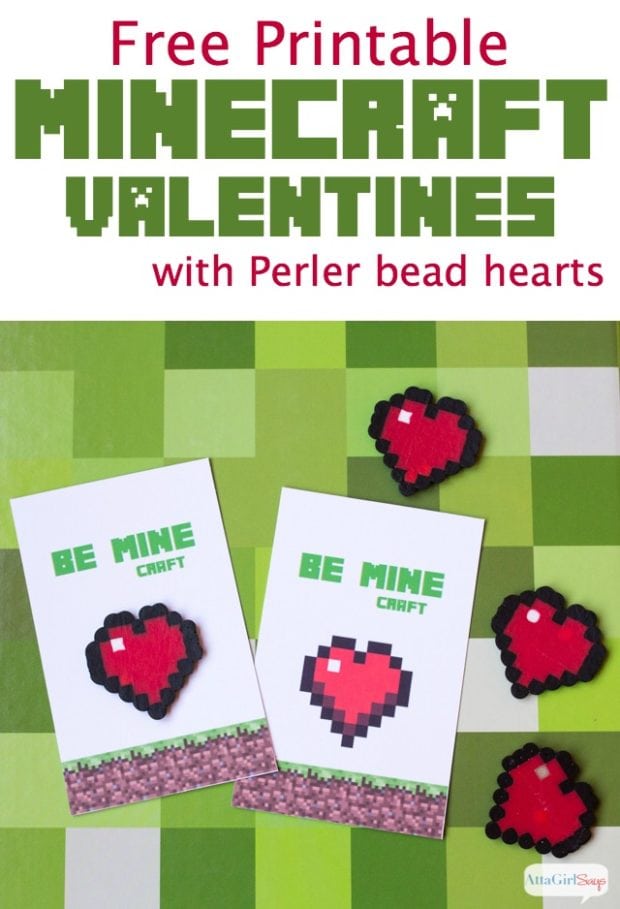 10. Minecraft Tag Valentines
From Atta Girl Says
"Will you be Minecraft?" Print these cute tags, and build up some Valentine's Day dreams!
11. Minecraft Be Mine Valentines
From Larissa Another Day
"Be mine" takes on a whole new meaning when Minecraft lovers are involved. These "Be mine" Minecraft inspired Valentines can be printed and cut.
12. Printable Minecraft Valentines
Your Minecraft fanatics will love choosing from these 12 free printable Minecraft valentines to share with friends and family! Just download the printables, print and cut!
Valentine's day will be a hit with these resources gathered by the team at Spaceships and Laser Beams…
(Amazon Affiliate Links)