Make dinner time a great time with dessert and recipe ideas hand-picked by our Facebook followers this week!
---
See Also
---
Strawberry Cheesecake Pie, Caramel Apple Crisp Bites, Mini Pineapple Upside Down Cake, and Strawberry Cheesecake Chimichanga will make sweet additions for your next party, get together, or just because.
Plus your family will love dining on Cream Cheese Bacon Bombs, Barbecue Chicken Pizza, White Chicken Enchiladas, Cheese Enchilada Skillet Rice, Creamy Tuscan Garlic Chicken, and the Best Egg Salad Sandwich recipe.
Here are our Facebook followers favorite posts from this week:
1. Cream Cheese Bacon Bombs :: Spaceships and Laser Beams :: Share it on Facebook HERE.
Get ready to have your mind blown and your palate pleased. These cream cheese bacon bombs are the bomb. Bacon. Cream cheese. Biscuit dough. Maple syrup. Any questions?
2. Barbecue Chicken & Bacon Pizza :: Mama Loves Food :: Share it on Facebook HERE.
Simple to prepare, quick, and better than you'll get at a restaurant? What could possibly keep you from making this barbecue chicken and bacon pizza for dinner tonight? We can't think of a good enough reason. You can use the recipe to make your own dough, or buy readymade dough. To your prepared crust, you'll add a thin layer of barbecue sauce, followed by chicken, onion, and bacon. You'll top everything off with a beautiful swirl of barbecue sauce. And if you want to take your crust to the next level, you can dust the edges with Parmesan cheese and garlic salt. Bake and enjoy!
3. Cheesy Enchilada Skillet Rice :: Domestic Superhero :: Share it on Facebook HERE.
Whether you serve with tortillas, chips, on top of a salad, or just plain, this cheesy enchilada skillet is delicious! For you vegetarians, the black beans are a great meat substitute without compromising the taste or heartiness of the dish. Loaded with rice, beans, onion, green bell pepper, cheese and an amazing blend of spices, you will keep coming back to this dish again and again.
4. White Chicken Enchiladas :: Crafty Morning :: Share it on Facebook HERE.
Sure to become a go-to recipe, these white chicken enchiladas are easy to prepare and so delicious! You'll start by mixing shredded chicken with a cup of cheese before filling and rolling the mixture in 8 tortillas. A homemade creamy white sauce is added to the top of the rolled tortillas and topped off with more shredded cheese prior to baking. Salsa and cilantro complete the preparation prior to digging in to this delicious dish!
5. Strawberry Cheesecake Pie :: Spaceships and Laser Beams :: Share it on Facebook HERE.
Fresh, sweet, and creamy, is there a better combination when it comes to strawberry cheesecake pie? This recipe is a keeper! Serve it as a delightful ending to lunch or dinner or the perfect answer for celebrating with friends. It's a fabulous dessert and will be a favorite recipe for years to come.
6. Creamy Tuscan Garlic Chicken :: The Recipe Critic :: Share it on Facebook HERE.
Looking to serve your family a restaurant-quality meal, but feel short on time? This recipe for creamy Tuscan garlic chicken is a quick one to put together—only 30 minutes! Your family will be amazed by how delicious the creamy garlic sauce is with spinach and sun dried tomatoes. Serve it over rice or pasta for a real comfort meal!
7. Caramel Apple Crisp Bites :: Princess Pinky Girl :: Share it on Facebook HERE.
This fall, go apple picking and then rush home to make this recipe for caramel apple crisp bites! These mini desserts are easy-to-make using mini muffin cups! Most of the ingredients are probably already in your pantry and include staples like sugar, flour, brown sugar, cinnamon, and nutmeg. You'll need graham cracker crumbs, caramel topping and butter too, in addition to your apples. Can't you just imagine this delightful combination of flavors in a bite sized dessert?
8. Mini Pineapple Upside Down Cakes :: Spaceships and Laser Beams :: Share it on Facebook HERE.
These mini pineapple upside down cakes are great any time of year, but especially during fall when the brown sugar aroma fills your kitchen with a rich and delicious scent. This recipe is fun because it results in the perfect personal sized desserts thanks to the use of a mini bundt cake pan. Dress up your mini cakes with whipped cream topping and a cherry on top.
9. Strawberry Cheesecake Chimichana :: OMG Desserts :: Share it on Facebook HERE.
If you've never tried a strawberry cheesecake chimichanga, boy are you in for a treat! Fix this for a special breakfast, and you're loved ones will feel spoiled! Just the thought of this sweet meets salty goodness has me dreaming of one! Fried tortillas filled with a mixture of cream cheese and strawberries, then rolled in cinnamon and sugar is definitely heavenly!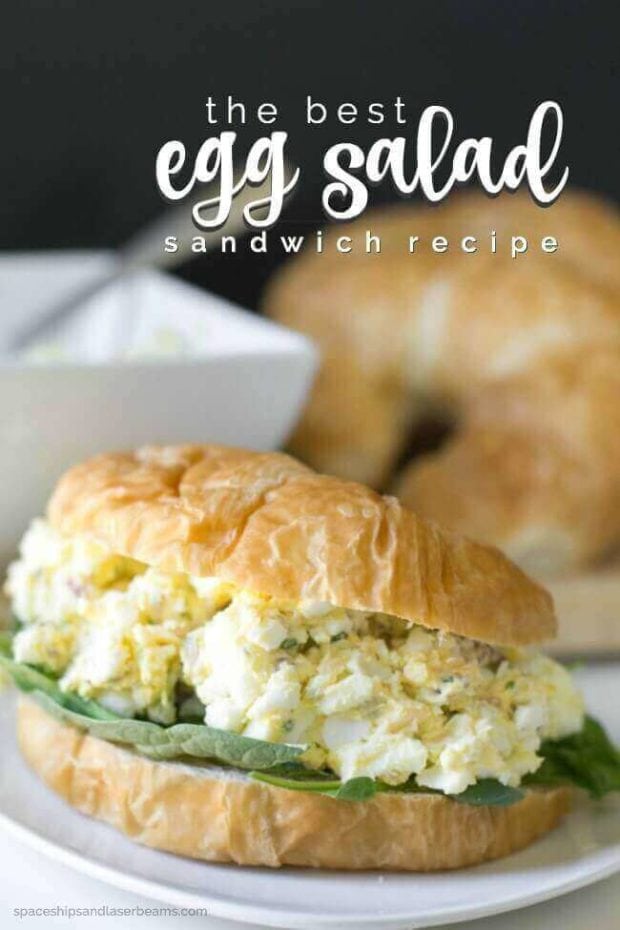 10. The Best Egg Salad Sandwich :: Spaceships and Laser Beams :: Share it on Facebook HERE.
Prepare yourself for the best egg salad sandwich recipe ever! It starts with the best tasting ingredients: hard boiled eggs, cheddar and cream cheese, mayonnaise, bacon, and diced chives. Plus, you can up your egg salad sandwich game with a few optional mix-ins like sliced avocado. This recipe even includes tips for cooking your eggs, and opinions on serving the egg salad cold or warm. What are you waiting for? You're going to love this popular recipe!
Cool down this summer with these great sources gathered by the crew at Spaceships and Laser Beams to help create a delicious summer treat.
(Amazon Affiliate Links)
Check out more great recipe ideas you'll love.