Party Games
17 Great Summer Crafts for Kids
By
| Last Updated:
Need some inspiration to keep little hands busy this summer? You're sure to create wonderful memories with these awesome summer crafts for kids!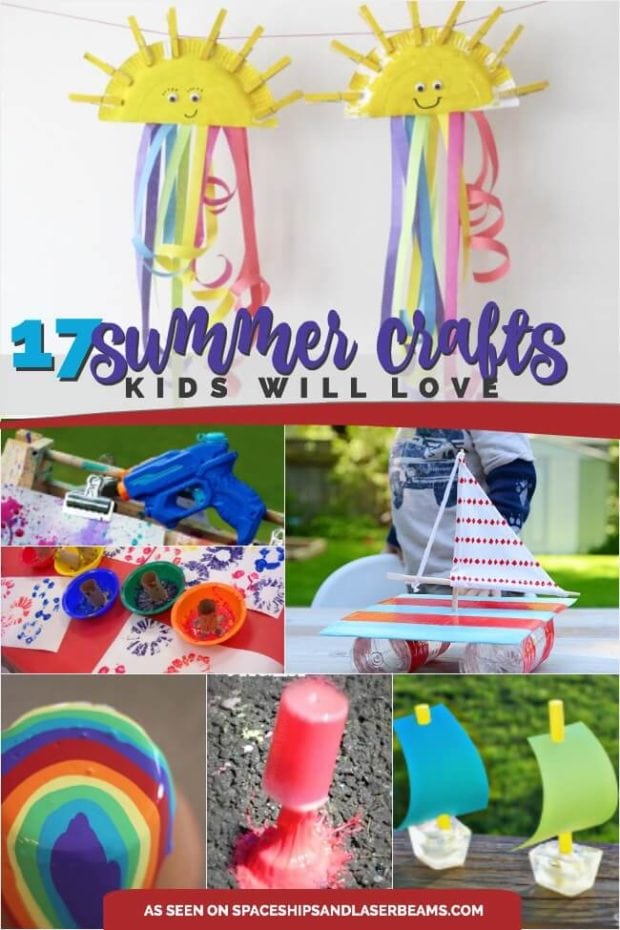 ---
See Also
---

Go nautical with the upcycled boat and ice cube sailboats. Enjoy wildlife with the homemade bird feeder, ladybug sun catchers and swirling, twirling ladybugs. Get messy outside with squirt gun painting, DIY giant bubbles, chalk rockets, TP flower stamps and rainbow flowerpots. Encourage imagination and creativity with ideas like Sharpie dye tee-shirts, rock monster magnets, watermelon puffy paint, marbled paper plate butterflies and paper pinwheels.
No matter what summer craft idea you choose first, the kids—and you—are sure to have a great time!
1. Upcycled Boat :: Nalle's House
2. Homemade Bird Feeder :: Mommy Gaga
3. Squirt Gun Painting :: Fireflies & Mud Pies
4. Sharpie Dye Tee Shirts :: Babble Dabble Doo
5. Giant Paper Popsicle Craft :: Tiny Rotten Peanuts
6.  Watermelon Puffy Paint :: Crafty Morning
7. How to Make Giant Bubbles {DIY Bubbles Recipe} :: Spaceships and Laser Beams
8. Chalk Rockets :: Growing a Jeweled Rose
9. Egg Carton Mini 'Copters :: The Craft Train
10. Marbled Paper Plate Butterflies :: Artful Parent
11. Tin Can Windsocks :: The Wilson World inspired by Stephanie Lynn
12. Swirling Twirling Ladybugs :: Crafts by Amanda
13. Ice Cube Sailboats :: She Knows
14. Sunshine & Rainbows Paper Plate Craft :: A Little Delightful
15. Rainbow Flower Pot :: Dilly-Dalli Art
16. Paper Pinwheels :: Paper Source
17. TP Flower Stamps :: Getting Messy with Ms. Jessi
Get ready for your summer craft idea with these supplies sourced by the Spaceships and Laser Beams team…
(Amazon Affiliate Links)
Plus, check out more summertime ideas…