This one pot chicken pasta couldn't be easier to make and features a creamy sauce, tender pasta, and juicy chicken, all cooked to perfection in a single pot.
Jump to Recipe
Table of Contents
Say goodbye to greasy pans and multiple dishes when you make this savory one pot chicken pasta. The pasta is cheesy and full of simple yet delicious flavor between the tomatoes, Italian seasoning, and the tangy flavor of parmesan and mozzarella cheese.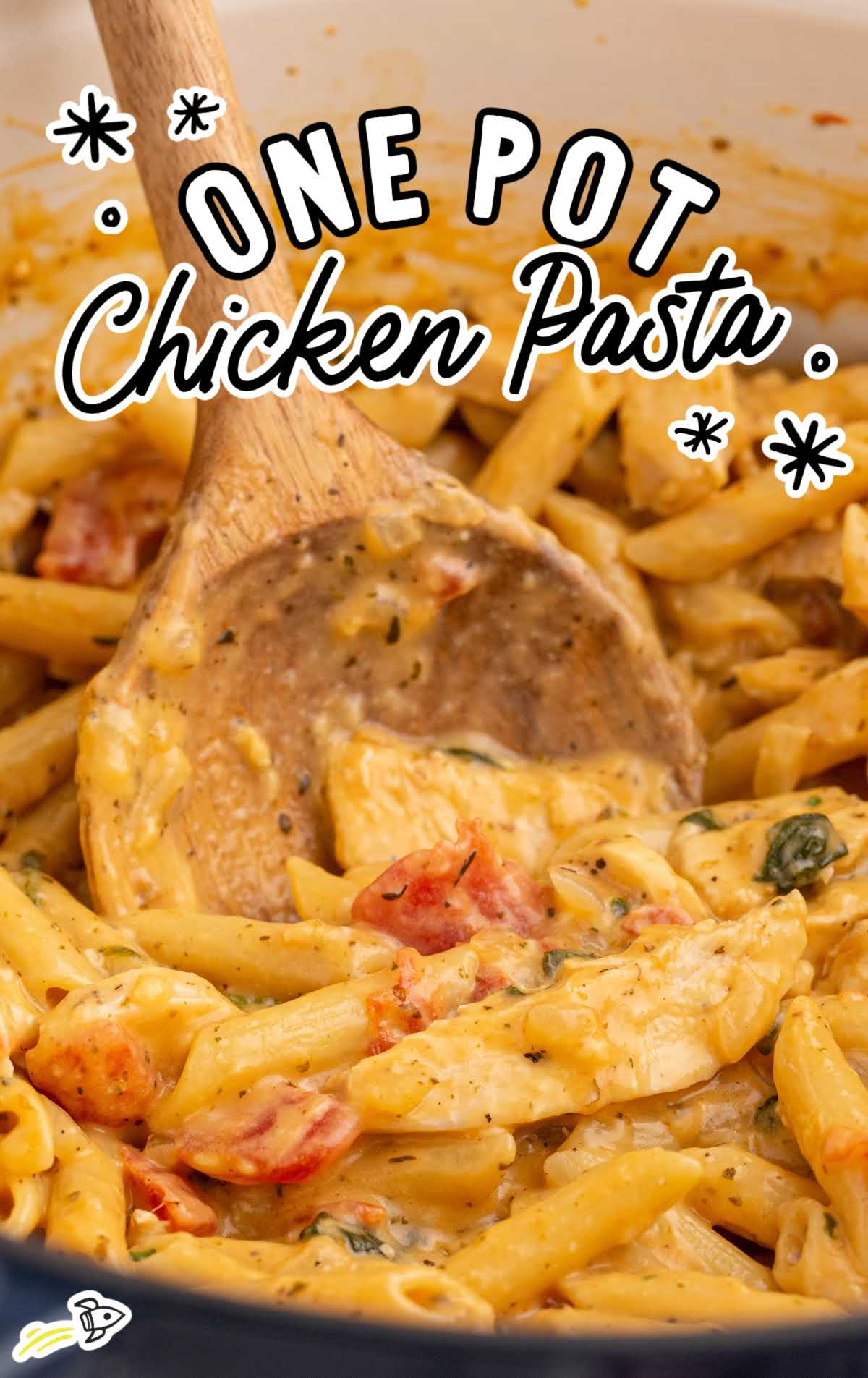 One Pot Chicken Pasta Ingredients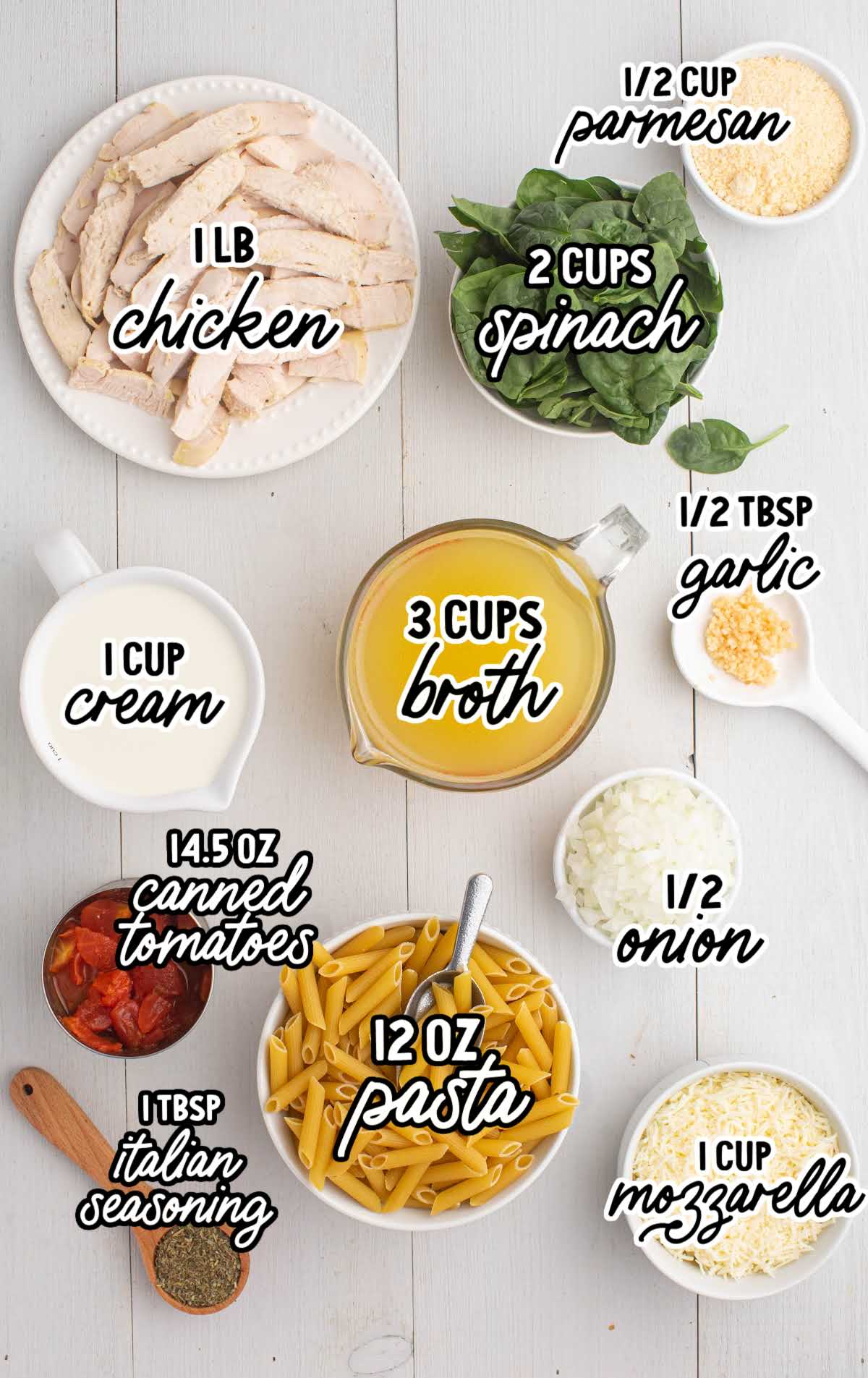 This savory dish is the perfect combination of juicy chicken, fresh veggies, al dente noodles, and a rich creamy tomato sauce.
The flavors blend together perfectly, creating a meal that is both comforting and satisfying. The best part? You only need one pot to make it!
You'll need:
2 teaspoons of olive oil
½ medium onion, diced
½ tablespoon of minced garlic
12 ounces of dry penne pasta
1 (14.5-ounce) can of diced tomatoes with basil, garlic, and oregano, drained
2 cups of loose spinach
1 tablespoon of Italian seasoning
3 cups of low-sodium chicken broth
1 cup of heavy whipping cream
½ cup of parmesan cheese
1 cup of shredded mozzarella
1 pound of leftover cooked chicken breast, sliced
Salt and black pepper to taste
PRO TIP:
Freshly grated parmesan and mozzarella cheese are best as pre-shredded cheese doesn't melt quite as well, but shaker parmesan and bagged shredded mozzarella works fine for a quick fix in this one-pot pasta.
Substitutions And Additions
PASTA: You can use any kind of pasta you'd like for this easy recipe, but make sure to stir it frequently to keep the pasta from sticking and to cook it evenly.
SPICE: If you like your pasta dishes a bit spicy, you could add a dash of red pepper flakes for a little heat in this one pot chicken and pasta dish.
TOMATO SAUCE: If you're out of tomato sauce, you can use diced tomatoes or crushed tomatoes as a tasty alternative.
Add a pinch of sugar to balance the acidity if needed.
VEGETABLES: Feel free to toss in your favorite veggies or use what's in your fridge. Bell peppers, zucchini, mushrooms, or spinach make great additions.
For a burst of freshness, try cherry tomatoes or sun-dried tomatoes.
CHEESE: Change up the cheese to suit your taste. Swap parmesan for pecorino, mozzarella for cheddar, or go wild with a blend of your favorites.
How To Make This One Pot Chicken Pasta Recipe
The beauty of this recipe is you will cook it all in one pot, even the pasta! Just follow our step-by-step instructions below to make this hearty meal.
STEP ONE: Heat up the olive oil in a large pot and add your onions and garlic. Sauté until the onions are soft and the garlic is fragrant, two to three minutes.
STEP TWO: Add the dry pasta, tomatoes, spinach, and Italian seasoning. Cover the ingredients with the chicken broth and heavy cream.
Stir to make sure all the noodles are covered. Bring your pot to a boil and cook till the noodles are al dente, about ten minutes.
The liquid will not be completely evaporated.
OUR RECIPE DEVELOPER SAYS
Al dente is the ideal consistency for pasta. The pasta will be tender and will still have a slightly firm texture when you bite into it.
STEP THREE: Add the parmesan and mozzarella and stir to incorporate. The cheese will help the sauce thicken up.
STEP FOUR: Add the sliced chicken and continue to cook for about five minutes to allow your chicken to heat up.
PRO TIP:
If you like golden brown crispy cheese and are cooking this meal in an oven-safe pot, finish this dish under the broiler for a few minutes.
STEP FIVE: Serve your one pot creamy chicken pasta and enjoy!
How To Serve
This chicken parmesan pasta is the perfect easy meal to make for busy weeknights that the whole family will enjoy.
Serve it with garlic bread or cheesy pull-apart bread and a simple Caesar salad on the side.
Why not try roasting some vegetables like broccoli to create a delightful texture contrast?
Alternatively, a light and refreshing tomato cucumber salad would also pair perfectly with the richness of the pasta.
We love easy one-pot meals since they get dinner on the table fast. Check out our one-pot chicken fajita pasta and creamy chicken and rice for two more great options.
Storage
Whether you want to make it ahead for meal prep or have some leftovers to savor, here's how to store this mouthwatering dish.
MAKE AHEAD: One-pot chicken pasta can be made ahead and stored in the fridge for up to two days.
Simply follow the cooking instructions, allow it to cool completely, and transfer it to an airtight container.
When you're ready to enjoy it, just reheat it following the instructions below.
IN THE FRIDGE: Store this easy pasta in an airtight container for three to four days.
IN THE FREEZER: This creamy pasta dish can be stored in the freezer for up to two months in an airtight container. Thaw in the fridge overnight before reheating.
REHEATING: To reheat, place the one pot chicken parmesan pasta in a microwave-safe bowl and add a little water.
Microwave for one to two minutes until heated through if you don't want to reheat on the stove.
Why We Love This Recipe
EFFORTLESS PREPARATION: This recipe is a lifesaver for busy days. With minimal prep and everything cooked in one pot, it's a breeze to make.
FLAVORFUL AND COMFORTING: The combination of tender chicken, al dente pasta, and a savory tomato sauce is a flavor explosion in every bite.
PERFECT FOR MEAL PREP: This one-pot chicken pasta is ideal for meal prepping. You can make it ahead, store it in the fridge or freezer, and enjoy homemade, hearty meals throughout the week without the hassle of daily cooking.
There is nothing easier than a one pot meal, especially when the chicken is already made. This hearty one pot chicken pasta will be a guaranteed hit with its cheesy and creamy sauce and tender chicken, all combined with perfectly cooked pasta for a delicious dinner.
FREQUENTLY ASKED QUESTIONS
Can I freeze this easy chicken pasta dish?
This one pot pasta recipe is a great choice to freeze, either as a make-ahead dish or as leftovers. It will last in the freezer for up to 2 months stored in an airtight container.
How do I know when my pasta is al dente?
To test your pasta for al dente, take a bite of the pasta a minute or two before the package instructions indicate it should be done. When you bite into it, and your teeth feel some resistance, but the pasta is still tender, your pasta is al dente.
Could I use fresh cherry tomatoes instead of canned tomatoes in this one pot recipe?
You could use fresh cherry tomatoes in this one pot cheesy chicken pasta recipe, but you may want to add a bit of extra chicken broth since the broth and tomato liquid is what we are using to cook the pasta.
More Recipes You'll Love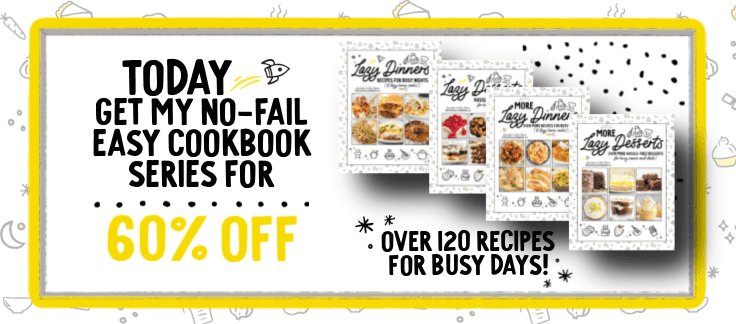 One Pot Chicken Pasta
This one pot chicken pasta couldn't be easier to make and features a creamy sauce, tender pasta, and juicy chicken, all cooked to perfection in a single pot.
Ingredients
2

teaspoons

olive oil

½

medium

onion,

diced

½

tablespoon

minced garlic

12

ounces

dry penne pasta

14.5

ounces

diced tomatoes

with basil, garlic, and oregano, drained

2

cups

loose spinach

1

tablespoon

Italian seasoning

3

cups

low sodium chicken broth

1

cup

heavy whipping cream

½

cup

parmesan cheese

1

cup

shredded mozzarella

1

pound

leftover cooked chicken breast,

sliced

Salt and black pepper,

to taste
Instructions
In a large pot, heat up your olive oil and add your onions and garlic. Sauté until the onions are soft and the garlic is fragrant, 2 to 3 minutes.

Add the dry penne, tomatoes, spinach, and Italian seasoning. Cover the ingredients with the chicken broth and cream. Stir to make sure all the noodles are covered. Bring your pot to a boil and cook till the noodles are al dente, about 10 minutes. The liquid will not be completely evaporated.

Add the parmesan and mozzarella and stir to incorporate. The cheese will help the sauce thicken up.

Add your sliced chicken and continue to cook for about 5 minutes to allow the chicken to heat up.

Serve and enjoy
Notes
Freshly grated parmesan and mozzarella cheese are best as pre-shredded cheese doesn't melt quite as well, but shaker parmesan and bagged shredded mozzarella works fine for a quick fix in this one-pot pasta.

Al dente is the ideal consistency for pasta. The pasta will be tender and will still have a slightly firm texture when you bite into it.
If you like golden brown crispy cheese an
Nutrition
Calories:
572
kcal
|
Carbohydrates:
50
g
|
Protein:
35
g
|
Fat:
26
g
|
Saturated Fat:
14
g
|
Polyunsaturated Fat:
2
g
|
Monounsaturated Fat:
7
g
|
Trans Fat:
0.01
g
|
Cholesterol:
114
mg
|
Sodium:
403
mg
|
Potassium:
778
mg
|
Fiber:
3
g
|
Sugar:
5
g
|
Vitamin A:
1829
IU
|
Vitamin C:
11
mg
|
Calcium:
287
mg
|
Iron:
3
mg