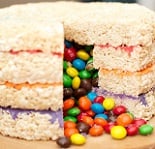 The fun crunch and bright colors of this pinata cake make for a memorable treat.
Jump to Recipe
Table of Contents
I love this fun and easy to make cake. It's packed with sweet flavor and bright colors which makes it a fun treat to serve for any occasion.
---
See Also
---
It had been years since I had M&M's Crispy candies. By a happy mistake while on vacation, we grabbed a bag to enjoy. I love finding old treats like this to enjoy — total nostalgia.
I've always loved surprise inside cakes, so this seemed like a natural combo. Since you could switch up colors, it's also a great addition to a party food table.
This pinata cake is a fun surprise for a weeknight dinner or a party with friends. Everyone loves the bright colors of M&M's plus the surprise inside.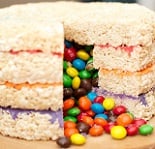 M&M's Crispy Pinata Cake
The fun crunch and bright colors of this pinata cake make for a memorable treat.
Ingredients
6

cups

crispy rice cereal

5

cups

mini marshmallows

1

teaspoon

vanilla

1

tablespoon

butter

1

bag of M&M's® Crispy

3

x ⅛ cup candy melts

in three colors of your choosing

3

x teaspoons of vegetable oil
Instructions
Mix crispy rice cereal with melted marshmallows, vanilla and butter until completely coated.

Use damp hands to press the mixture into the pan, it's much easier as you're not having to deal with marshmallow sticking to you. You'll want to use an 8″ spring form pan. You'll have four layers total.

Between each layer, you'll use your melted candy melts. Melt an ⅛ cup of candy melts on high in two, ten-second increments. Add in about a teaspoon of vegetable oil to thin. Spread over layer and let set.

To create the inside cavity, you'll use a large, circular cookie cutter to cut through the center of the two middle layers. Then, fill the space with M&M's Crispy.
Nutrition
Create your own special dessert treat with these great sources gathered by the crew at Spaceships and Laser Beams.
Cuisinart 77-7 Chef's Classic Stainless 7-Piece Cookware Set
Cuisinart 77-17 Chef's Classic Stainless 17-Piece Cookware Set
Complete Elegant Regency Line 5-Piece Flatware Serving Set
Artisan (2 pk.) Non-Stick Silicone Baking Mat Set
ChefLand Mixing Bowls Standard Weight Stainless Steel
Onesource 8-Piece Deluxe Stainless Steel Measuring Cup and Measuring Spoon Set
Wilton 2105-2174 Mini Springform Pan
Wilton 409-7716 Angled Icing Spatula
Check out more delicious chocolate dessert ideas.
Don't miss out on 14 Copycat Chocolate Bar Recipes…
[pinterest board="kids-party-food"]