Minecraft Themed Birthday Party
Table of Contents
Video game-loving kids will obsess over this Minecraft birthday party. Kids and adults love the pixelated look of 80s technology so Minecraft makes a great idea for a boy's birthday party theme. Alex of AN Portraits shows how easy it is to add do-it-yourself touches for themed decorations and birthday cakes. There's even a party favor guests can make!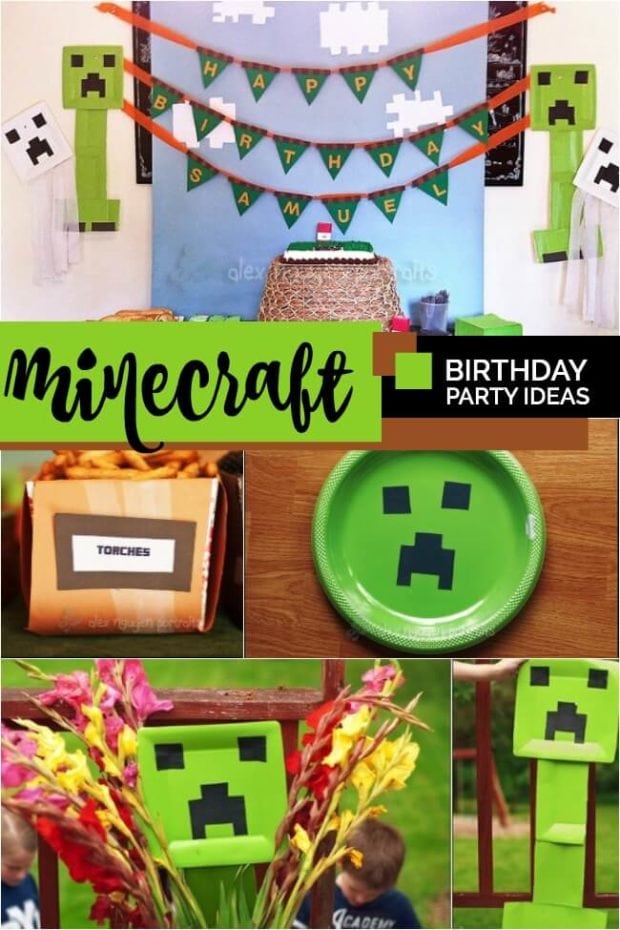 ---
See Also:
---
Since Minecraft is all about blocks, Alex focuses her efforts on bringing in the pixelated feel of the game using blocks of paper. The customized eighth birthday party includes ghasts, spiders, dirt, and a quest for diamonds.
To add that Minecraft touch to the dessert table, Alex begins by creating a custom "happy birthday" banner. The banner combines foam, foam bricks, and felt letters attached to crepe paper. Her sons hand-cut the square clouds that help make the backdrop—family fun before the party. Creepers and ghasts are fashioned from paper plates and crepe paper.
A variety of clever treats are waiting to be discovered by guests. Licorice and juice boxes are wrapped in construction paper with printed Minecraft font "TNT" letters. Blackberries (coal), Creeper Juice (water), and Pretzel Sticks (torches) are also at the ready. Awesome how the menu matches the Minecraft game. A Minecraft party calls for a Minecraft-themed cake. We love that the birthday cake is covered in icing "grass" and topped with LEGO Minecraft figurines.
Green Rice Krispy treat squares and cookies are on the menu too. Instead of just handing out party favors why not have party guests craft their own? Kids enjoy making their own creeper t-shirts. It keeps them occupied plus provides a great and lasting party favor that will last.
Kids delight in running wild around the yard and finding hidden treasures, which is the plan at this party. A collection of six blocks in different combinations allows a child to claim their piece of cake. Talk about motivation. What a fun take on a popular party theme!
Want more great Birthday Party ideas? These parties are full of great inspiration: